Thick and soft, these Easy Gluten-Free Oatmeal Chocolate Chip Cookies are our favorite oatmeal chocolate chip cookies. This one-bowl recipe can be made with just a handful of ingredients and does not even require an electric mixer.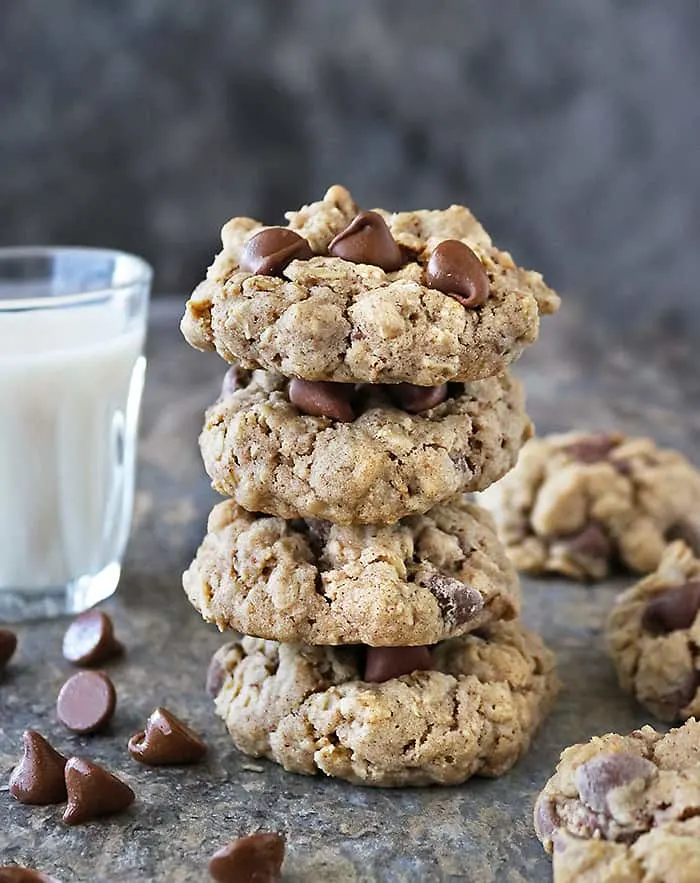 *This recipe was first published in the month of June, 2015. It has been updated and is being republished today.
Ever since I first posted these cookies on Food Fanatic, my daughter and I have made and remade these cookies more times than I can remember.
These are hands down our favorite oatmeal cookies!
We love these cookies because they are:
• They are so thick and comforting.
• They are so tasty with undertones of cinnamon and vanilla
• They are gluten-free
• And, they are overflowing with chocolate chips!
As I mentioned a few sentences ago, these cookies are made a lot in our home.
Recently though I wanted to see if I could make this recipe without an electric mixer and get the same results. So, armed with one bowl, a microwave, and a spoon, I got to mixing, chilling, and baking.
If you are wondering why I would want to try this recipe without an electric mixer, well, my daughter is heading out of town to work on her Master's. She plans on flying to her destination with only basic necessities.
As she will be coming back to Atlanta for the summer, she does not want to lug too many things back and forth. An electric mixer is one of those things she is hoping not to have to lug back and forth – at least for the next couple of years, while she is a grad student.
So that is why I had to try making these oatmeal cookies without an electric mixer.
Even though I didn't use an electric mixer, these cookies turned out delightfully delicious. We love these cookies so much, that we even made an eggless version (recipe coming soon).
These cookies are flavored with a hint of cinnamon and vanilla. The cinnamon and vanilla enhance the chocolate chips and add so much taste to these cookies.
I used old-fashioned oats and rice flour to keep these cookies gluten-free, much like these Chocolate Thumbprint Cookies. I have found that rice flour is one of the most budget-friendly gluten-free flours that work well for me when I need a flour to use as a binder with oats. Now, you can easily make these with all-purpose flour and oats instead of rice flour if you are not concerned with gluten.
All in all, these cookies are made with only 12 ingredients.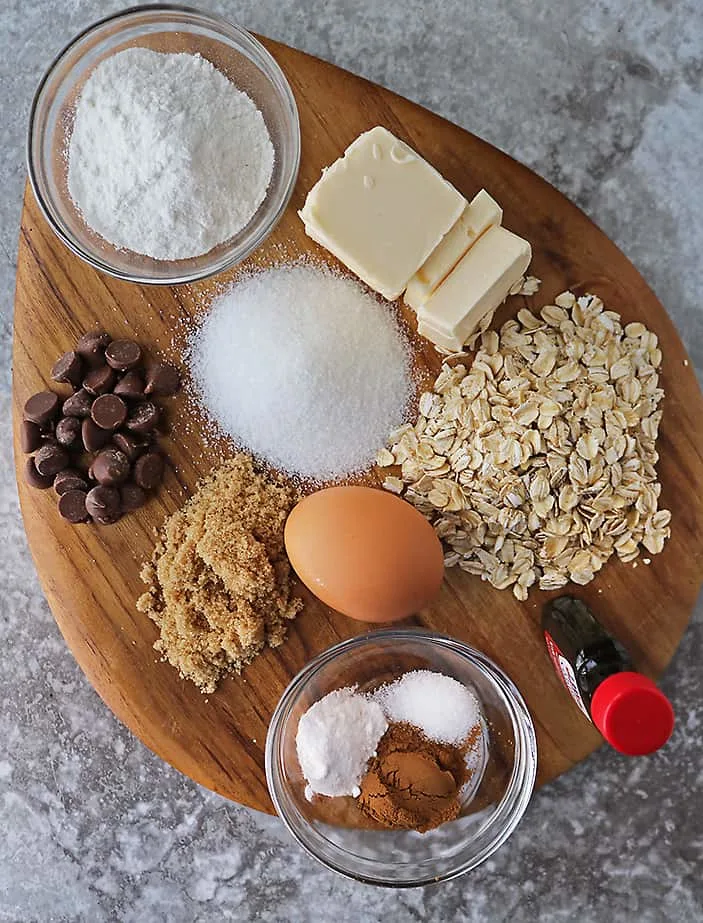 What are the 12 ingredients needed to make these gluten-free oatmeal chocolate chip cookies?
These cookies are made with:
Butter (I used Earth Balance Vegan Butter Sticks)
Old fashioned oats
Rice flour
Brown sugar
Sugar
Baking soda
Baking powder
Egg
Cinnamon
Vanilla extract
Chocolate chips
Salt
---
When I first started making oatmeal chocolate chip cookies (many years before I started this blog), I had a lot of "spreadage"! That might not be the technical term, so let me explain…
The very first time I made a batch of oatmeal chocolate chip cookies, I rolled them into circular pieces of cookie dough that were roughly a little less than an inch in diameter. I placed them on a baking tray and placed that in the oven. And…10 minutes later out came a batch of cookies that were about 4 inches in diameter and so totally flat! While it wasn't a failure in the taste department – it just spread into the cookies surrounding it – almost making up a jagged cookie cake of sorts!
But, after several attempts, I'm so glad to say we have a winner here!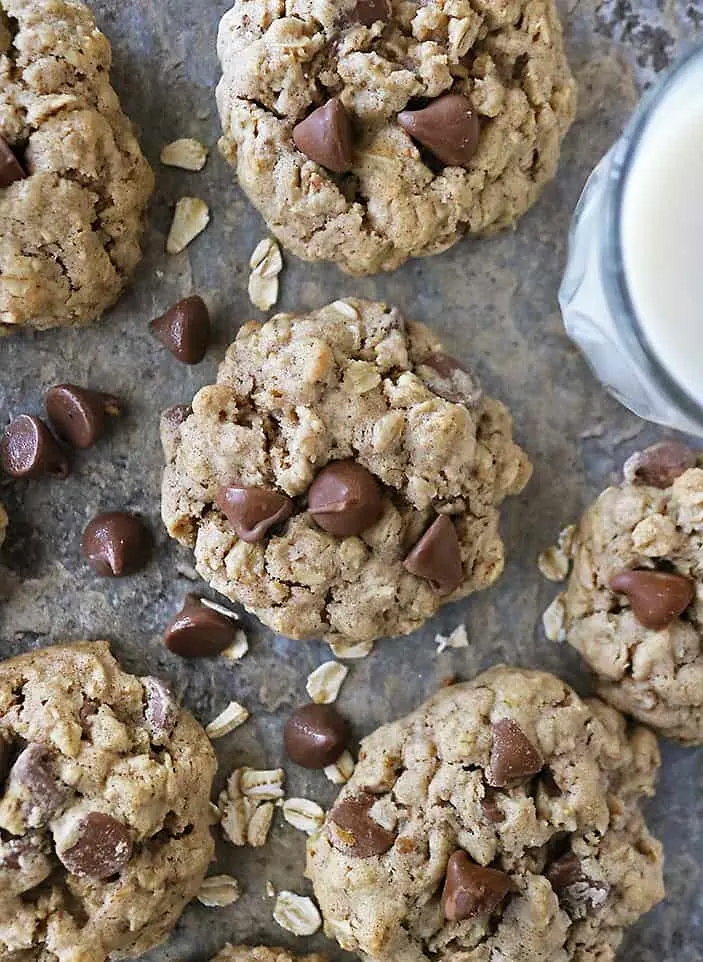 How do you make these cookies?
I started off by placing the butter in a microwave-safe bowl and microwaving it until it was melted, which took about 20 seconds. Just make sure to not let it get too hot.
Then whisk in the brown sugar and white sugar.
Then add in the egg and vanilla extract and whisk well.
Add in the rice flour, oats, baking soda, baking powder, salt, and cinnamon and mix well with a spoon.
Finally, add in the chocolate chips and mix well.
Gather up 2-3 tbsp of cookie dough and shape into a ball – repeat until all the cookie dough is used up. Then place the balls in an airtight container and place them in the fridge for 4-8 hours.
Then bake at 375 for 12 minutes. If you would like your cookies a bit crunchier, then bake them for 15 minutes. I usually make the cookie dough in the night and bake it the next day when I get home after work.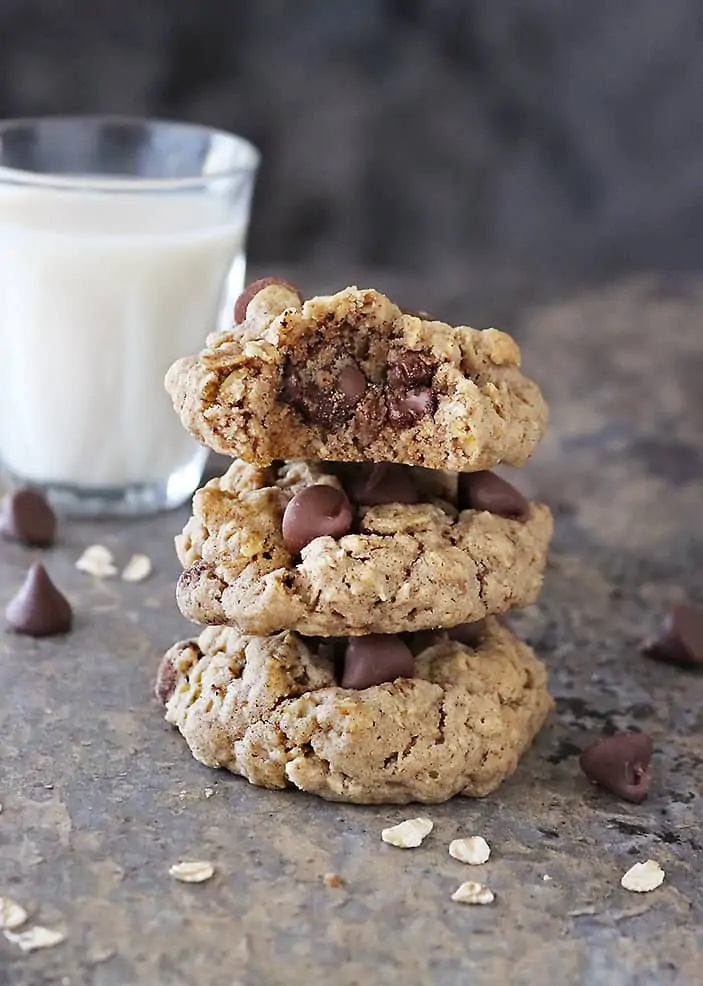 Love Oat Cookies?
Then make sure to click on the links to check out these Candied Ginger Oatmeal Cookies, these Easy Oatmeal Cranberry Cookies, and these Gluten-Free Oat Banana Chip Cookies!
---
If you make these cookies, please do let me know by leaving a comment below. If you make these cookies and share a photo of them on social media, please tag @savoryspin on Instagram, Facebook, or Pinterest.
This Recipe First Appeared on Food Fanatic.