I've partnered with Premier Protein to bring y'all these Bananas & Cream Protein Bites. As always, all opinions are my own. Thanks so much for supporting the brands that keep this Srilankan Runnin!
Need a quick and easy breakfast you can munch on in traffic? Or, how about a filling and delicious snack to tide you over till dinner time? Well, that's where these little five-ingredient, gluten-free, protein-packed, bites come in handy!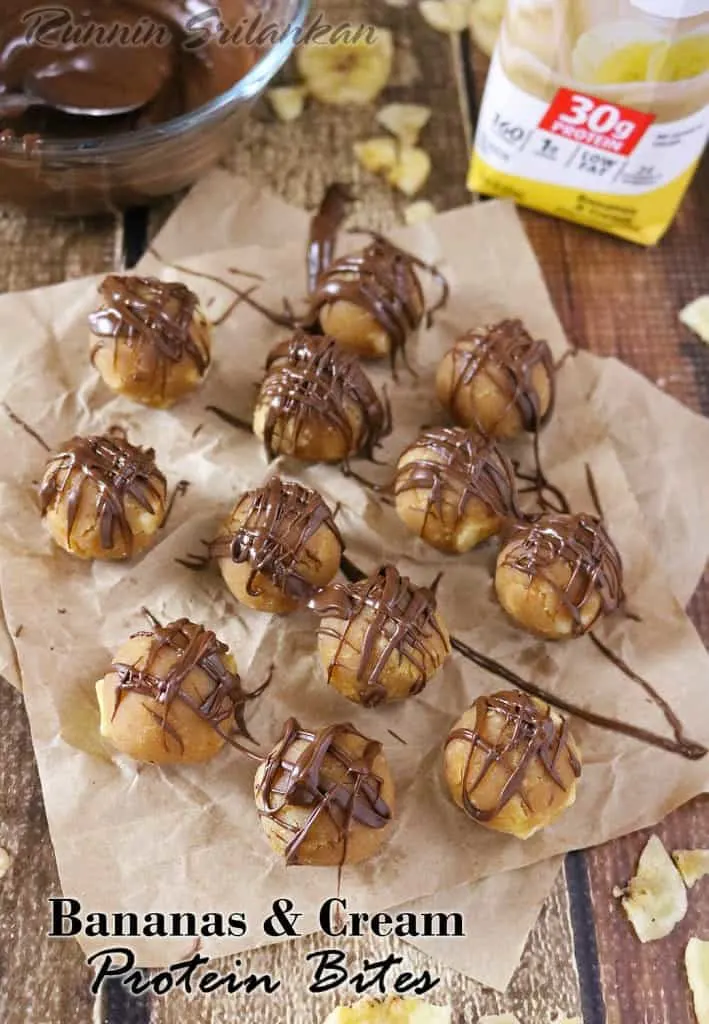 Forget the malls and coffee houses, lately, retail warehouse clubs are becoming my preferred hangout joints! I mean, how many places are there where you can have a gourmet lunch of samples for $0.00 – while still enjoying discount prices on just about EVERYTHING and good conversations?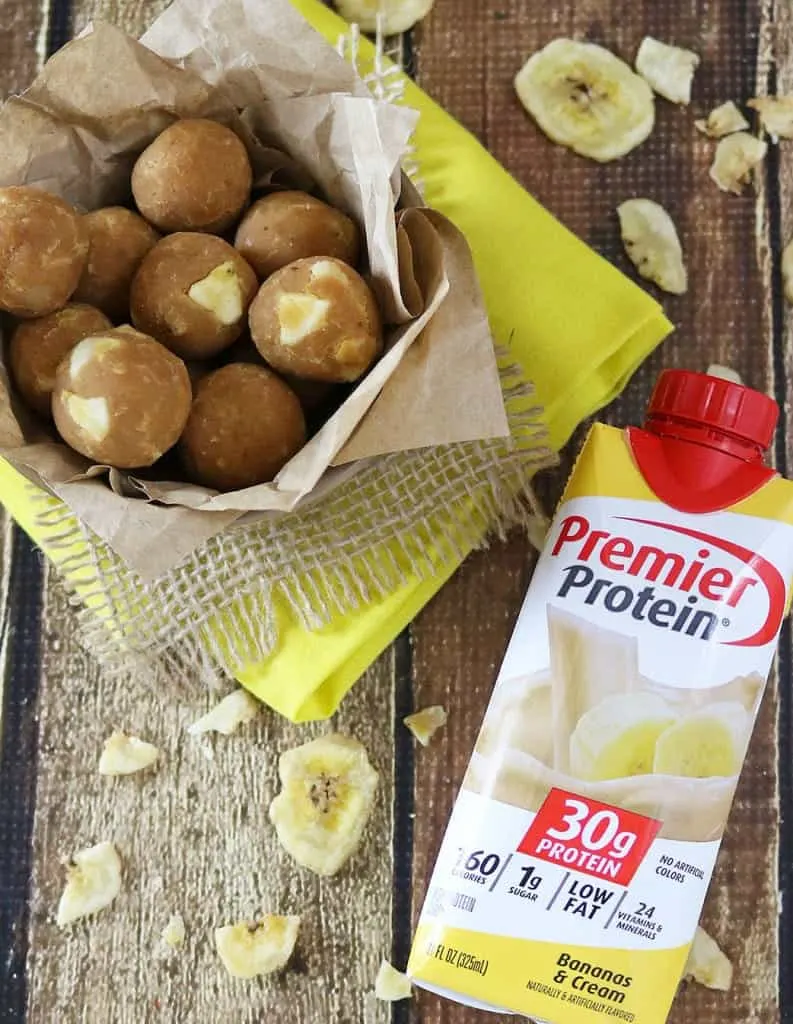 Keeping that in mind, this past weekend my daughter and I headed to our neighborhood Sam's Club. While we were there, we decided to grab us some samples of chocolate and caramel drizzled popcorn, that we happened on. However, the lady offering up the samples stopped us. With a very solemn expression, she asked us if we had tasted the popcorn yet. And, when we replied we hadn't, she made us stop and taste how good the popcorn was right there in front of her. As soon as those popcorn pieces started to introduce themselves to our tasetbuds, she looked at us – oh so solemnly again – and asked us if we felt how good that popcorn was! And – I gotta admit – tasting that popcorn was a full blown sensory experience indeed!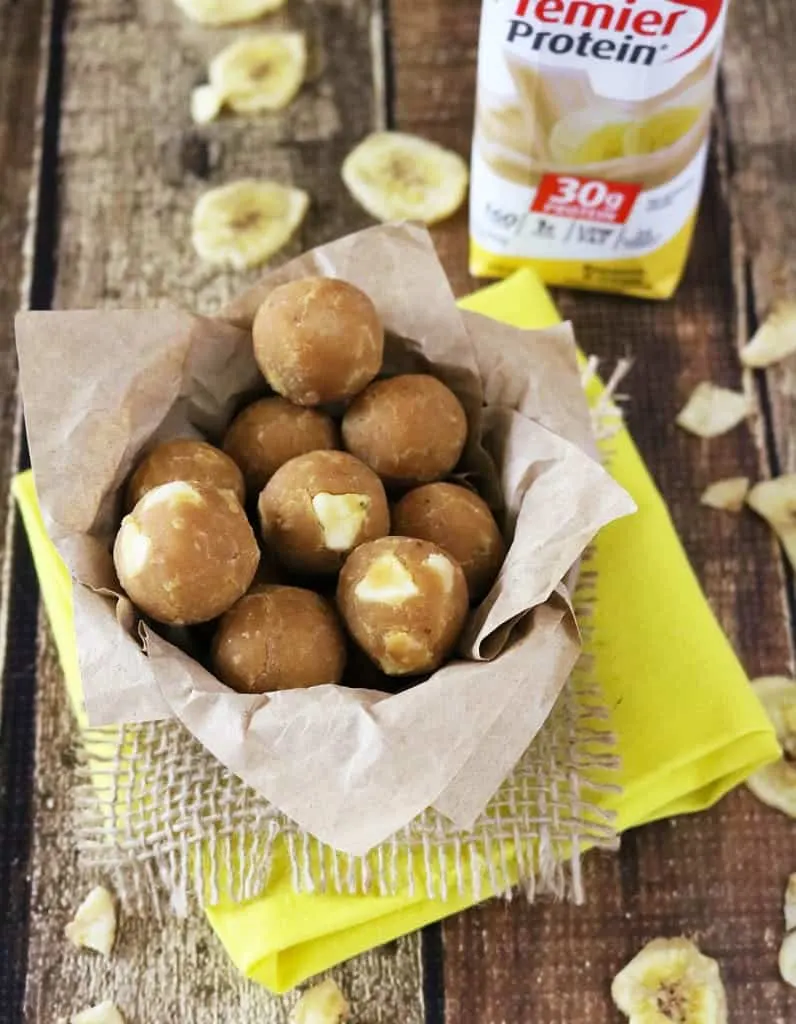 Now, you might be wondering what that popcorn has to do with these bites and I gotta say – not a darn thing! However, when we were at Sam's Club, we came across Premier Protein's brand spanking new shake flavor: Bananas & Cream – and, one taste of this new shake flavor and y'all will FEEL how good it tastes – no lie!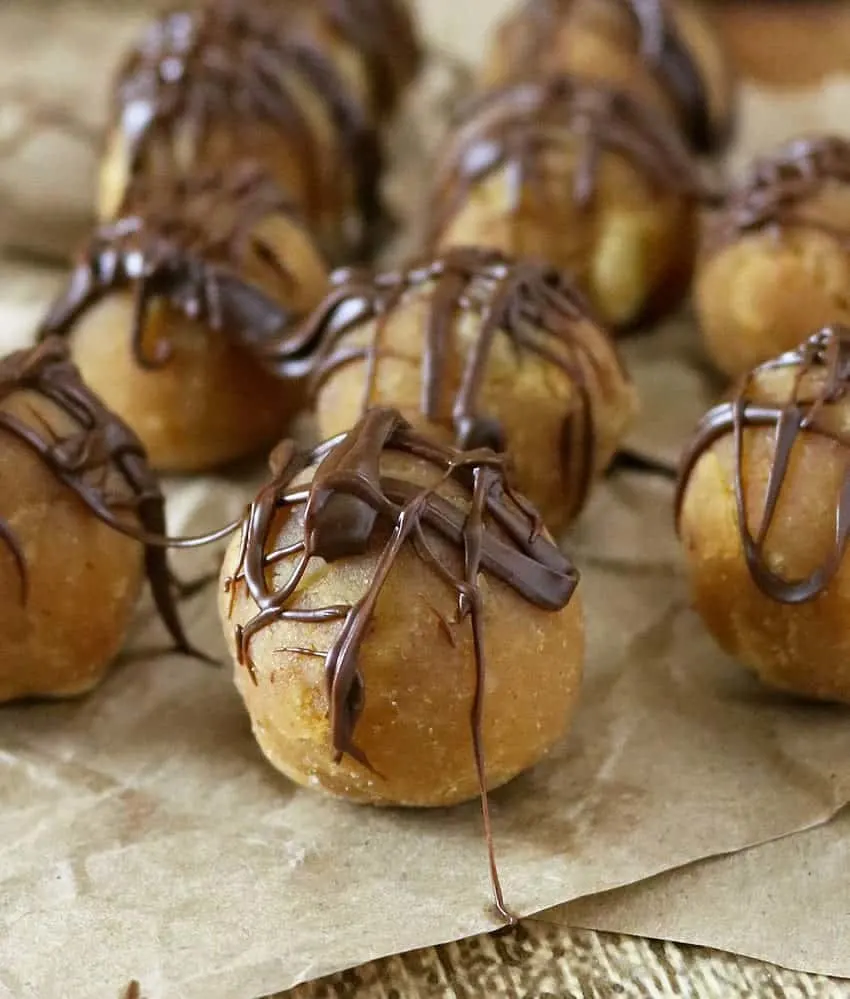 I had some dehydrated banana chips at the house and decided to crumble these up and use them with Premier Protein's Bananas and Cream Shake in a portable, easy and delicious bite – along with some peanut butter, vanilla essence, and coconut flour. These bites are quite filling and I enjoyed a few of them for breakfast as well as after work one day. They can also be drizzled with chocolate – as my daughter suggested – and enjoyed as a dessert – either way, you will keep wanting just one more bite! 🙂
[Tweet "Bananas & Cream Protein Bites #MyOneMore #sponsored @PremierProtein"]

If you haven't tried Premier Protein's Bananas and Cream flavor yet, then please enter to win a sample pack and feel how good this new shake flavor tastes!