Made with only 5 ingredients (which you probably already have in your kitchen), this flourless Peanut Butter Chocolate Skillet Cake is gloriously fudgy and delicious.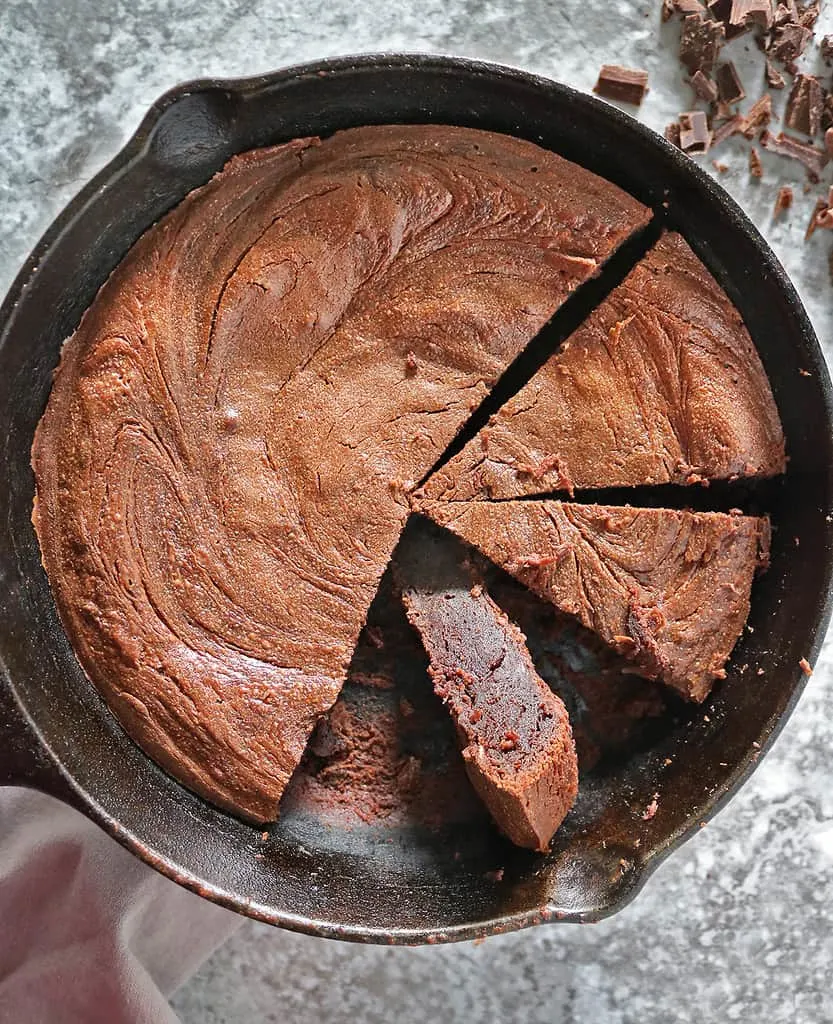 *This post was first published in February 2015. It has been updated with new content and is being republished today.*
This flourless Peanut Butter Chocolate Skillet Cake is an easy cake to make. I mixed up all the ingredients in the skillet itself and baked it in the same skillet. As the eggs were not whipped until fluffy, the resulting Peanut Butter Chocolate Skillet Cake is dense and fudgy like a brownie.
I love this Peanut Butter Chocolate Skillet Cake because:
• It is so easy to make
• It is completely flourless
• It unites 2 of my favorites – peanut butter and chocolate
• It is made with only 5 ingredients!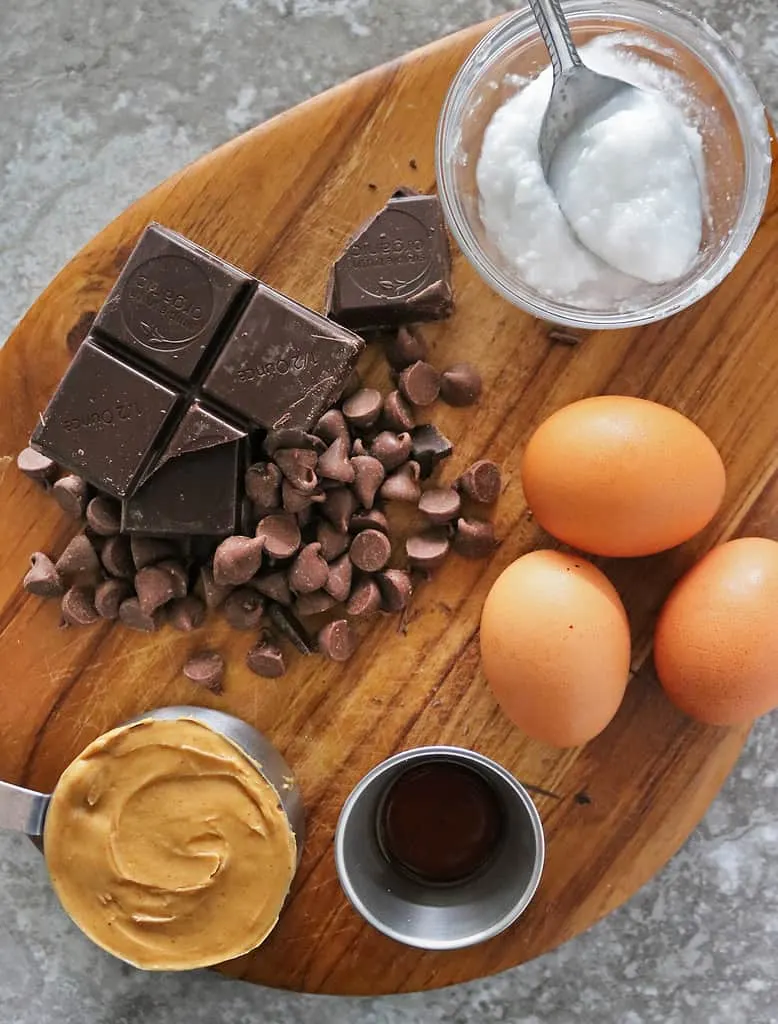 What are the ingredients used to make this Peanut Butter Chocolate Skillet Cake?
The ingredients used to make this cake are:
chocolate (I used milk chocolate chips and part of a semi sweet chocolate bar),
coconut oil,
eggs,
peanut butter, and
pure vanillamextract.
I have found that the older I get, the less I like extremely sweet bakes. So, as I used a combination of milk chocolate and semi-sweet chocolate in this cake. Now, if you like a sweeter cake, then use milk chocolate only. This skillet cake does not use any other sugar, so the only source of sweetener in this is the chocolate used. With that said if you like the taste of dark chocolate – then feel free to use that instead. However, in that case, you might want to add a half cup of sugar to this
How do you make this 5-ingredient skillet cake?
This 5 ingredient cake can be made in 5 easy steps! Yup – 5 is the lucky number for … this blog post 🙂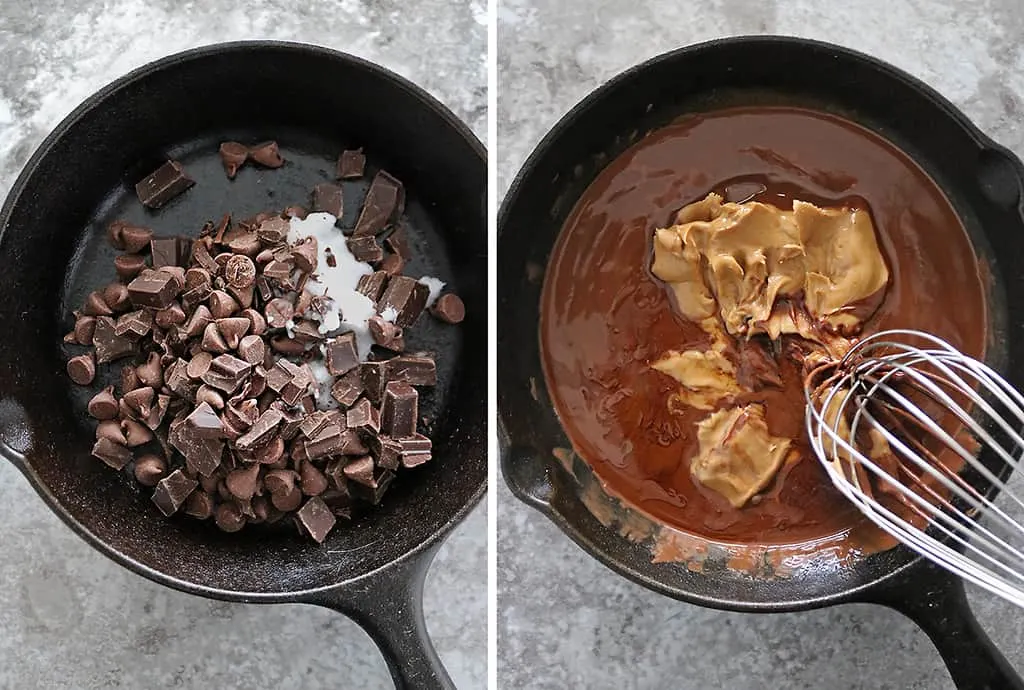 After I gathered my ingredients together, I added the coconut oil and chocolate to the skillet ~ by the way, I am using a small cast-iron skillet, I think it is an 8 inch one. I also turned the oven on to 350 degrees so it could begin preheating.

I placed the skillet with the chocolate and coconut oil on the stove and turned it on low. I kept stirring as the heat melted the chocolate and coconut oil. And, about 2 minutes after, I turned the stove off and just stirred until the chocolate was completely melted by the heat in the pan.

Then I added in the peanut butter and whisked that it too.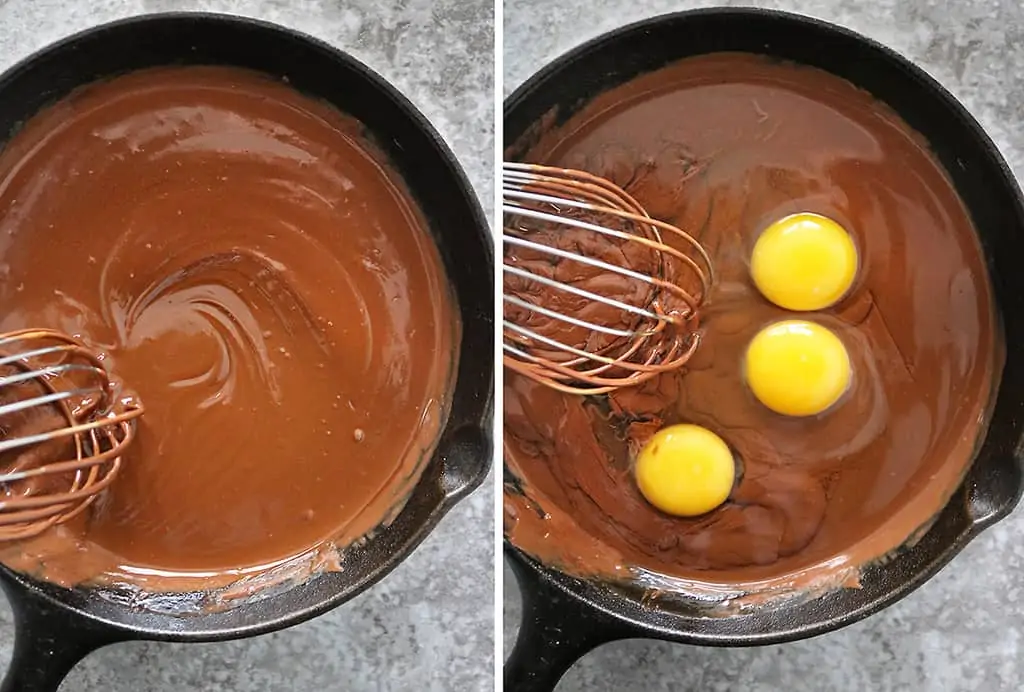 After the peanut butter had been stirred in, the mixture should be at about room temperature at this point. If it isn't, you might want to wait until it cools as you do not want to add in the eggs and they end up cooking before you get a chance to mix them in.

Then add in the 3 eggs and vanilla extract and whisk until the mixture is smooth and velvety.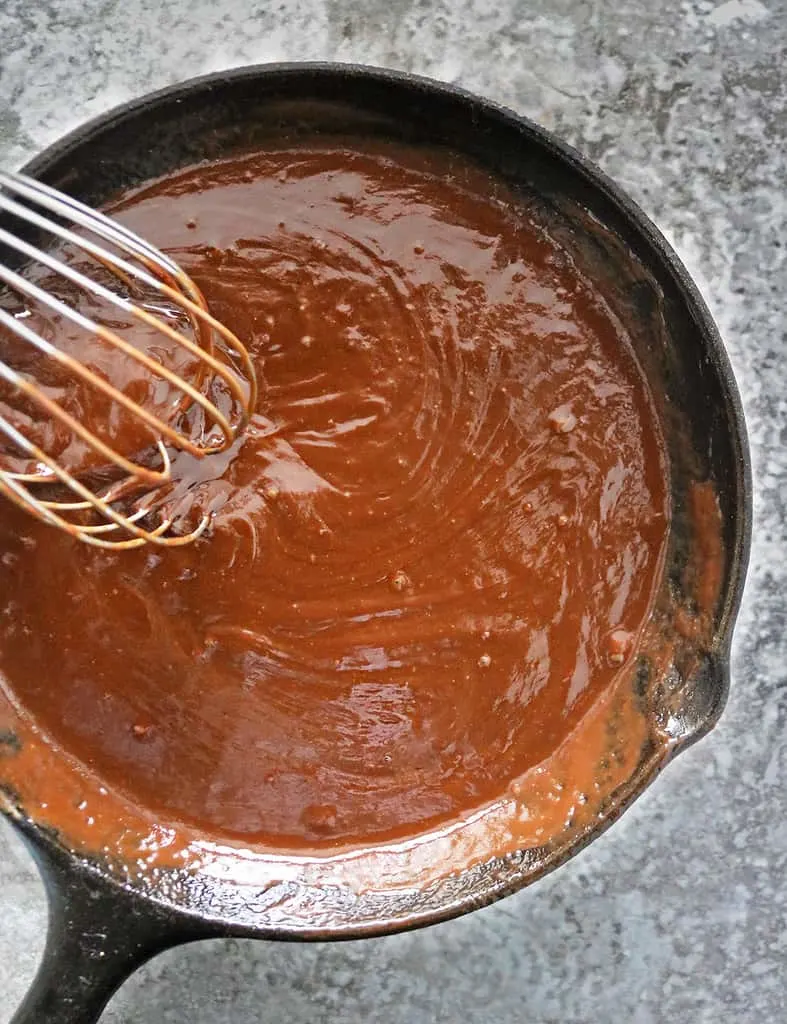 Then use a spatula and scrape off the sides of the pan so all the batter is in it and not on the sides too. Then place the skillet in the 350 degree oven to bake for 30 – 35 minutes! And that's it!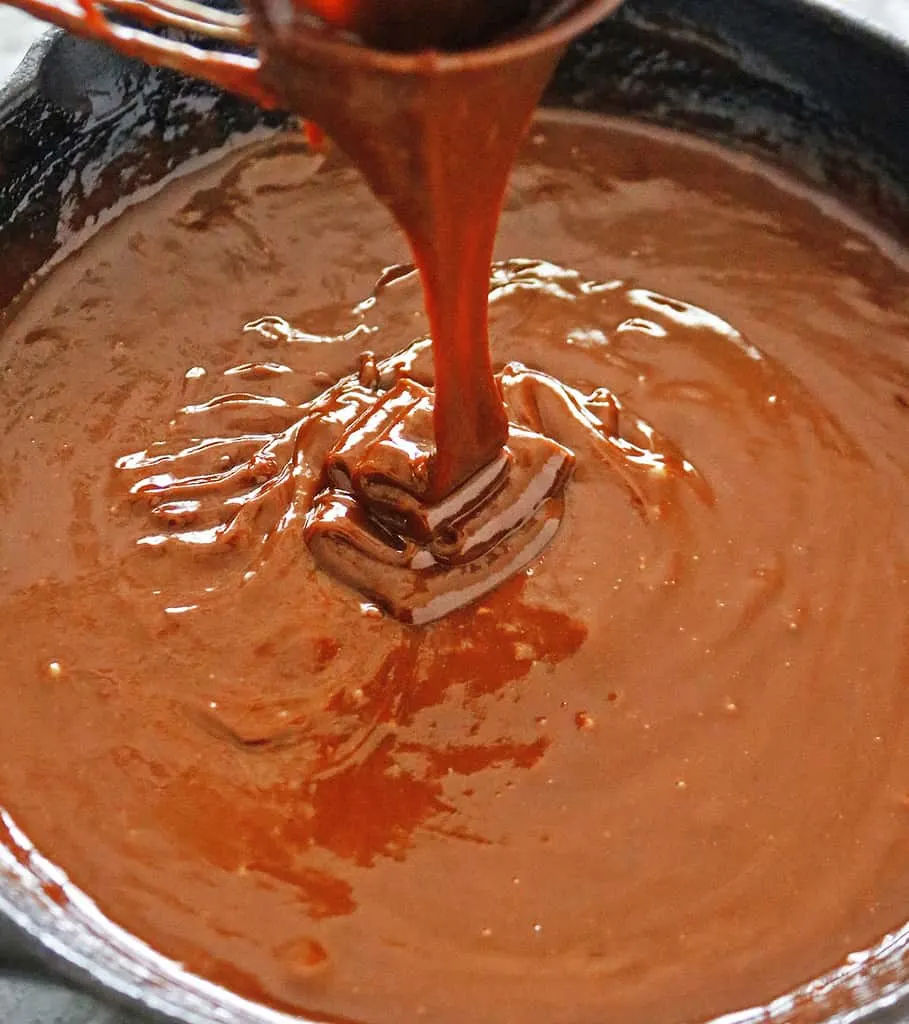 ---
From February 15th, 2015:
Romantic, teen-puppy-love-type, movies are really not my cup of tea, but, seeing my sports-loving-daughter happens to be going through a phase with them. So I figured I would sacrifice my sanity and indulge her. An added bonus of my "sacrifice" happens to be some extra time with my kiddo and some animated discussions about choices after; like when we watched "Endless Love" a while back.
This past weekend, she talked me into watching "If I Stay". I had seen the trailers – and, to me, it looked like a gal -who was comatose after a horrible accident; who had lost the rest of her family; and, who was almost at death's door herself; who comes back for – a boy! I was mentally prepared for a discussion, similar to the one we had after "Twilight", about girls making choices when they are all googly-eyed about some boy. And, since, mental discussions of this sort dictate the need for fuel (for me at least), I made this one-skillet, totally flourless, Peanut Butter and Chocolate cake to sustain us for the hours ahead – or, so I thought.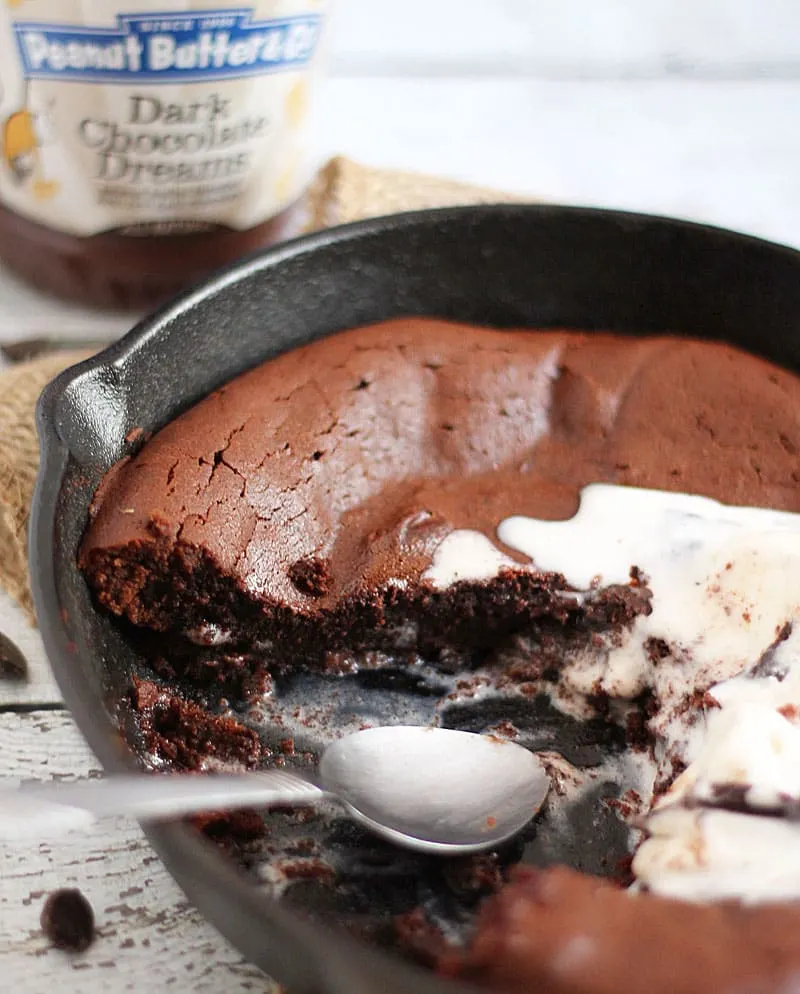 When I first made this cake, I used Peanut Butter and Co.'s Dark Chocolate Dreams together with semi-sweet chocolate chips, coconut oil, vanilla, and eggs to make this oh-so-chocolatey, brain-food – in a skillet! No other bowls or pans to wash!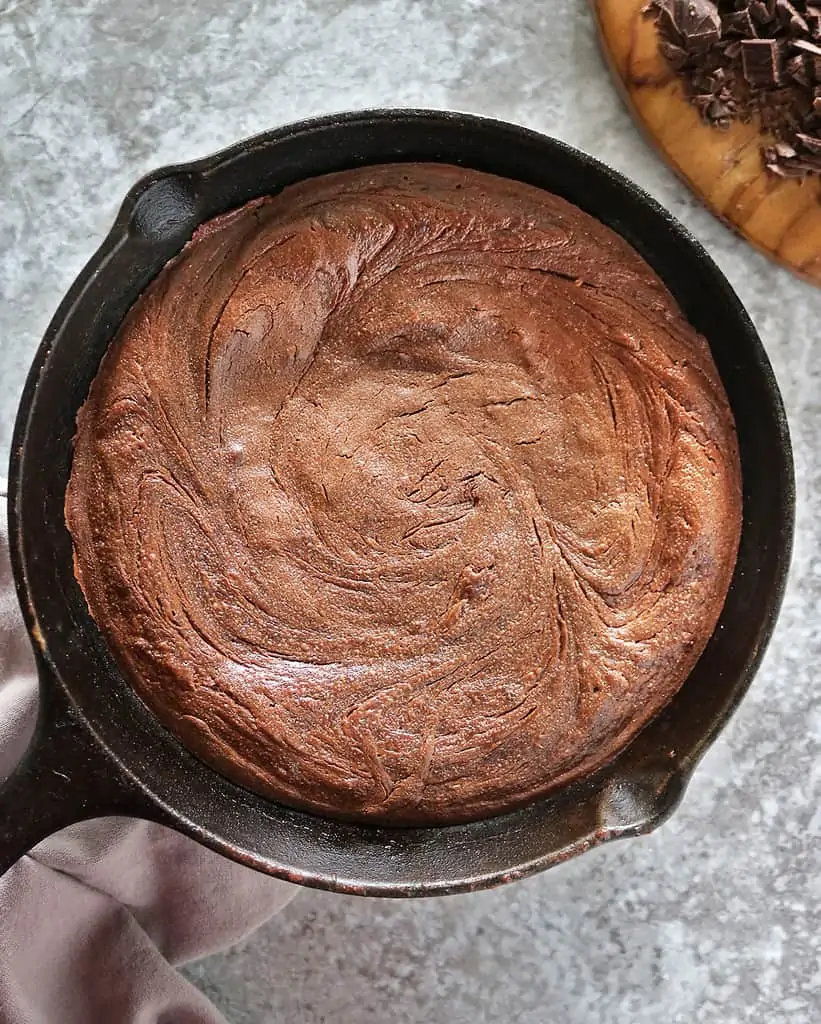 Now, in case you haven't seen the movie and are planning on doing so – I won't reveal any of the actual ending (other than my assumptions earlier), but I was so moved by the grandfather and the parents – especially the dad. Somewhere in the middle of the movie, we find out that the dad gave up his career as a drummer in a successful band, the first time he heard his daughter play her cello passionately. He cuts his hair and gets a job teaching.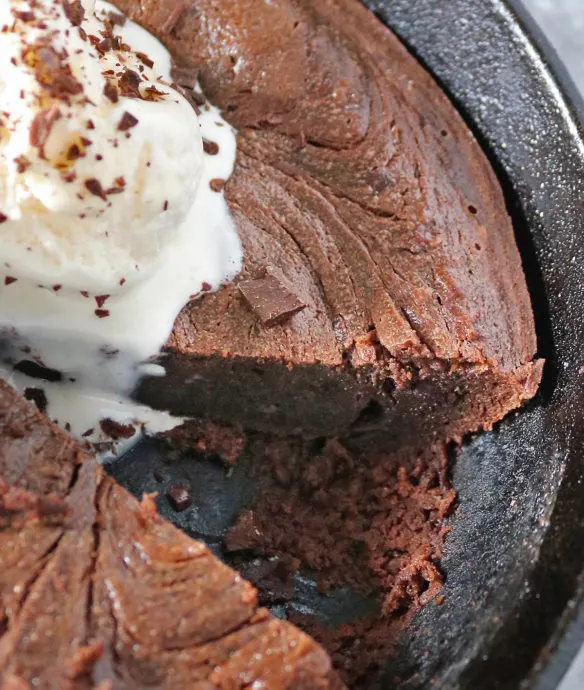 Then, one day, when his daughter is going through his band's old records, she asks him if he missed being in his band and was happy now and his answer began with "sometimes we make choices and sometimes our choices make us"…I know this line isn't anything new – it's been said many times, in many different ways – but those words sat heavy in my heart.
My daughter and I have had discussions where she has felt she was holding me back and this post – those words in particular – are dedicated to her. Every day, the time I choose to spend with her makes me a better me. Everyday. Every Minute. Every Second.