Deliciously charred plantains are the star of this hearty and tasty Roasted Plantain Bean Stew. This is an easy plant-based stew that is packed with wholesome ingredients.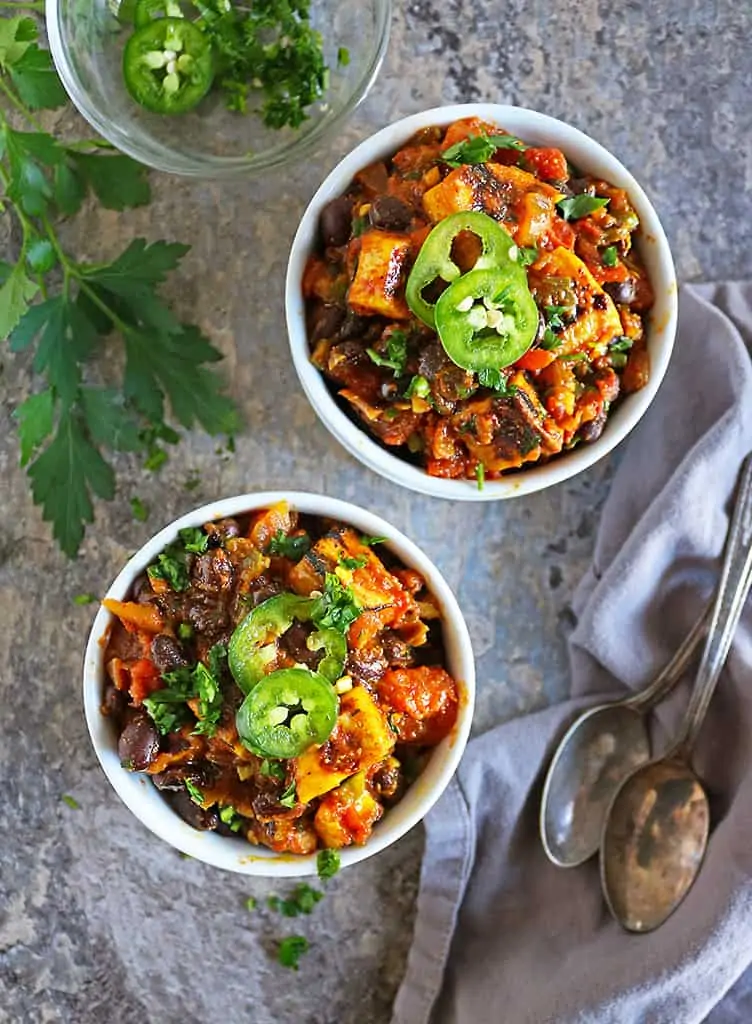 This is one heck of a delicious stew. Thick and filling, this roasted plantain bean stew made the need for seconds non-negotiable!
Most times, when I bring home plantains, my daughter peels them, slices them, and smothers them in a smorgasbord of spices. She then proceeds to pan roast them until they are deliciously caramelized. Spicy, sweet, and savory, these banana slices are irresistible to snack on.
This time, however, I decided I was going to use a medium ripe one to make a stew.
Peeling, slicing, and pan roasting the plantain did take about 15 minutes. But, roasted plantains with a caramelized, ever so slightly crispy exterior, are simply scrumptious and have this insane ability to alleviate any bean stew or curry!
This is a one-pan recipe as you can pan-roast the plantain in a pan, when it is roasted, remove it from the pan and set it aside and then cook the stew in the same pan.
We could not get enough of this stew as it was:
✔ So hearty,
✔ So flavor-packed,
✔ Spicy, sweet, and savory,
✔ So filling and satisfying
✔ Packed with fiber and plant protein power
✔ So easy to make
And… did I already mention: so darn delicious?!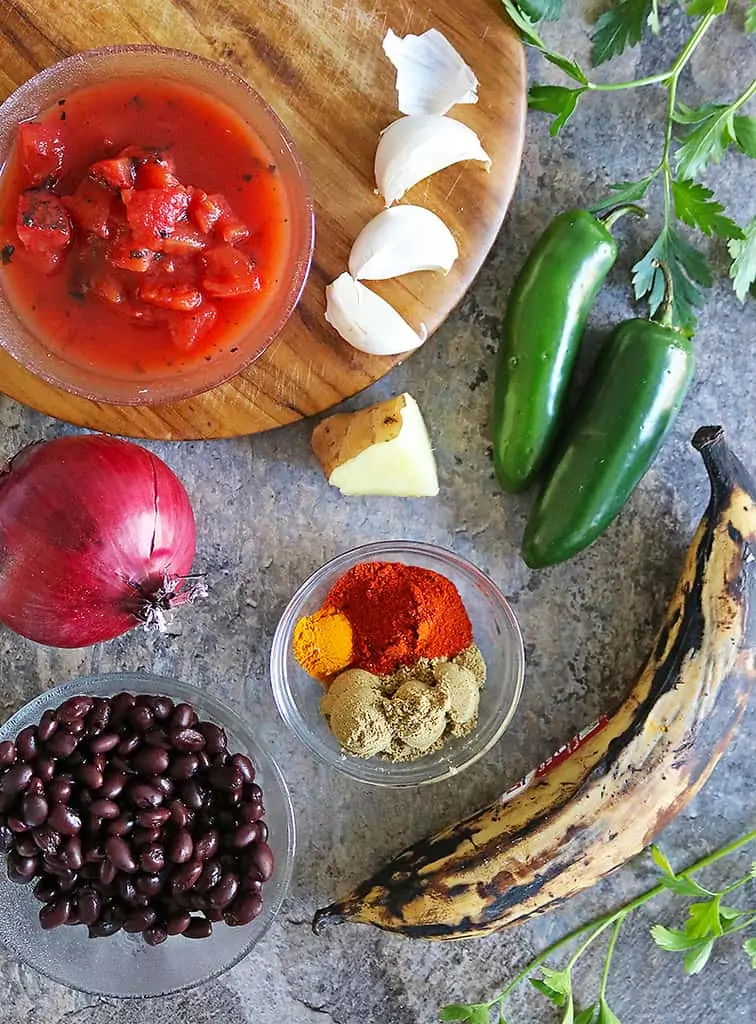 This Roasted Plantain Bean Stew only requires the following 12 ingredients:
red onion,
garlic
ginger,
coriander,
turmeric,
smoked paprika,
jalapeno,
a can of fire-roasted tomatoes,
a can of black beans,
a ripe plantain,
vegetable stock, and
parsley.
This stew recipe is a quick and easy one as I opted to use canned black beans and canned fire-roasted tomatoes. You could use cooked black beans if you prefer or opt for a different bean altogether.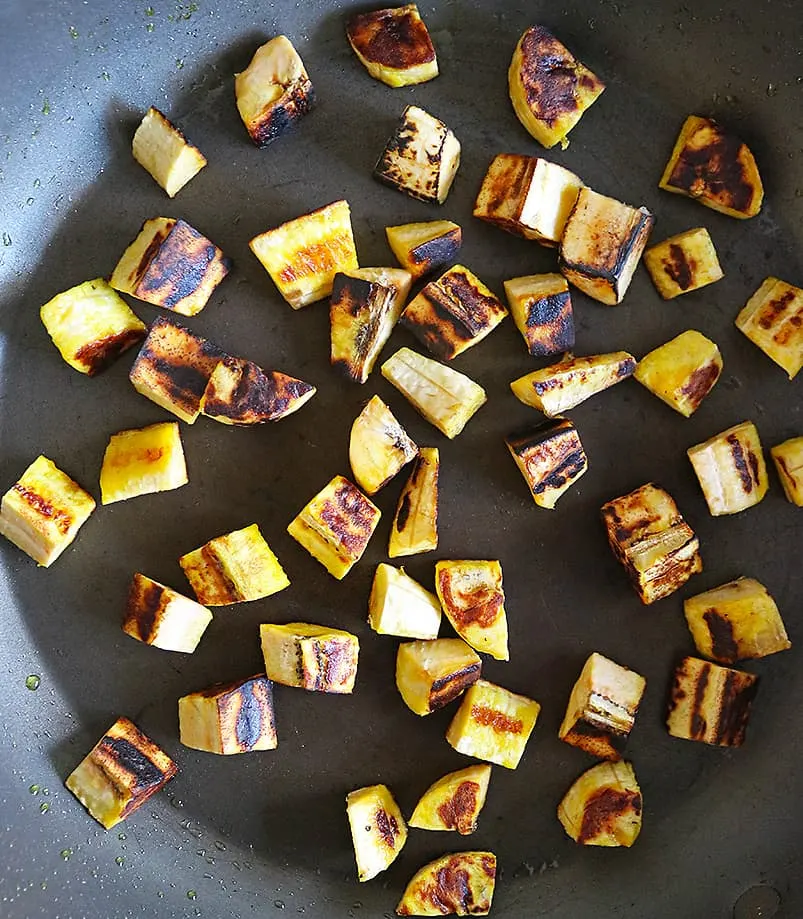 As for the canned fire-roasted tomatoes, you could make your own if you like (using one of these methods) and then use them in this recipe. Or, you can even add in a can of diced tomatoes. I opted for the can of fire-roasted tomatoes as they are so rich in flavor and so convenient.
The fire-roasted tomatoes combined with the sautéed onion, ginger, garlic, coriander, turmeric, smoked paprika, parsley, and pan-roasted plantain, add layer upon layer of flavor to this easy plant-based stew. This is one stew that is so tasty, we hardly ever have leftovers.
However, if you happen to have leftovers, they can be stored in an air-tight container in your fridge for up to 3 days. I couldn't account for more as we've never had any that lasted so long.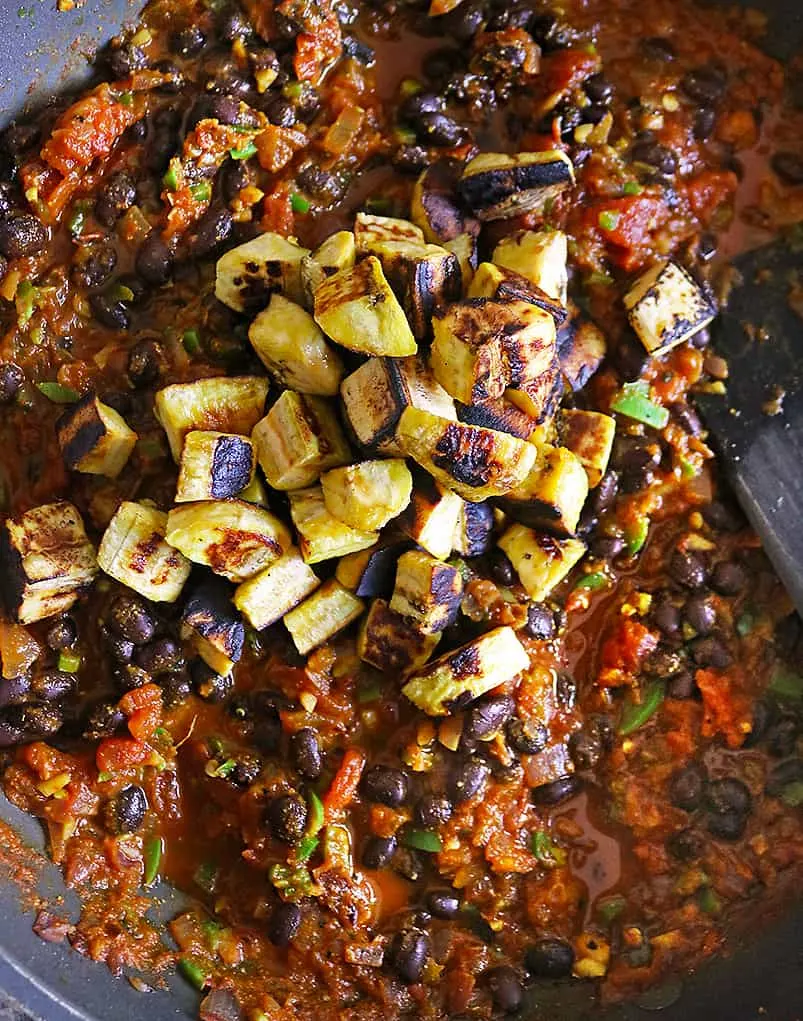 Is plantain safe to eat?
Plantains, no matter if they are ripe or unripe, are edible raw. They might not be as tasty raw as they are ripe.
If you can't find plantains what would be a good substitute?
If you cannot get your hands on plantains, then sweet potatoes or yellow potatoes would work. Do keep in mind that using raw potatoes will increase the cooking time – and will eliminate the step of roasting them before adding them to the stew.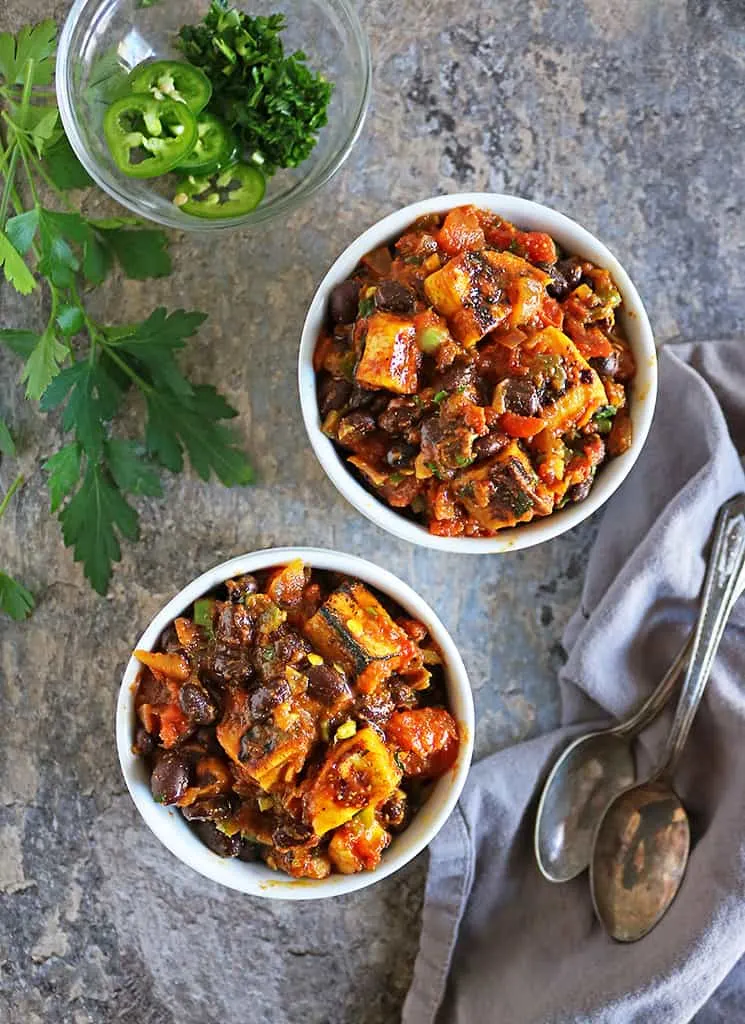 How ripe should the plantains be?
For this Roasted Plantain Bean Stew, I used a plantain that was medium-ripe. Which meant this plantain was slightly soft and yellowish with a smattering of brown splotches on the peel. I wouldn't advise using super ripe bananas as this stew would turn out too sweet. I wouldn't advise using unripe green plantains either as this stew would take longer to cook.
What to pair with this Plantain Bean Stew?
You can enjoy big bowls of this soup without any other add-ins or fixings. Or, you can serve this with some crusty bread or delicious roti.

Follow a meal of this Roasted Plantain Bean Stew with a delicious slice of this Love Cake or this Flourless Chocolate Peanut Butter Skillet Cake.
Another couple of our favorite stews are this black lentil stew and this Orange and bean stew – hope you enjoy these recipes as well.