This spinach curry soup is a tasty way to get your greens for the day. Loaded with just a few ingredients, this soup is thick, creamy, and vegan.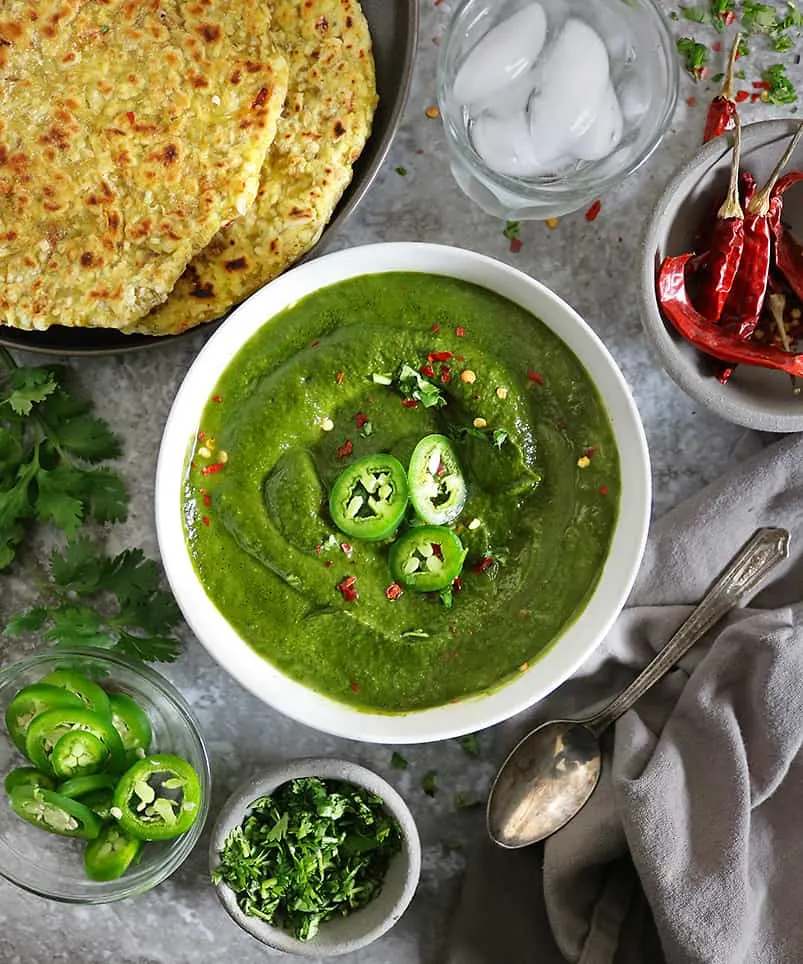 This spinach curry soup leaves me almost speechless… almost!

This is so good. The last time I made this, my daughter and I polished our bowls clean! What we couldn't lick off, we sopped up with roti. My daughter and I love this spinach curry soup because it is:
• So tasty,
• So flavorful, and
• So healthy!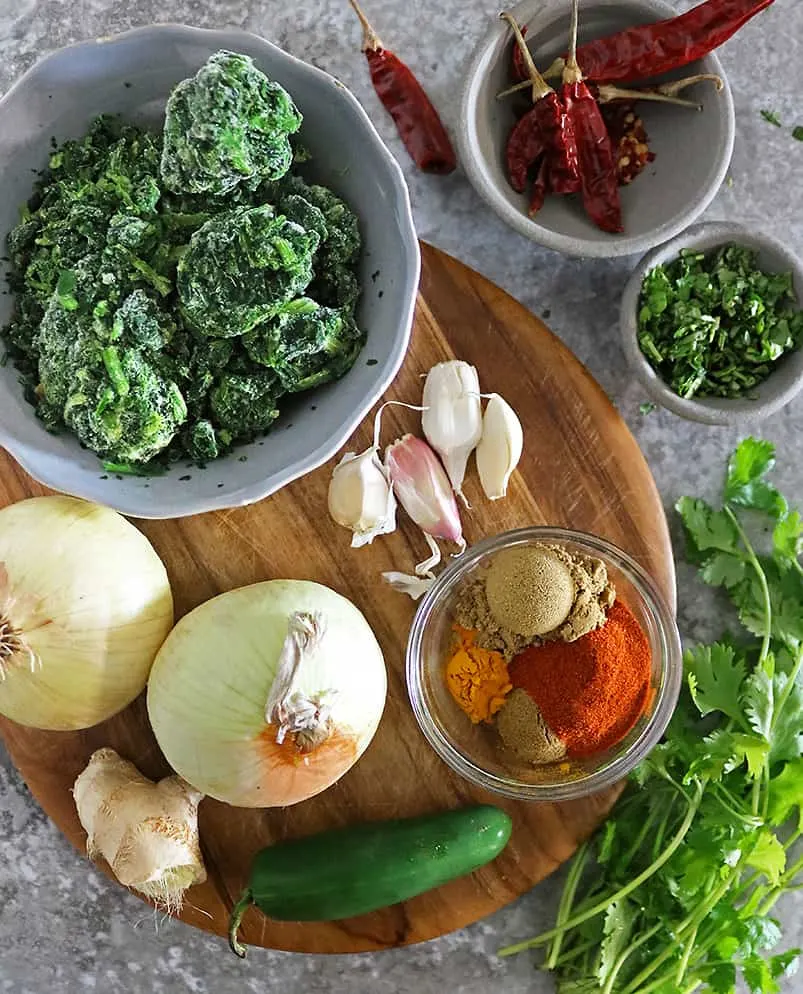 What are the ingredients to make this Spinach Curry Soup?
To make this spinach curry soup, you need only 10 ingredients. And, in order of usage, those ten, pantry-staple ingredients are:
Onions,
Ginger,
Garlic,
Coriander,
Smoked paprika,
Turmeric,
Cilantro,
Cumin,
Frozen Spinach, &
Jalapeños
I used frozen spinach for this recipe because I always have a few bags of it hanging out in my freezer. For me, 3 or 4 packages of frozen spinach are a much more budget-friendly option than the same amount of fresh spinach. Add to that, frozen spinach lasts so much longer than fresh spinach does.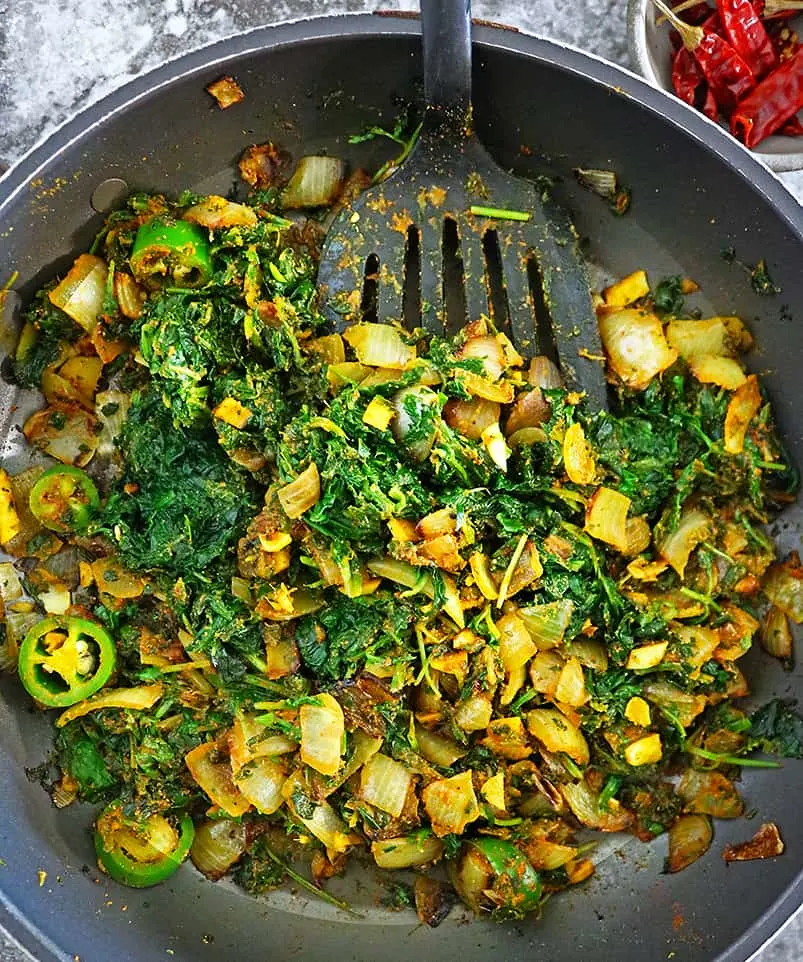 Easy steps to make this soup:
After I gathered and prepped all the ingredients together for this recipe, I sautéed the onions first then dropped in the garlic, ginger, and spices just until their flavors jived and jammed and perfumed the whole downstairs.
Then I added in the frozen spinach and let it cook until it was warmed through, stirring it often so nothing was singed.
At this point, this spinach curry soup looks more like a spinach hash ~ and, it looks downright drab. Just a big, sloppy mess parked in a pan!
But, add this big sloppy mess into a blender (with jalapeño and some vegetable stock -use as much or as little as you need to make this as thin or thick as you would like it to be), and magic happens! This mess is turned into an ultra-thick and creamy soup.
This recipe for spinach curry soup is very similar to this recipe for Spinach Curry Sauce. The main difference being this soup does not contain any celery and the ratio of spices and vegetable stock are different.
This soup is one heck of a tasty and easy way to give your immunity a boost! Spinach is rich in vitamins A, C, & K, as well as magnesium, iron, and manganese. I mean, even Popeye swore by it!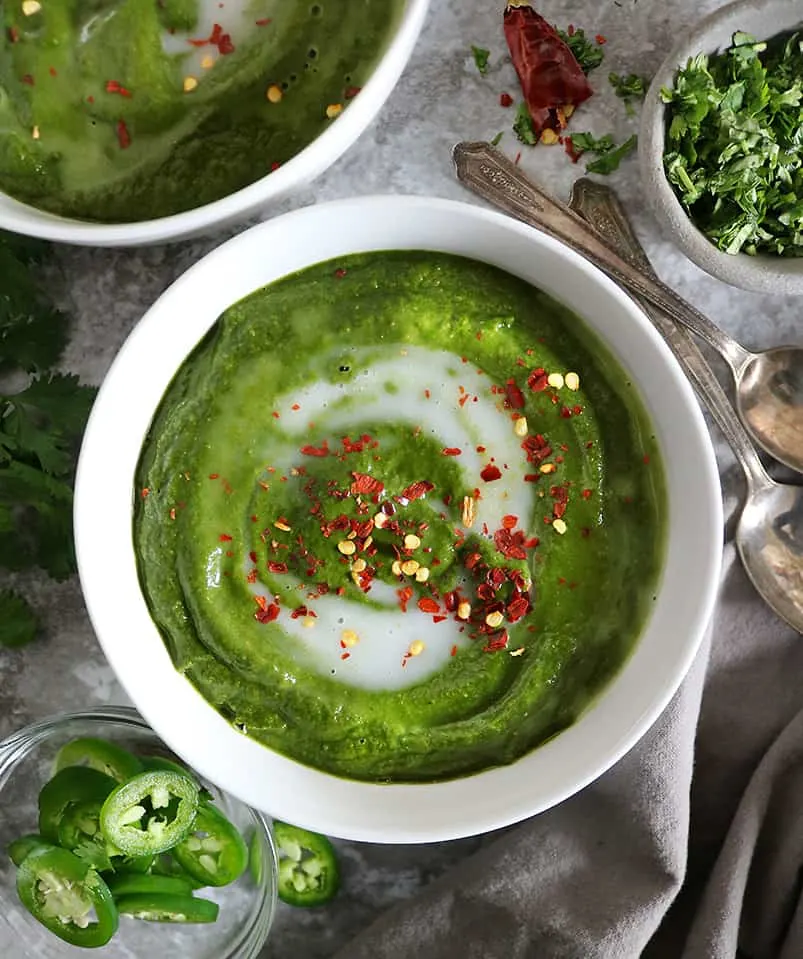 By the way, being on the subject of Popeye, I recently happened on this article that talked about how Popeye's spinach-eating ways were all because of a mistaken calculation.
Apparently back in 1870, Erich von Wolf, a German chemist, was researching the amount of iron within spinach and other green veggies. When he was transcribing his findings, he erroneously misplaced a decimal point. Instead of stating that there were 3.5 milligrams of iron in a 100-gram serving of spinach, Wolf wrote down 35 milligrams – which would have been the equivalent of eating a small piece of a paper clip!
When Popeye was created around this time, studio executives suggested that spinach be his anti-Kryptonite of sorts. This error was corrected in 1937 when someone rechecked the numbers – but, I still think of Popeye every time spinach is on my menu!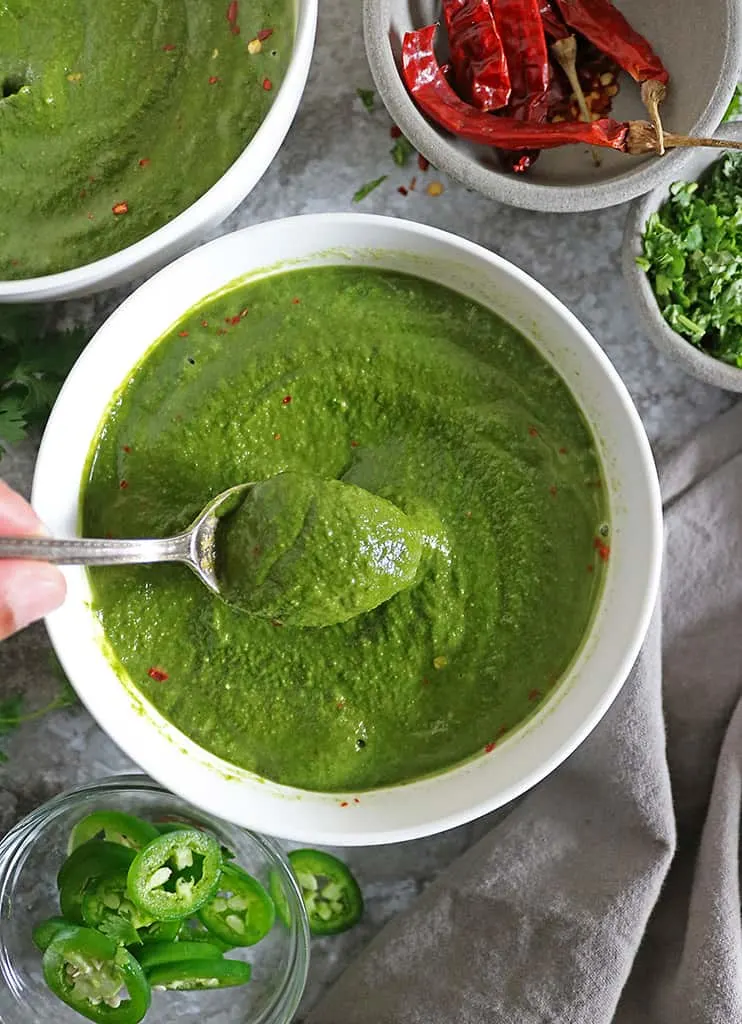 Getting back to this curried spinach soup, I like to stir in a bit of coconut milk to thin this out a bit. Then I top it with some sliced fresh jalapeños, more cilantro, and (because I am a glutton for all things spicy), a few more red chili flakes.
When I made this spinach curry soup, my daughter added her spin to this recipe for coconut roti. She added in a few pinches of zataar and turmeric into the recipe and wow! The resulting Sri Lankan/African fusion roti is my favorite now!
In a hurry? Then garb a can of our favorite grab and go store-bought soup!