Frozen butternut squash and chiltepin peppers unite in a deliciously spiced and aromatic coconut-milk based sauce in this spicy, easy, vegan butternut squash curry.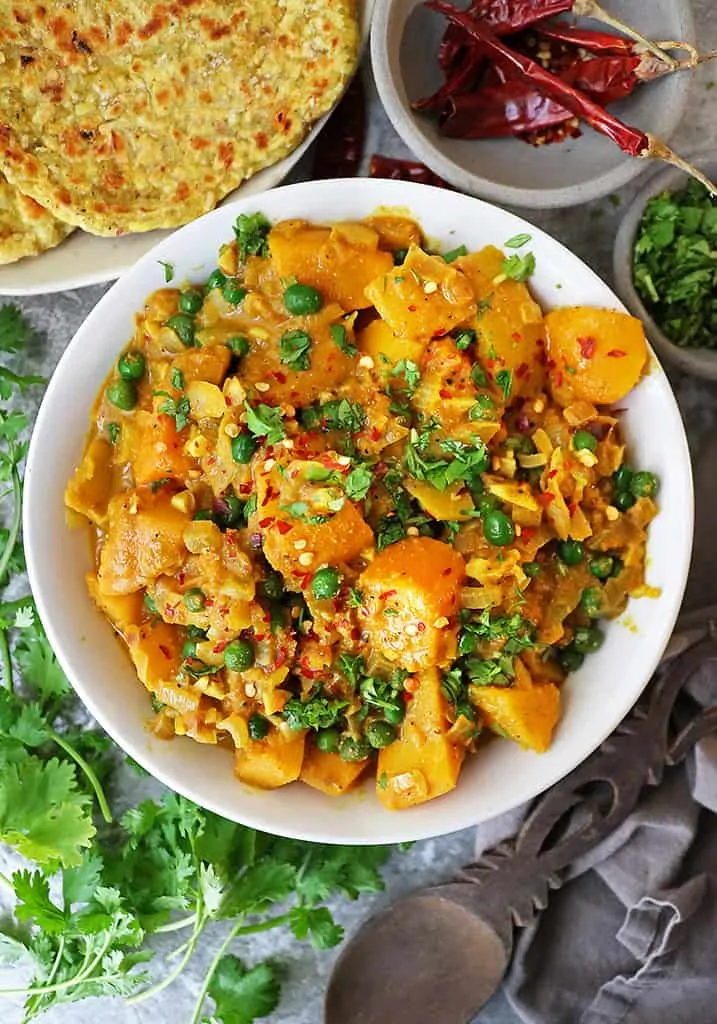 Recently one of my neighbors stopped by with a sandwich bag filled with what he said were "wild chile peppers." I'd never come across these teeny, tiny, green orb peppers before and was fascinated.
My neighbor assured me that these peppers were not very hot – and their "slight" heat dissipated in seconds after consumption. He also mentioned that he and his wife snacked on handfuls of these little peppers.
So, I rinsed out a few of these teeny tiny chilies and my daughter and I popped a couple of these little green orbs onto our mouths… and… goodness spiciness!

My tastebuds were ASSAULTED by an onslaught of heat that I wasn't prepared for! It was like I had bitten into a chunk of habanero! By the time I had reached for some coconut milk to drink, my mouth wasn't on fire anymore.
Up until that moment I thought I hadn't met anyone (outside of my family) that could out-heat me! WOA! Those teeny-tiny "wild chile peppers" were something else! My neighbor considered them to be mild, but I sure didn't!
The heat from those peppers did subside quickly – unlike a habanero. I had to know more about these so I headed to Google to look up "wild chile peppers" and found that these little chaps were popularly known as Chiltepin Peppers.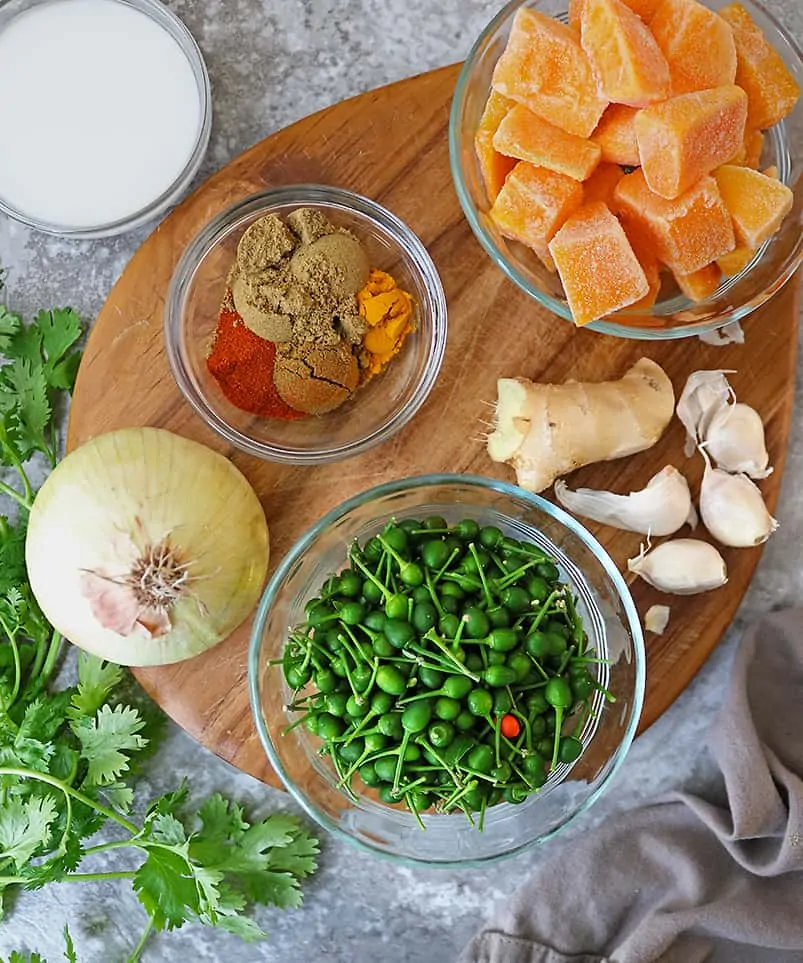 With a Scoville heat range of 50,000 – 100,000 SHU, these little Chiltepin Peppers are said to be about 24 times as spicy as jalapeños! However , they are not as hot as habaneros.
My neighbor mentioned that other than snacking on these raw, he and his wife also pickled them, and enjoyed them thrown into soups, salsa, and sautés.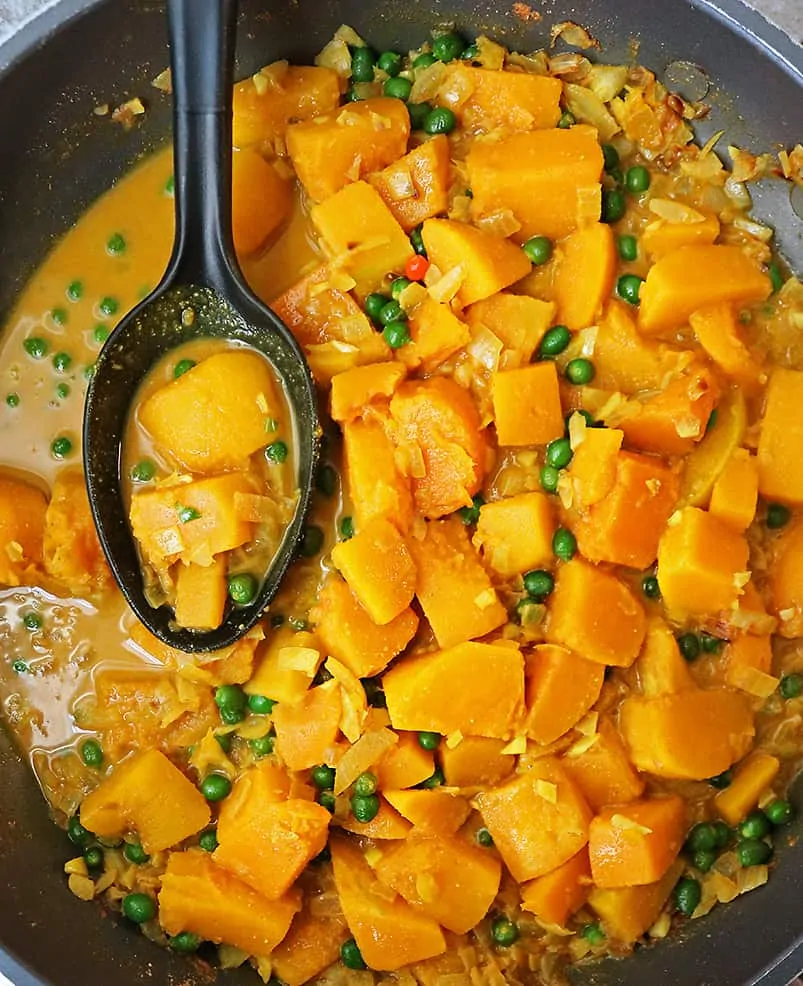 So, I figured I'd use them in a curry. I wanted to use something that would offset their heat factor a bit. That's why I opted for butternut squash. I figured the slightly sweet butternut squash would pair beautifully with spicy Chiltepin Peppers.
For this butternut squash curry, I opted to use a couple of packages of frozen butternut squash. I have quite a few packages in my freezer as I love how convenient frozen butternut squash can be. These are already cut up. And, unlike the fresh packages of diced butternut, these frozen ones last for a long while in the freezer.
What are the ingredients to make this Butternut Squash Curry?
Other than the frozen butternut squash, I used 10 other ingredients to make this curry, such as:
Onion,
Garlic,
Ginger,
Coconut milk,
Coriander,
Smoked paprika,
Turmeric,
Cumin,
Wild Chiltepin Peppers, and
Cilantro.
Easy Steps to make this curry:
You start off by sautéing the onion just until it begins to brown.
Then you will add in the ginger and garlic and stir them around so they infuse their flavors with the onion.
Shortly after, you add in the coconut milk, spices, frozen butternut squash, wild Chiltepin Peppers, and cilantro.
Let all the ingredients simmer and then this curry is ready to enjoy.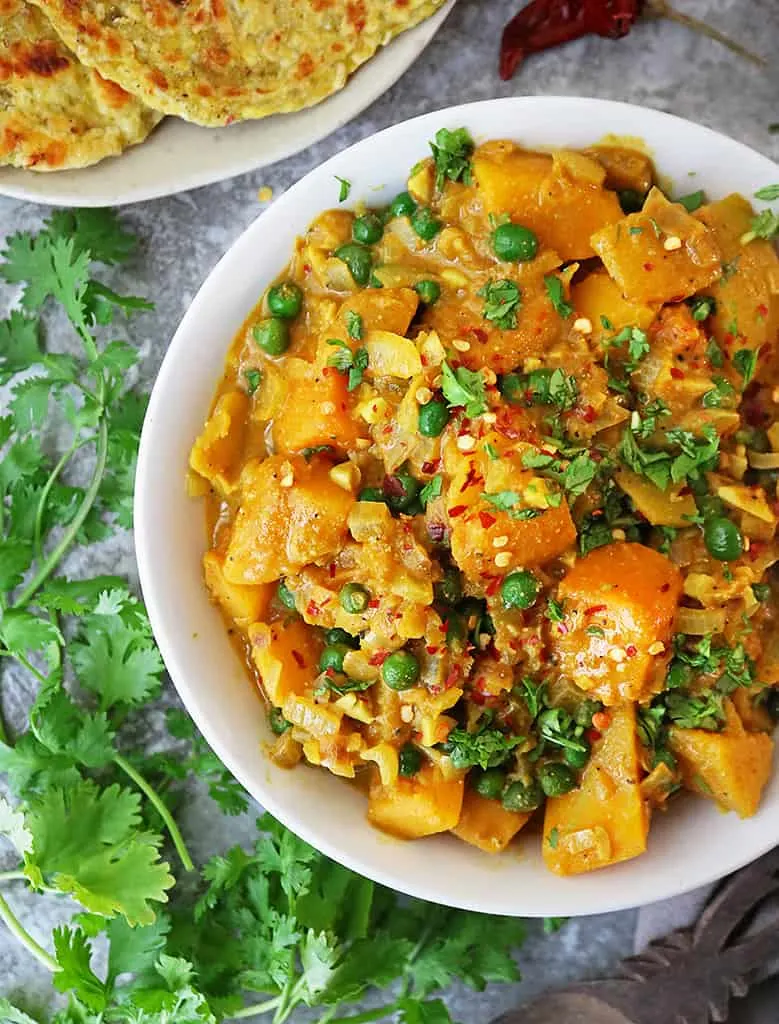 Pair this butternut squash curry with Chiltepin Peppers with some roti and some carrot croquettes for a delicious plant based meal. Or, enjoy it with some chicken curry and rice for a satisfying and quick meal.