Sneak some fresh moringa leaves into your diet with this Potato Salad with Moringa Leaves. A spicy sauté of moringa leaves, potatoes and a whole heck of a ton of flavor!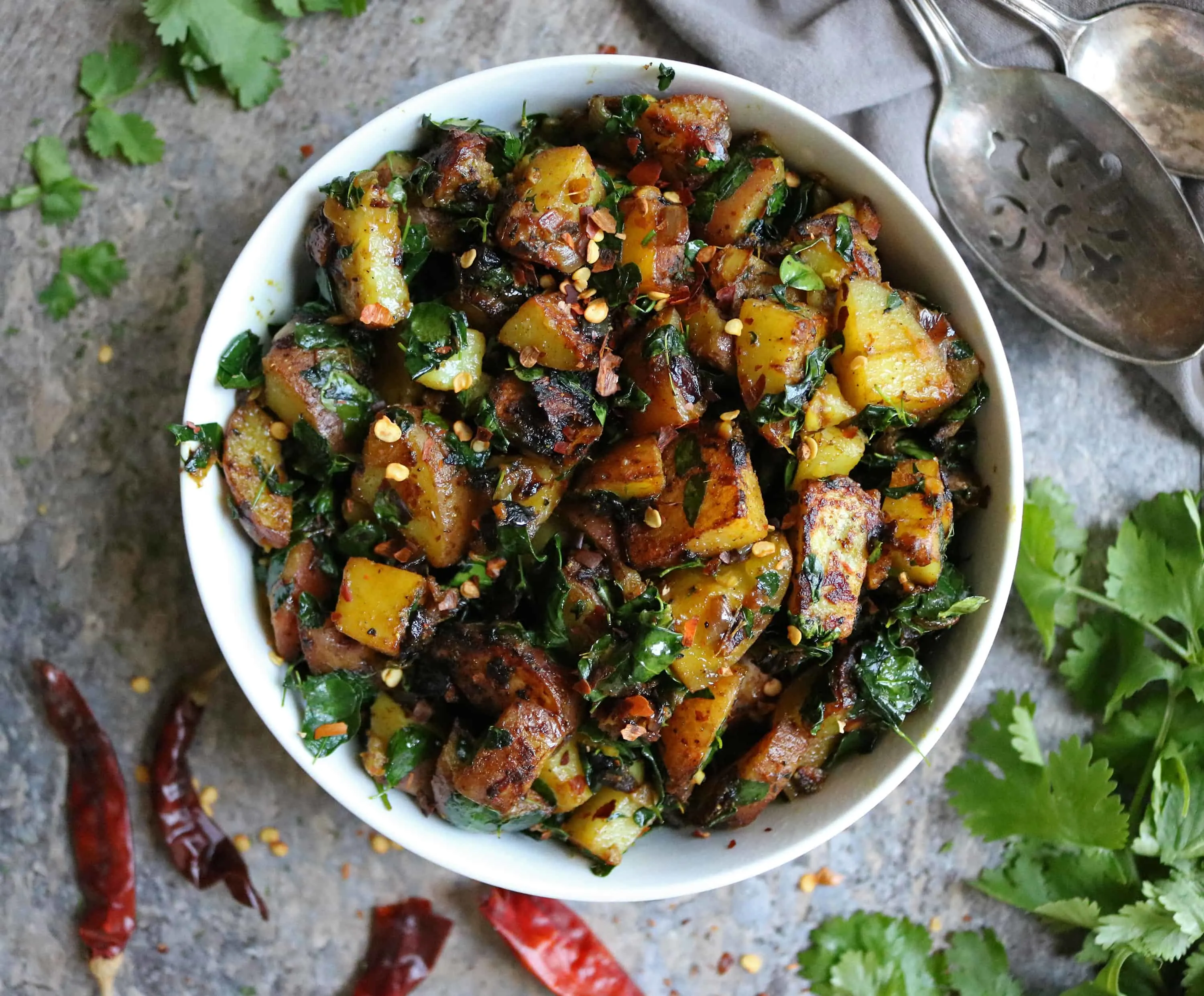 When we lived in Sri Lanka, my mom would often make drumstick curry.

The drumsticks in this curry were long, thin, stalks (almost like pole beans) that you could split open to reveal a few succulent seeds inside.

As a child, I used to love tackling a plate of my mom's drumstick curry and rice. I would gnaw on those drumsticks and try to savor everything that was inside them.
Little did I know then that when my mom said that those drumsticks were good for me, they would be touted as a superfood in years to come.

Yes, those drumsticks that were so popular in Sri Lanka during my childhood are the immature seed pods from the drumstick tree, which is also known as Moringa Oleifera.
And, these days moringa powder is quite popular among health-conscious folks here in the US. from Dr Oz's show to the Khaleej Times to ShiftCon, moringa has been touted as an energy source and all-around superfood.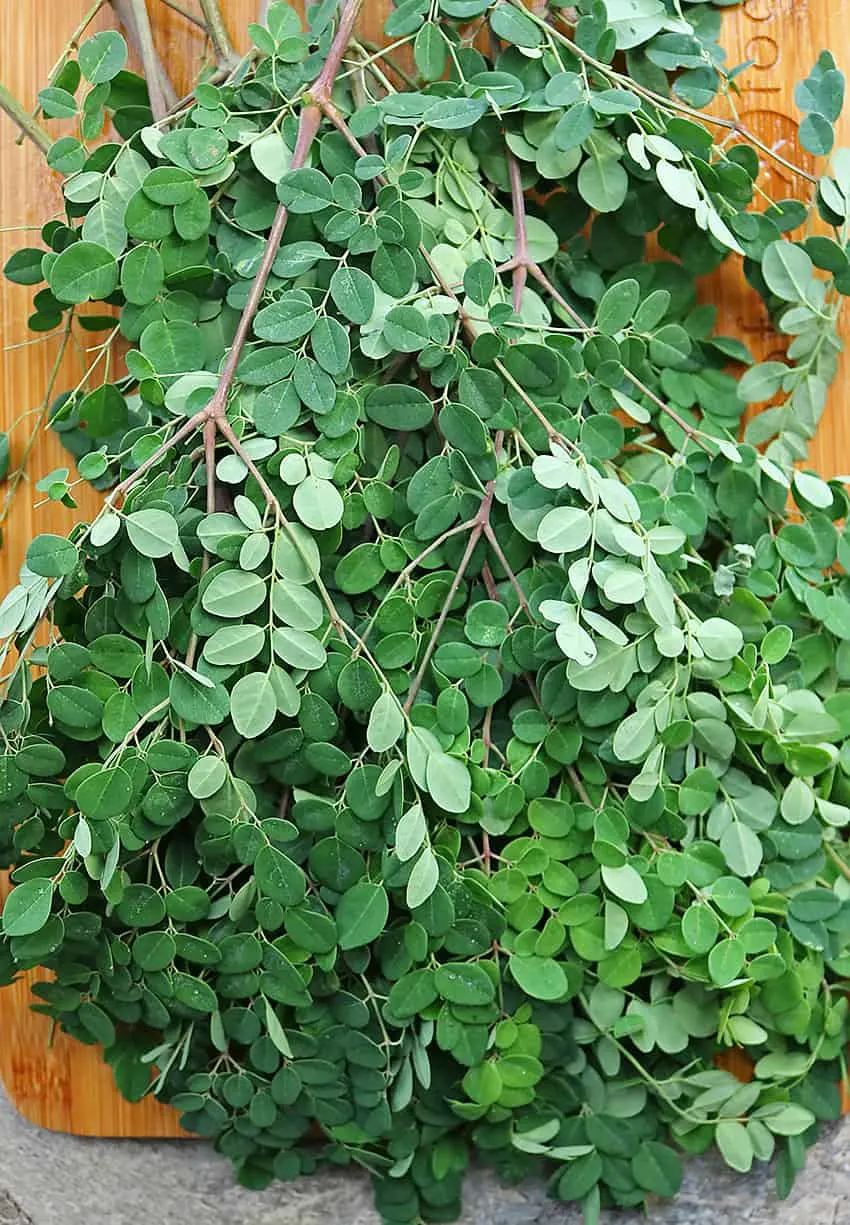 What is Moringa?
Moringa Oleifera is a fast-growing plant that is new to the West, but it has been used in everything from curries to tinctures in southeast Asian countries like Sri Lanka, India, Burma, etc.

From its seeds, leaves, flowers, fruits, and roots, almost all parts of the moringa plant are edible.

Moringa is an important component of herbal medicine and it is even used as a water purifier.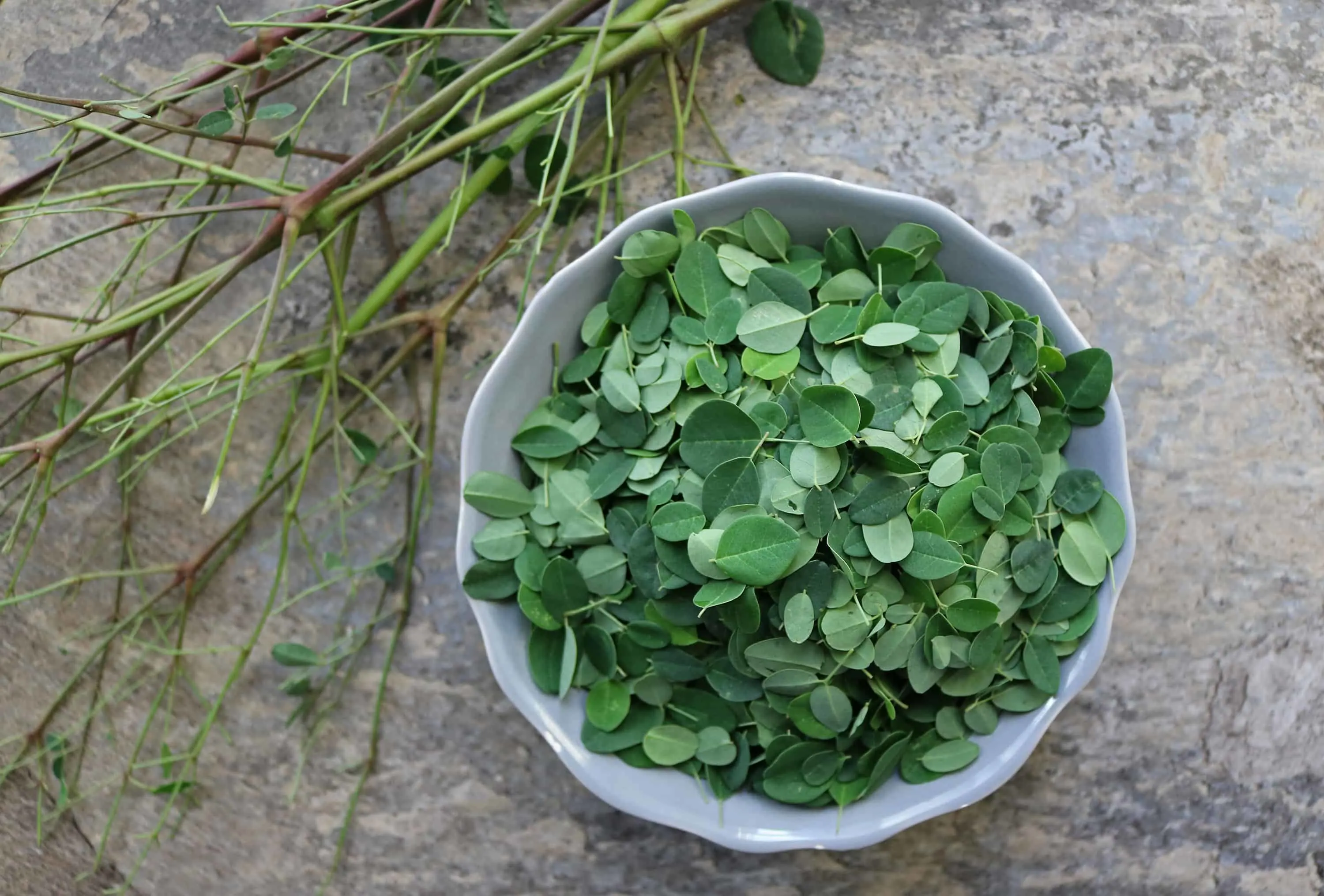 Why is Moringa a superfood?
Moringa is said to help lower blood sugar levels and help alleviate diabetes related complications. It also is supposed to help lower inflammation and help with weight management.

Moringa is also said to protect against bacterial, fungal and viral infections, aids in cognitive health, skin and hair health and aging.
When consuming parts of the moringa plant, it is advised to be aware of any other medication you might be taking that have the same benefits as moringa.

For example, if you are taking medication to control your diabetes and consuming large quantities of moringa, your blood sugar might drop lower than what it should be.
So, best speak with a herbal / natural health practitioner before starting an aggressive moringa regimen.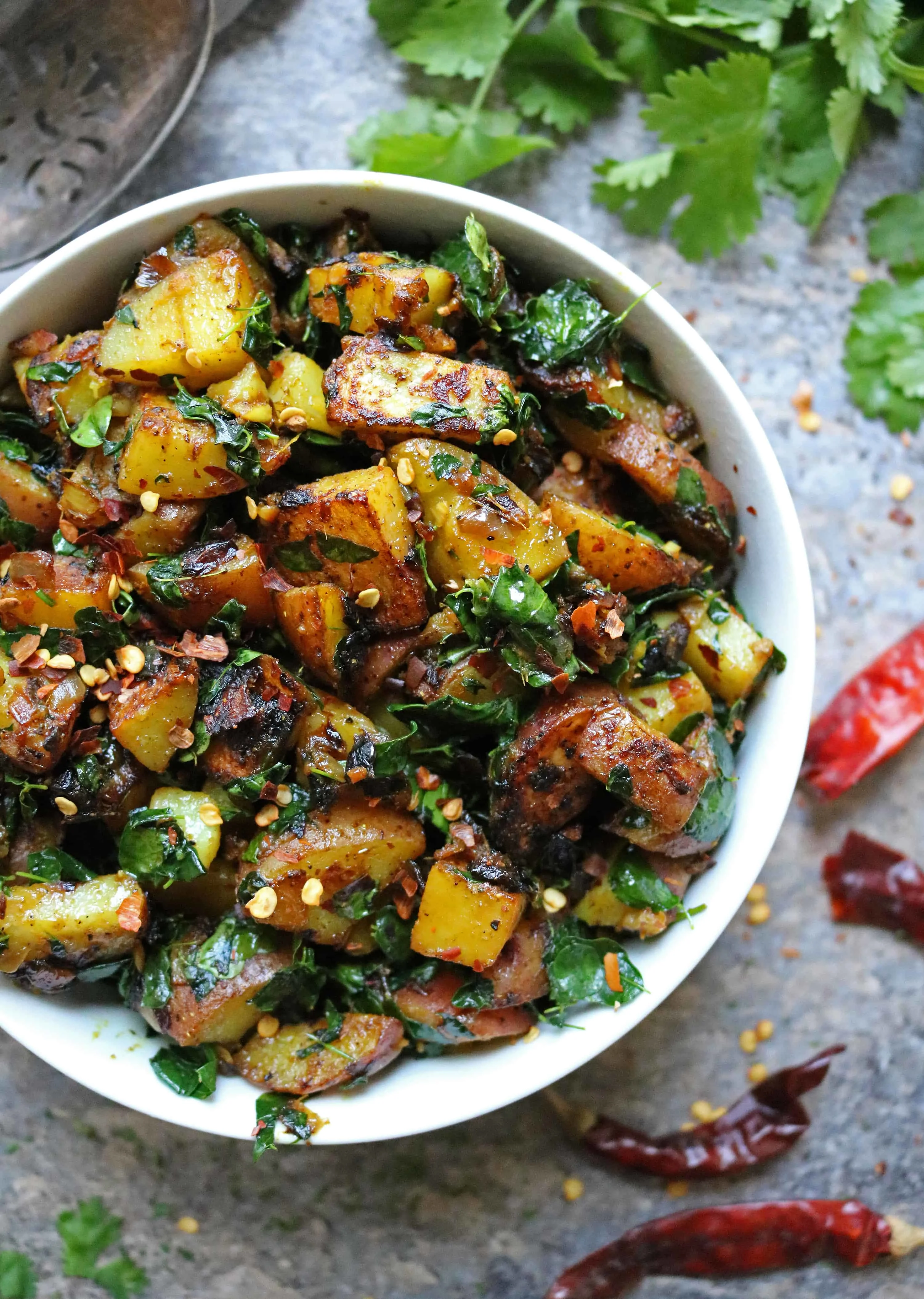 Where do you find fresh Moringa leaves?
Usually you can find fresh moringa at your local farmers markets or health food stores. I found bunches of moringa at the Dekalb Farmers Market here in Atlanta, GA.
How to cook with Moringa leaves?
Today, I have a super simple recipe incorporating moringa leaves. I purchased a bunch of moringa leaves at the Dekalb Farmers Market.
When I got home, I took the leaves off the plant – which is a lot easier than it sounds. I simply ran two fingers clasped firmly together, down each branch and most of the leaves slithered off.

I then rinsed the leaves in a colander before using them in this dish.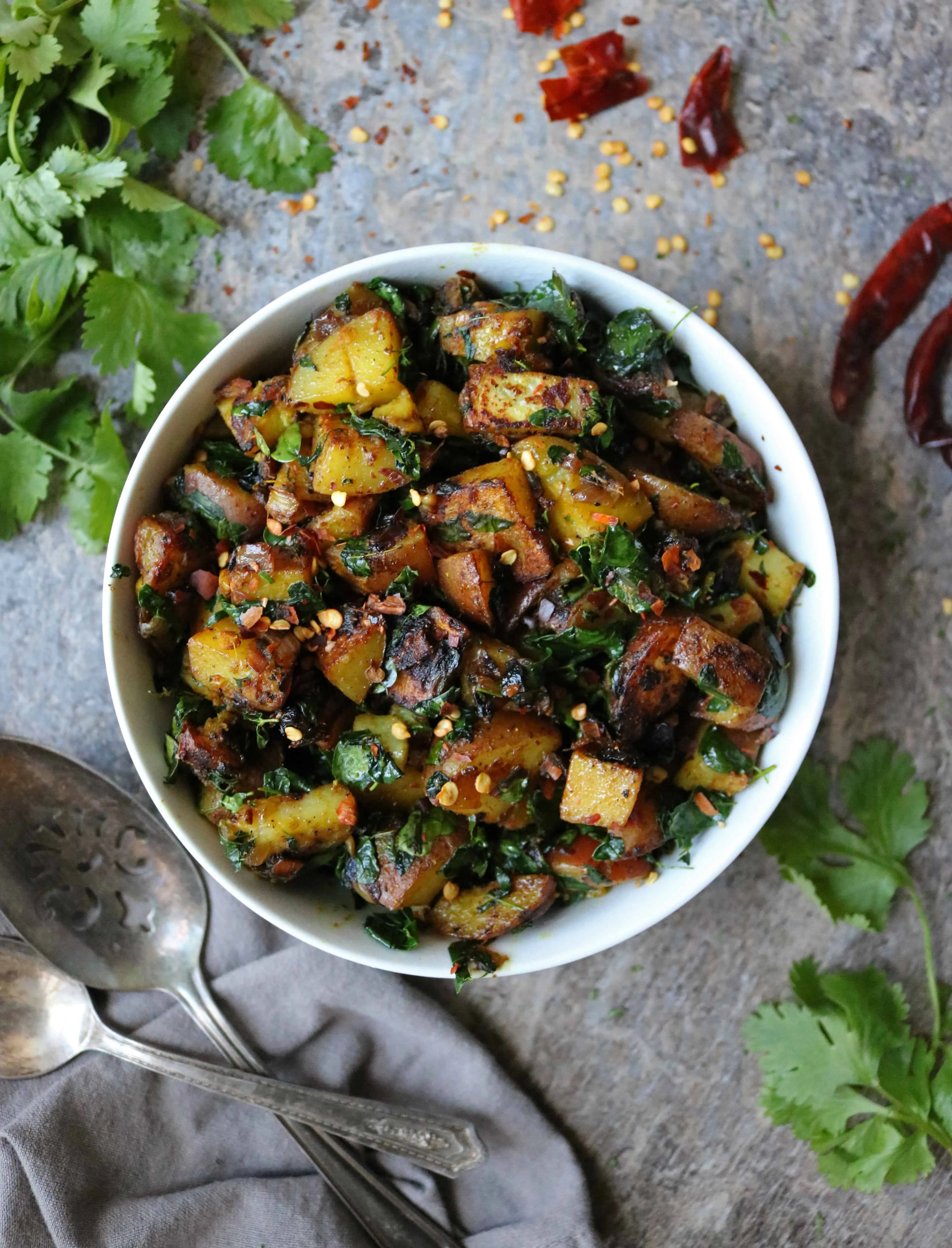 In addition to moringa leaves, you will need red potatoes (I like their texture, but you can pick another potato that you prefer), onion, garlic, ginger, coriander, turmeric, chili powder or flakes and oil.
Moringa cooks up like spinach. You add a whole ton to your pan and within minutes it's wilted into what looks like a handful.

For this dish, simply sauté these 9 ingredients together, season with salt and pepper, sprinkle with cilantro and enjoy.

This Potato Salad with Moringa Leaves side dish is delicious paired with this Za'atar ras-el-hanout chicken or these chicken meatballs. However, if you want to keep your meal vegetarian, you could pair this Potato Salad with Moringa Leaves with these Meatless Veggie Balls or these Navy Bean Falafel.
This recipe first appeared on Food Fanatic ~ Make sure y'all check out Food Fanatic for more delicious recipe ideas and inspiration!