It only takes 30 minutes to make a batch of these easy, light, and tasty Vegan Vanilla Cupcakes. Serve them topped with a mound of vegan vanilla frosting or vegan chocolate frosting for a dairy-free, gluten-free, treat your family is sure to love.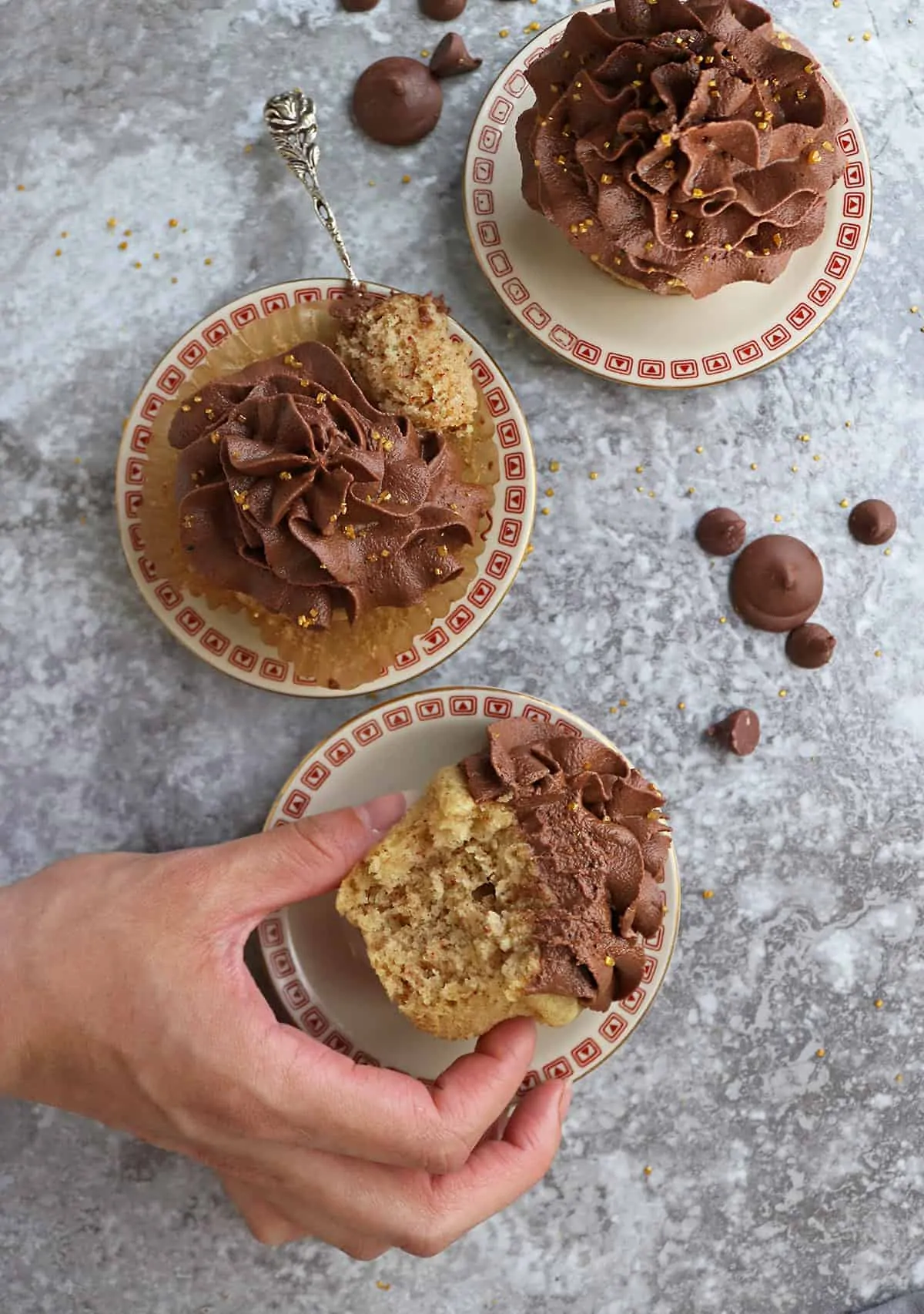 I love eggs. I love eating them. I love baking with them. I love everything about them. However, my daughter doesn't.
Not too long ago, my daughter noticed that when she ate eggs (or, anything with eggs in the ingredient list – her gut wasn't too happy. As I've always tried to encourage her to listen to her body to figure out what foods make her feel good and energized, I decided that I needed to try and start making more treats without eggs.
My foray into baking without eggs started last December when my daughter asked me for Vegan Vanilla Cupcakes for her birthday. Well, that first attempt was a total disaster.
I found a well rated recipe on the internet and tried to recreate it. The recipe used vinegar to compensate for a lack of eggs and a large quantity of sugar and the resulting extra-sweet cupcakes were not to our liking at all.
Since then, I've tried experimenting with other recipes on the inter webs. I've tried using flax-eggs instead of eggs; I've used lemon juice, smaller quantities of vinegar even; and the result has always been unsatisfactory to our taste-buds.

That was until I made these vanilla cupcakes.
At some point in time, I decided that I wasn't going to try and replace the egg with vinegar or lemon juice or even a flax egg. Instead, I started experimenting with just using different quantities of baking powder and baking soda and altering the amount and type of liquids used.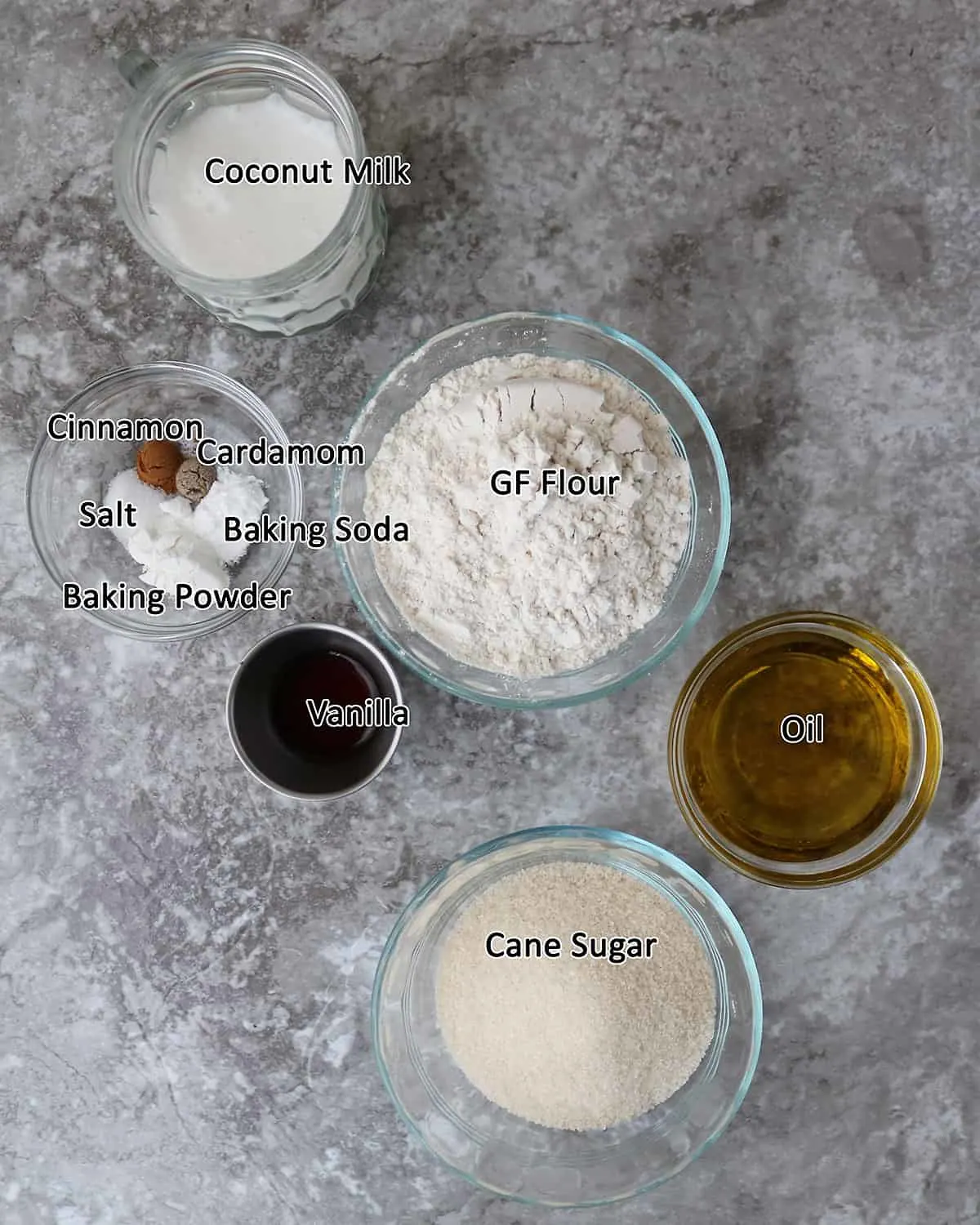 Initially there were over-risen cupcakes. Then, under-risen cupcakes. And finally these that were (just like in Goldilocks and the three bears) just right.
What are the ingredients to make these vegan vanilla cupcakes?
All you need for these Vegan Vanilla Cupcakes are:

• All purpose flour (I used King Arthur Gluten Free Flour)
• Cane sugar
• Baking powder
• Baking soda
• Coconut milk
• Salt
• Oil
• Vanilla
• Optional: cardamom & cinnamon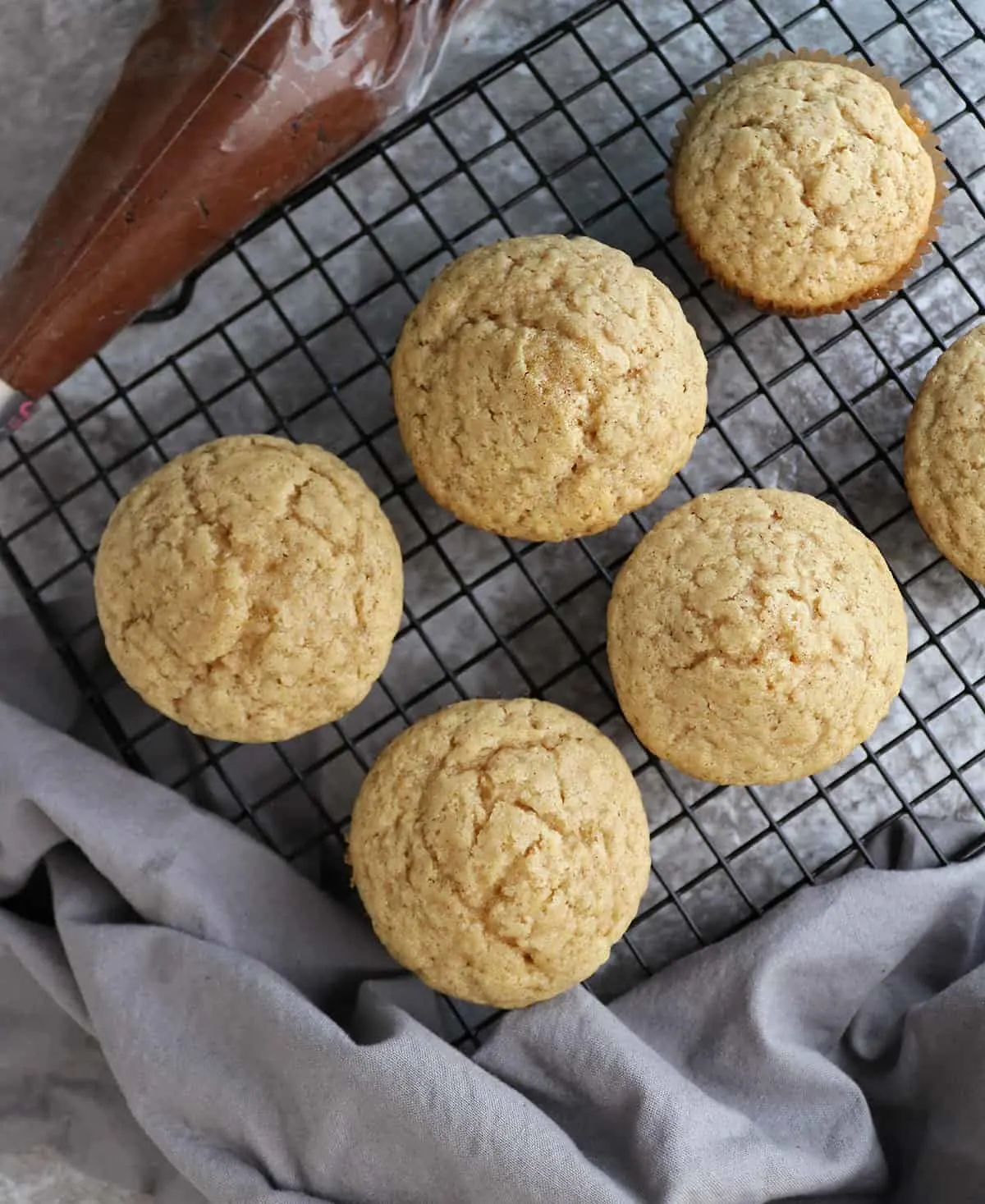 The first batch of these vegan vanilla cupcakes I made did not have any cinnamon or cardamom. They would be perfect for vanilla lovers. But, my daughter suggested I add in a bit of spice like I always do to vanilla cakes and cupcakes, so I added in a tad bit of cardamom and cinnamon into these.
These Vegan Vanilla Cupcakes are light and airy and are not overly sweet and are some of the tastiest vegan vanilla cupcakes I have had. And they are so easy to make too. You can make them without the cinnamon and cardamom for a light and tasty version. Or, you could add in a pinch of cloves and ginger along with the cardamom and cinnamon and make these into some delicious Vegan Spiced Cupcakes.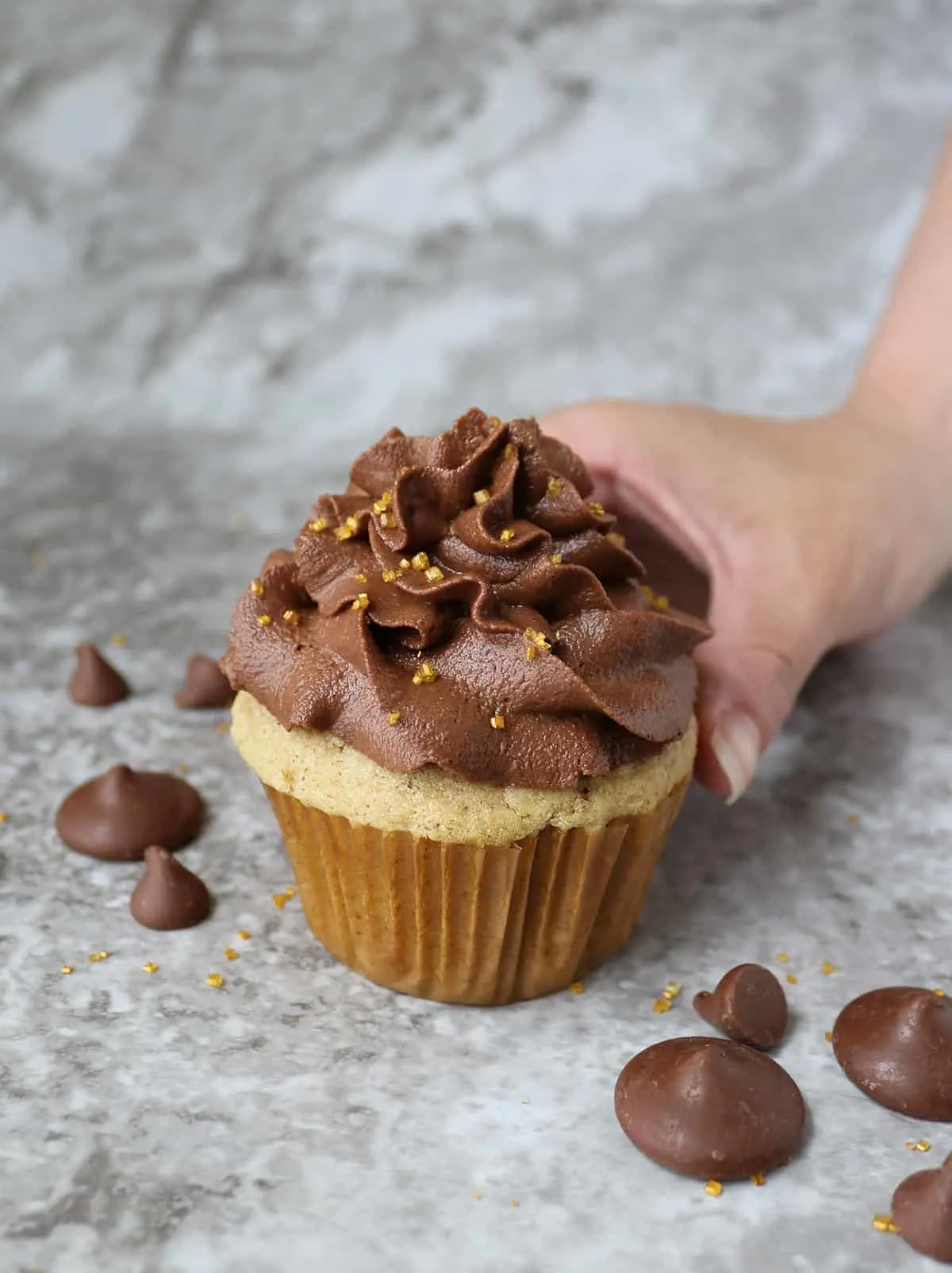 I served these cupcakes with some vegan chocolate frosting that I made with vegan butter, powdered sugar, vanilla,a tad bit of instant coffee, and a pinch of salt.
This recipe makes 6 cupcakes. You can cut the ingredients in half to make 3 or double them to make a dozen. For our family of 2, these lasted us 3 days – and made for a delicious treat to end our stay-at-home days with.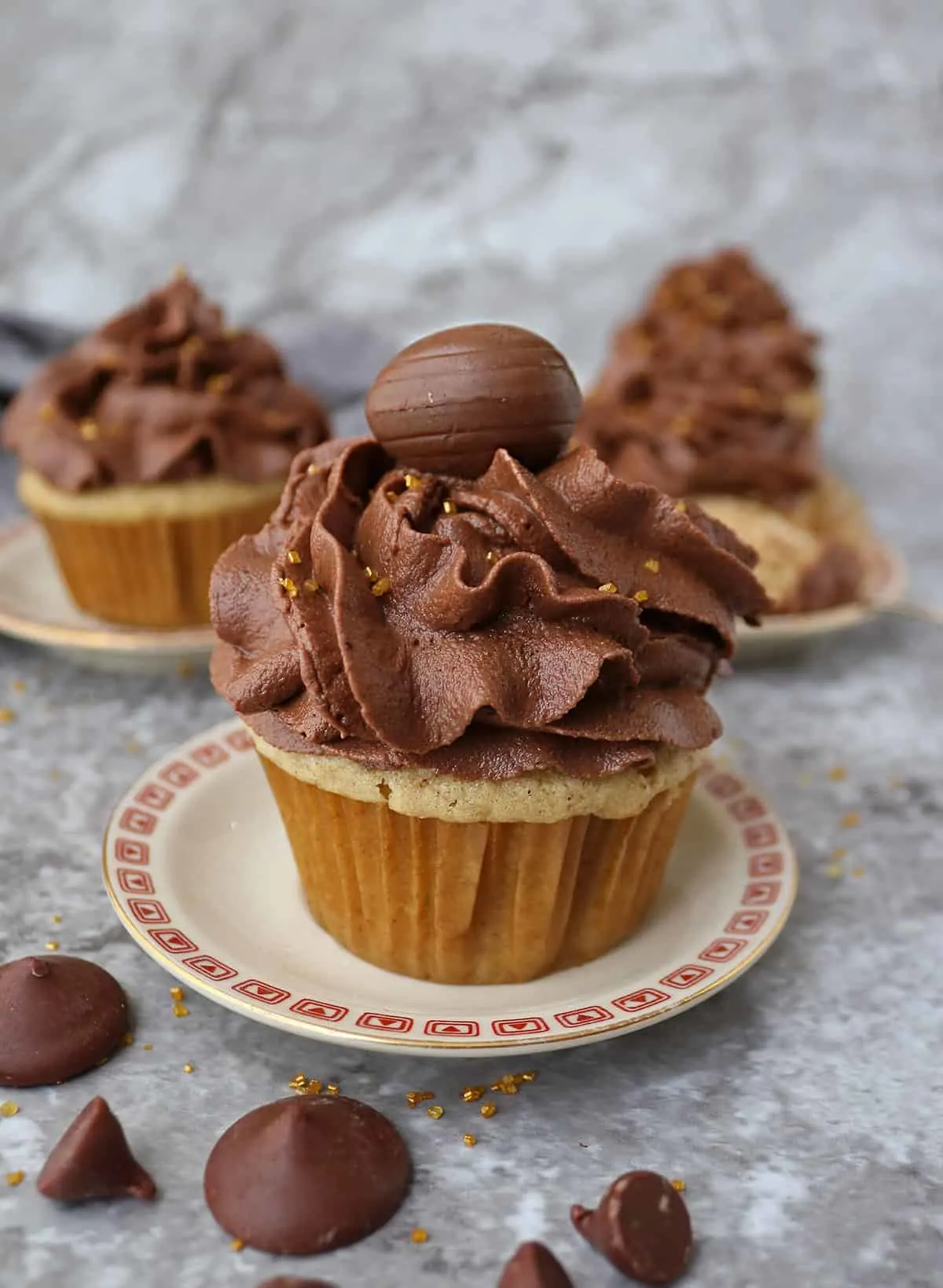 This Easter, if you are looking for another cupcake to serve along with some carrot cake cupcakes, then you could make a batch of these vegan vanilla cupcakes and top them off with a (vegetarian but not vegan) Cadbury Egg, like my daughter suggested.