These moist and delicious, Easy Carrot Cake Cupcakes are made without butter or refined sugar yet are so delightfully delicious. They would be a delicious addition to your Easter Dessert Menu, no matter if you are staying home or celebrating with family and friends.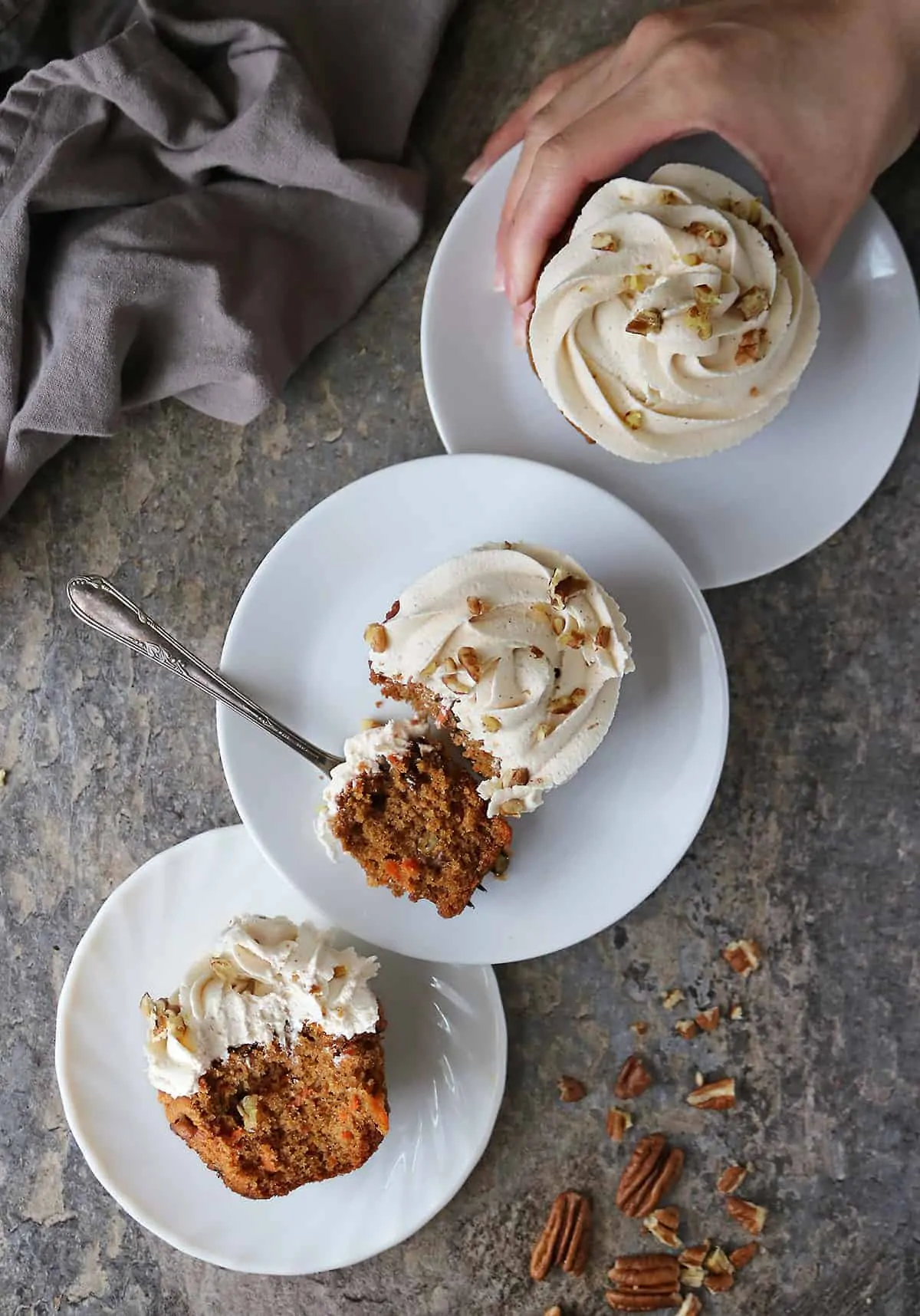 I'm so glad that this Easy Carrot Cake Cupcake recipe only makes 6 cupcakes. With working from home and being discouraged from sharing food these days, I would be beside myself if I had any more.
Simply said, these are delicious. My daughter and I had a hard time trying NOT to eat all of these after I took these photos.
And, I'm not going to lie, I kinda wish making these were as hard as finding a case of toilet paper is at Costco. If I had to pull out my blender and a bunch of bowls and whisks and had a whole mess to clean up after I made these cupcakes, I might think twice about making a second batch.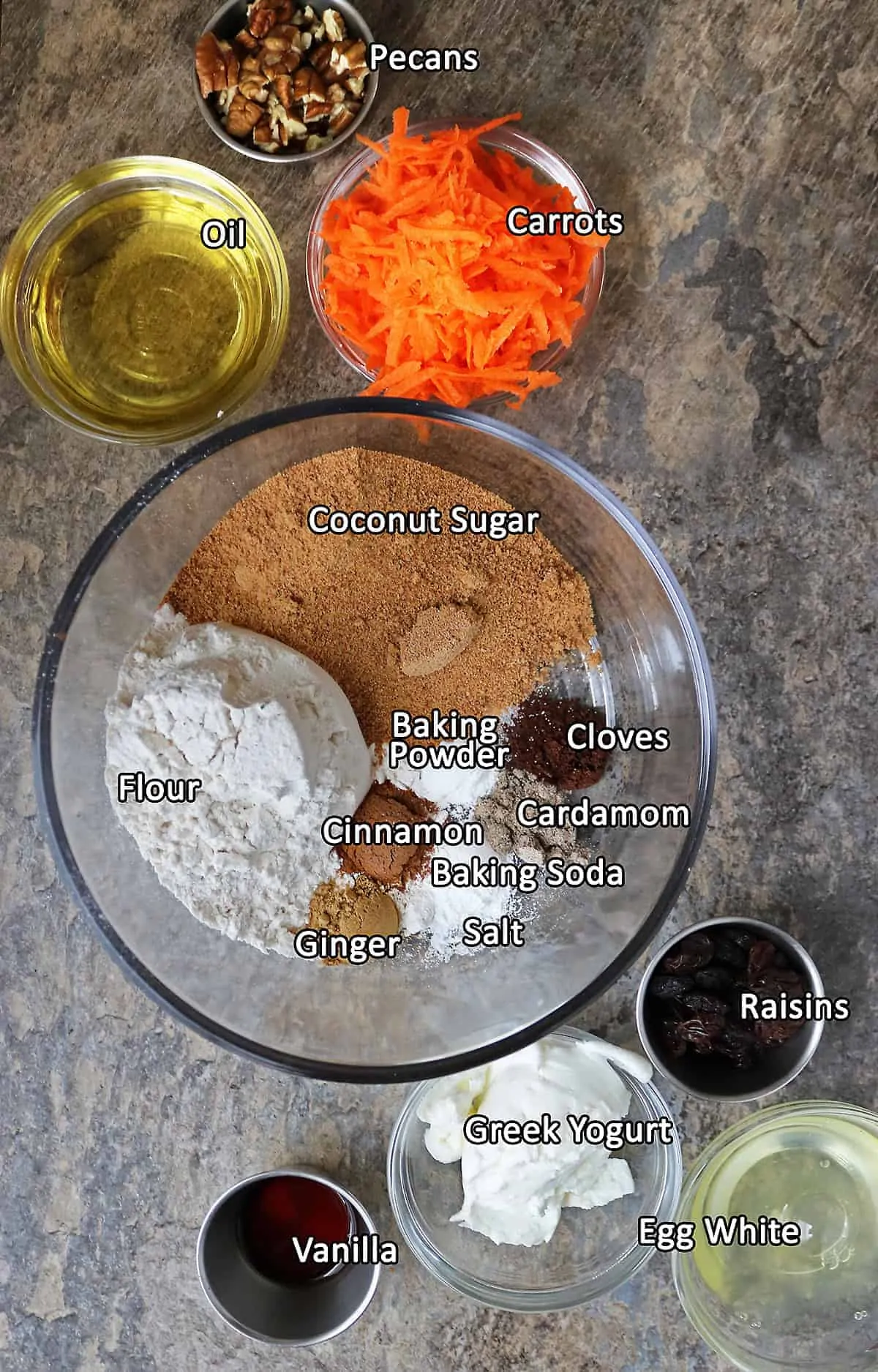 But these are so easy to make ~ even for a super messy cook like me!
Let's make these Easy Carrot Cake Cupcakes!
Just grab a bowl and spoon. Add in the dry ingredients such as:
• Flour,
• Coconut sugar,
• Baking powder,
• Baking soda,
• Salt,
• Cloves,
• Cinnamon,
• Cardamom, and
• Ginger.
Then, add in the wet ingredients such as:
• Egg white,
• Oil,
• Greek Yogurt, and
• Vanilla.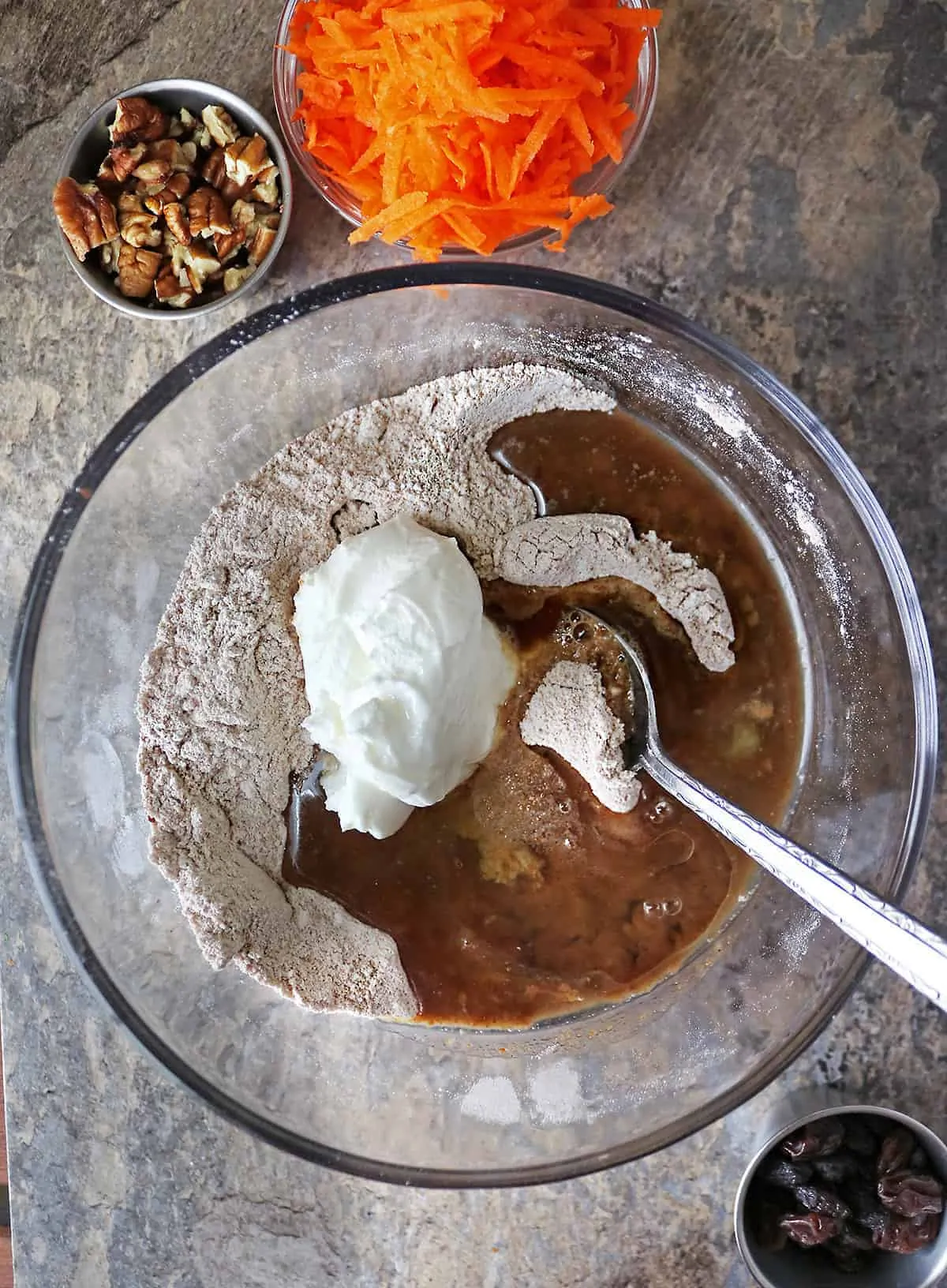 And stir everything up with the spoon.
When well stirred, add in the remaining ingredients such as:
• Grated Carrots,
• Pecans, and
• Raisins…

And, mix, mix, mix.

Then, after they are placed in a cupcake-liner lined baking pan, wait 20 minutes for these to bake up. And good golly deliciousness delivered!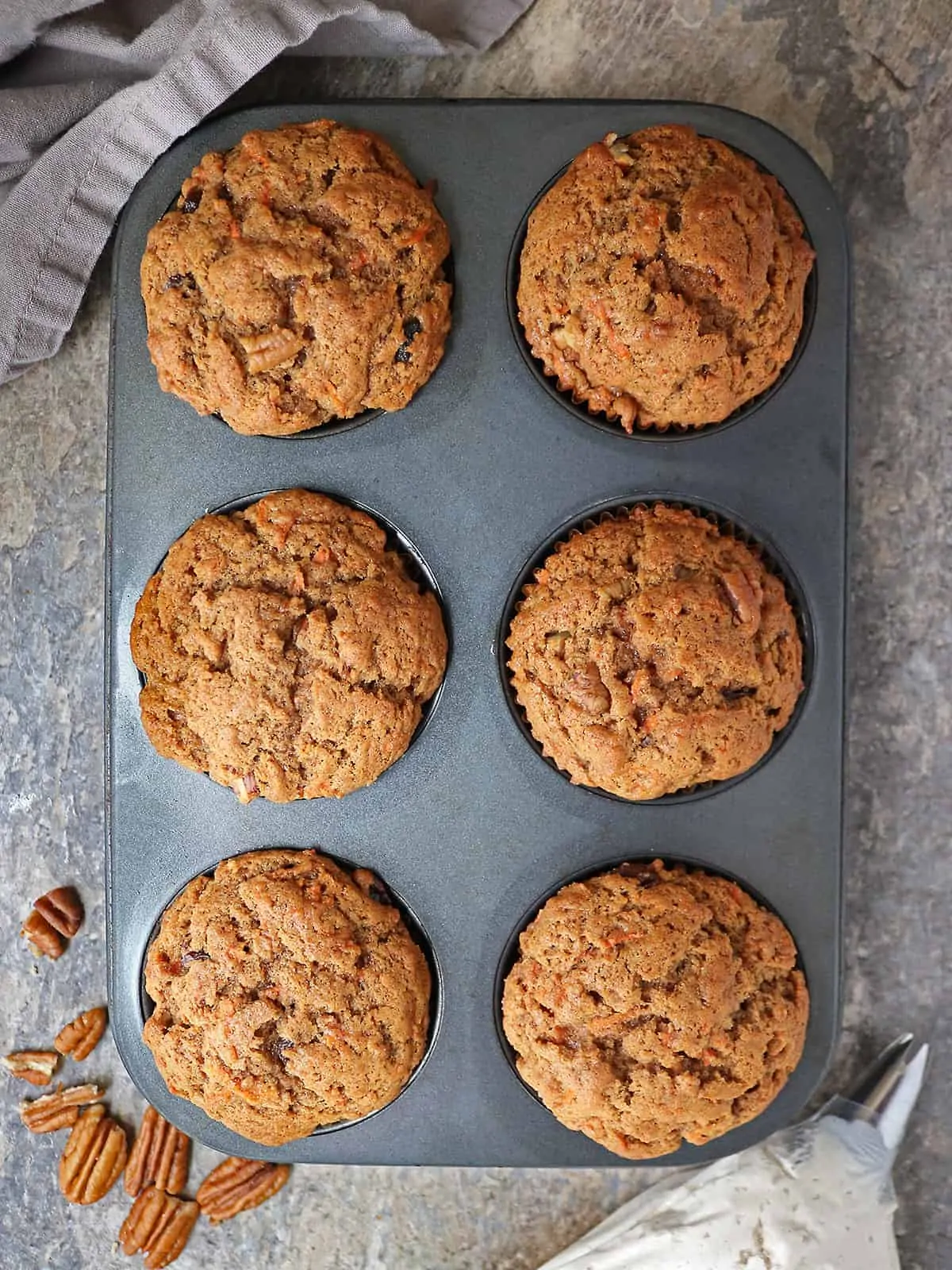 Being the patient person, I am (not), I stuck these in the freezer to cool down in warp speed just so I could frost them and E.A.T. them!

Usually, when I get a cupcake, I eat it for the frosting. But, in this case, I couldn't pick between the cupcake part and the frosting, much like with these artichoke cupcakes. They were so well balanced – even with the coconut sugar in the cupcake. Or, maybe I should say, because of the coconut sugar?!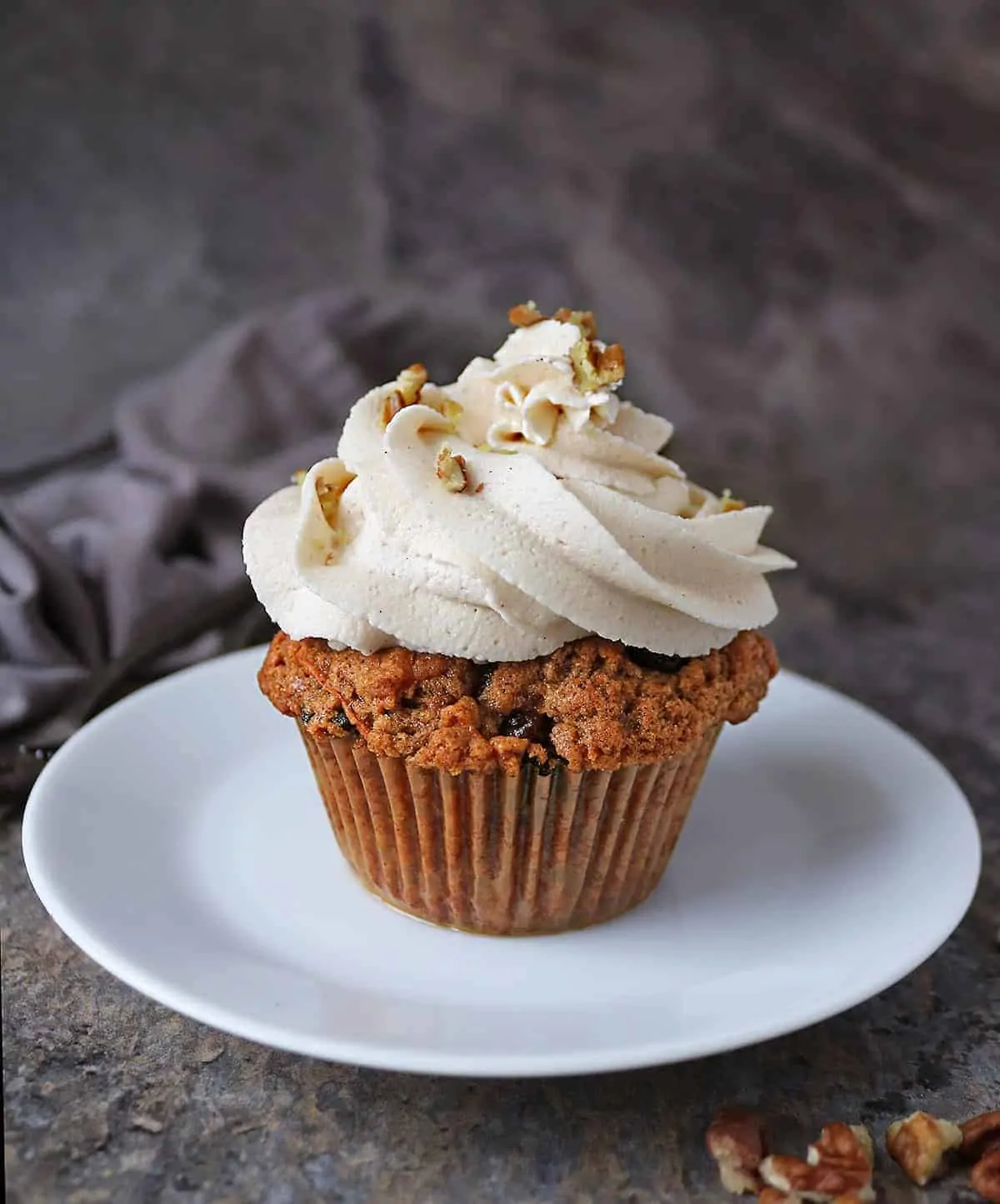 By the way, I used coconut sugar in these carrot cake cupcakes as I wanted a reason to justify the ginormous mound of frosting on each. If coconut sugar, with its low glycemic index, isn't your thing, you can easily substitute brown sugar for it.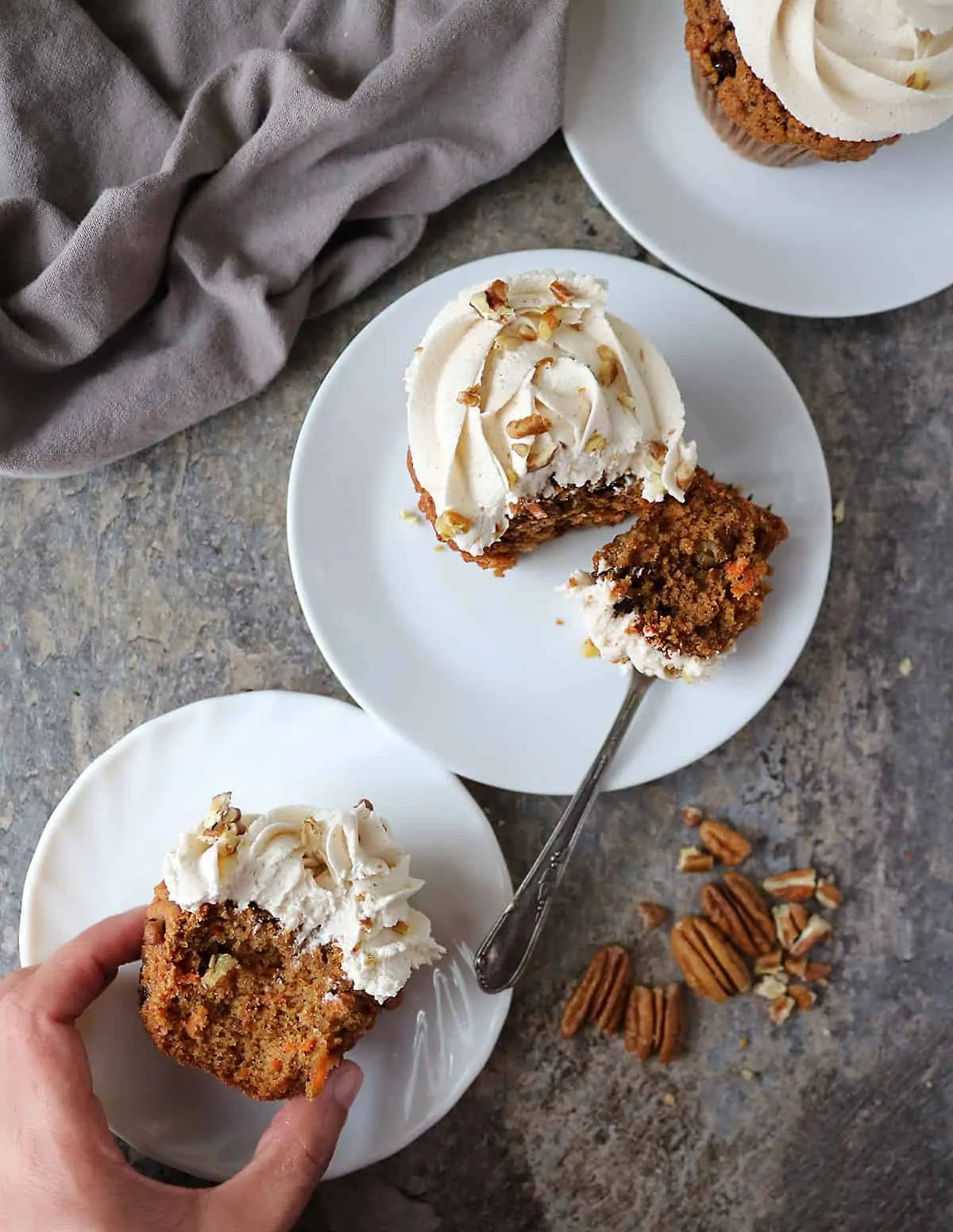 And, if you don't have powdered ginger, cardamom, and cloves in your pantry, you can use two teaspoons of cinnamon or add in 2 teaspoons of pumpkin spice instead. If you would like to keep out the carrots, raisins, and pecans, then make some delicious spiced cupcakes and load 'em up with frosting to enjoy.
With Easter on the horizon, I am not sure if we will get to celebrate His Rising with my mom and sister. But, no matter what, I hope to make a batch of these Carrot Cake Cupcakes and some Paleo Carrot Cake Bars (recipe coming up on the 31st of this month) to celebrate with these three ->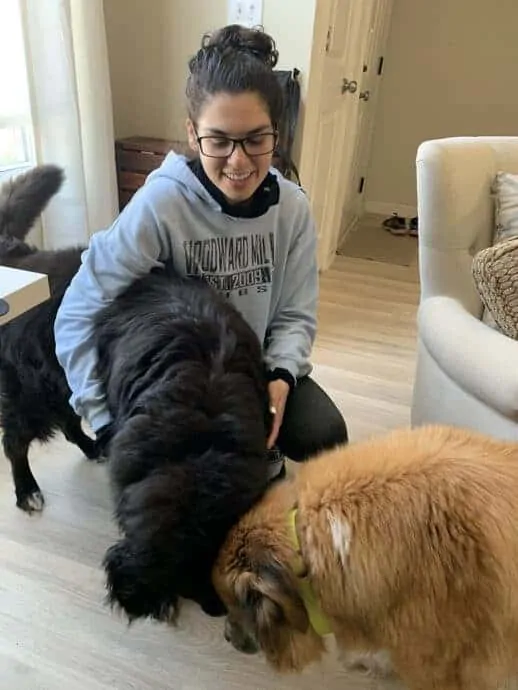 If you are looking for more carrot cake recipes, I have
cookies, refined sugar-free bars & waffles!!!
Thanks so much for stopping by. If you make this recipe, please let me know in the comments below what you think of it, or tag your creation on social media with @savoryspin or #savoryspin. For more fusion, spice-filled, recipe ideas, please subscribe and follow me on Facebook, Instagram, and/or Pinterest!
Make sure to check out this collection of Easy Easter recipes for your next Easter gathering.