Looking to balance off those Easter cakes with a healthyish treat? Then, you've gotta give these Blender Carrot Cake Breakfast Bars a try! They are heavily spiked with cinnamon, cardamom, nutmeg and ginger and are refined sugar free and gluten free – read on to see what makes them so scrumptious and sweet.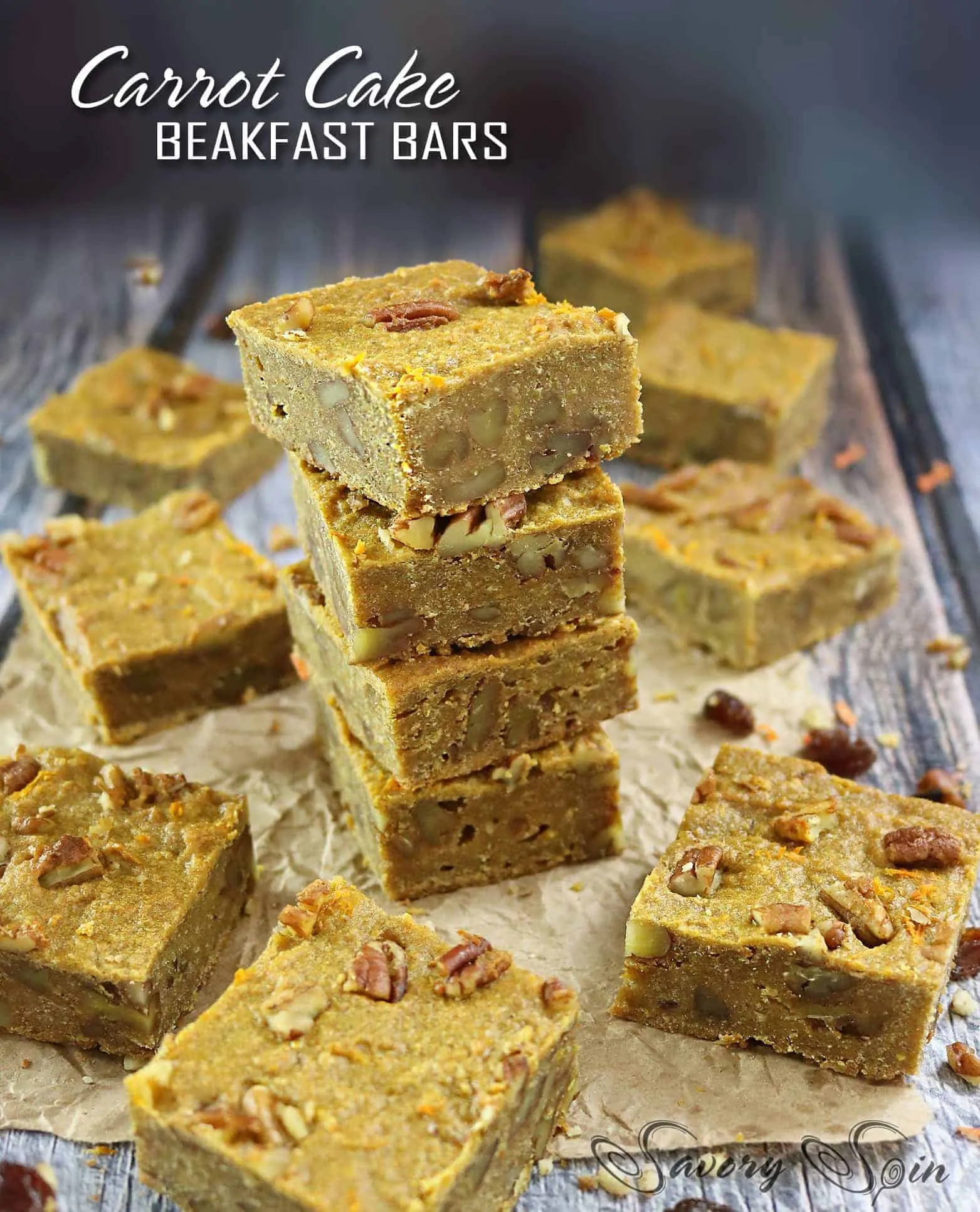 Yesterday I told myself that I was going to practice listening and not just hearing…
And, for the first 15 minutes of lecturing in the Programming class I'm taking, I succeeded!
But, then the instructor started talking about binary searching modules and bubble sorting, and I was back to just hearing his voice and letting my mind wonder.
I know I shouldn't. It's not an easy class for me. Unlike the Web Development class I'm also in, it's not a matter of learning code and using it to creatively balance elements of design. In this class, I've gotta wake up the left side of my brain that's been on vacay for quite some time and force it to actually listen and understand.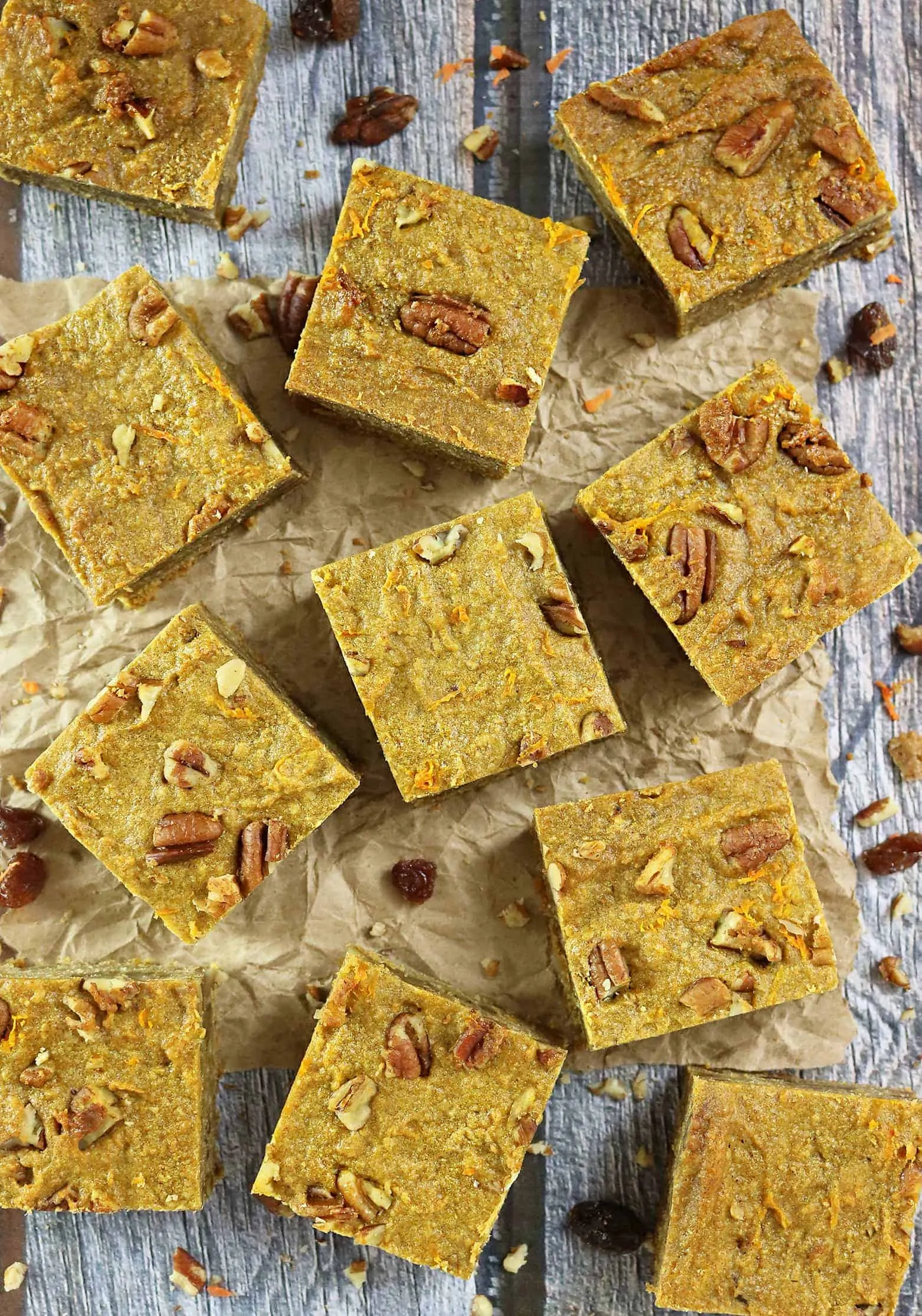 Yesterday, I tried and tried to remind myself of that, but, failed miserably. Then, when I heard a techno beat pulsing from the headphones of the chap sitting beside me, I realized I wasn't the only one whose thoughts were roaming. So, I let mine roam freely … all the way back home to my kitchen… where these Blender Carrot Cake Breakfast Bars were!
These Carrot Cake Breakfast Bars are based on these Blender Chocolate Pretzel Bars I made a couple of weeks ago. Since I shared those bars on here, I must have made at least a half dozen batches of them to share with friends, to take on our trip to Charleston (thankfully I didn't forget these like I did those Caramel Chocolate Muffins), and to try out on my daughter's 7th period classroom when I was a guest speaker there.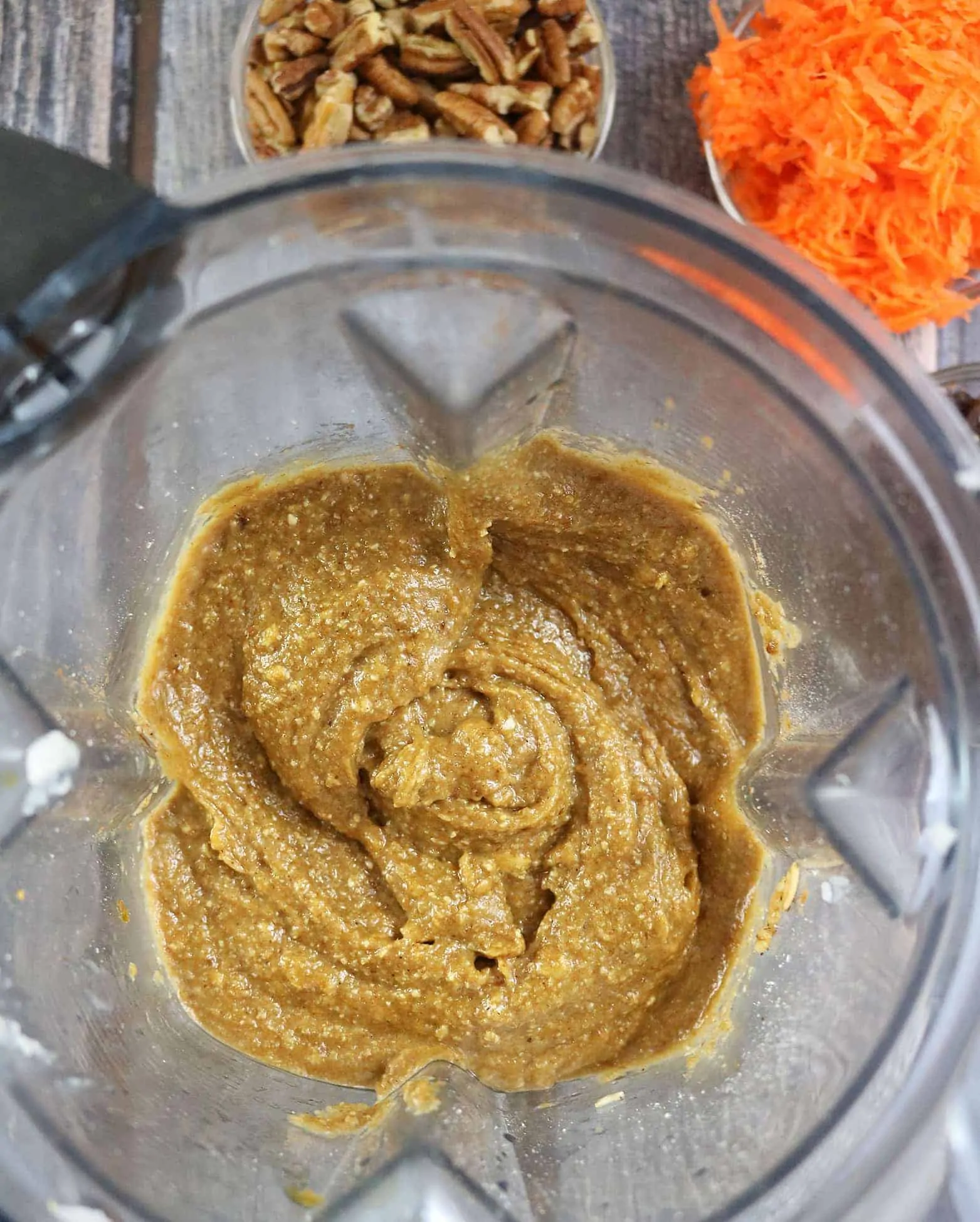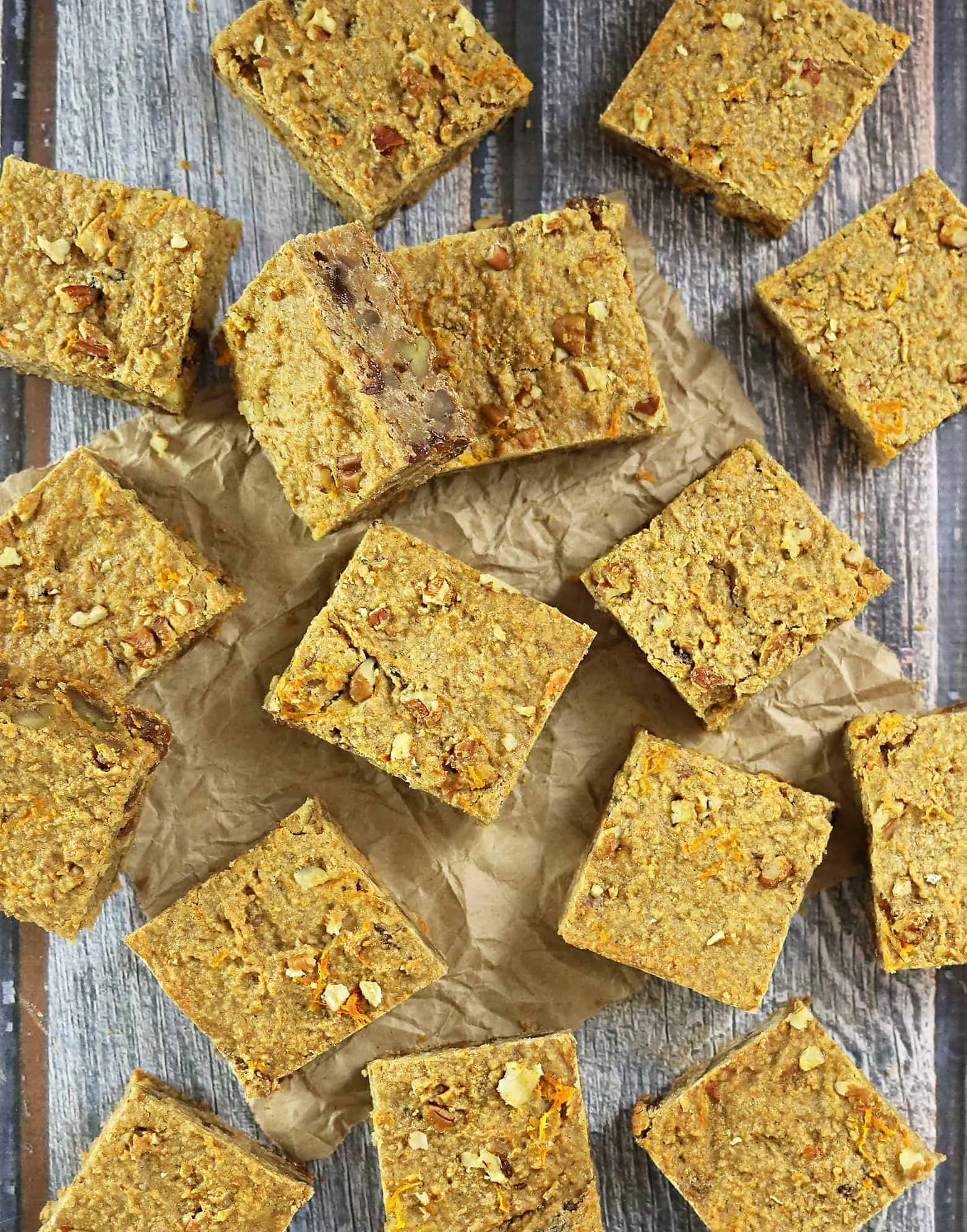 So, I figured instead of making another batch of those Chocolate Pretzel Bars, I'd use the same base of:
• soaked dates,
• ground up rolled oats,
• eggs,
• and coconut oil…
…in a different way.
Since we had a bunch of carrots hanging out, I figured I'd grate them up well, mix in some spices, some raisins and some pecans and make some Carrot Cake Bars that were healthyish enough to chow down on for breakfast. These smelled so good out of the oven that I didn't let them cool down completely before I cut into them – hence the crumbs. I also made a second batch without any raisins that I let cool completely before cutting into – and y'all could probably make out the difference between the two in these sets of photos. By the way, these bars are totally refined sugar free and gluten free.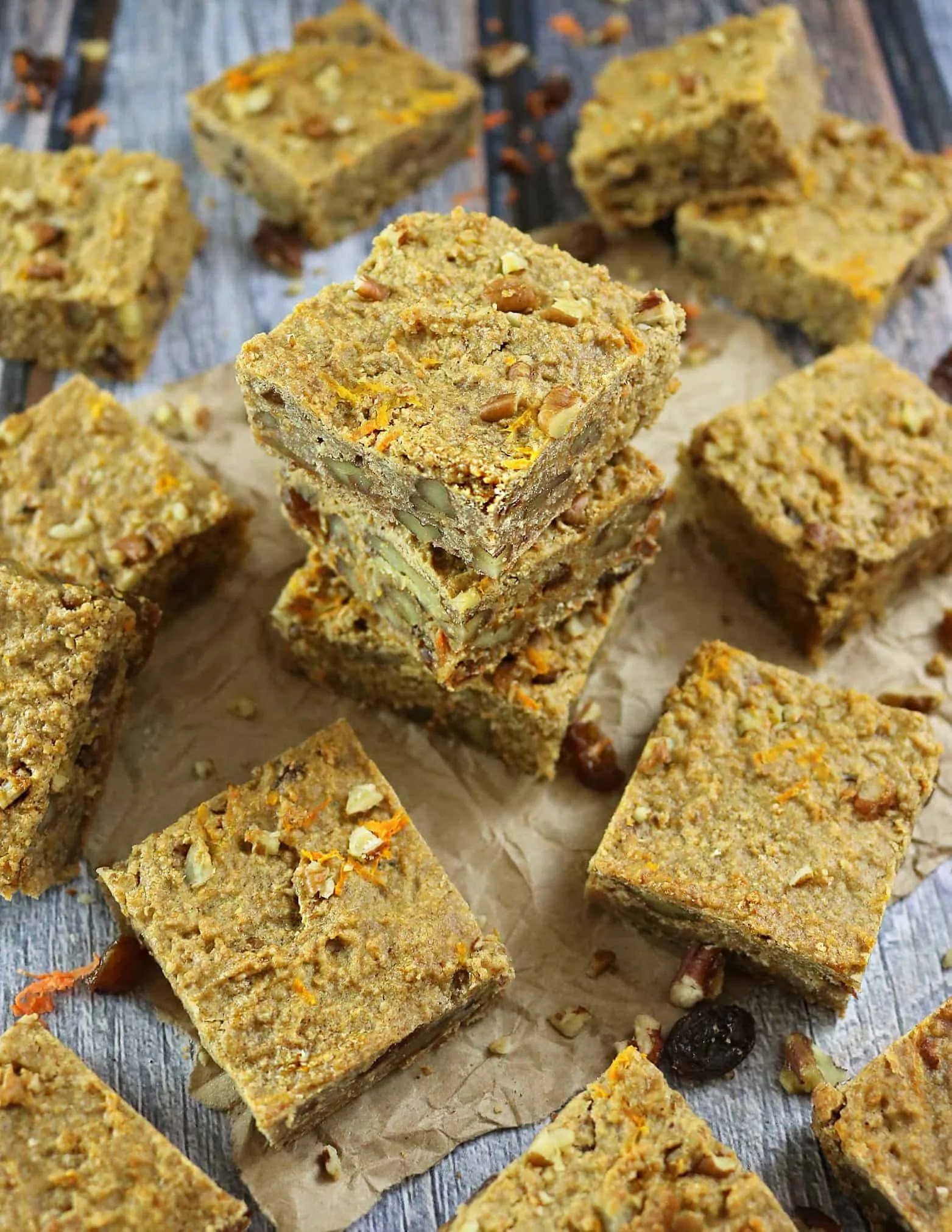 Now, I understand you might like your sugar and be skeptical. And that's all right. The way I see it, Easter candy goes on sale on Monday and these bars are helping me balance off the onslaught of sugar to come! Besides, they are just plain delicious – take it from my daughter and her friends, you wouldn't know at all these were sugar-free and good for ya!
Happy Easter and Happy Weekend, Y'all!
[Tweet "Blender Carrot Cake Bars #refinedsugarfree #glutenfree"]

Looking for more refined sugar free recipes? Then check these out…