Deliciously spiced with warming, aromatic spices like cardamom and cinnamon, this easy, gluten-free, Pumpkin Spice Cake is an indulgent yet easy treat to whip up and enjoy after dinner or with a cup of afternoon tea.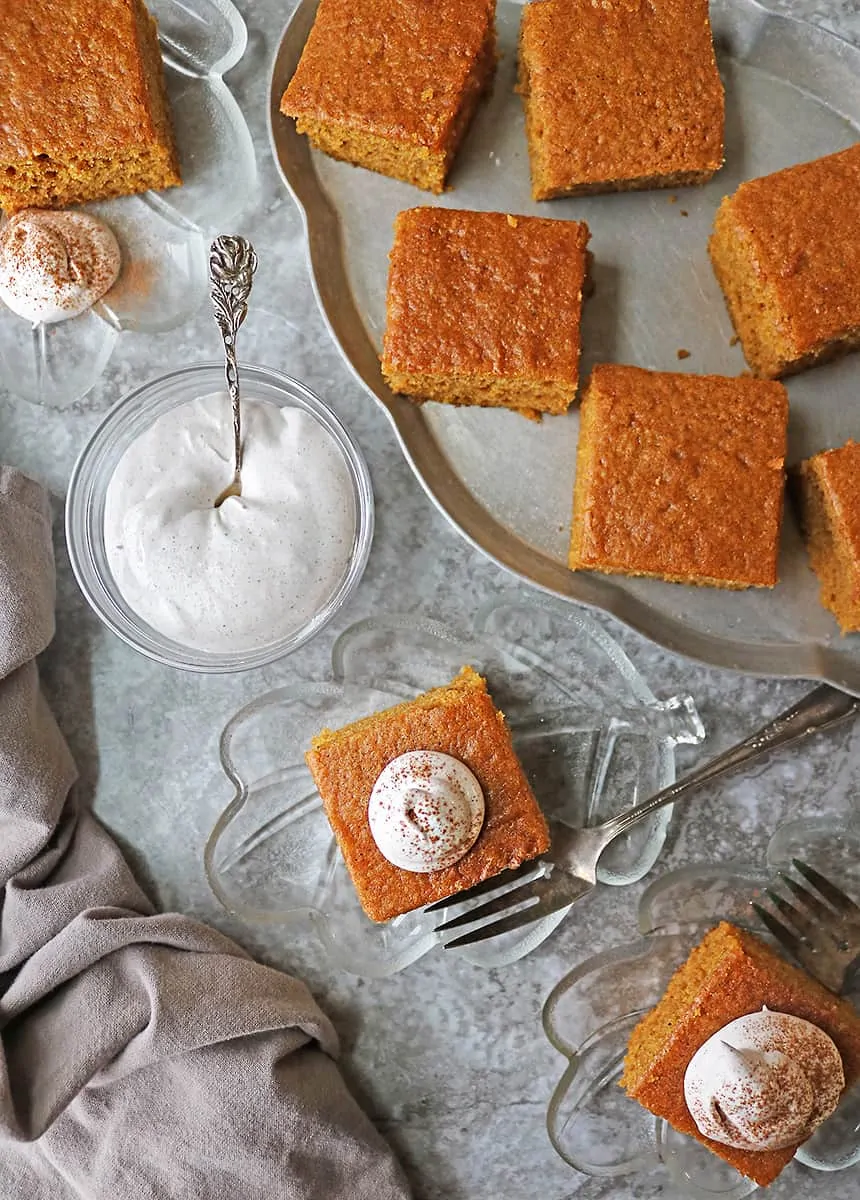 For a hot second I thought about calling this a "Pumpkin Spice Snack Cake" ~ but that was a mouthful and, to be honest, I'd rather have a mouthful of this Pumpkin Spice Cake instead!
This pumpkin spice cake is a favorite in our home, much like this flourless chocolate cake is. Other than the fact that this cake is gluten free, this cake is for those days you want to treat yourself as it is on the indulgent side unlike these refined sugar free carrot bars.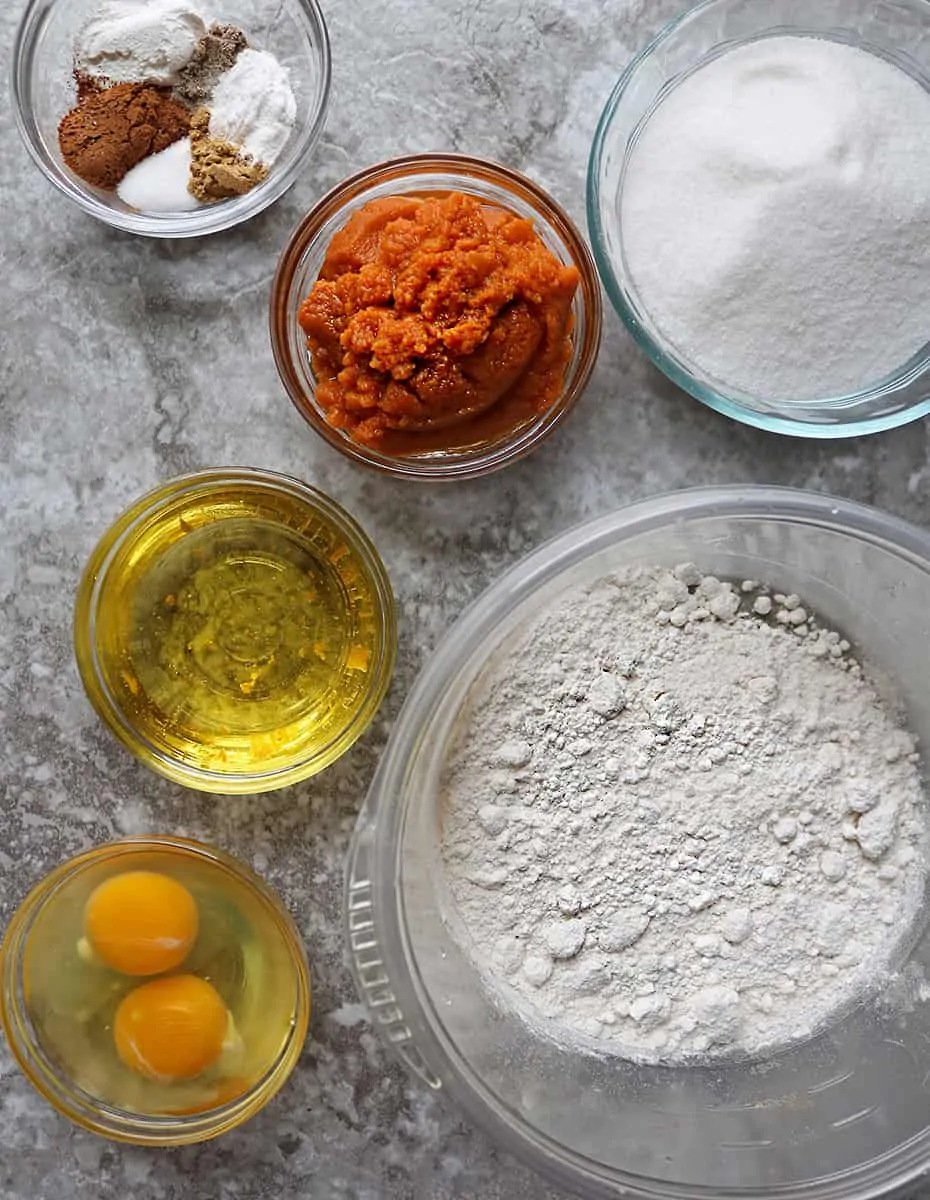 You don't need your electric mixer to make this Pumpkin Spice Cake.

Simply add the wet ingredients. In other words, mix the pumpkin puree, eggs, and oil in a bowl with the dry ingredients such as: sugar, gluten-free flour, salt, and spice blend. Then grab a whisk and give your wrist a workout!

I'm just joking- you don't even have to whisk this mixture that hard- just a few times so all ingredients are well incorporated. I used cinnamon, ginger, and cardamom, in this easy cake to amp up the taste factor.
Usually when I make a pumpkin treat, I love the inviting aroma cloves and nutmeg lend to it, along with cinnamon, cardamom, and ginger.

But, I made this cake with all five spices and this cake turned out a lot darker than I wanted it to be. So, I decided to leave them out – and I gotta say, they were not missed.
I have a hard time deciding if I like this Pumpkin Spice Cake more with a dollop of cinnamon-spiked whipped cream (like you see here) or smothered with a thick layer of buttercream frosting.

By the way, I made the cinnamon-spiked whipped cream by mixing half a cup of non-dairy whipped topping with 1 tsp of cinnamon and ¼ cup of confectioners' sugar. Both ways, they tamed my sweet tooth well and my only regret currently is that I am snacking on my last piece as I write this.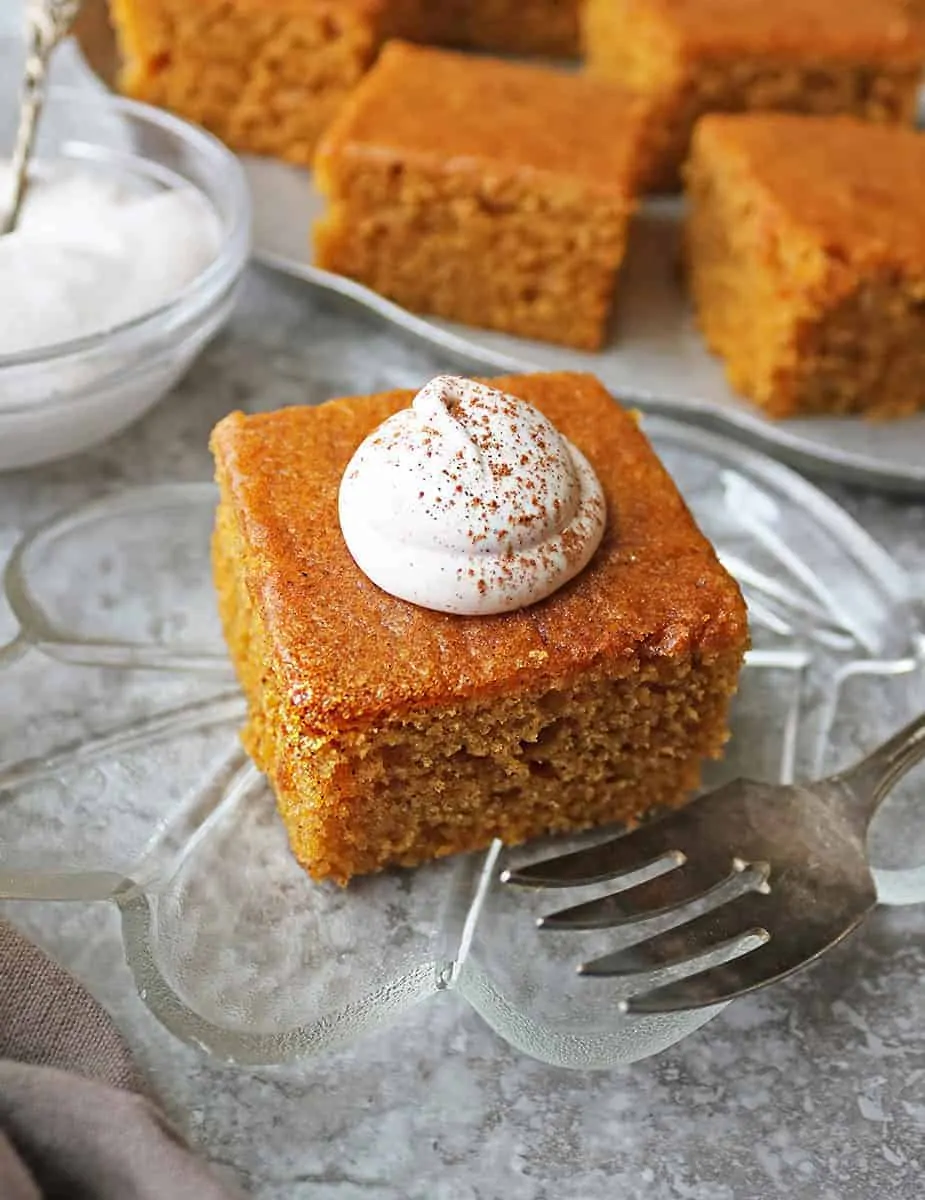 Usually I'm burning the midnight oil photographing food for this blog of mine. But that wasn't the case with this Pumpkin Spice Cake.

You see, I whipped this snack cake up in the early morning hours for a photo shoot at my current day job. I also baked a batch of these Chocolate Chip Cookies (sans the orange), a breakfast casserole with croissants and berries, and these Finger Bread sticks.
I masquerade as a graphic designer by day and food blogger by night. Well, recently I had the opportunity to marry my day gig and night one when I was invited on a product photo-shoot.

The company I currently work for gave me the opportunity to use their fall/holiday bakeware and cookware. They suggested testing out their bake ware to bake some treats in. And then featuring the treats and bakeware/cookware in product shots. I also got to style these photos as well for the upcoming fall and holiday promotions.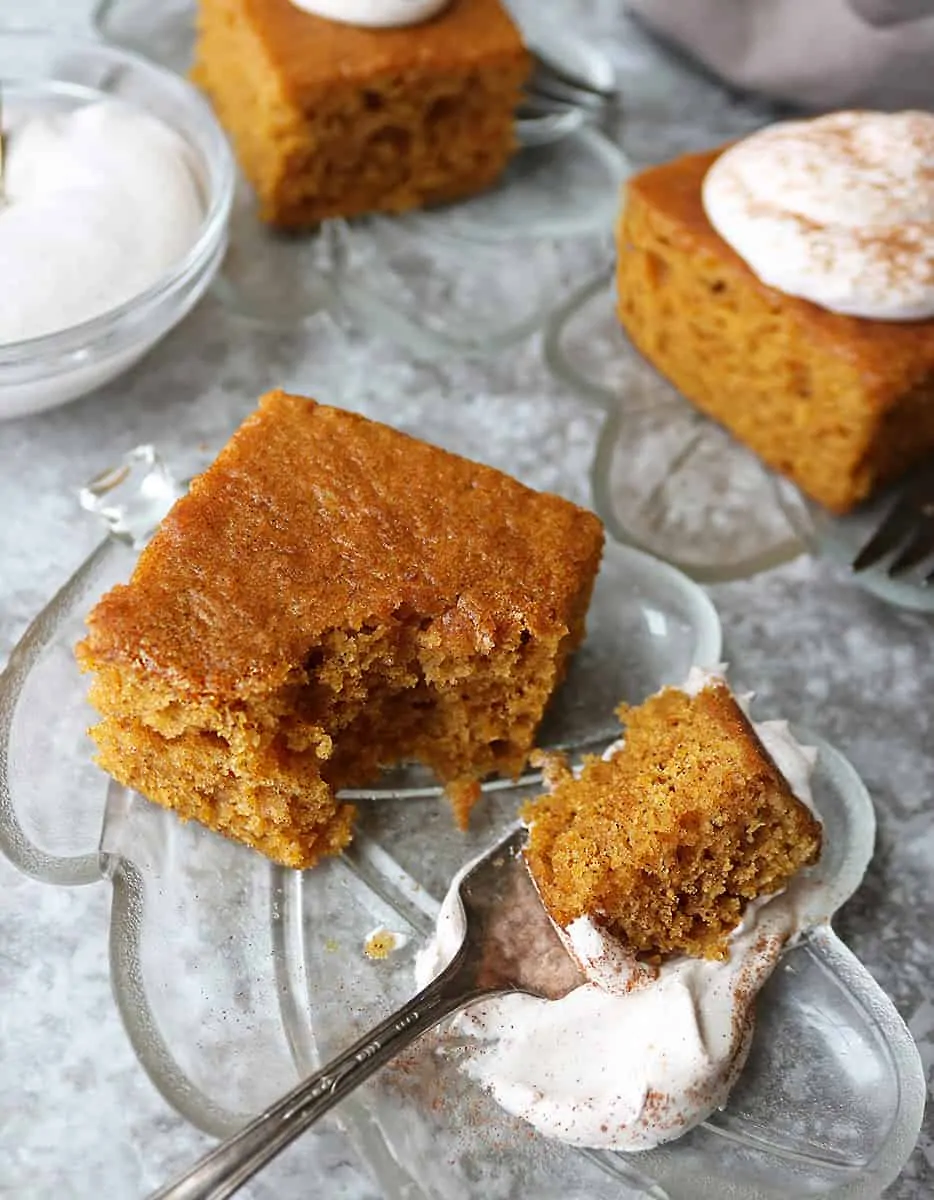 What makes this even sweeter (no pun intended) is that this wasn't part of the equation when I reluctantly left my job at the Athens Clarke County Police Department to accept an offer at the company I'm currently at.

The first week I was here at my current job, I was missing some of the folks at the PD a whole lot. I was even missing juggling the myriad of tasks my old job called for. Then on my second week here, I found out about my part in the photo-shoot and I was thrilled. I'm always in awe of God's hand in sweetening every situation.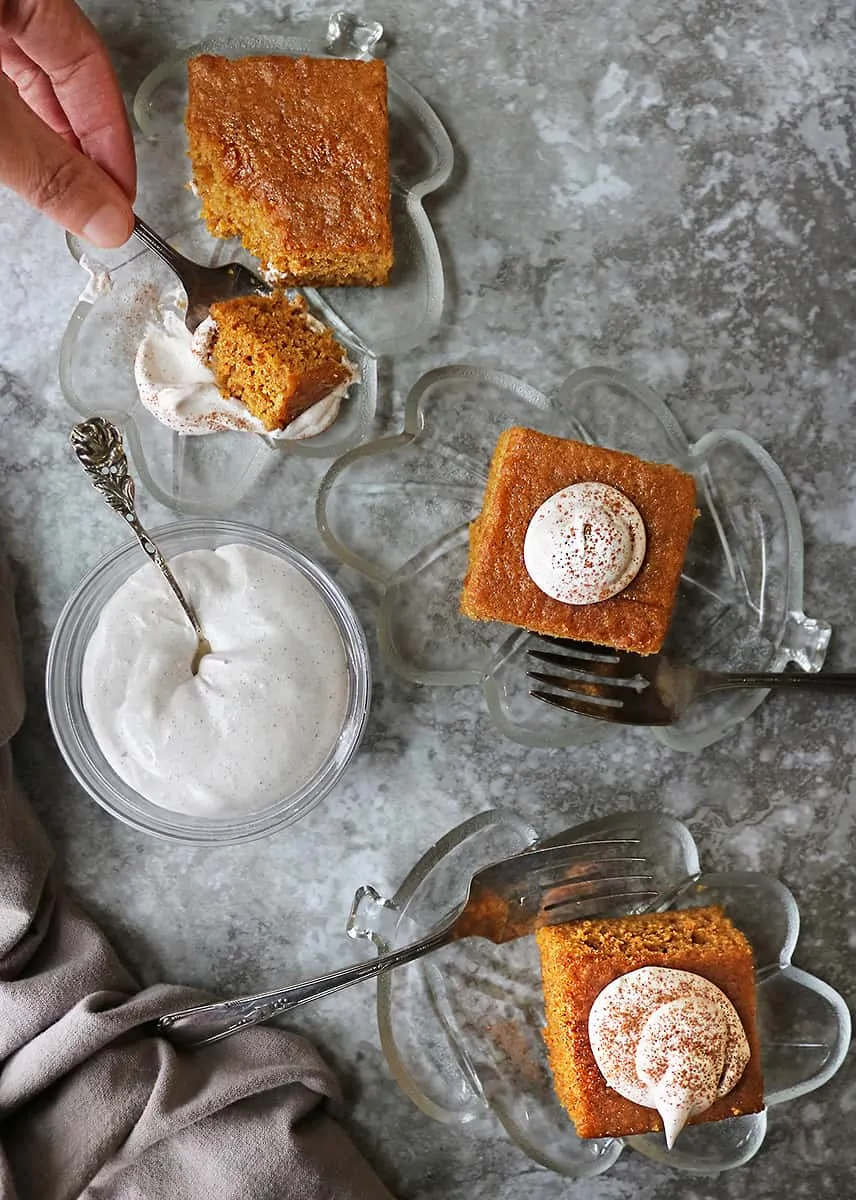 And speaking of sweetening, I will leave y'all with the recipe for this easy, gluten-free, Pumpkin Spice Cake. Hoping y'all have a wonderful weekend!
This recipe for Easy, Gluten-Free Pumpkin Spice Cake can also be found on Food Fanatic.com
We love pumpkin treats and some of our favorites are this Easy Pumpkin Spice Cake with Maple Brown Sugar Icing, these Easy Gluten-Free Pumpkin Cake Bars, and these pumpkin pie trifles.