This easy sheet pan roasted veggies recipe includes a rainbow of vegetables from purple and yellow potato, red and yellow beets, broccoli, Romanesco, cauliflower, carrots, and tomato that are slathered with a delicious coriander turmeric marinade. Nutritious and tasty, this makes for a tasty side dish or plant-based meal.
I have partnered with Sprouts Farmers Market to bring you this Easy Sheet Pan Roasted Veggies Recipe ~ all opinions herein are my own. Thank you for supporting the brands that keep this blog spinning.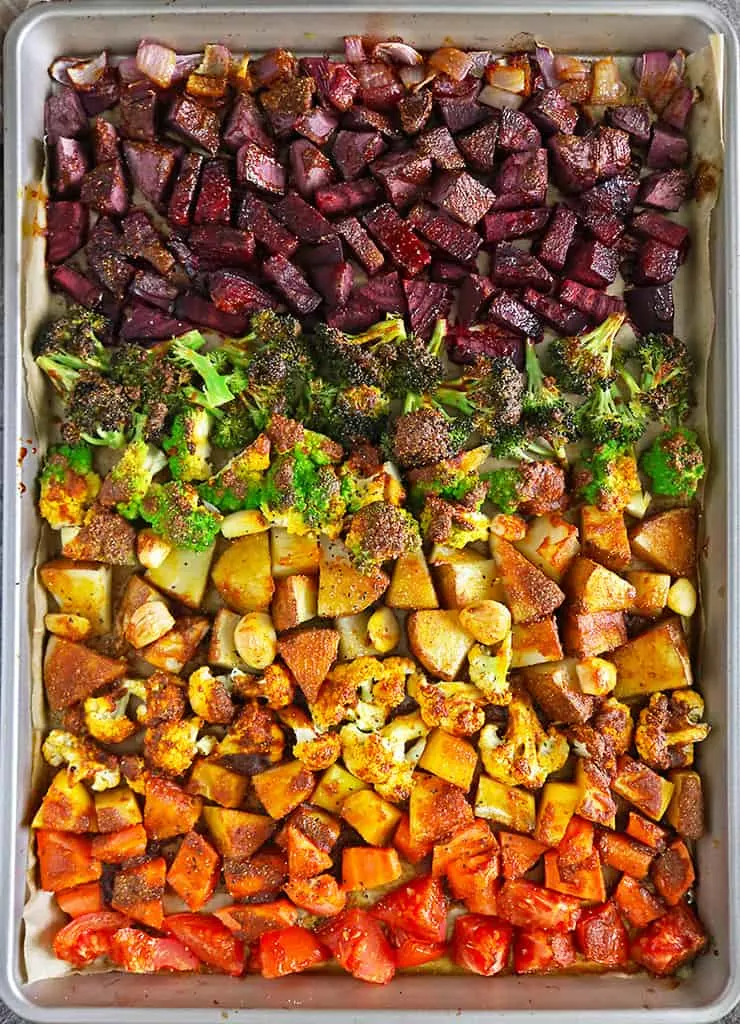 This year, April 22nd marks the 51st anniversary of Earth Day, a day held to promote environmental awareness and mitigate actions to protect our planet. Which means that today, we are in our 51st anniversary of Earth Month.
History of Earth Day
The first Earth Day celebration happened on April 22nd, 1970, due to the efforts of Senator Gaylord Nelson. Approximately 20 million Americans participated in this inaugural event.
On April 22nd, 1990, Earth Day went global due to the efforts of Dennis Hayes and a group of environmental leaders. During this event, approximately 200 million people in 141 countries helped lift environmental issues onto the world stage.
Celebrating Earth Day 2021
In years past, when my daughter was a lot younger, we would often head to The Chattahoochee Nature Center to engage in a naturalist-lead night hike or conservation clinic or any one of the many activities they had. But these days our Earth Day/Month activities are quite different.
Today, Earth Day has become the catalyst for environmental action across the United States and worldwide – with EarthDay.org spearheading resources, and opportunities to help drive positive actions for our planet.
EarthDay.org has adopted the theme of Restore Our Earth™ for Earth Day 2021. One of the 5 pillars of this theme focuses on Food & the Environment. Which in turn focuses on our "foodprint" and how environmental change can be affected by diet change.
I mentioned how these days our Earth Day/Month activities are very different. Well, instead of engaging in environmental activities one day of the year, in recent years we have tried to make smaller choices that might have a longer/bigger impact.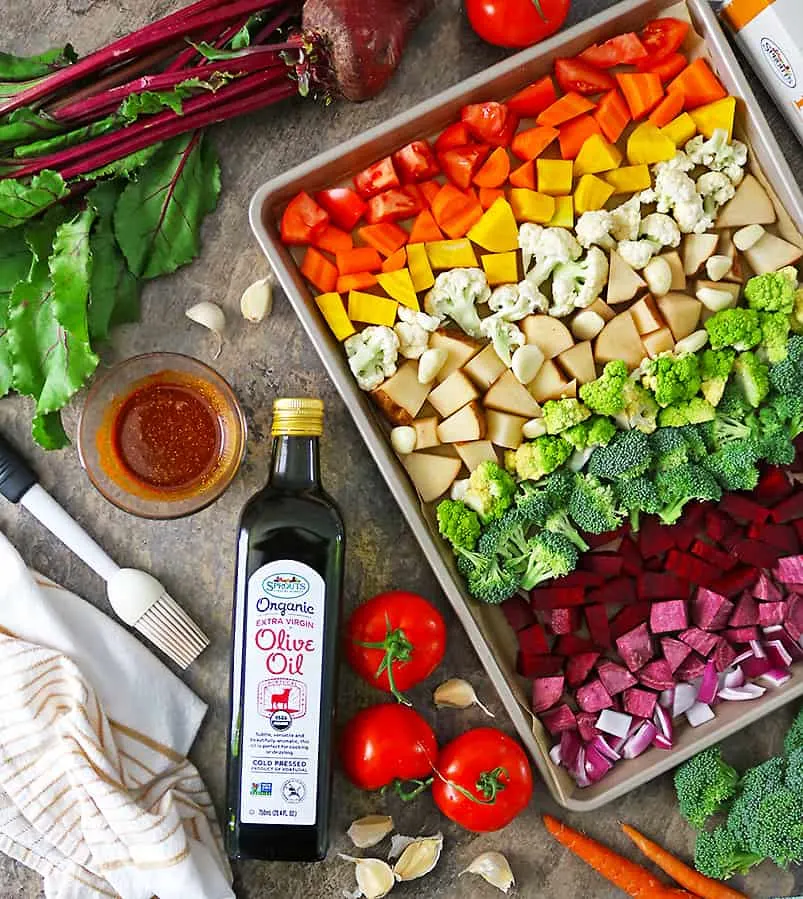 One such choice is to pay attention to our "foodprint" and incorporate more plant-based meals into our monthly roster. Currently, for me that means enjoying entirely plant-based meals 3-4 days a week at least.
And that is where Sprouts and recipes like today's Easy Sheet Pan Roasted Veggies come in.
I have been a huge fan of shopping at Sprouts before I even started this blog. Sprouts offers an easy way for shoppers like me to support earth-friendly initiatives. They feature a stellar lineup of fresh organic ingredients and produce that make it easy to whip up recipes like this Easy Sheet Pan Roasted Veggies.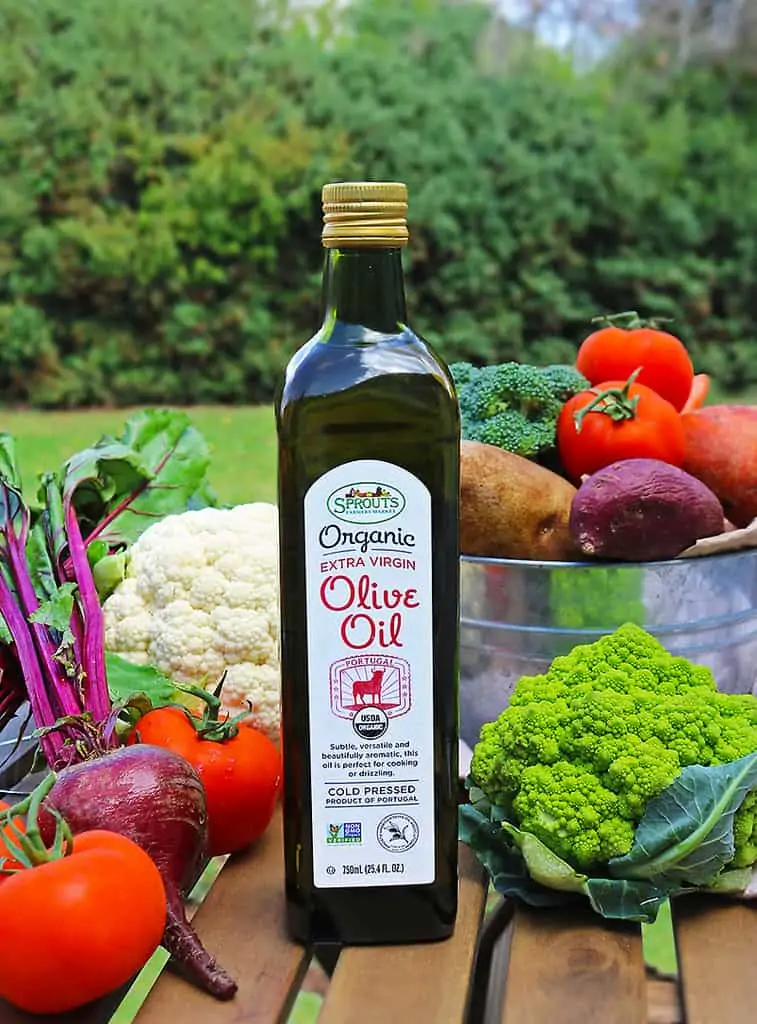 The star of this rainbow of spiced and roasted veggies is Sprouts Organic Extra Virgin Olive oil. Subtle, versatile, and beautifully aromatic, Sprouts Organic Extra Virgin Olive oil is perfect for cooking and drizzling.
In this recipe, Sprouts Organic Extra Virgin Olive oil united spices like coriander, smoked paprika, and turmeric beautifully, while adding in a hint of flavor.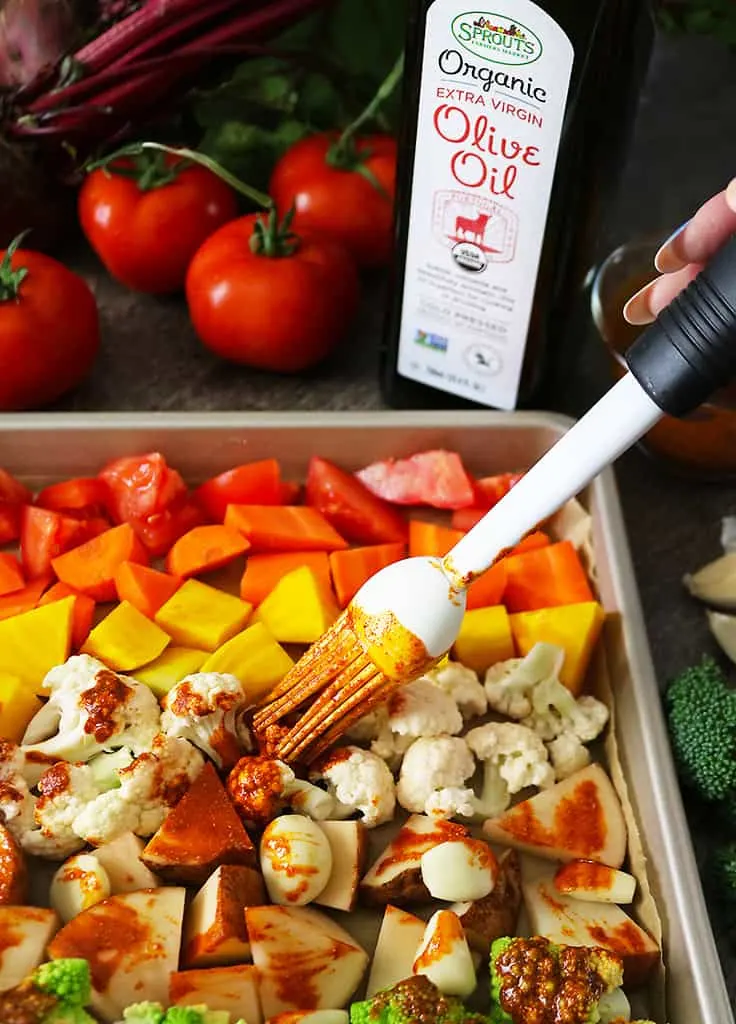 What are the ingredients to make these Easy Sheet Pan Roasted Veggies Meal?
This recipe features organic ingredients from Sprouts, such as:
Sprouts Organic Extra Virgin Olive oil,
coriander,
smoked paprika,
turmeric,
red onion,
purple potato,
beetroot,
golden beetroot,
yellow potato,
cauliflower,
Romanesco,
broccoli florets,
carrots,
tomato, and
garlic.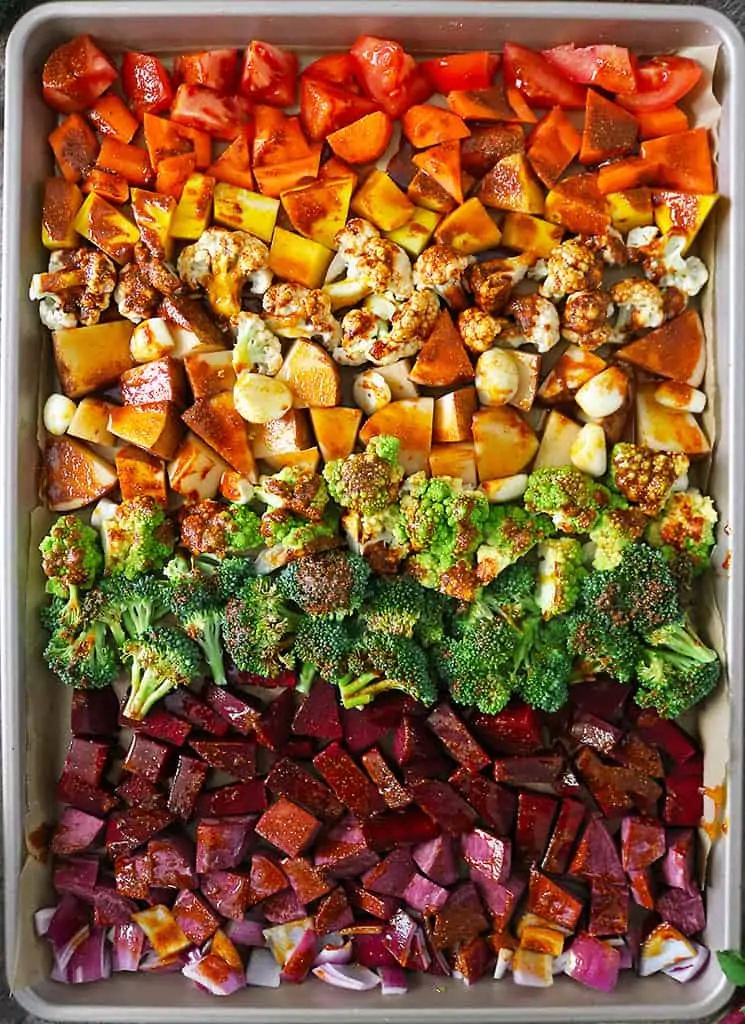 This is one incredibly easy and tasty recipe to whip up.

Simply make the marinade by combining the spices with Sprouts Organic Extra Virgin Olive oil. Then brush the marinade over all the cut and cleaned veggies laying on a sheet pan. Pop the sheet pan with the marinated veggies into the oven. When done, remove from the oven, season with salt and pepper, and enjoy outdoors!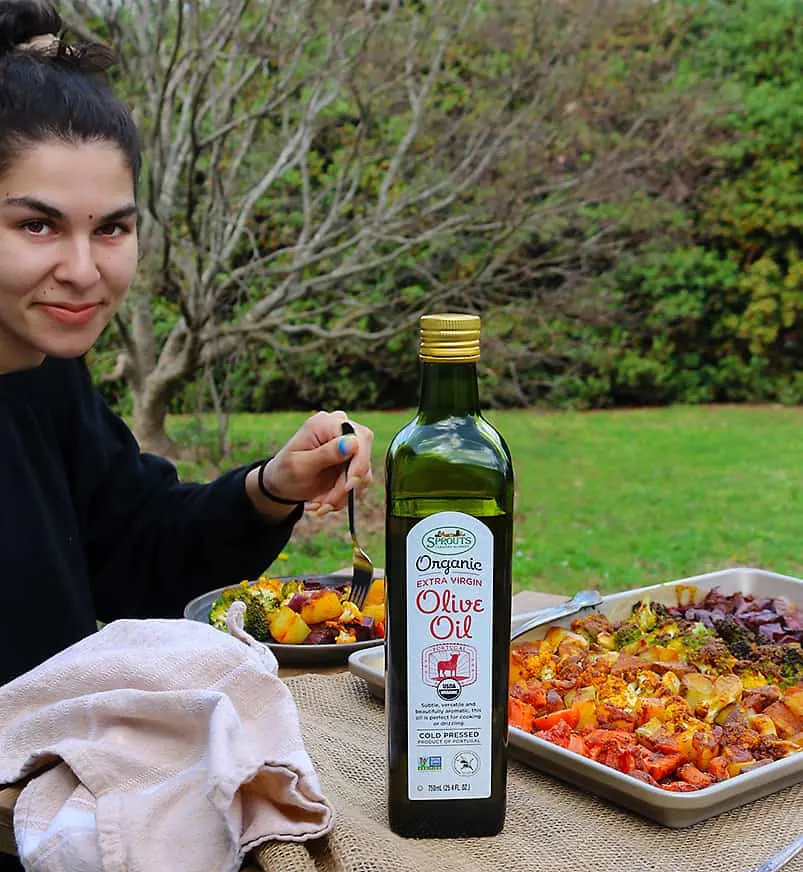 If you love sheet pan meals (seriously, how easy are they right??) then make sure you check out this sheet-pan tofu and veggies which has a little hack/tip to bake up the crispiest tofu ever!