A delicious and light, baked risotto with a myriad of flavors from artichokes, olives and sundried tomatoes. This would make a lovely main dish or even a side one.
Do you happen to have a friend or two that you've gone for years without seeing or talking to because y'all moved away from each other? As this holiday season comes around, I cannot help reflecting on some of those friends. The distance that once was physical transcends into something more than that and the calls and texts keep getting fewer as time goes by. Until, one day, y'all find yourselves sitting across a table from each other! Say what!
This past weekend, I sat across the table from a friend I hadn't sat down and eaten with in more than 14 years. And, as lunch turned into dinner, I began to realize that other than some grey hairs and wrinkles – nothing has changed between us. The conversation carried on without any hostility, or pretense, or judgement, just the same camaraderie and playfulness that I thought had been lost. While our children have grown and so have our laugh lines, the distance and space that had existed between us seemed inconsequential as we picked up right where we left off – only we both had trouble remembering exactly where that was!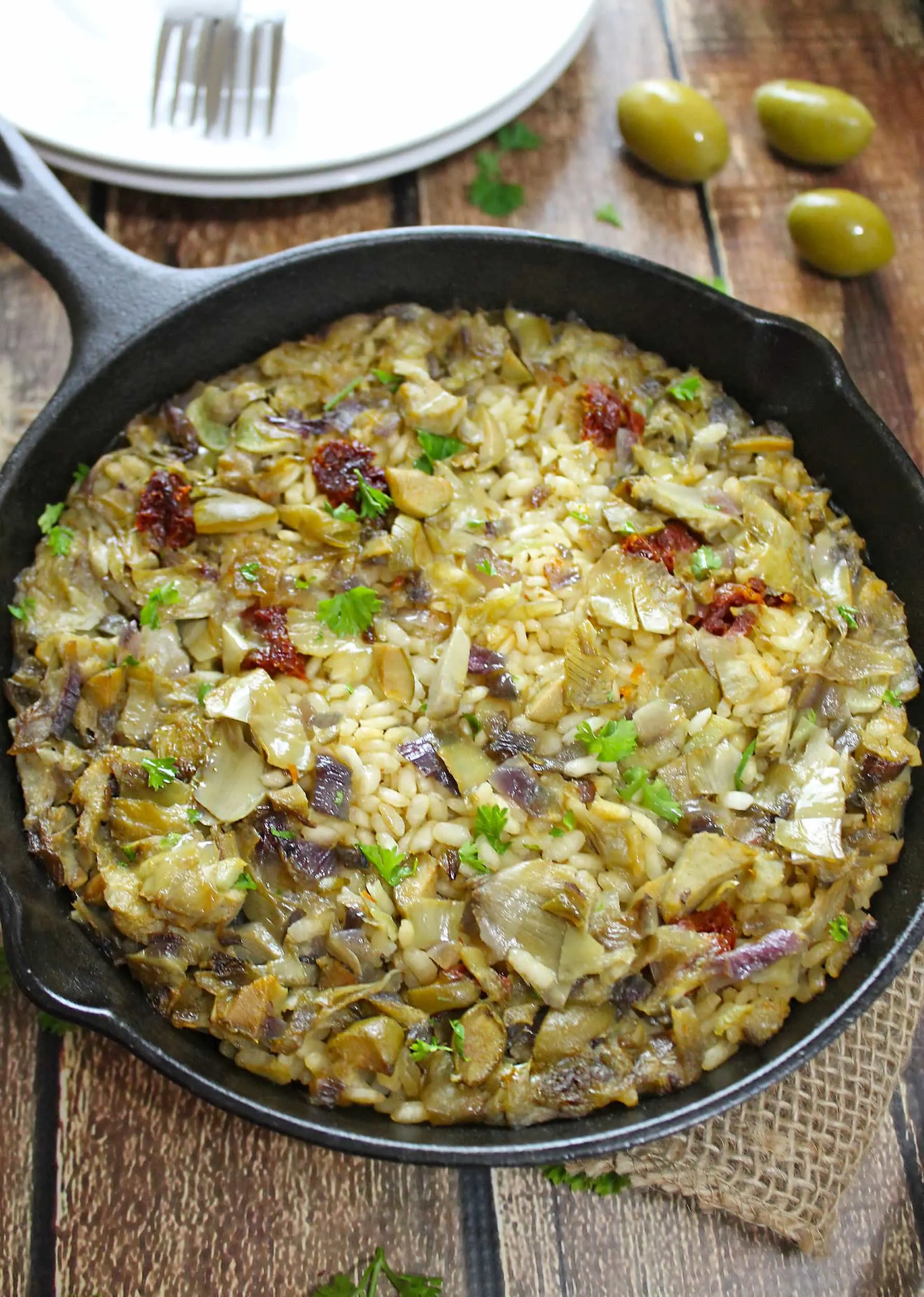 As we sat and lingered for hours over meals, and desserts and coffees, I was so glad that each of the meals we enjoyed were light and I realized that those are the kind of meals I want to linger over with family and friends this holiday season. As Italian was always a favorite with my friend, I went with a slightly adapted take on a traditional North Italian dish by making a Baked Sundried Tomato Risotto made with Colavita Arboria Rice flavored with Colavita artichokes, sundried tomatoes and green olives married together with Colavita Garlic Olive Oil. All those flavors coming together is like the sun coming out after 3 weeks of rain!
[Tweet "Baked Sundried Tomato Risotto & Chocolate Bean Cheesecake #JoinTheTable #Perugina @perugina @colavitaoliveoil @colavitaevoo @RunninSrilankan "]
Family-owned Colavita®, is well known for their authentic Italian olive oils and specialty products, including durum wheat semolina pasta, a full selection of balsamic and wine vinegars, traditional and organic pasta sauces, and olive-canola blended oils, are the ingredients of choice for chefs in home, restaurant, and professional kitchens. Colavita® has also received awards from Fine Cooking, Cook's Illustrated and Men's Health and has also made an appearance on the Dr. Oz show. Colavita® also happens to be the US distributor of Perugina high quality chocolate bars, pralines, hard candy, panettone and Baci (Perugina's most famous confection).
By the Way, each Bacio is hugged by a note that reflects sentiments of love, affection and friendship.
Interested on finding out more about Colavita? Then please check them out on

Facebook

• Twitter •

Instagram
Want to know more about Perugina? Then please check them out on Facebook •

Twitter

•

Instagram
For a chance to
win a large basket of Colavita's and Perugina's award winning oils, delectable chocolates and Italian ingredients,
please
enter the sweepstakes
below!