This aromatic Easy Black Bean Golden Beet Sauté is a tasty side dish that is ever so slightly sweet and spicy. Served over quinoa or rice, it is a satisfying and nutritious meal.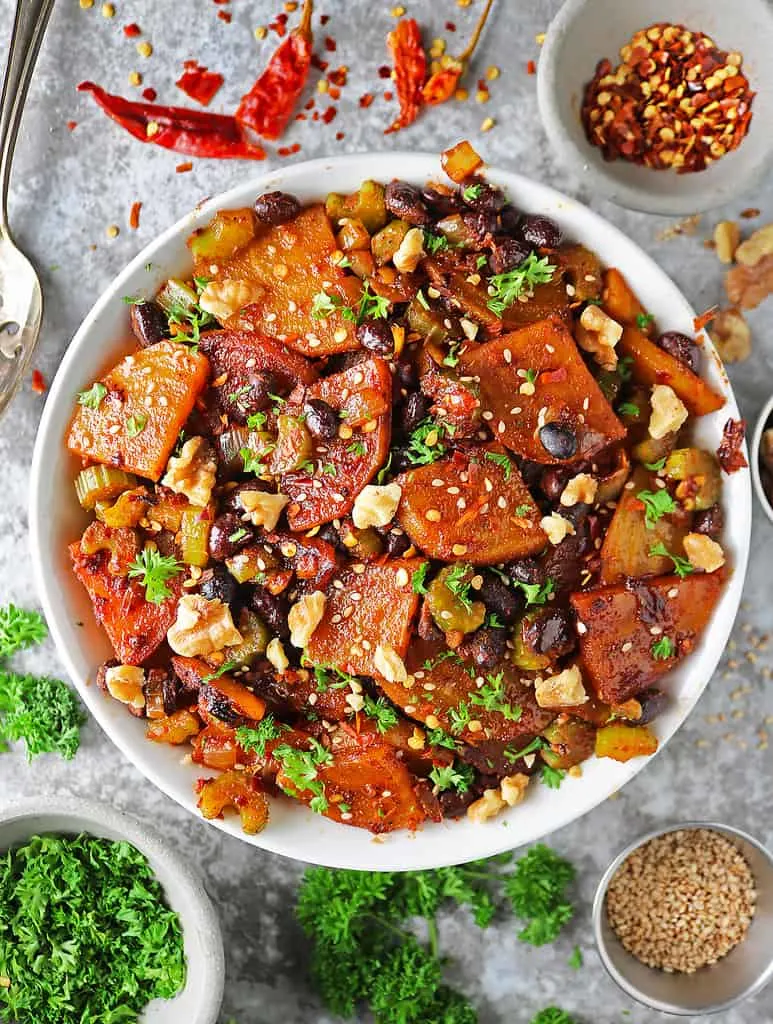 If you love golden beets or looking to try golden beetroot for the first time, this sauté is a must-try. This Easy Black Bean Golden Beet Sauté is a plant-based dish that can be made in 30 minutes or less.
When it comes to veggies, beetroot is a complicated root vegetable that conjures up some strong feelings for most of us.
Most of us either love them or totally despise them. Someone once described red beetroot as tasting like eating a mouthful of dirt that had been drizzled with pineapple juice and peach juice!
Yes, beetroot, whether red or golden, is an acquired taste.
Personally, I love beetroot. And, even did a series where I would add beetroot to every recipe I fancied. From beet crackers, to beet donuts, to beet tortillas, to beet pizza, to beet bars, to beet cookies, there's a beet-rich recipe here for all beet lovers!
However, if you have not tasted golden beetroot and are wondering…
How do golden beets differ from their red counterpart in taste?
Well, golden beetroot tends to taste less earthy and sweet than red beetroot. Overall, golden beetroot is milder in taste than its red cousins.
Are golden beets good for you?
When it comes to nutritional value, both golden and red beetroot have a similar composition. Both are chock-full of nutrients and are said to have anti-inflammatory and anti-oxidant properties.
Speaking of anti-oxidants, both beetroot varieties are said to get their bright coloring from antioxidants referred to as betalains. Betalains are divided into two varieties: betacyanins and betaxanthins. Betacyanins are responsible for the ruby-red coloring of red beets. And betaxanthins are responsible for the golden coloring of golden beets.
If you would like to find out more about the nutritional content of beets, check out this article.
How do you eat golden beets?
You can cut golden beets into very thin slices and eat them raw. They are especially delicious in a raw beet and feta salad.
You could also enjoy golden beets sautéed with just a few spices in a recipe like this Easy Black Bean Golden Beet Sauté.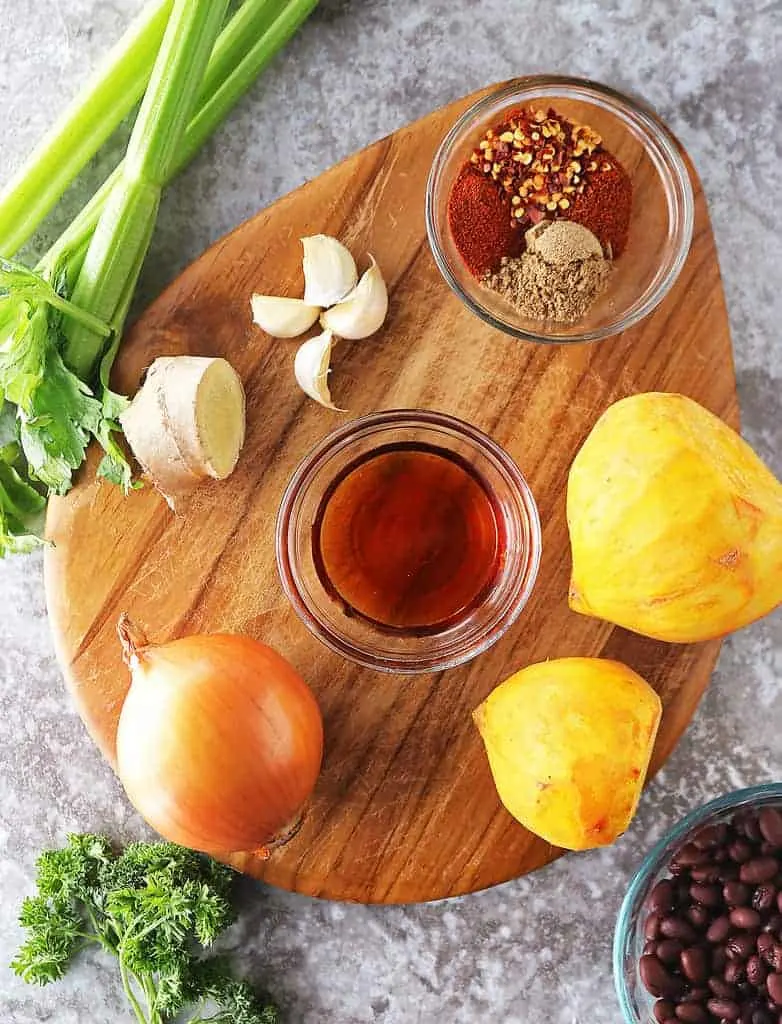 What are the ingredients needed to make this Easy Black Bean Golden Beet Sauté?
This Easy Black Bean Golden Beet Sauté is made with the following 11 main ingredients:
Golden beets
Celery
Onion
Garlic
Ginger
Coriander
Smoked paprika
Maple syrup
Cayenne
Chili flakes
Canned black beans
Also included in this recipe are oil, water, salt, pepper, parsley, and walnuts – the latter two being optional.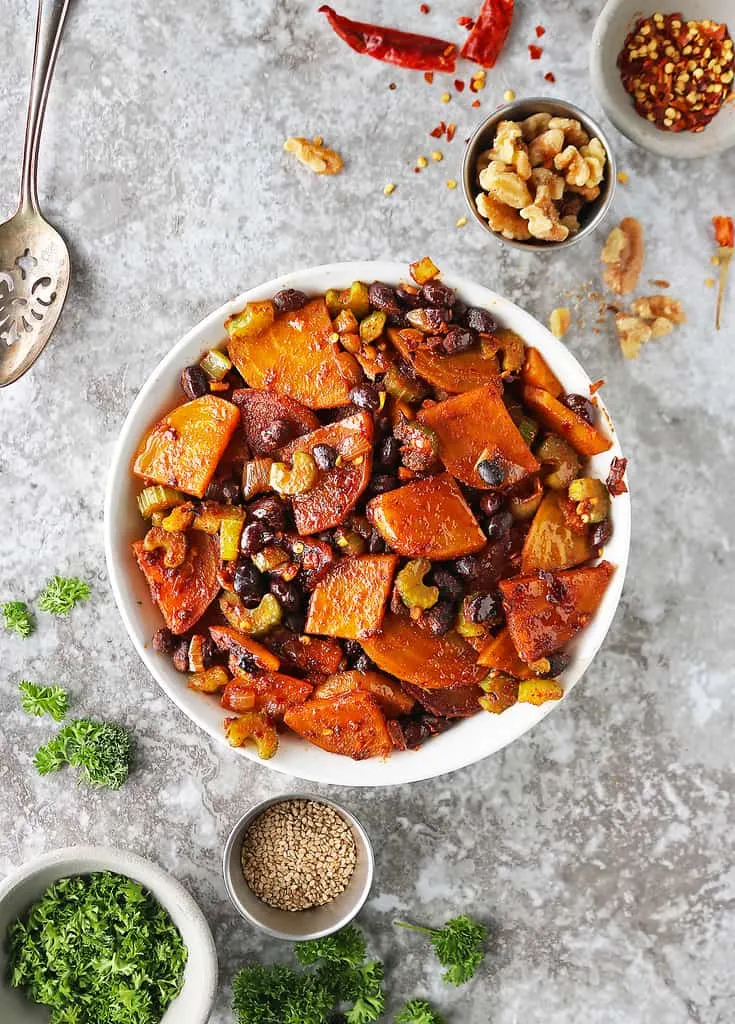 Tips When Making This Recipe:
When making this recipe, I like to use fresh onion, ginger, and garlic. There are some grocery stores that sell peeled and chopped up onions, ginger, and garlic in the produce section.
If you want to save time, you can grab some of those containers and use about a cup and a half of chopped onion, 1 tsp fresh ginger, and 3 tsp fresh garlic. I would refrain from using powdered versions of these three.
If you prefer kidney beans, pinto beans, or chickpeas over black beans, then feel free to use your favorite bean.
Now, if you would rather this Easy Black Bean Golden Beet Sauté be less spicy, feel free to reduce the amount of cayenne and chili flakes used.
If you would rather this easy and healthy side dish be smoky and sweet and not be spicy at all, then leave out the cayenne and chili flakes entirely.
To serve this dish, I added in some chopped parsley and some chopped walnuts for crunch. But, these are optional, and you can leave them out entirely if you wish too.
Reasons I Love This Side Dish And Hope You Do Too!
I love this Easy Black Bean Golden Beet Sauté as:
It is such a simple dish.
It is a delicious marriage of spicy and sweet flavors.
You only need 11 ingredients to make it.
It can be made in 30 minutes or less.
It is a tasty way to eat a more plant-based diet.
Not only that, but it is a healthy and satisfying side dish, especially when served with some quinoa, avocado, roasted cauliflower, and refreshing cucumber.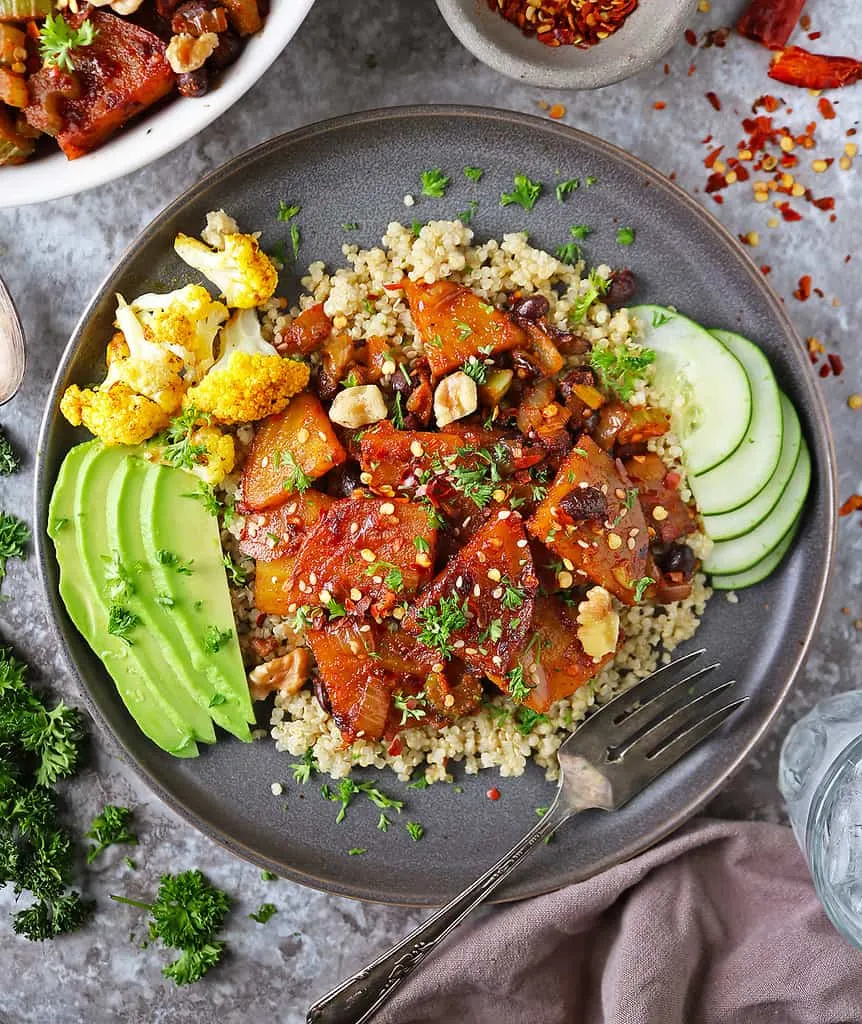 When you make this dish, please stop by and leave me a comment with your thoughts on it. Or, tag @savoryspin on Instagram to have your version of this recipe featured.