Cauliflower and grapes are sprinkled with olive oil and zaatar and oven-roasted until they are caramelized and gloriously scrumptious. Made with only 4 ingredients, Roasted Cauliflower and grapes is a simple side dish that would pair well with other meat and vegetable dishes.
I've partnered with Sprouts to bring you this Roasted Cauliflower and Grapes Recipe. All opinions expressed are my own. Thank you for supporting the brands that keep this blog spinning.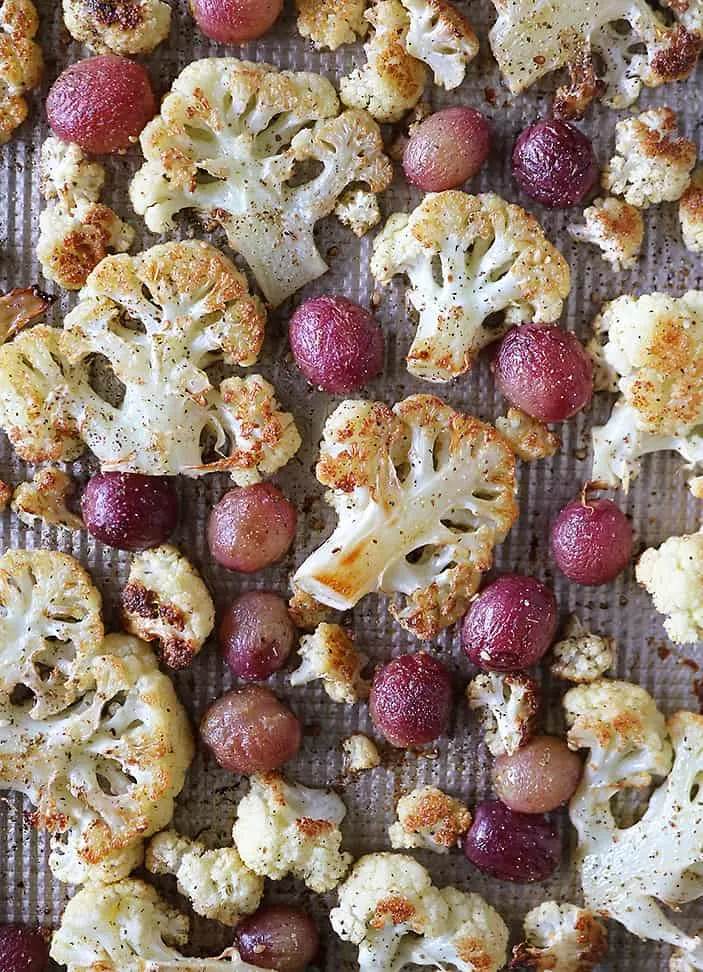 I had been reading about roasted grapes for the longest time. And, finally, I decided to try them out for myself. And, after devouring two baking trays of roasted cauliflower and grapes, all I have to say is WOW… just WOW!
What happens to grapes when you roast them?
Well, looking at them as they lie on that baking tray, they seem to be a bit shriveled yet unchanged.
Pick one of the roasted grapes up off the baking tray, flip it over, and you will find a beautifully caramelized bottom.
Plop one in your mouth… and you will not want to stop at just one!
Each little roasted grape is an explosion of sweet, salty, caramelized, wine-like deliciousness.
All I can say is that extraordinary things happen to grapes when you roast them!
Totally infatuated with roasted grapes, I tried to figure out who first made them.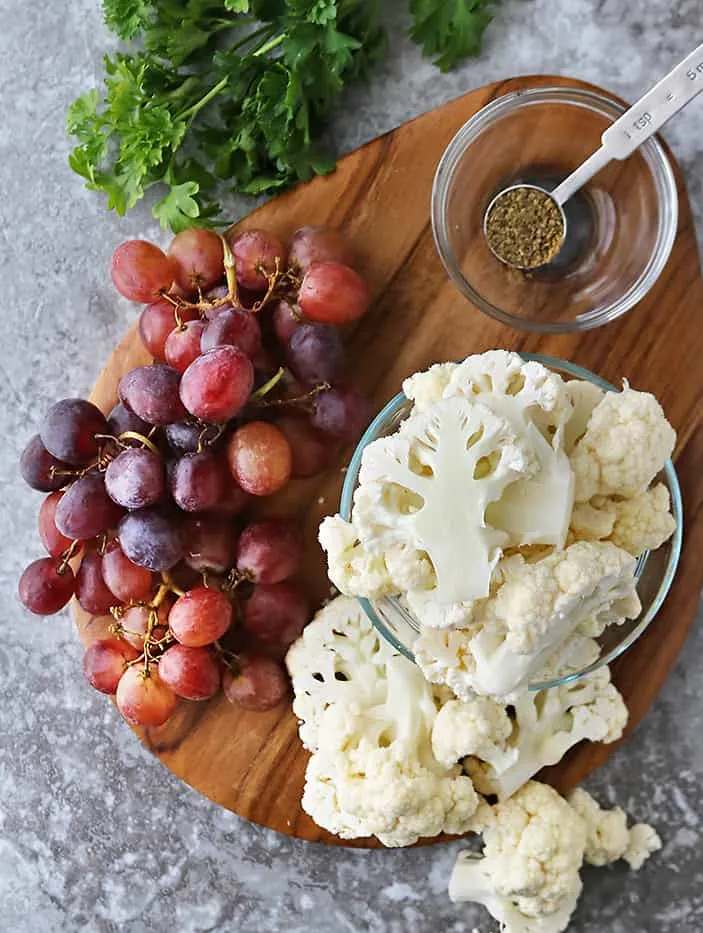 I found a few articles dating back to 2012 that mentioned them. One was a link to a recipe that used roasted grapes in a cookbook published in April 2012, titled "Ripe," written by Nigel Slater.
Another was a link to a cookbook published in August 2012 titled "Seriously Simple Parties," by Diane Rossen Worthington. I could not find anything about roasted grapes beyond that point. So, if you know – please do tell.
I grabbed the grapes I roasted from my neighborhood Sprouts. Sprouts is always my first choice for fresh, delicious, and unique varieties of seasonal produce. There was that stellar lineup of melons that adorned the produce section at Sprouts over the summer.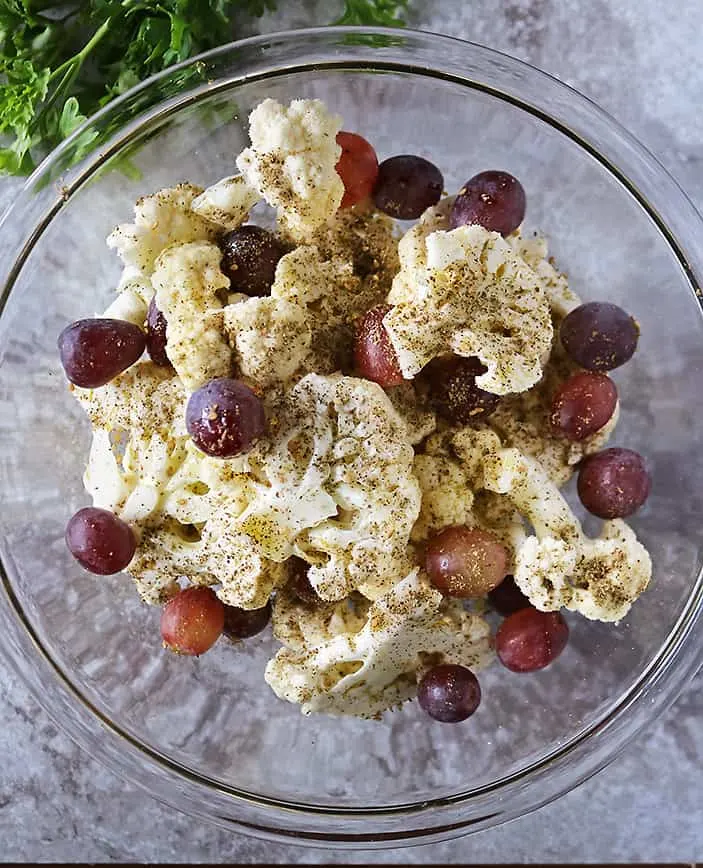 Right now, we are in the middle of Grape season here in Georgia which had me heading to Sprouts and happening on a vast array of classic and unique grape varieties! There were cotton candy grapes, moon drops, and gumdrops!
By the way, if you haven't tried these before, this is a brief description of each:
Cotton Candy Grapes are bursting with sweet, cotton candy flavor and juicy texture,
Moon Drops are oblong in shape with dark blue skin and incredibly sweet flavor, and
Gum Drops are extra sweet and have a candy-like bite with a tart finish.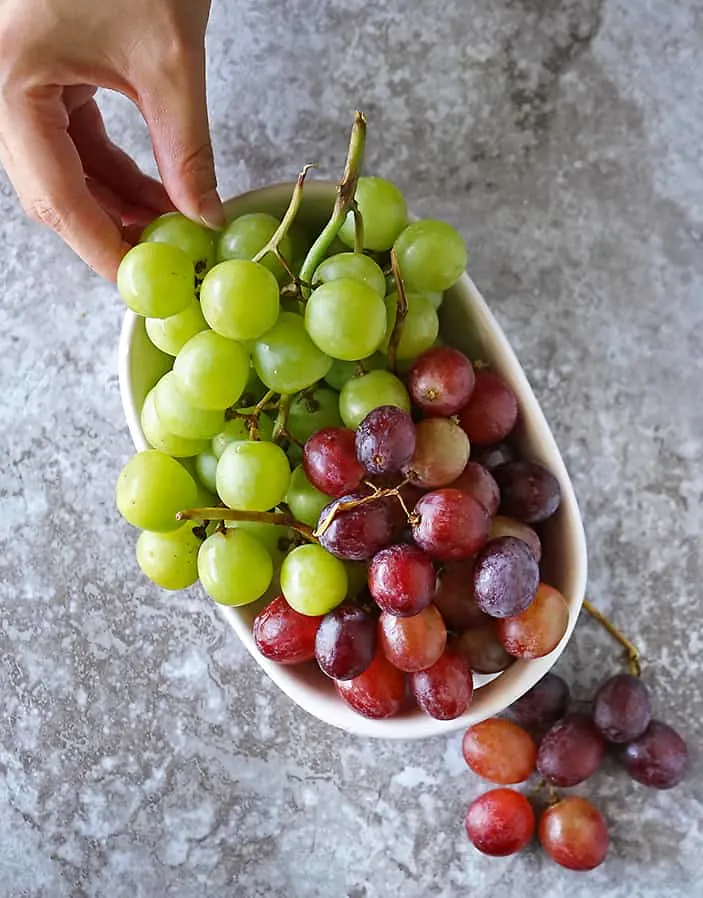 Also at Sprouts, I found Limited Green Grapes and Limited Red Grapes. The letter is what I roasted and paired with cauliflower in this dish you see here today.
What are the 4 ingredients needed to make this?
This Roasted Cauliflower and Grapes dish is so easy yet bursting with flavor. It is made with only 4 ingredients. And, those 4 main ingredients are:
1. Cauliflower,
2. Red Grapes,
3. Zaatar, and
4. Parsley.
Along with some olive oil, salt, and pepper.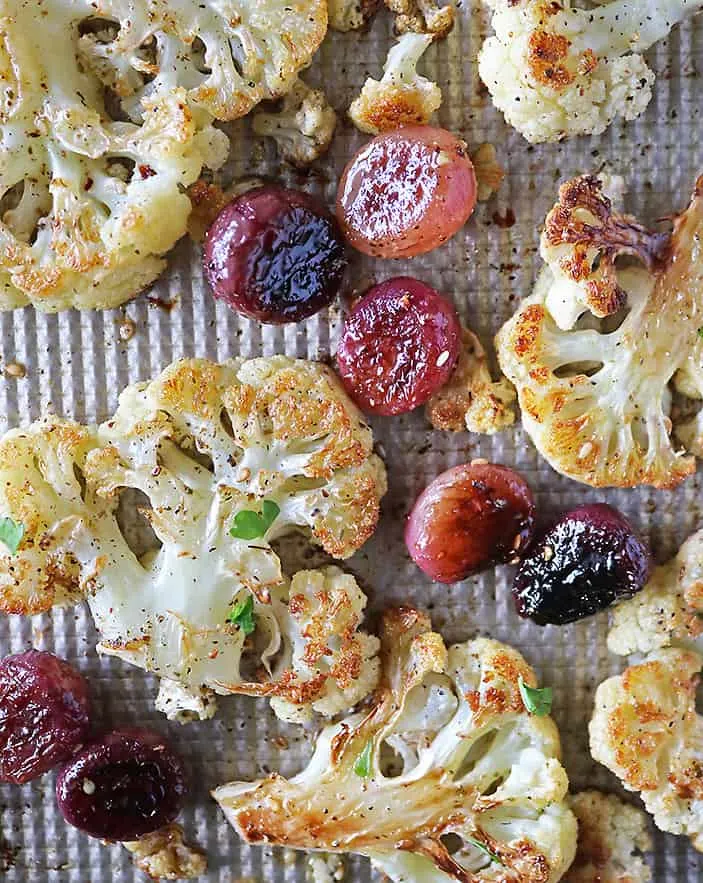 How to make Roasted Cauliflower and Grapes?
I cannot stress how easy this recipe is to whip up.

I started things off by cleaning and cutting the cauliflower.

I soaked the grapes in some salted water to remove all debris. Then I rinsed them off and dried them. In my humble opinion, this was the most labor-intensive part.

Then it was just a matter of placing the cut cauliflower and grapes in a large bowl, drizzling them with a generous amount of olive oil, and sprinkling them with some zaatar.

Then, I placed them in the oven to roast for about 25-30 minutes. When the time was up, I switched my oven-bake setting to broil for about 4 minutes.

When the time was up, I let this sit for about 5 minutes.
Then I drizzled on some salt and pepper as well as some chopped-up parsley and it was ready.
My daughter and I polished off that first tray in less time than I took to make it. We decided to slice up an avocado and top it onto a roasted cauliflower slice. On top of the slice of avocado, we placed a few caramelized grape jewels to make an appetizer that is going on our Christmas menu!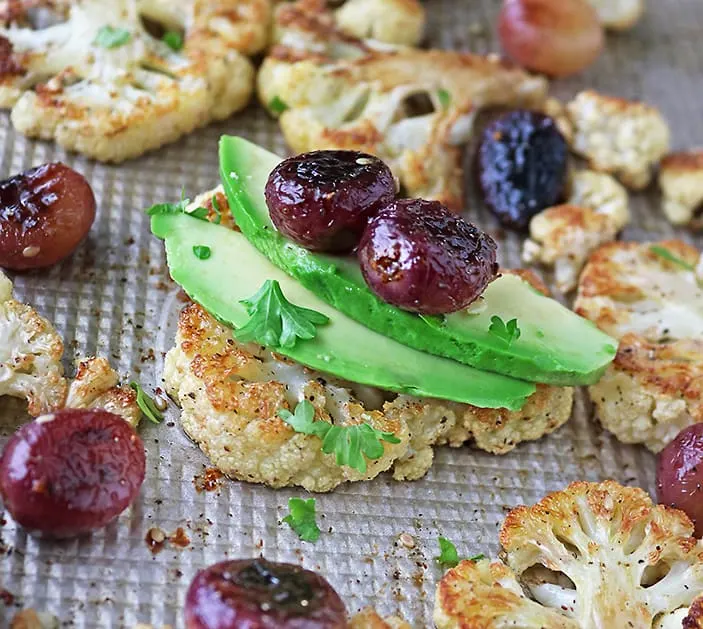 My daughter did suggest we grill the avocado (like I did in this Grilled Avocado Sundried Tomato Pasta Salad) and use grilled avocado with roasted cauliflower and grapes in our appetizer. So, I am off to Sprouts again to grab some more of each of the three!
I think that this Roasted Cauliflower and Grapes dish can pair just as well with this cilantro lime chicken as it can with these roasted veggies. It can also be served as a snack or an appetizer.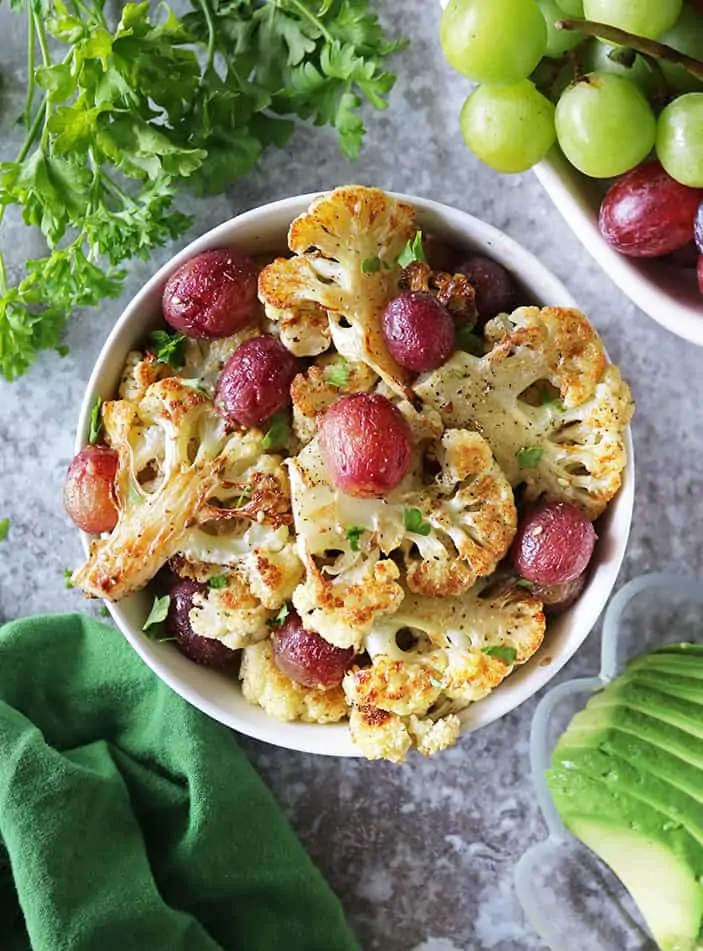 Can you roast grapes with seeds?
Yes, I have roasted grapes with seeds before – much like the recipe below. However, if you do not like the seeds in grapes, you could cut your grapes in half, remove the seeds and then toss them with some oil and zaatar or spice of your choice before roasting.
How to store roasted cauliflower and roasted grapes?
If you have leftovers of this dish, you can store this in an air-tight container and place it in the fridge for 3-4 days.
Can this Roasted cauliflower and grapes dish be frozen?
Yes, it most definitely can be frozen. Just place the roasted cauliflower and grapes on a wax paper-lined baking tray and place the tray in the freezer until frozen. This way they won't stick together. When frozen, remove the tray from the freezer and place the frozen cauliflower and grapes in a plastic bag or container for when needed.
Thanks so much for stopping by. If you make this recipe, please let me know in the comments below what you think of it, or tag your creation on social media with @savoryspin or #savoryspin. For more fusion, spice-filled, recipe ideas, please subscribe and follow me on Facebook, Instagram, and/or Pinterest!