This Easy Cilantro Lime Chicken packs a deliciously fresh, tangy, and garlicky punch that will have your taste-buds singing! This quick and easy grilled Cilantro Lime Chicken is a versatile recipe that will have you coming back for more.

I've partnered with Sprouts on this recipe for Cilantro Lime Chicken. All opinions herein are my own. Thank you for supporting the brands that keep this blog spinning.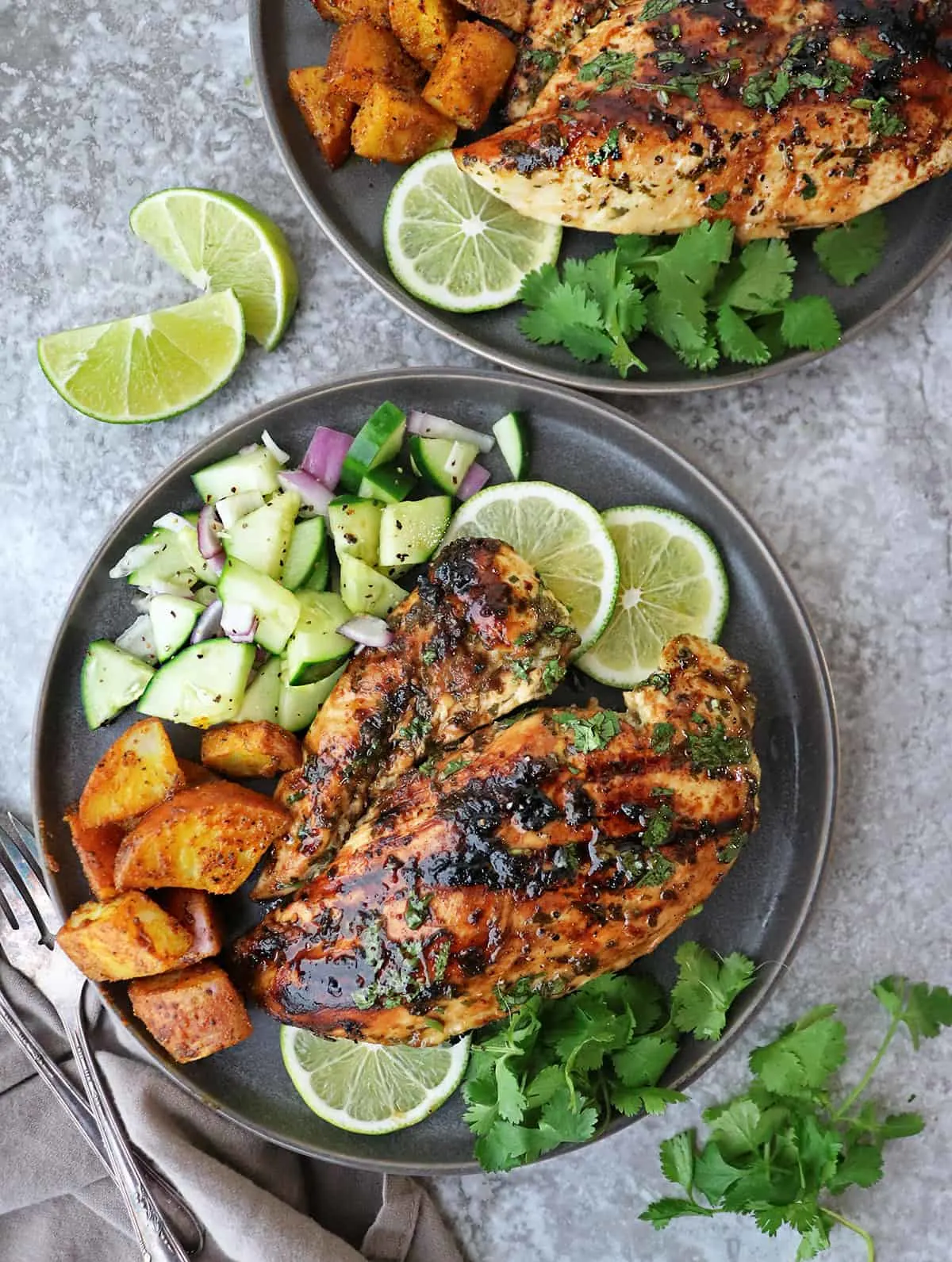 This Easy Cilantro Lime Chicken is one of our favorite recipes involving chicken. It is quick, easy and so flavorful. Paired with a salad or rice and veggies, this makes for an incredibly satisfying meal.
One of the best vacations of my teenage years was a family trip to London. My mom and dad took my sister and I on an epic 3-week sojourn that still brings a smile to my face. From gawking at specimens at The Natural History Museum to winding our way through Windsor Castle to falling asleep at The London Planetarium, our trip was filled with sightseeing.
And, most of the time, after a day of sightseeing, we would stop by a Sainsbury's or Tesco and grab some ingredients to cook back at the place we were staying at.
And, from all the tasty meals we enjoyed there, my favorites were those that involved chicken. The chicken there was so tender, so flavorful, so satisfying. I hadn't had chicken quite like that. What I didn't realize back then is the chicken we enjoyed while we were in London was air-chilled chicken.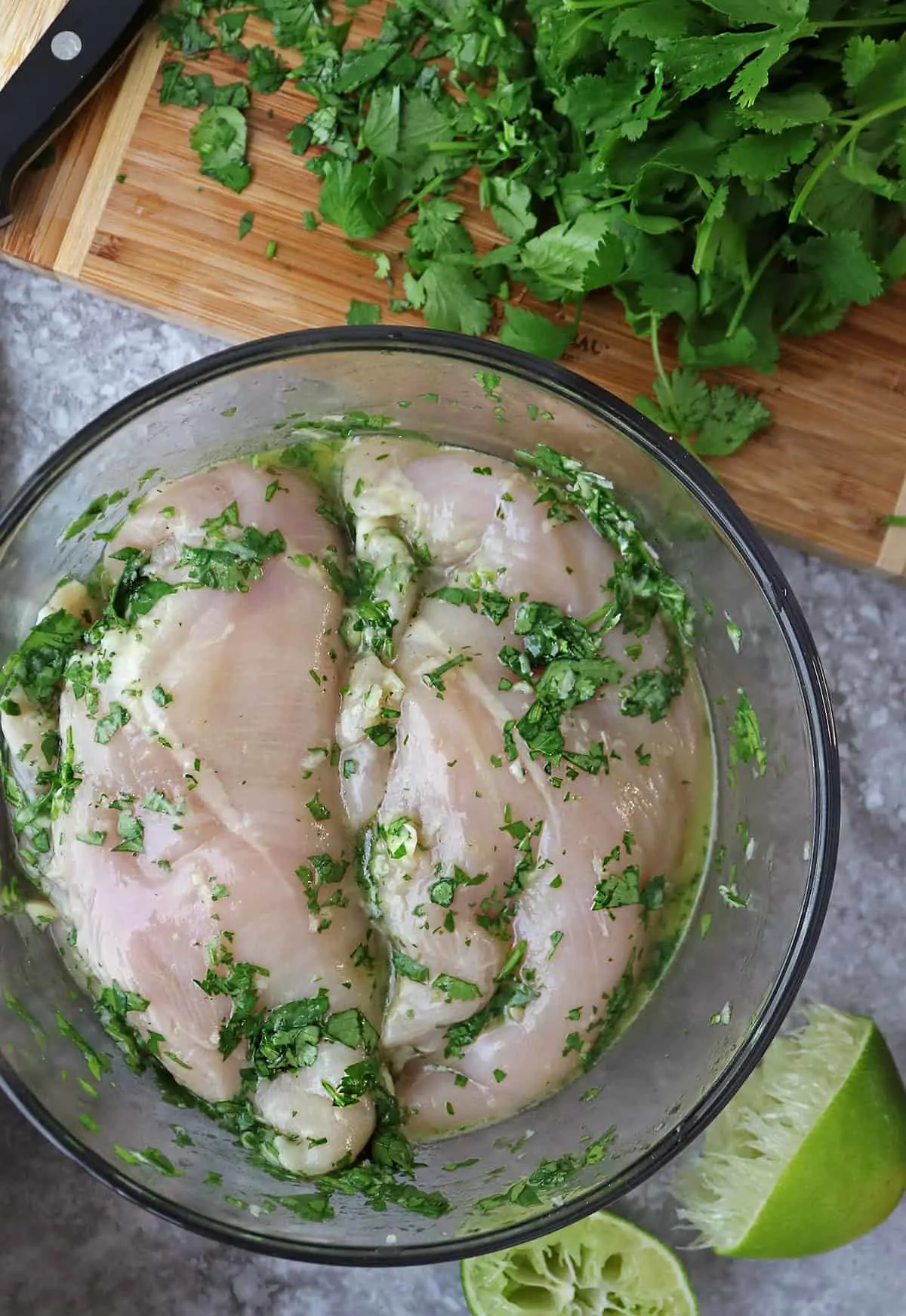 What is air-chilled chicken?
Air-chilled chicken is chicken that has been cooled with cold, purified air. Chicken is passed through several cold air chambers to lower their core temperature to 40°F. Air-chilled chicken has been popular in Europe for decades and is becoming more popular now here in the US. The process of air-chilling chicken usually takes around 3 hours – which is much longer than water-chilling chicken.
Does Air-chilled chicken taste different?
As air-chilled chicken is cooled in cold air and not cold water, it absorbs less excess water. Air chilling chicken helps lock in the chicken's natural juice without diluting them, which results in chicken that is incredibly flavorful and tender.
Also, as there is no absorbed excess water, air-chilled chicken is said to cook faster and be crispier as well.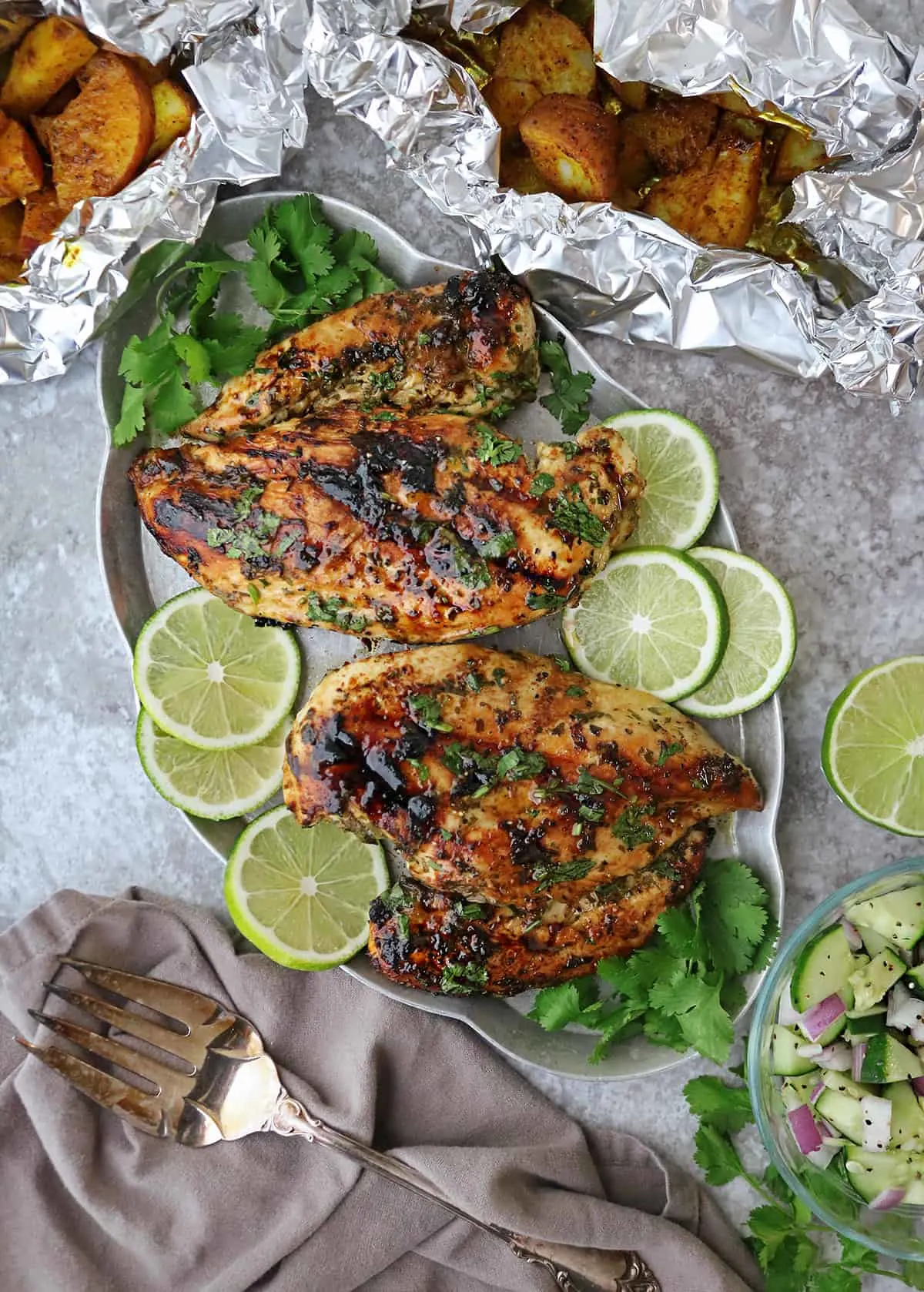 Where can you find air-chilled chicken?
During our weekly Sprouts run, we came across Sprouts Butcher Shop Air-chilled Organic Chicken breasts in the deli section. You can also find Sprouts Butcher Shop Air-chilled Organic Chicken in the frozen foods section too. We grabbed a package as I was thinking of making a Cilantro Lime Chicken to pair with a Sweet Spicy Paloma Mocktail (that will be on the blog on Friday).
I love the variety of fresh produce at Sprouts, and usually head there to stock up on my favorite fruits and veggies. But Sprouts also has a fantastic selection of meats. I have brought home pre-marinated chicken from their Butcher Shop before and love the quality and freshness of their meats.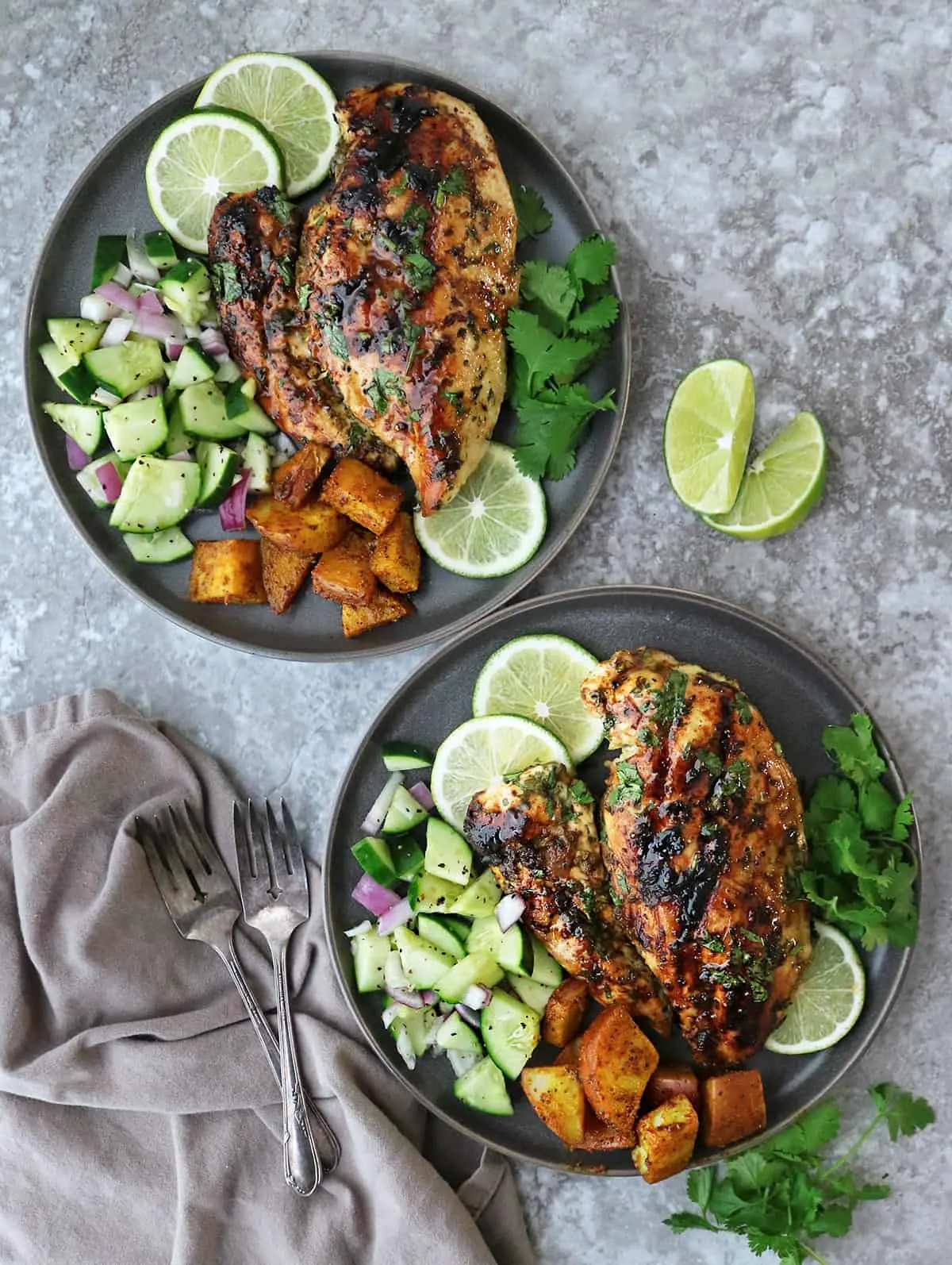 Sprouts Butcher Shop Air-chilled Organic Chicken does not contain antibiotics. The chicken is fed a certified organic diet while having access to the outdoors. Sprouts sources from smaller suppliers and family ranchers, so they continue to keep high-quality products in stock during this time.
This past weekend was beautiful here in Athens, GA – and, armed with a fresh package of Sprouts Butcher Shop Air-chilled Organic Chicken breasts and a killer marinade, I figured it was time to dust off the grill and get to grilling.
Making this Easy Cilantro Lime Chicken…
I only marinated the chicken for 15 minutes in this cilantro-lime-garlic marinade. Then I popped those chicken breasts on the grill and let them sizzle.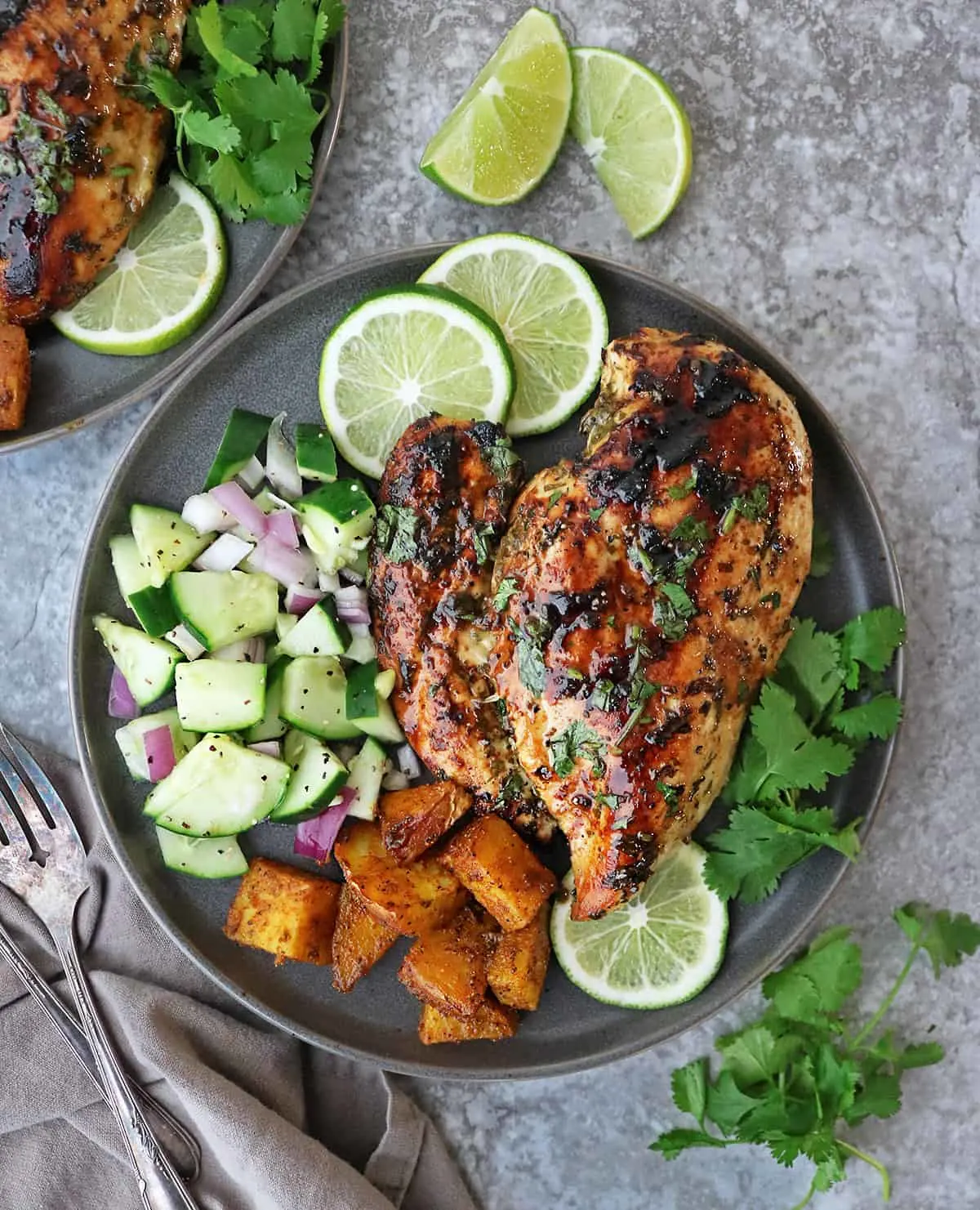 As the Cilantro Lime Chicken grilled, I also made some turmeric potatoes. Only, instead of baking them like I did in this recipe, I placed them in foil packages and popped them onto the grill as well.
While the chicken and potatoes cooked, I also whipped up a super easy and refreshing cucumber and onion salad. This is one I picked up from my mom – just cucumber, red onion, salt and pepper. You can add in a squeeze of lime juice and some parsley if desired, but this is just as delightful with simply salt and pepper.
My daughter and I found this to be a delightfully light and flavor packed meal that was incredibly satisfying. This cilantro lime chicken can be paired with an easy salad or served with some potatoes and veggies and a cold paloma mocktail.
Looking for more poultry recipes? Then do check out these almond-crusted chicken nuggets and these delicious Cornish hens!