Cilantro, broccoli and kale are the stars of this delicious Broccoli Kale Cilantro Sambol (Salad). It pairs well curries and rice just as well as it would pair with burgers and fries.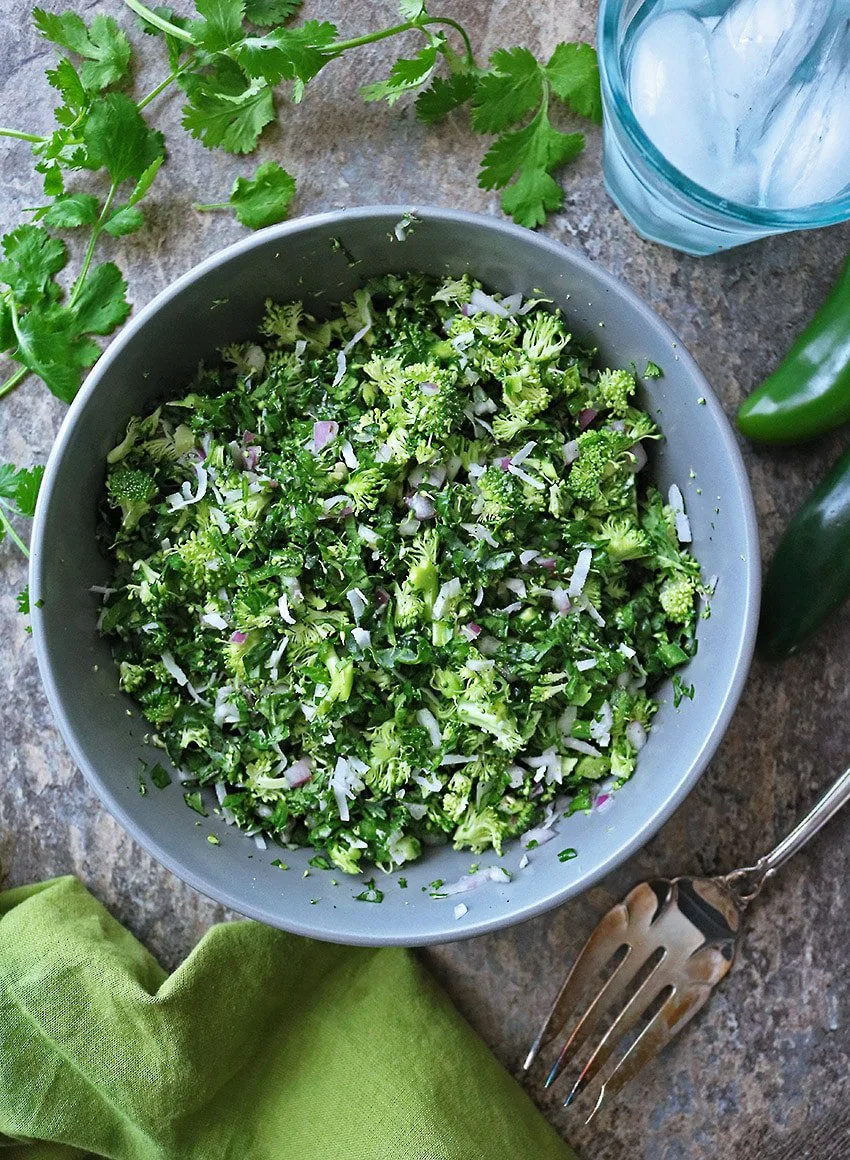 For our somber Easter Sunday potluck lunch, my mom brought a delicious kale cilantro sambol (salad). Why somber, you may ask? Well, for us, Easter is usually a time of celebrating. Jesus' resurrection is a pretty big deal. However, Easter 2019 was a bit somber for us as we woke up to news from Sri Lanka of the senseless bombings that took place at several churches and hotels.

As we tried to get in touch with family and friends in Sri Lanka, several news channels broadcasted the heartbreaking destruction that had ripped through Easter Sunday morning in my motherland. It's not easy being miles away and not knowing… Fortunately, we were able to get in touch with loved ones there, but there were so many whose stories went very differently…

My apologies for starting this week out on a heavy note, but, this recipe I have here for Broccoli Kale Cilantro Sambol (Salad) is based on the kale cilantro sambol my mom brought to Easter lunch. And, mom's, in turn, is based on a Sri Lankan favorite, gotu kola sambol.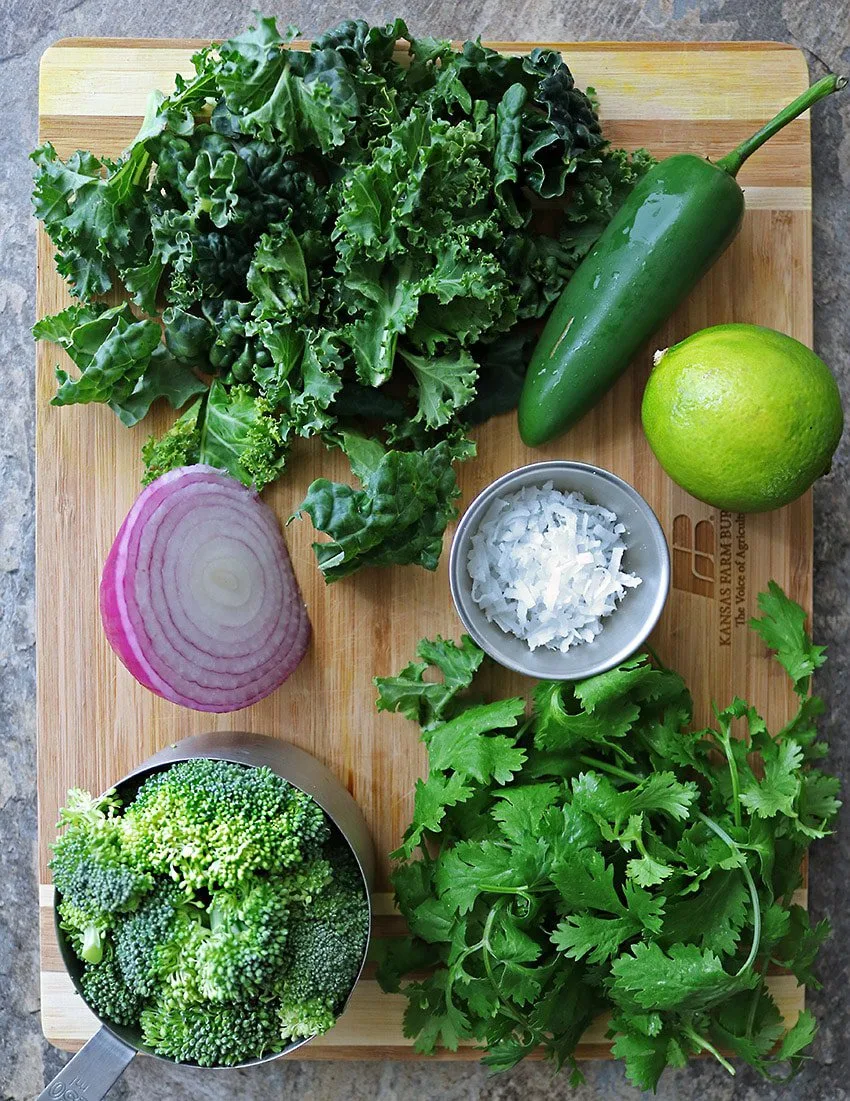 You might have seen gotu kola supplements at your local grocery store or health food store. Gotu kola or centella asiatica is an herb which is popular in Sri Lanka for it's medicinal properties that are said to help everything from fatigue to stomach woes to diabetes.
On those rare times when my mom gets her hands on fresh gotu kola, she loves making her favorite recipe for gotu kola sambol. But, other times, she is whipping up parsley sambol or kale cilantro sambol with ingredients she can find at her grocery store.

My mom's kale cilantro sambol was a blend of very finely chopped kale, cilantro, shredded coconut, lime juice and salt ~ nothing fancy, but gawsh, it was so tasty!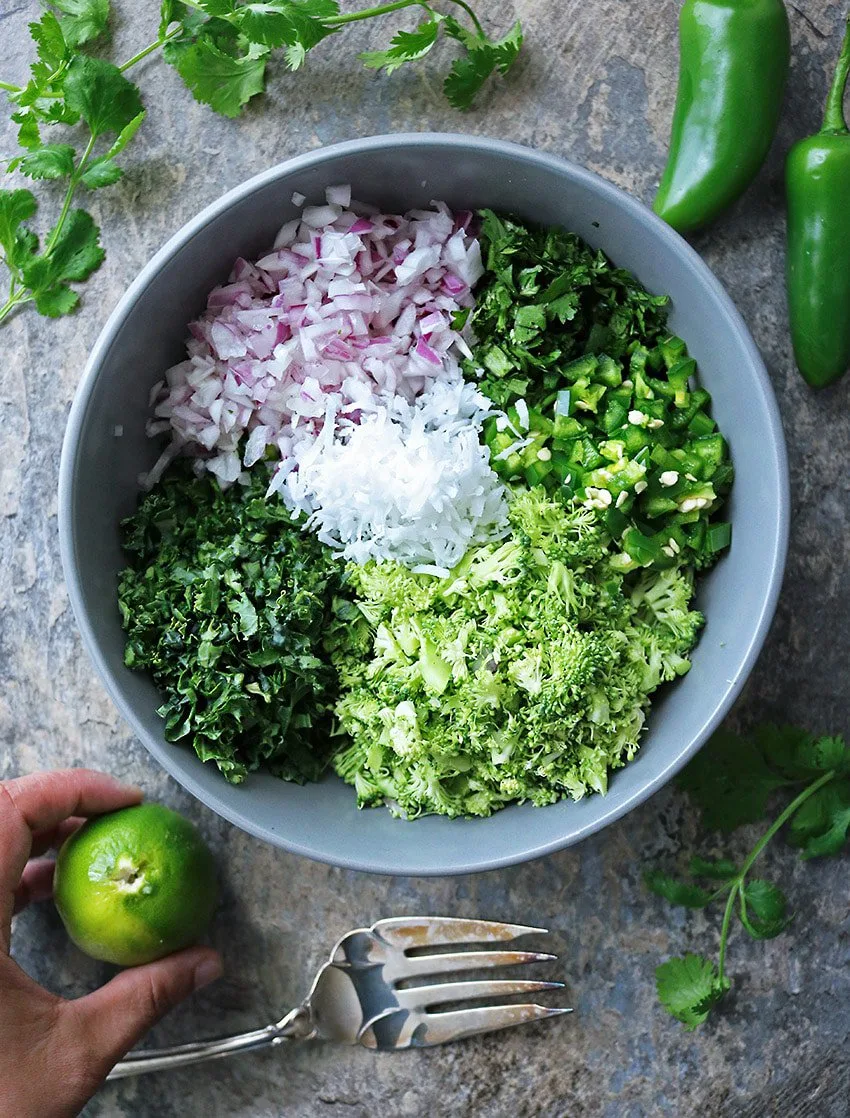 So, this weekend, part of my meal prep involved making this Broccoli Kale Cilantro Sambol (Salad) which is based on my mom's kale cilantro sambol. In Sri Lanka, sambol is used to describe a finely chopped up salad. With that in mind, I finely chopped broccoli, kale, cilantro, red onion, and jalapeno to make this spicy side dish.
While I used a whole jalapeno with a good bit of the seeds, please use the amount of jalapeno you are comfortable with. If spice isn't your thang, then exclude the jalapeno entirely. Also, I tried out this hack to juice the lime I used without having to cut it, so it can last longer. Have you tried this yet? It has saved me from discarding quite a few dried-up lemons and limes, recently.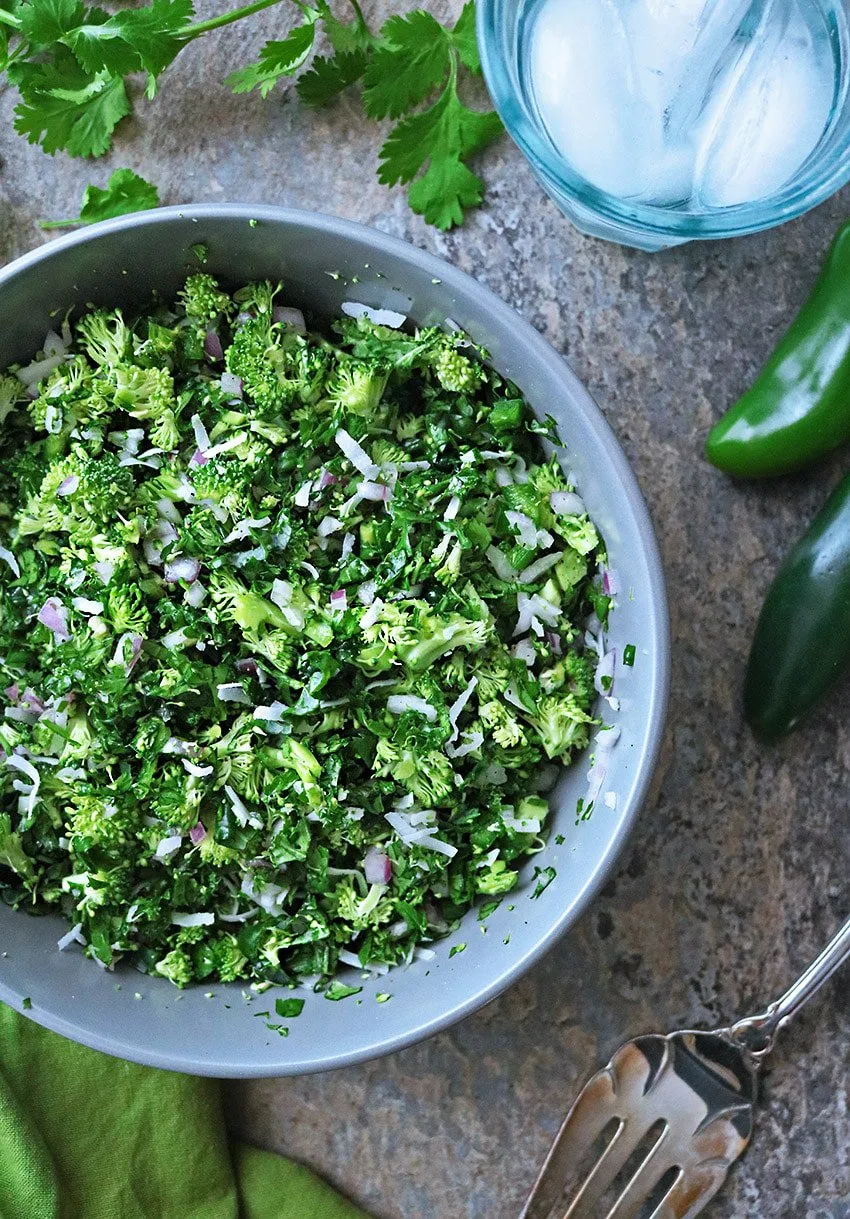 When all the ingredients were finely chopped, I simply mixed them all together with some shredded coconut. My daughter and I enjoyed this Broccoli Kale Cilantro Sambol (Salad) with some of this chickpea spinach curry, this turmeric quinoa, some of these sautéed beets and beans, roasted broccoli and braised asparagus. This Broccoli Kale Cilantro Sambol (Salad) would be delicious with fries and burgers and it is sure to be a tasty conversation-sparker at your spring and summer get-togethers.

If you happen to make this Broccoli Kale Cilantro Sambol (Salad), please do stop by and let me know, or tag @SavorySpin on Instagram and Facebook!