In this Easy Mung Bean Curry, mung beans are simmered in an aromatic and well-spiced, creamy coconut sauce until they are tender. Served with roti or rice, this curry can be a part of a delicious plant-protein packed meal.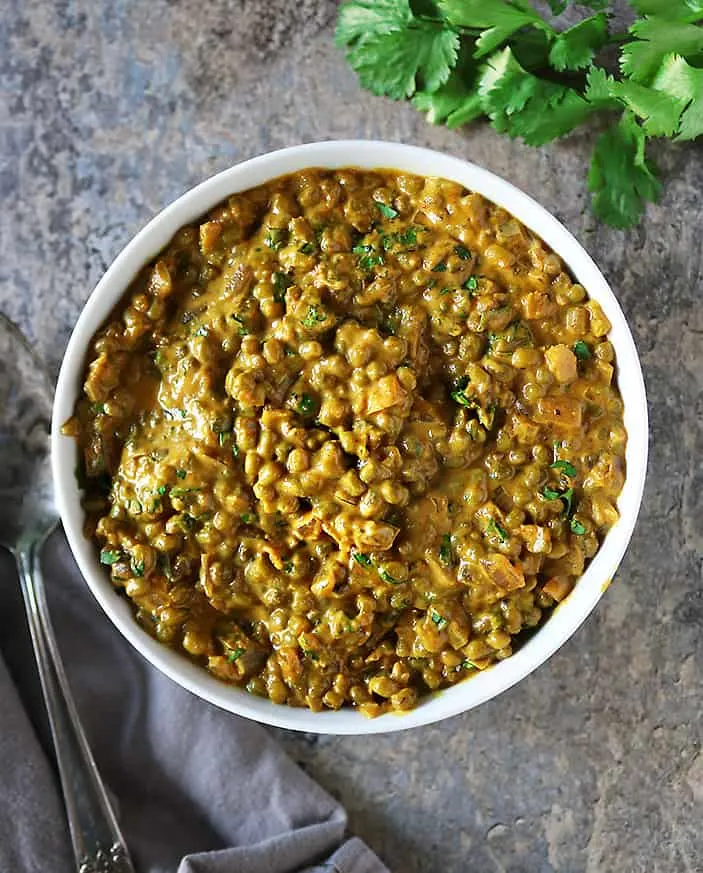 Estimated reading time: 5 minutes
I have been trying to follow a more plant-based diet recently. During this journey, I have been trying to incorporate more plant-based proteins into my meal rotations. One of my favorite plant-based proteins are Mung beans.
What are mung beans?
Mung beans are a tiny green legume. Their scientific species name is Vigna radiate. They are also referred to as moong beans, green gram, maash, moon, monggo, and mungg.
When cooked, a cup of these little green legumes contain 14 grams of plant protein and 15 grams of fiber. They are also a significant source of folate, manganese, magnesium, thiamine (B1), phosphorous, iron, copper, potassium, and zinc. In addition, these mung beans also contain some vitamin A, vitamin C, vitamin E, vitamin K, selenium, calcium, and choline.
While legend has it that they originated in India, they are now widely available and popular across Southeast Asia, East Asia, and the Middle East.
In fact, during my childhood in Sri Lanka, my mom made savory and sweet dishes in which mung beans were the star.
When I first came to the US to attend college, mung beans were not easily available. I used to get them from Cherians – a South Asian store in Decatur.
However, these days, I see packages of dried green mung beans next to the dry beans at most major grocery stores. Which brings me back to this curry…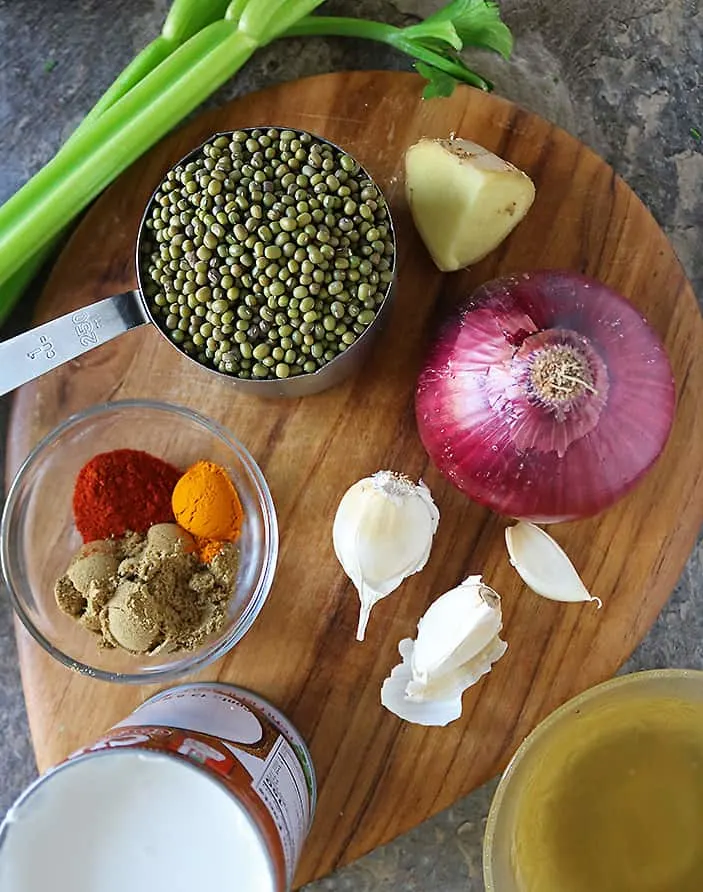 What are the ingredients to make this curry?
Made with only 11 ingredients, this easy mung bean curry tastes so indulgently creamy and tasty. While it might taste indulgent, this curry is actually made with healthy, wholesome ingredients such as:
red onion,
celery,
garlic,
ginger,
coriander,
turmeric,
smoked paprika,
vegetable stock,
coconut milk,
mung beans, and
parsley.
If you like your curry spicy (like I do) then add in some chili powder, but as it is optional, I am not including it in the ingredient list.
I did not soak the mung beans before I used them. In my experience, dry mung beans are a bit like dried daal, they can be cooked without soaking. Just make sure to rinse them well. I usually do this by placing the mung beans in a large bowl. Then, I add water to the bowl to cover the mung. I stir the water a bit with my hands and then pour out the water. Usually, the water that is drained out is a bit murky. Then, I add in more water and repeat the process until the draining water is clear.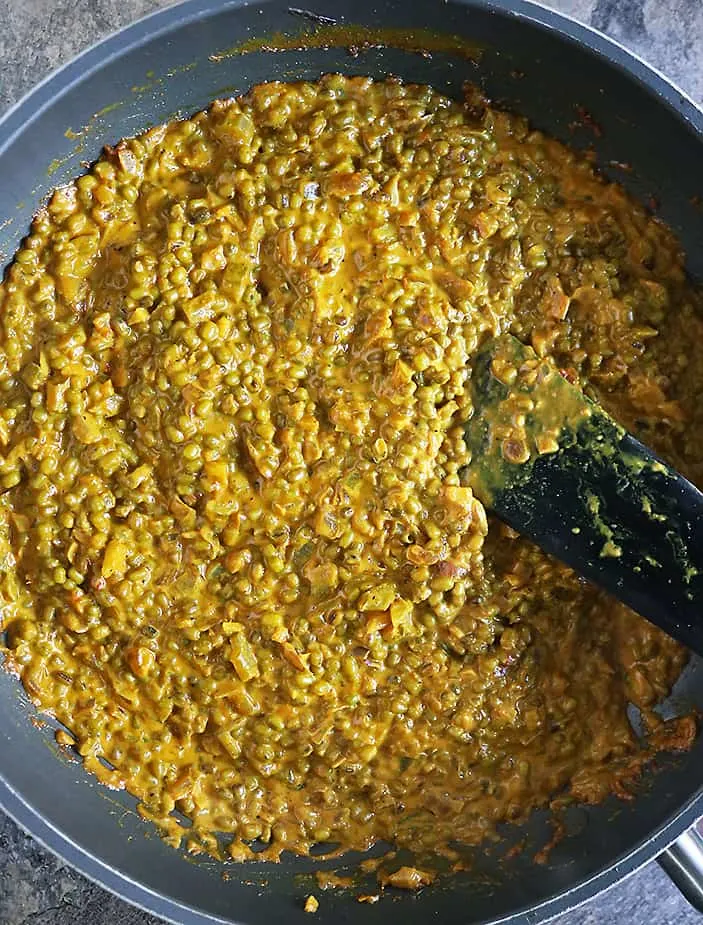 This curry can be prepared quickly. Usually, from start to finish, this curry takes about 40-45 minutes. If I have to peel and cut onions, ginger, garlic, then it takes a bit longer. But sometimes, I have precut onions, ginger, and garlic on hand. When the latter happens, it is just a matter of sautéing and simmering, which means the curry can be ready in 40 minutes at the most.
What to serve with this easy mung bean curry?
I like to serve this easy mung curry with this broccoli cilantro salad and some roti for a simple dinner.

But, if I am trying to put together a more elaborate plant-based meal, I like to serve this curry along with some spiced rice pilaf, some oven roasted eggplant, a bit of jackfruit seed curry or cashew curry (these add so much texture to my plate), some zucchini curry, and some mango chutney or apple chutney.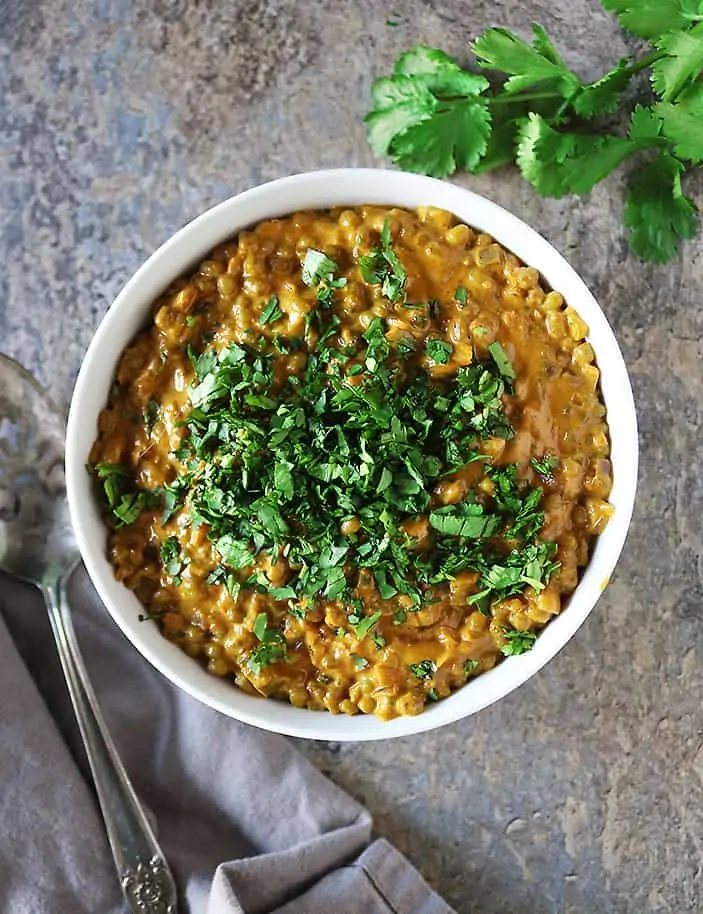 F.A.Q.'s
Can you cook mung beans without soaking?
Mung beans, like lentils (AKA daal), can be cooked without soaking. Just make sure to rinse them well to loosen any debris that they might have accumulated.
What are the benefits of eating mung beans?
Mung beans are packed with plant protein and fiber. They also contain a wide variety of vitamins and minerals. It is said that they can help aide digestive health, lower LDL cholesterol, lower blood pressure, lower blood sugar levels, and inflammation.
What do you eat mung beans with?
Mung beans are a versatile legume. They are delicious in savory curries, like this one. They can also be added to a rice pilaf as well as tossed into a veggie sauté. They can also be boiled and mixed with coconut and jaggery or brown sugar, for a sweet treat. Or, they can be enjoyed in this easy oatmeal mung bean bake as well as this mung bean shake!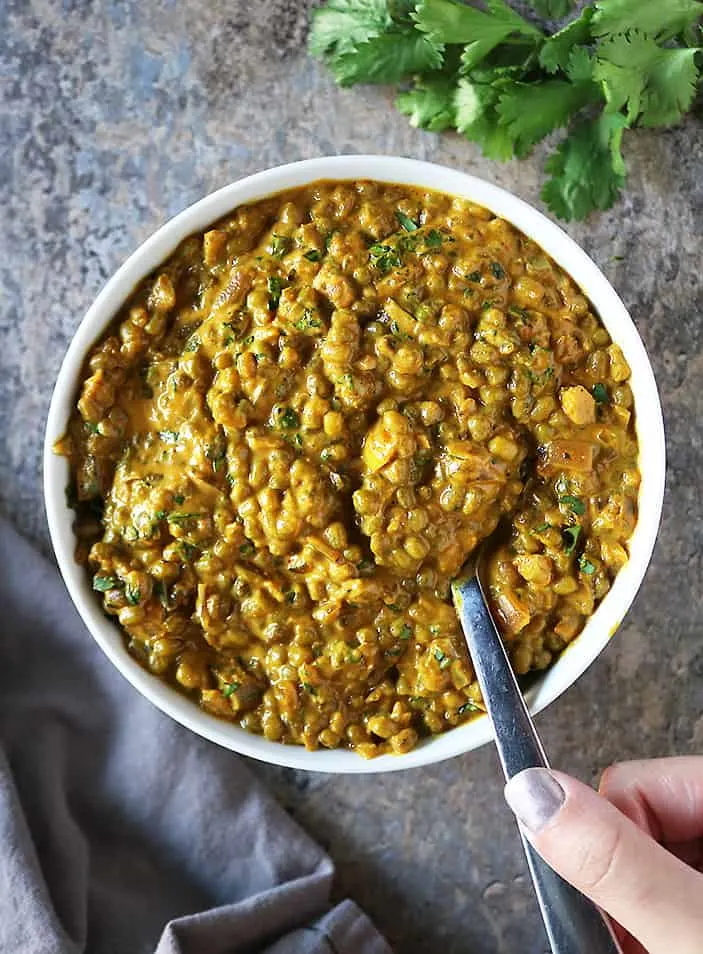 I hope you give this recipe a try. And, if you do, please leave me a comment below letting me know your thoughts.

Please do follow me on Instagram, Facebook, and Pinterest for more recipe ideas and food inspiration!