Ginger, garlic, onions, coriander, smoked paprika, and turmeric, mingle with canned lentils and tomatoes to make these Lentil Stuffed Buns a delightfully delicious and fun snack or lunch!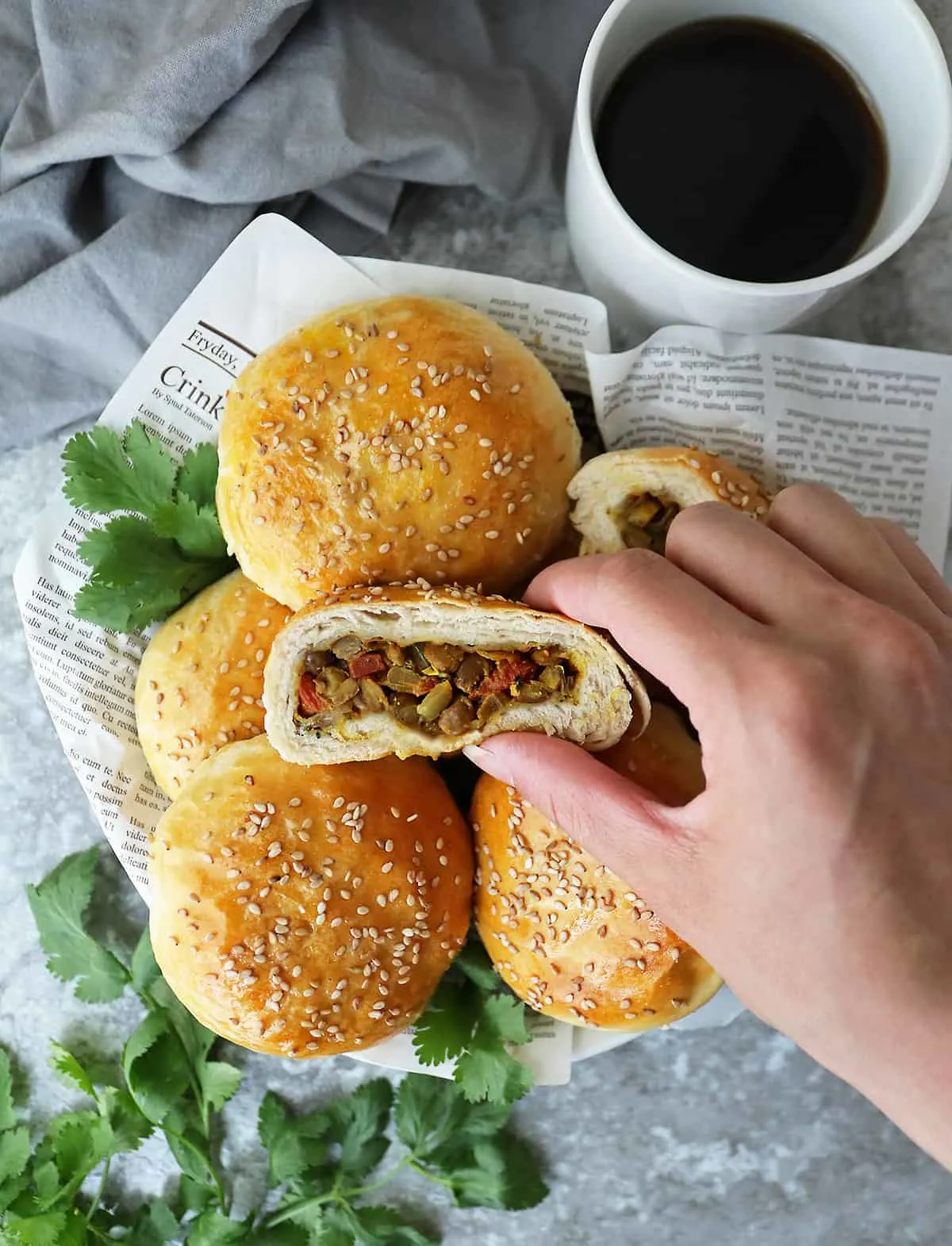 Packed with tons of flavor from ginger, garlic, onions, coriander, smoked paprika, and turmeric, this canned lentil and tomato sauté is delicious.
My daughter and I like to dig into this lentil tomato sauté with pita chips or enjoy it on the side with some Sri Lankan roti or store-bought biscuits.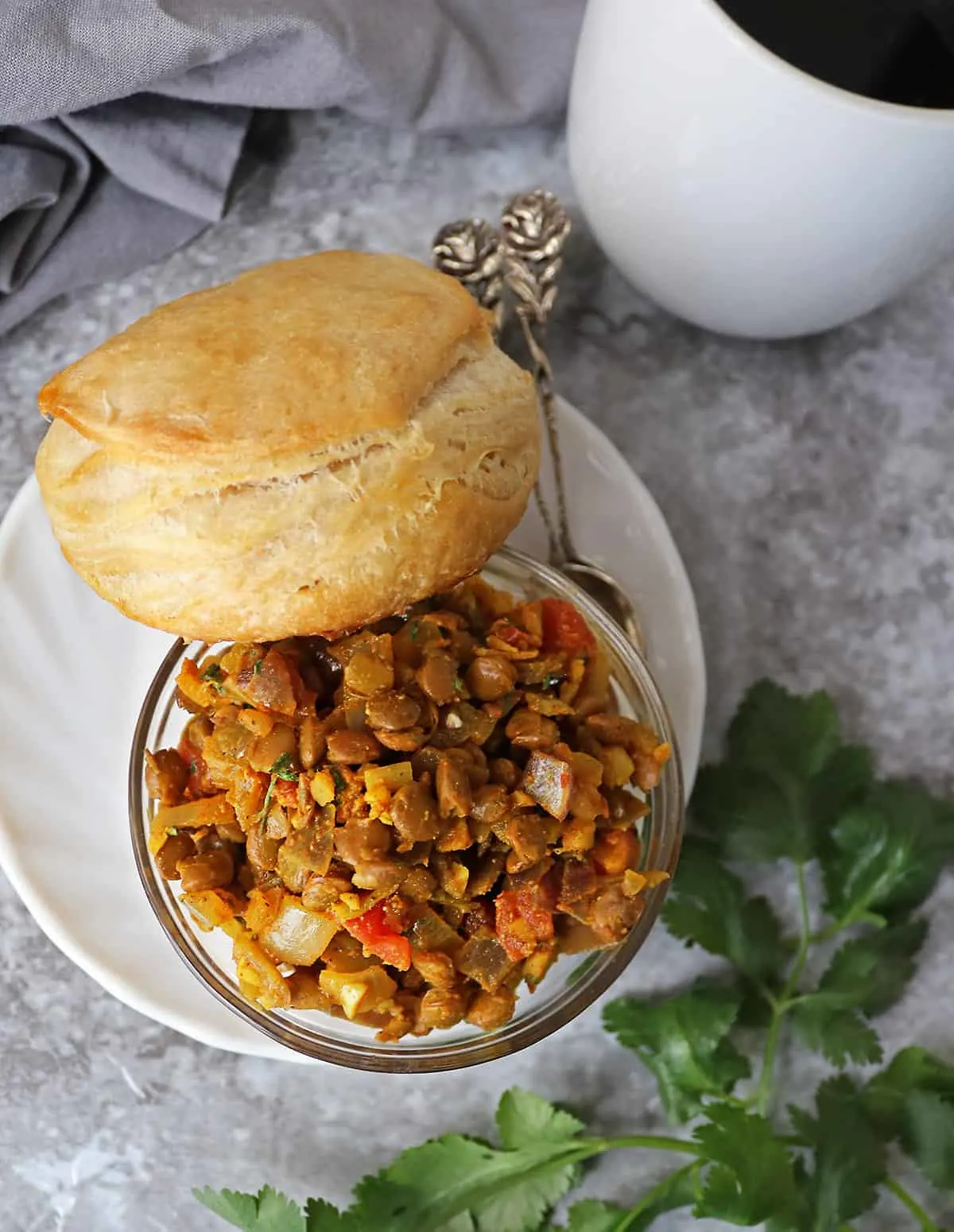 But what is more fun and delicious is stuffing this sauté into store bought biscuit dough or homemade whole wheat bun dough and baking up some Lentil Stuffed Buns!
Growing up in Sri Lanka, stuffed buns were more popular than sandwiches. Most of my aunts and uncles had their favorite stuffed bun recipe that they'd compare with my mom's. Sri Lankan stuffed buns are packed with epic flavor! Usually made with a mutton or beef or chicken filling, the Sri Lankan stuffed buns I used to enjoy were intoxicatingly delicious.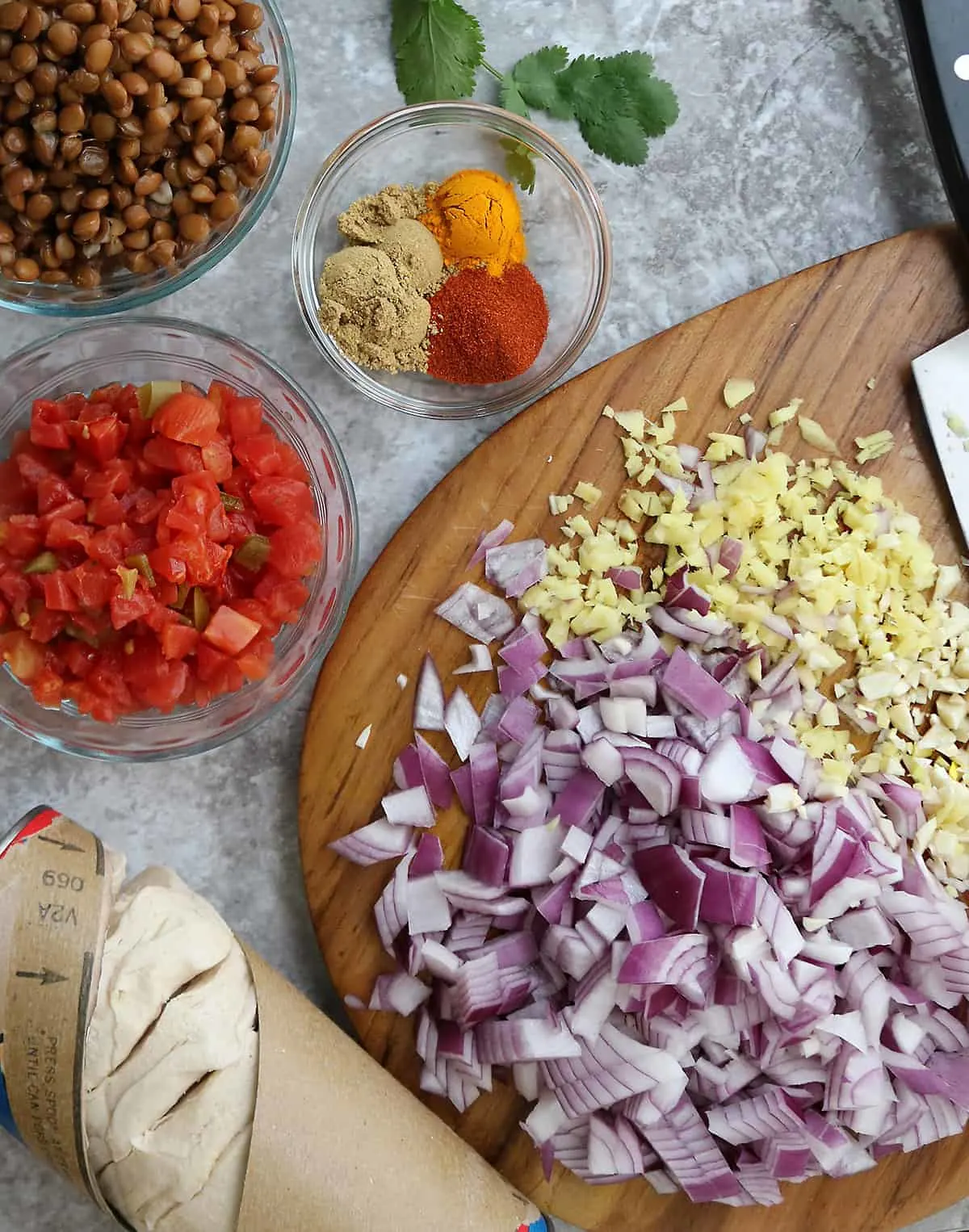 Recently, I've started making more stuffed buns at home. First there were these Spiced Chicken Stuffed Buns, then there were these Curried Chicken Stuffed Buns, then these Black-Eyed Peas and Greens Stuffed Buns (that have become a New Year's tradition now) and these Peanut Chicken Stuffed Buns.
They are a joy to eat ~ though not as much of a joy to share!

I kid, I kid!

Maybe…
And, stuffed buns are so portable. Of course, these days "portable" has a new meaning in our home. These days portable foods are enjoyed in front of the TV or as we paint yet another room in our house as opposed to on a drive or mid-hike snack.
How do you get the stuffing into the buns?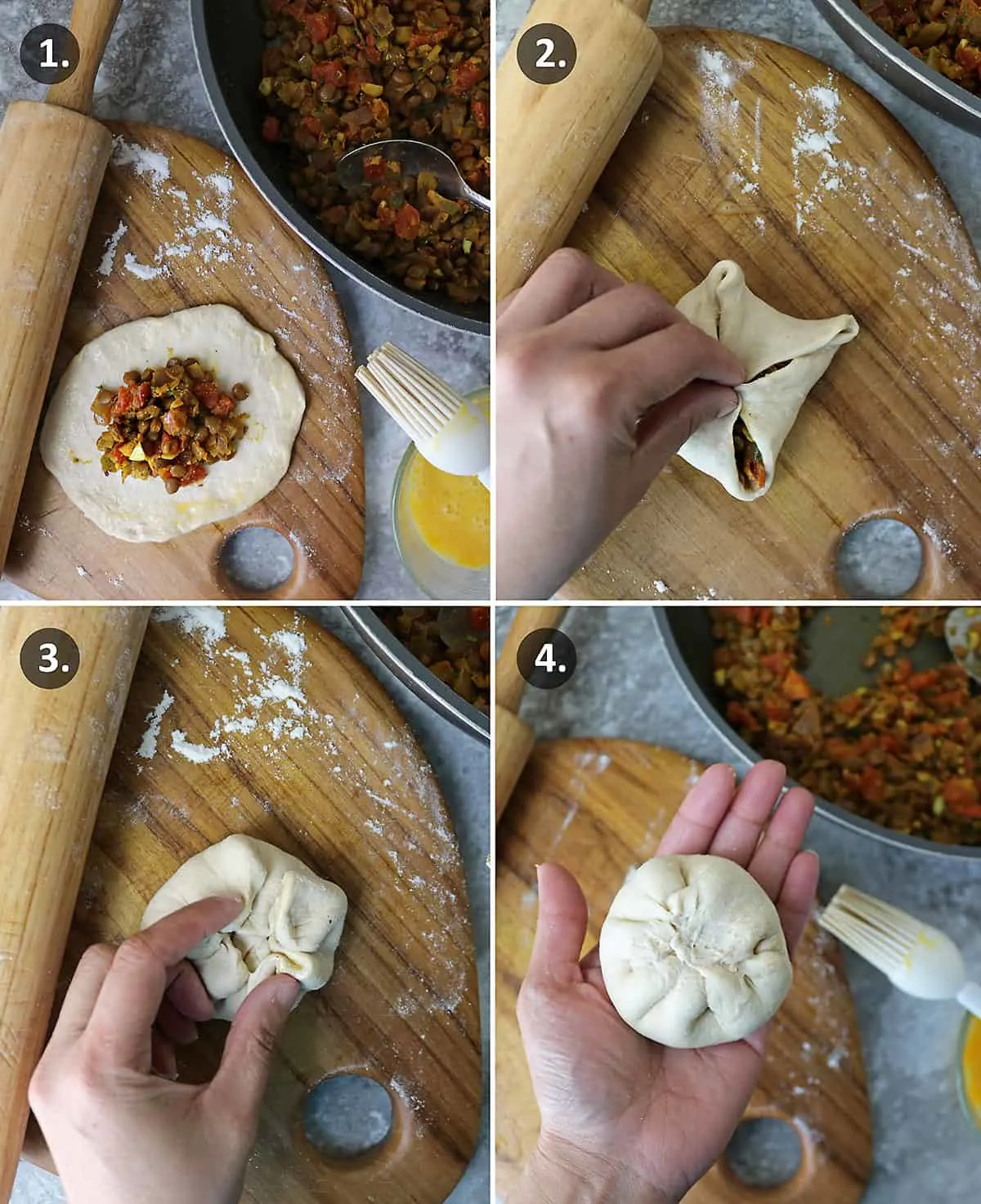 If you use store bought biscuit dough or make your own, then getting the filling into these buns is as easy as:
1) Adding a couple spoonfuls of filling into a circular piece of dough,
2) Brushing the edges of dough with egg wash and gathering 4 main points together,
3) Pinching together the other in-between points together and securing them with a smidge of egg wash, and
4) Rolling the buns over and placing them on the lined baking tray with the pinched side down.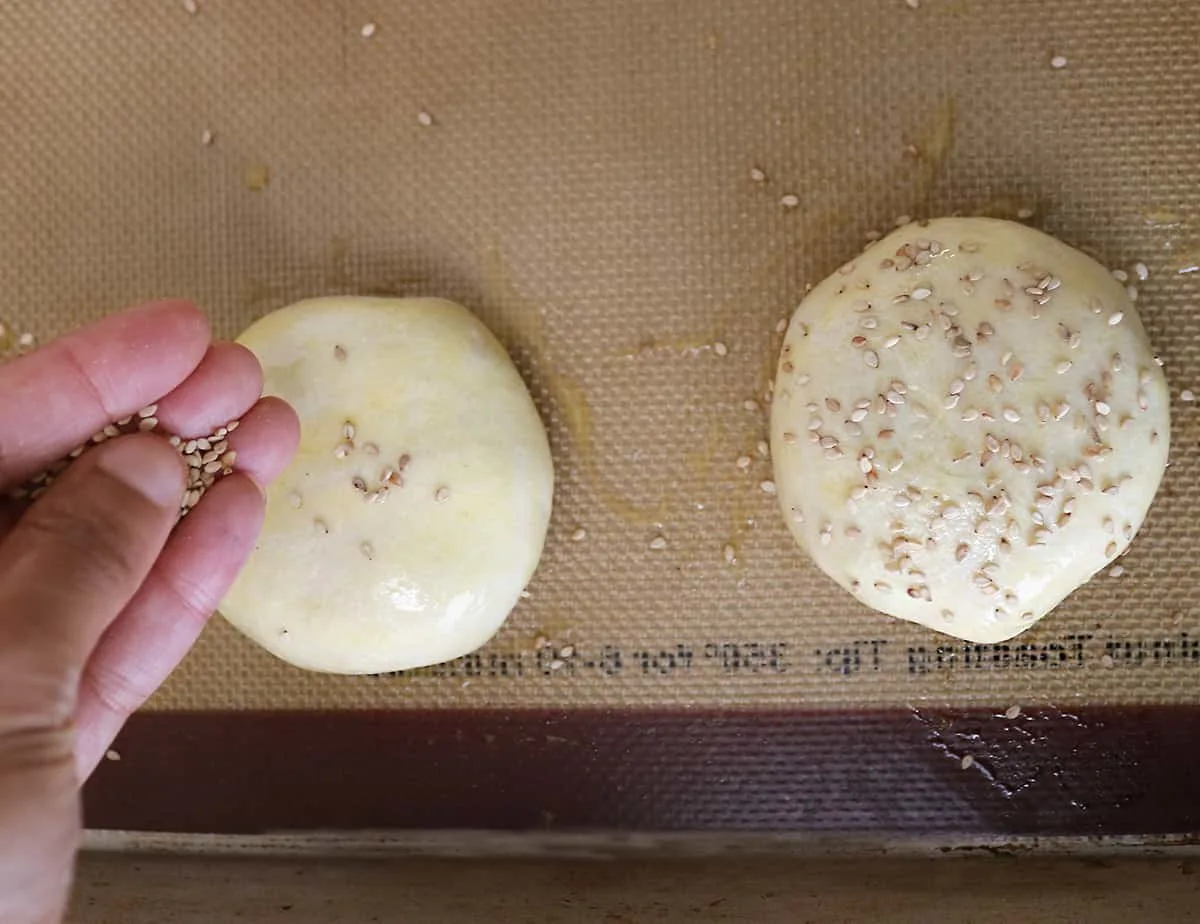 If you don't want to use store bought biscuit dough, and you manage to snag some whole wheat flour or all-purpose flour and some yeast, then you can make your own bun dough like I did when I made these Chicken Stuffed Buns (I've also included the bun recipe below).
I've been trying to eat more veggies, beans and legumes while I stay at home and stuffing them into buns is an easy and tasty way to do so.
While I used lentils in this Lentil Stuffed Bun recipe, you can easily change it up and use light red kidney beans or chickpeas or your favorite bean instead.

At some of the stores we've been to, we always manage to find canned beans, legumes, and tomatoes on shelves, so I've been making a whole bunch of variations of these buns keeping the other ingredients the same.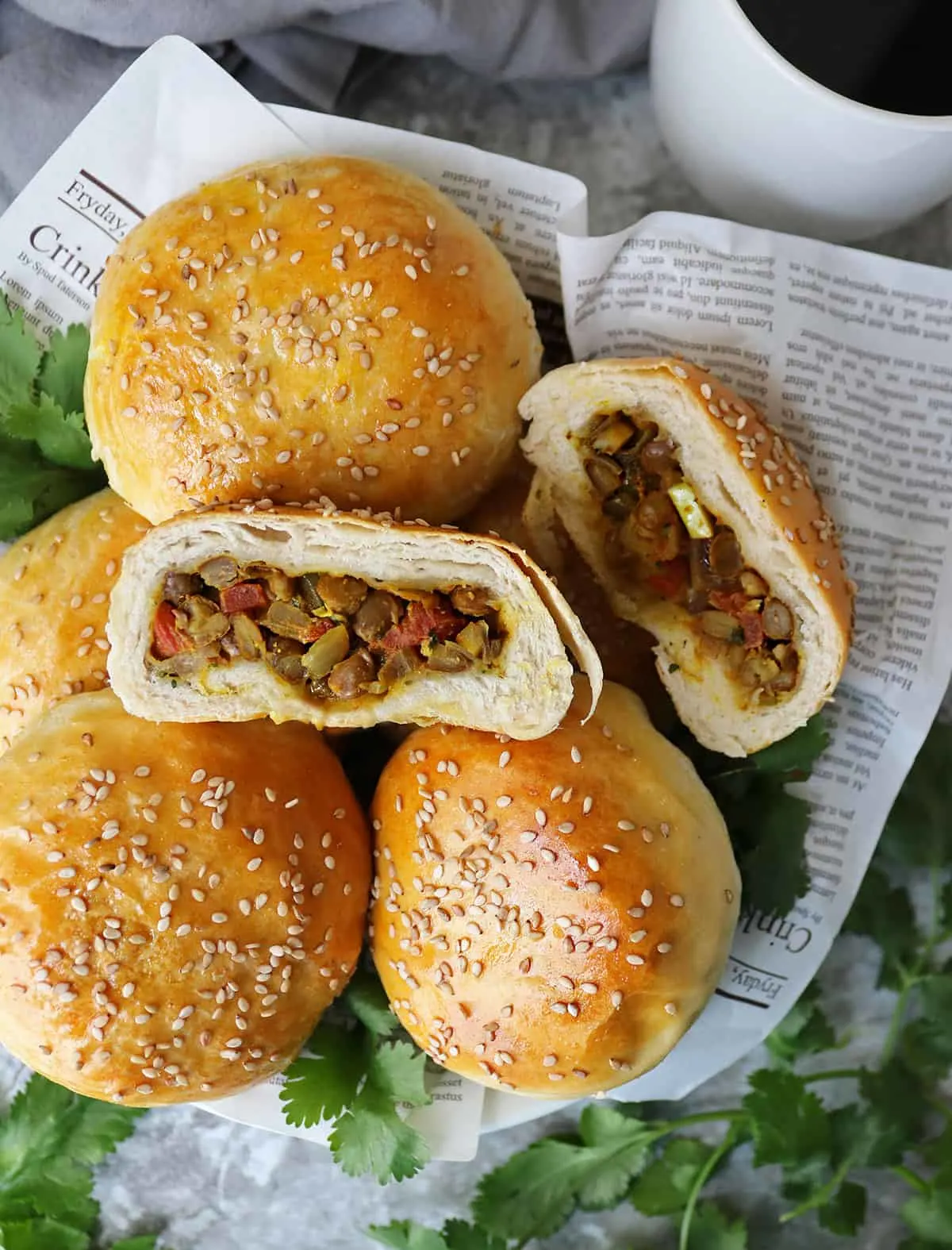 If you make this recipe, I'm hoping you find it as delicious as it is fun to make and eat. Stay healthy and well, until next time.