These portable Spiced Chicken Stuffed Buns make snacking delightful! Filled with aromatic chicken that's sauteed with ginger, garlic, and a plethora of spices, these are wonderful to take along on hikes or road trips!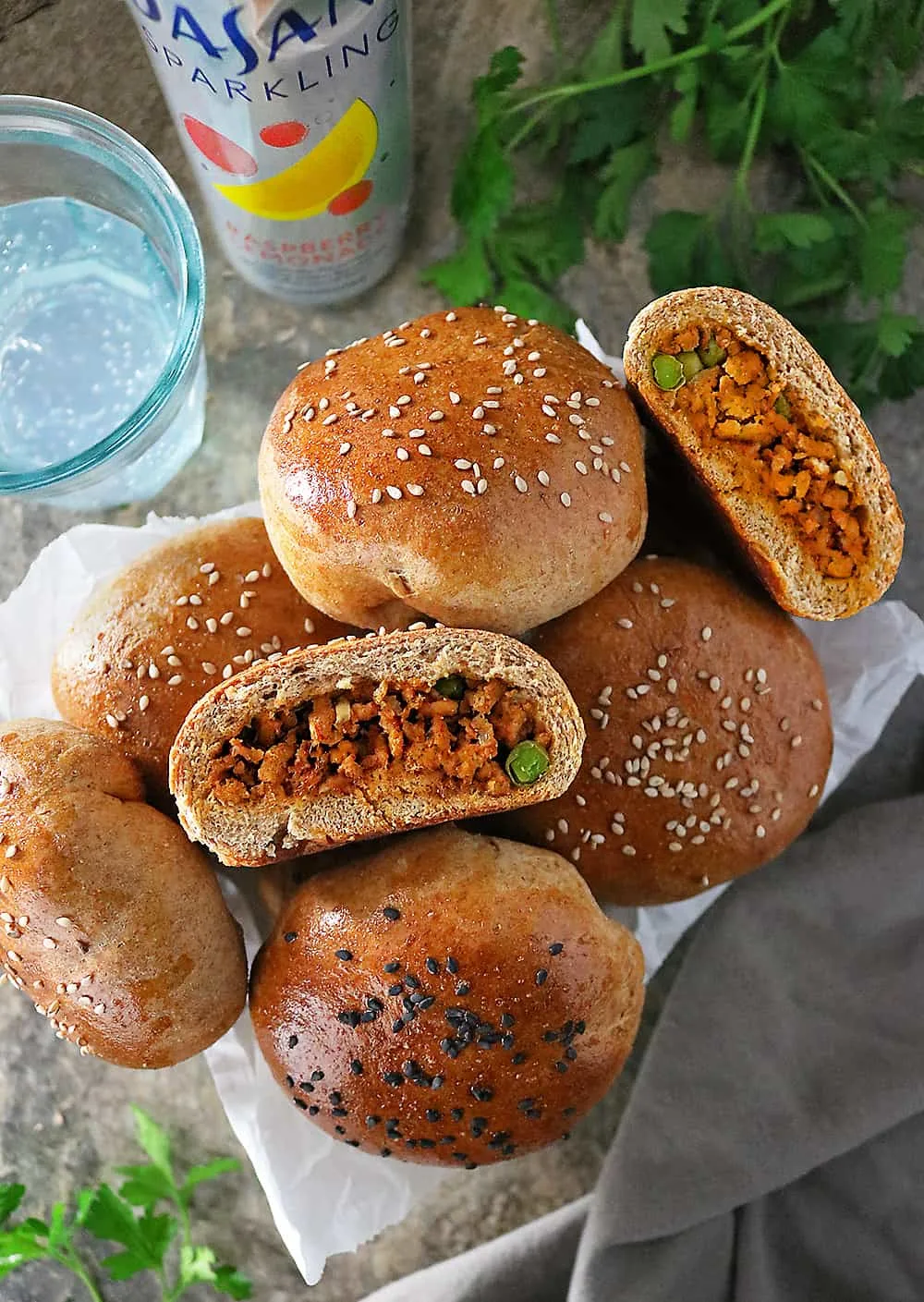 These spiced chicken stuffed buns have never lasted long in our home. And, when I made them for some coworkers, they disappeared just as quickly!
My daughter and I love these spiced chicken stuffed buns because:
• They are so tasty
• They are great for snacking on the go, a picnic lunch, or even dinner in front of the TV!
• They are incredibly comforting!
These stuffed buns are completely made from scratch – meaning the bun, as well as the stuffing, were all made from scratch. With all the proofing and jazz involved, these buns take a little over 2 hours to make, but they are well worth it.
Now, if two+ hours is too long, then please feel free to use store-bought biscuit dough. I use it when I'm in a time crunch – like I did when I made these lentil stuffed buns and these peanut chicken stuffed buns.
A little history on these Spiced Chicken Stuffed Buns. During my younger years in Sri Lanka, all my aunts and uncles had their favorite stuffed bun recipe. Meat and veggie stuffed buns are big in Sri Lanka – kind of like sandwiches are here. The most popular being the Fish Bun and the onion confit bun.
Back then, while I immensely enjoyed that little handheld, stuffed buns, I was always befuddled as to how the stuffing got into the bun.
But, live and learn – right?
These days I make a wide variety of stuffed buns – from veggies to chicken.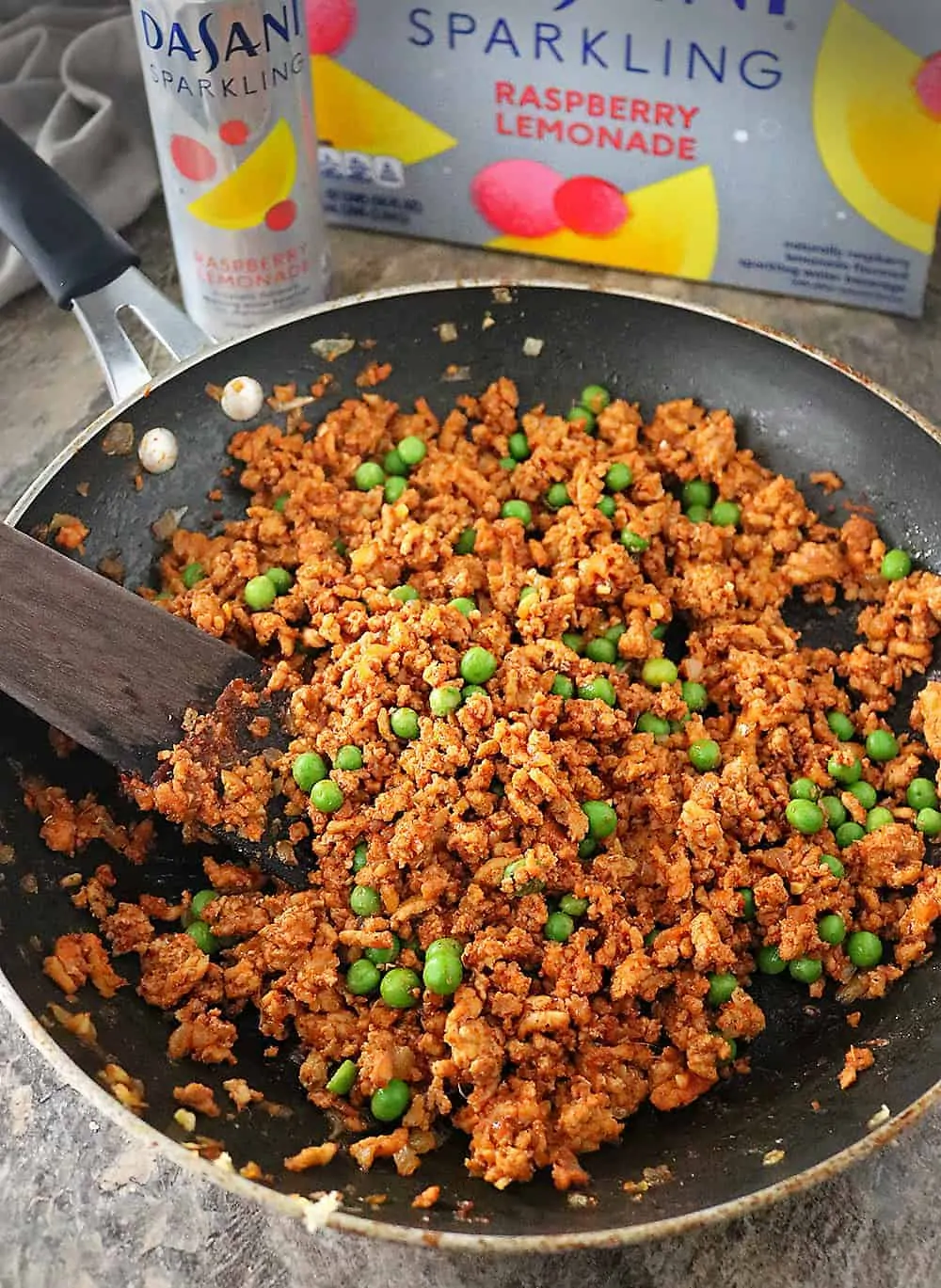 What are the ingredients to make these stuffed buns?
These particular buns have a long list of ingredients, with the buns being made with the following 8 ingredients, which are:
warm milk,
sugar,
Active Dry Yeast,
all-purpose flour,
whole wheat flour,
butter melted,
eggs, and
salt.
The spiced chicken stuffing requires the following 15 ingredients:
oil
onion
garlic
fresh ginger
ground chicken
smoked paprika
coriander
turmeric
cumin
tomato paste
salt
pepper
chili powder (optional)
frozen peas
Black/white sesame seeds (optional)
Now you might have most of these ingredients already – and most of them can easily be found at your local grocery store.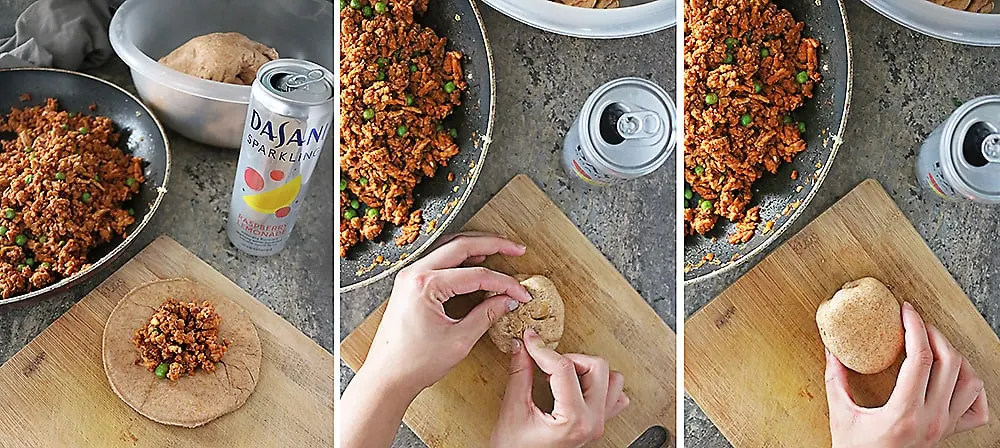 These spiced buns remind me of an incident I simply have to share…
Last week, as my daughter and I were driving down the freeway sipping on our favorite beverages, we saw someone seemingly parachuting down.
We were on a stretch of the freeway without many cars on it, but, the thought that a wind gust might change that person's trajectory left us unsettled…
But, as we got closer, we noticed that he was doing circles as he lost altitude … circles?
Yup… circles… because he was tethered to the ground!
That was the first time I had seen anything like it!
That tethered parachute rider led us to talking about some of our gravity defying bucket list items. My daughter's is tandem skydiving. Mine is a hot air balloon ride.
My daughter, always wanting to help me cross off items off my bucket list, Googled balloon rides near us – and, found one that was to take place over the weekend.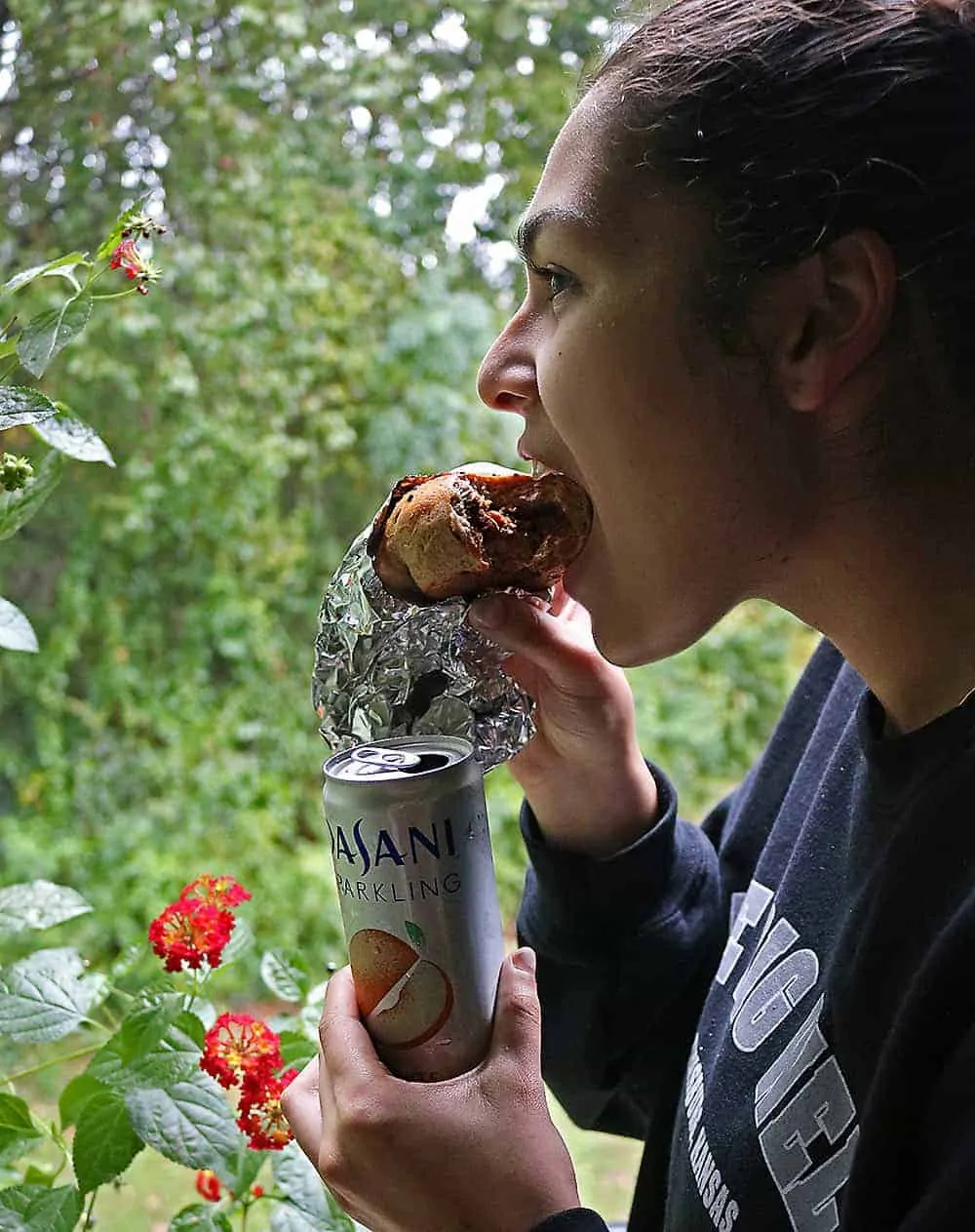 It was a tethered balloon ride, but hey, am not picky.
We made plans for our weekend balloon riding adventure, even stocking up on snacking essentials! I also made these Spiced Chicken Stuffed Buns for us to snack on during the ride!
Then the weekend came along…
I chickened out and instead of a hot-air balloon ride, we went hiking instead. And we took along the batch of these Spiced Chicken Stuffed Buns I made for the hot air balloon ride!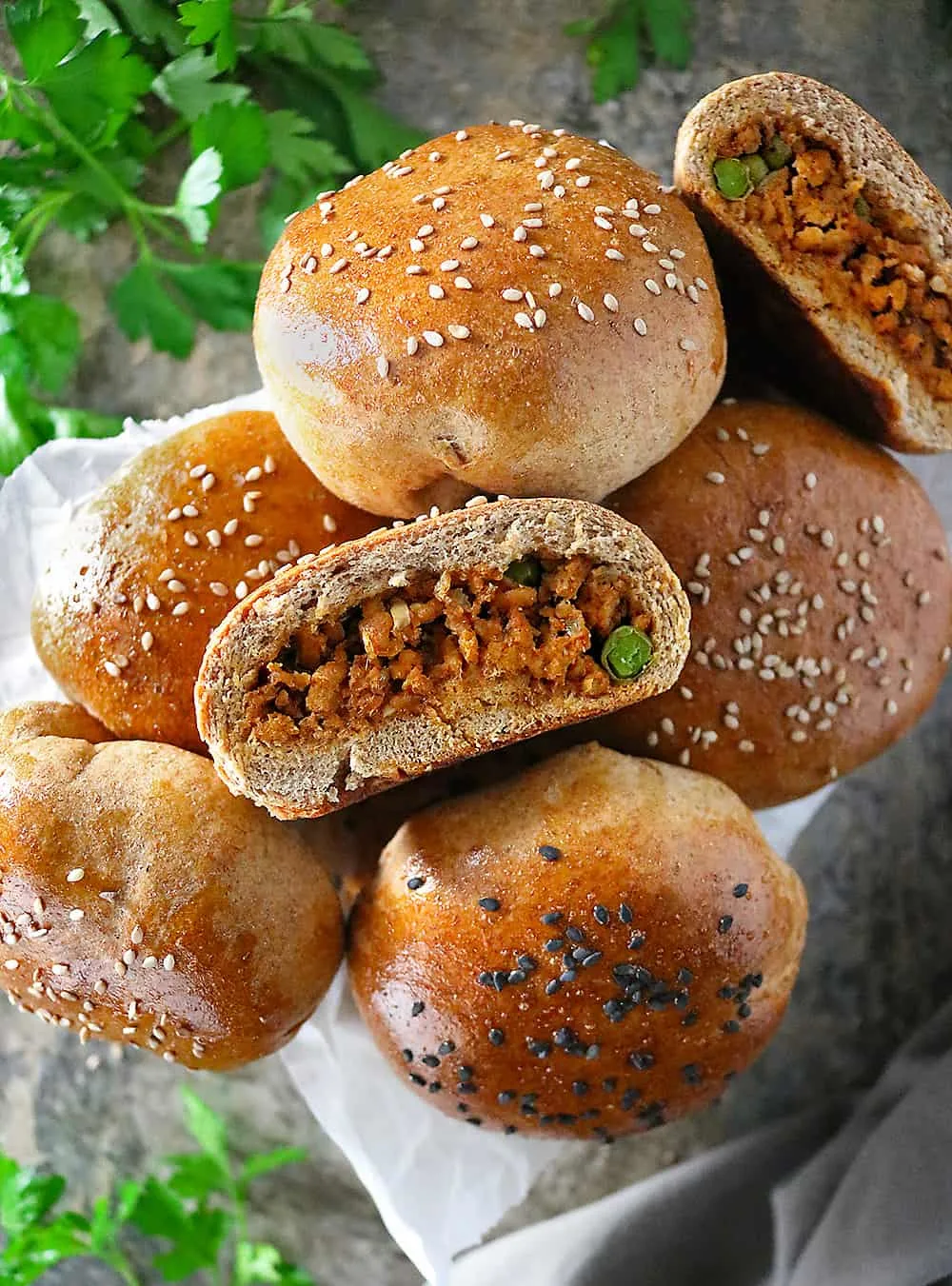 Getting back to these buns… Most times I use store-bought flaky biscuit dough as the "bun" part. But this time around, I figured I'd break out the yeast and whole wheat and make a whole wheat bun from scratch.
I stuffed the whole wheat bun with ground chicken that was sauteed with onions, ginger, garlic, smoked paprika, coriander, turmeric, cumin and peas.
These Spiced Chicken Stuffed Buns are so portable and make a delicious snack after a hike, at a backyard picnic, or even on a balloon ride!