If you plan on having a vegan or vegetarian Thanksgiving menu, this collection of deliciously spiced, tofu recipes that can be served as a main or side dish, is for you!
On the news this morning, I heard a little tidbit about "The Gentle Barn" which planned on hosting a "Gentle Thanksgiving." What, you may be wondering, is a "Gentle Thanksgiving?" Well, according to the hosts, it's an occasion to cuddle turkeys, feed them treats, enjoy pie, and games, and celebrate life!
I'm not sure if I will be cuddling any turkeys, but I will be doing my best to make and serve ALL the tofu to my meat-loving family this Holiday season!
Here are some of my favorite tofu Thanksgiving recipes from around this little blog of mine:
I love the idea of serving these lightly crispy, Spicy Baked Tofu medallions on a bed of greens. They can be drizzled with a pumpkin chili sauce or served as is. These are made with just 6 ingredients and are perfect to serve up as a holiday entrée or everyday side dish.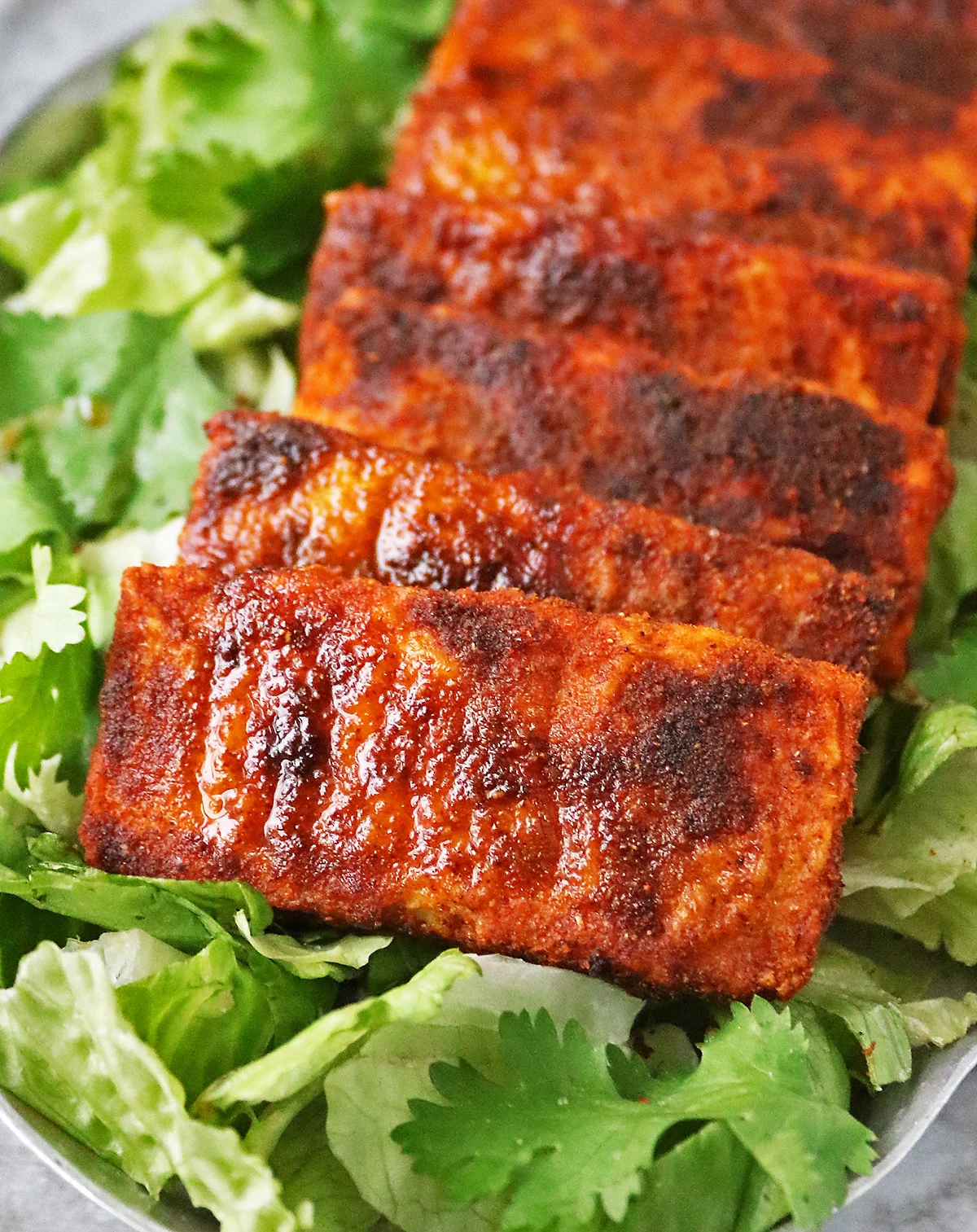 This is such a delight to make! And, even more, such a delight to enjoy! Lightly crispy Maple Chili Tofu is a delightful blend of sweet and spicy. This plant-based recipe makes for a light and tasty side dish.
If you happen to be serving up a plethora of curries, chutney, and rice or roti, you have got to consider adding this Harissa Tofu to your roster! Rich and creamy, this Easy Harissa Tofu Curry is made with only 8 main ingredients. This dairy-free curry is delicious and served with some fragrant yellow rice or Sri Lankan roti.
I am almost embarrassed to admit this, almost being the key there, but, the first time I made this dish, my daughter and I didn't even bother grabbing plates! This version of tofu has been made and remade so many times in our home, and each time it disappears in record time. In this, tofu is spiced and oven-roasted until crispy, along with a medley of comforting vegetables in this Easy Sheet Pan Spicy Tofu dish.
Now, if you want a fun serving idea, you can skewer these tofu and vegetable bits onto wooden skewers much like in this waffle and tofu skewers recipe.
If you are not a greens-lover, you might take one look at this and think, "yuck!" And, to that, all I can say is just taste it – with your eyes closed! This does not taste like spinach + tofu! No Lie! Simply scrumptious, this spinach curry sauce is creamy and flavorful with a handful of healthy ingredients. It is delicious to slurp on as is, or with some of your favorite sautéed meat or well-spiced crispy tofu.
If by some odd chance you are planning on burgers for your Thanksgiving meal – these tofu burgers are spiced with an irresistibly sweet and spicy BBQ Pineapple sauce and are a tasty option for non-beef eaters and spice-lovers alike! These burgers also happen to be totally gluten-free and vegan.
This simple, tasty, and filling Easy Honey BBQ Tofu is a delightfully delicious and lighter side dish. It is packed with flavor and a delicious addition to a holiday or Thanksgiving meal!
This easy vegan Date Tamarind Tofu Curry has your sweet, spicy, and tart bases covered, and it is delicious with some rice or roti. This is one of those dishes that can easily command center stage as well as play a side dish role!
A warm, comforting, tasty, and healthy, vegetarian curry that can be enjoyed with rice or naan, or even pasta!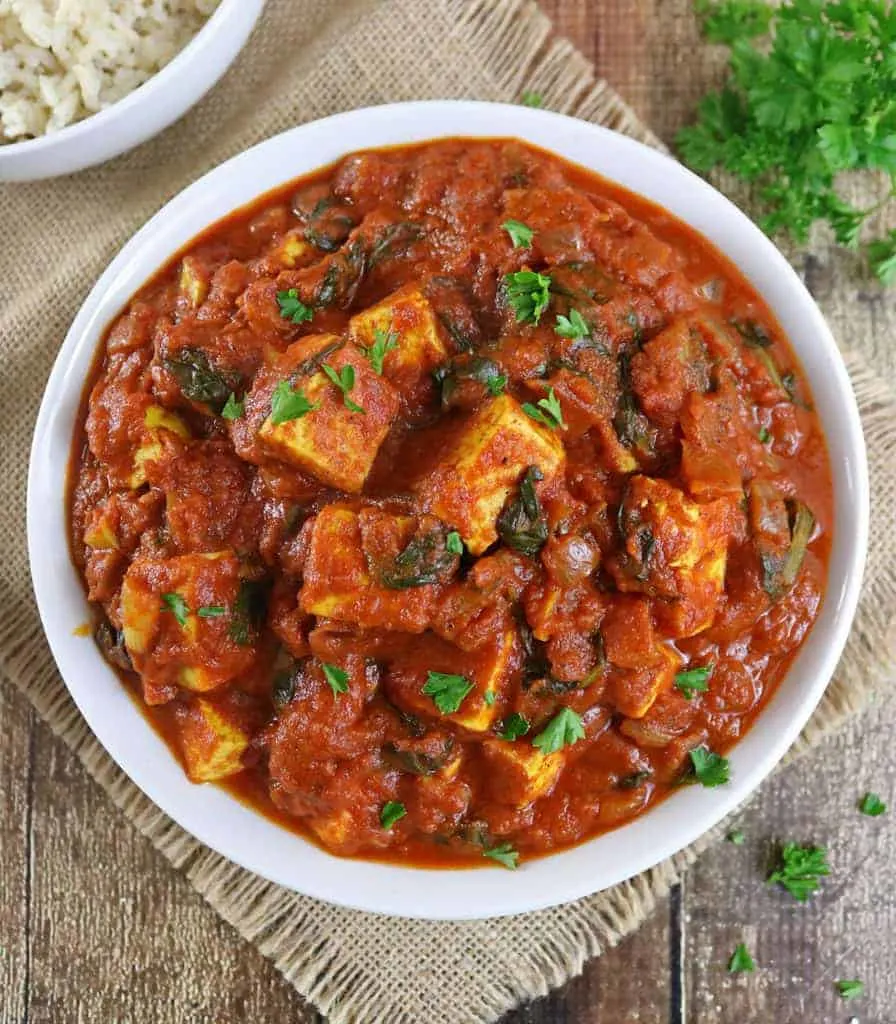 Quick and Simple, Tofu sauté with Peri-Peri, Kale & Mustard Seeds. This is a light tofu dish that would make a fantastic side. An added bonus for adding this to your Thanksgiving or holiday meal roster is having seconds of dessert! Life is all about balance, right?! 😉
With lightly caramelized onions, bold garlic, and spicy ginger, this Mango tofu dish is another one that can take center stage or play a side dish role. It is a delicious blend of tastes and textures.
Hoping you and yours have a wonderful Thanksgiving Day!
If you happen to make any of these tofu sides, please stop by and leave me a comment. Of, let me know via DM or tag @SavorySpin on Instagram, Pinterest, or Facebook!