A delicious blend of tastes and textures, this mango tofu is a delicious side dish to any meal.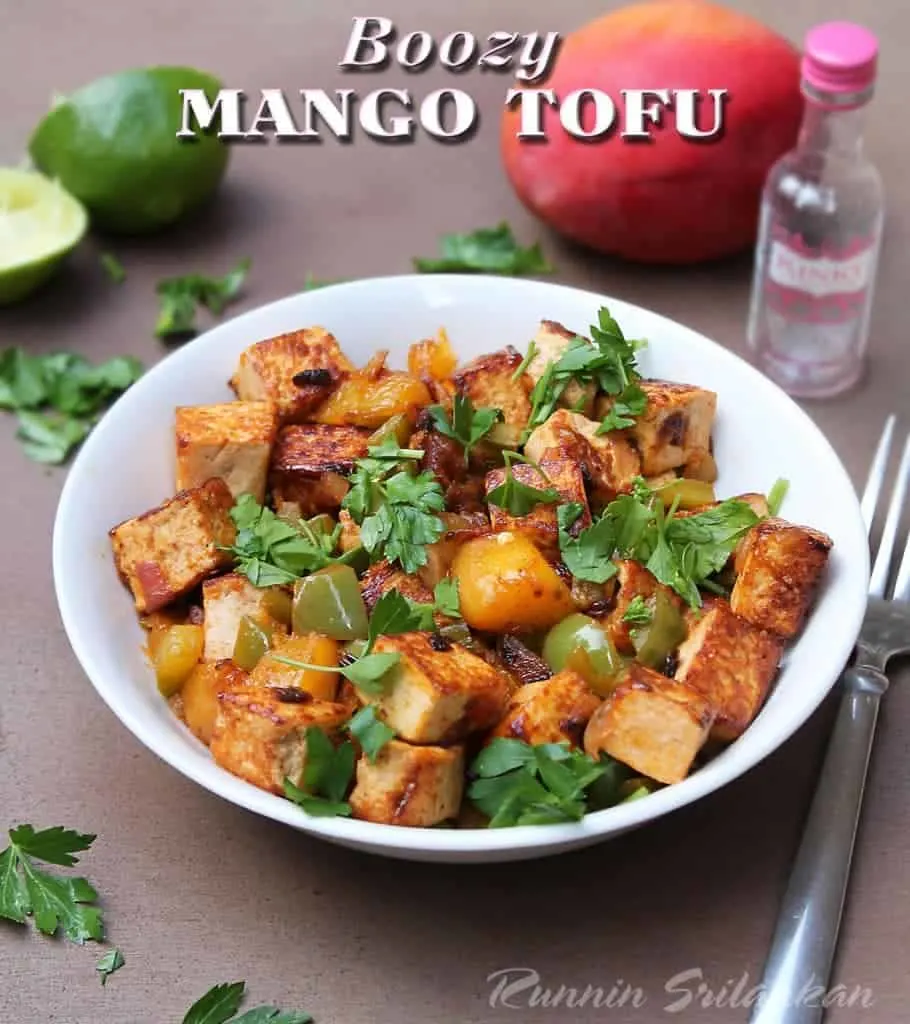 This blogging journey of mine has introduced me to friends, taken me places, and made me step outside of my comfort zone in experimenting with foods -and beverages- way more than I would have done on my own.
A couple of months ago, I was fortunate to be accepted as a Recipe Redux member. As a recipe redux member, we are challenged to come up with a healthy recipe using an ingredient/theme specified: one month it was edible flowers and another month it was teas, both times I was excited as I had had some experience cooking with both.
This month however, I was a little out of my element as this months' theme/ingredient was "Spirits, extracts and other alcohols".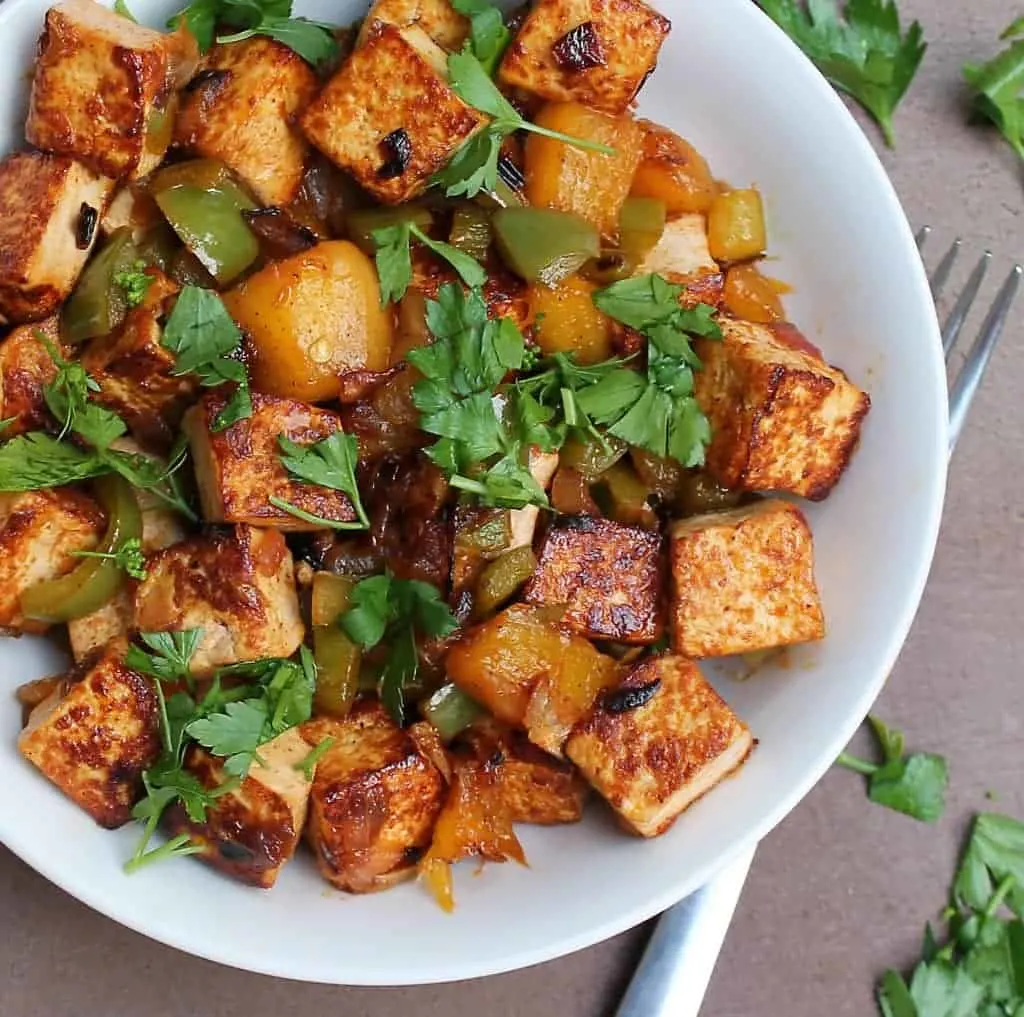 I am not much of a drinker, I don't buy alcohol unless a friend is coming over who I know would like a glass and then I make her take the bottle home because otherwise a few months down the road, it will end up falling off of a top shelf as I struggle to get a bowl off it (yes, i speak from experience and did you know- wine is harder than jello to clean up? 😕 ).
So for this month's challenge I went into a bona fide liqueur store and perused the aisles like I was a connoisseur and …GAH I was so lost – there were so many huge bottles and they were not cheap…and my friend who is a wine drinker happens to be preggers now and I cannot pawn the rest off on her…so I squatted down and started looking at the lower shelves with the more economically priced spirits.
I found a "smoky toned blackberry" wine and just as I was getting ready to checkout, I saw a huge shelf of mini bottles right by the register…with this little, pretty, single serving bottle – I saw pink and read "mango and passion fruit" and I was happy!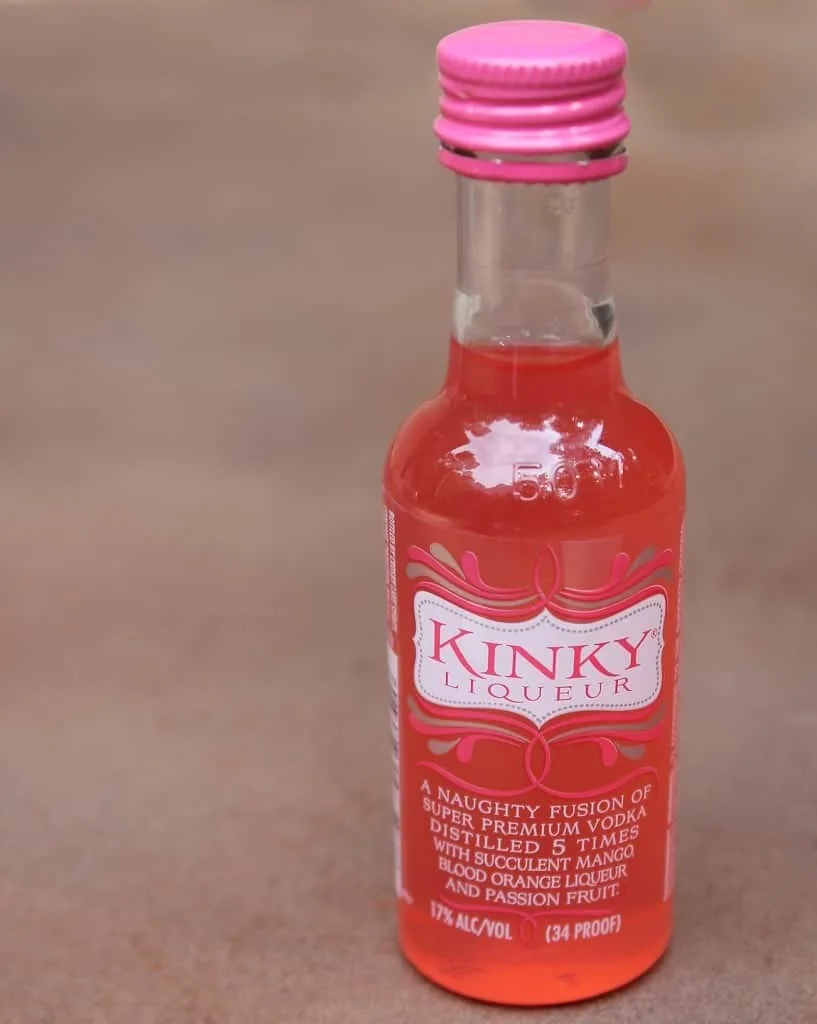 Till I went home and tasted a drop – 😡 GAH – this stuff burned! I kinda sort of (after drinking a glass or five of water) could make out the fruitiness but I figured if I cooked with it, all the alcohol would be burned off leaving only the fruitiness behind.
I used tofu as tofu is pretty good at absorbing the flavors it is embraced with instead of fighting with them. I first sauteed some onions till they caramelized and then threw in the tofu and some ginger and garlic and let it brown while absorbing the sweet, caramelized onions, the bold garlic and the spicy ginger.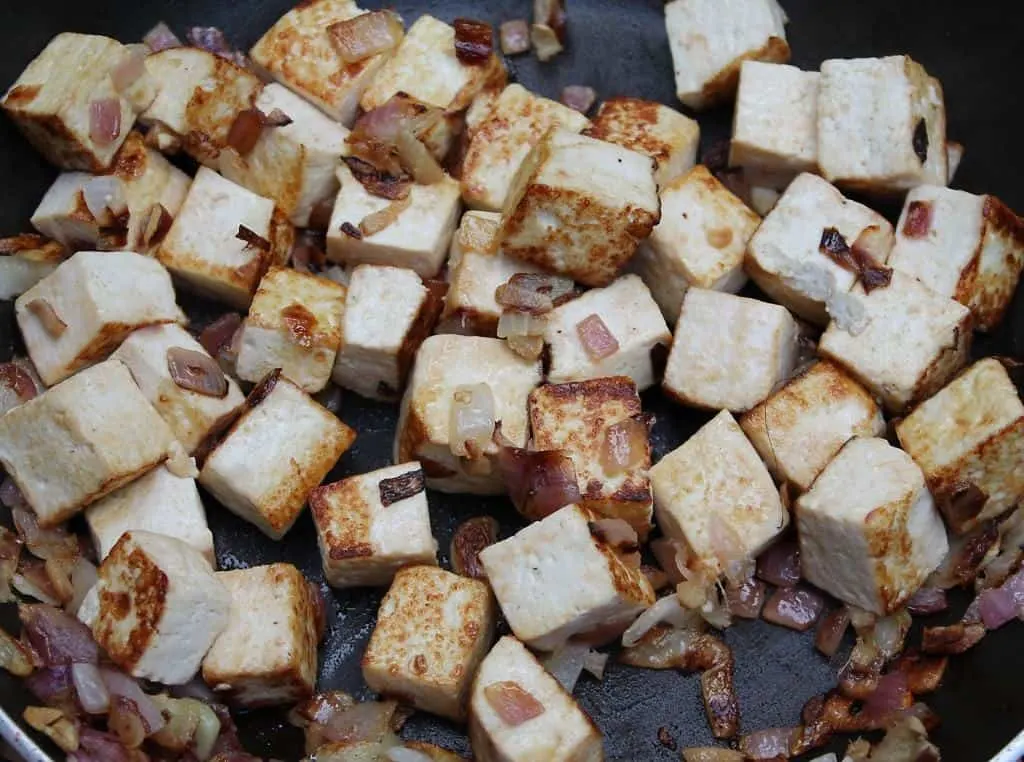 I added some mango to mirror the mango in the vodka and some green pepper for variety. I was going to throw in some orange juice when my daughter caught me and shot me the stank eye and said she would willingly be my guinea pig aka taste tester if I left the orange juice out (she has unresolved issues with oranges); besides she said, it was bad enough I was giving her 15 year young self a dish with alcohol!
Wait! What?!
I am not quite sure how she does so well in science in school when she argued every aspect of my explanation of how the alcohol burns out while being cooked…wait, maybe it's the arguing that makes her a teachers pet which leads to her good grades! hmmmmm….