With this Spicy Vegan Chickpea Lentil Stuffed Spaghetti Squash recipe, you can have a tasty, filling, low carb, plant-based dinner on your table in 40 minutes.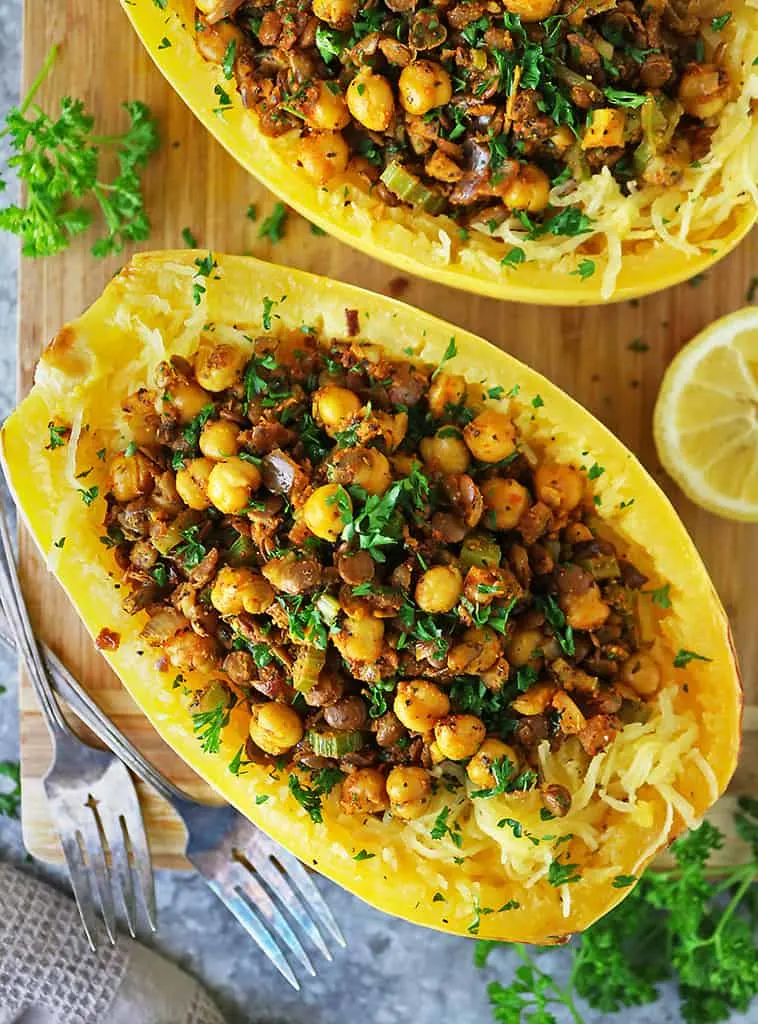 To me, each forkful of this Spicy Vegan Chickpea Lentil Stuffed Spaghetti Squash is like the perfect bite. In this dish, spaghetti squash is baked until tender and then loaded with a sauté of chickpeas and lentils that are flavored with garlic, onion, ginger, coriander, turmeric, smoked paprika, and zaatar.
It is quite a delightful fusion meal with Middle Eastern spices like zaatar mingling beautifully with South Asian spices such as turmeric and coriander, resulting in one incredibly flavorful and filling, plant-based meal.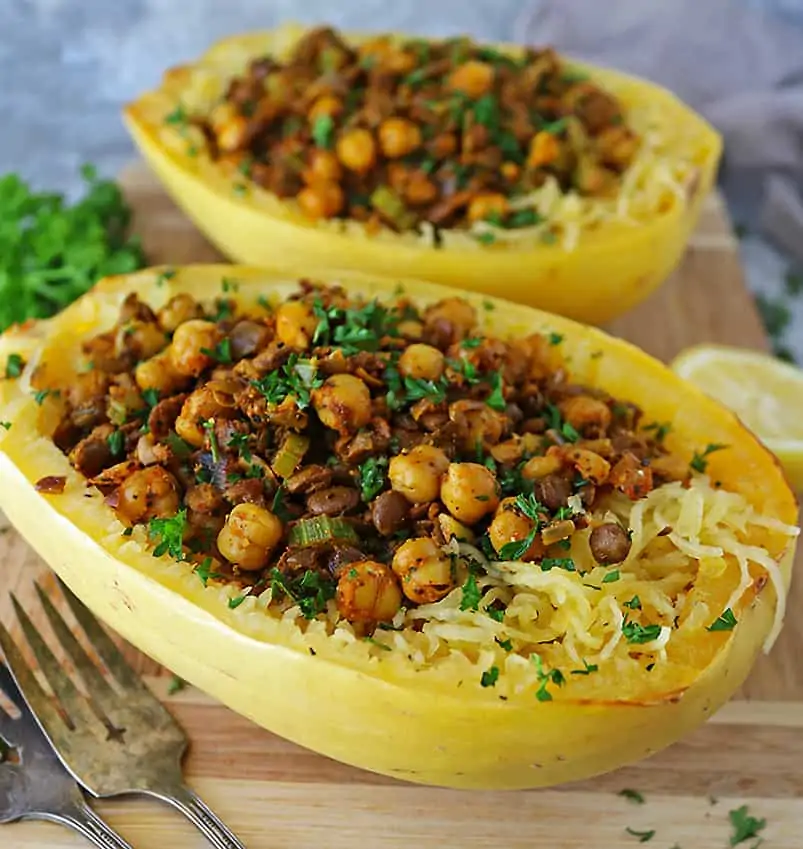 This is one easy and tasty vegan dinner you can fix in around 40 minutes, give or take a few minutes for preparations.
Low in calories and high in fiber, Spaghetti squash is one of those versatile vegetables that can be baked to perfection in multiple ways.
But first…
How to safely cut a spaghetti squash?
When it comes to spaghetti squash, cutting through it can be tricky. It has a tendency to roll around on the cutting board. And, trying to cut it into half through the stem can be quite precarious.
As I am trying to hold onto all my appendages, I have found that cutting the edge with the stem off makes it a whole lot easier to cut the spaghetti squash into half.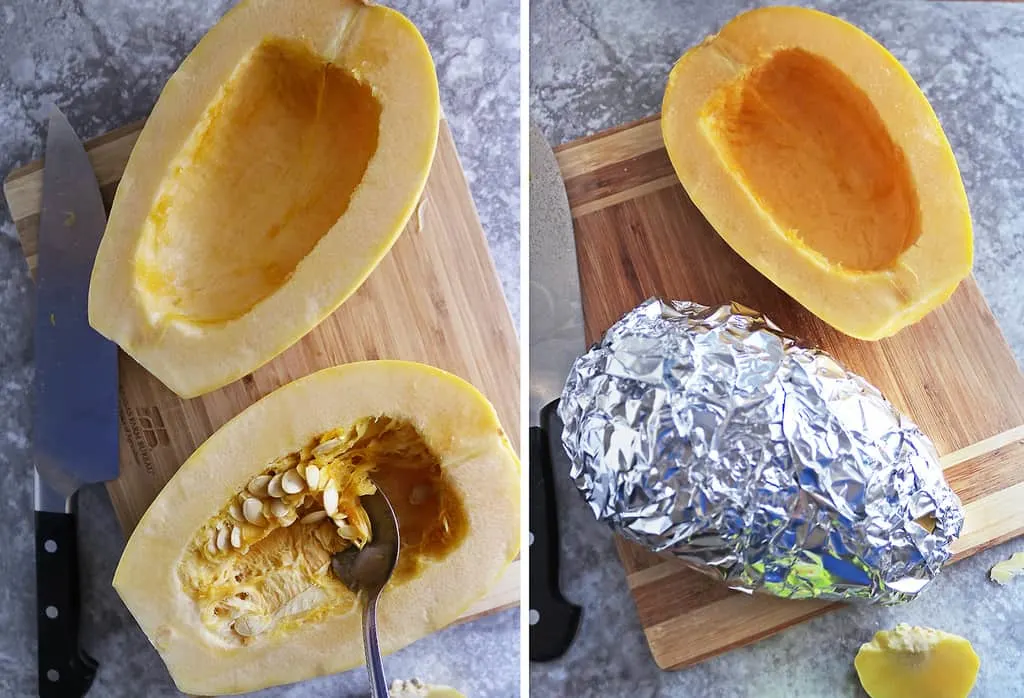 Cutting both edges off makes it easier to balance the spaghetti squash on a cut side while slicing through it.

After that, I usually scoop out the seeds and tendrils using a spoon, and spray a bit of oil onto it, before cooking it.
How to cook spaghetti squash?
When I am tired and want to cut down on my prep, I usually bake spaghetti squash, cut side down on a baking tray in a 400-degree oven for anywhere between 40-60 minutes.
However, depending on the size of the spaghetti squash, I have found that this method can call for varying baking times. Which means, I am pulling that tray out, poking at the spaghetti squash to check to see if they are done, and then placing them back in the oven if they aren't. There have been times when I simply forgot about them and they have been too overbaked and mushy to enjoy.
So when I want tender spaghetti squash that is ready in no more than 40 minutes, I have found that wrapping each spaghetti squash half in foil and baking them in a 400-degree oven, works best. There are no uneven spots and the resulting baked spaghetti squash shreds up into ever so tender strands.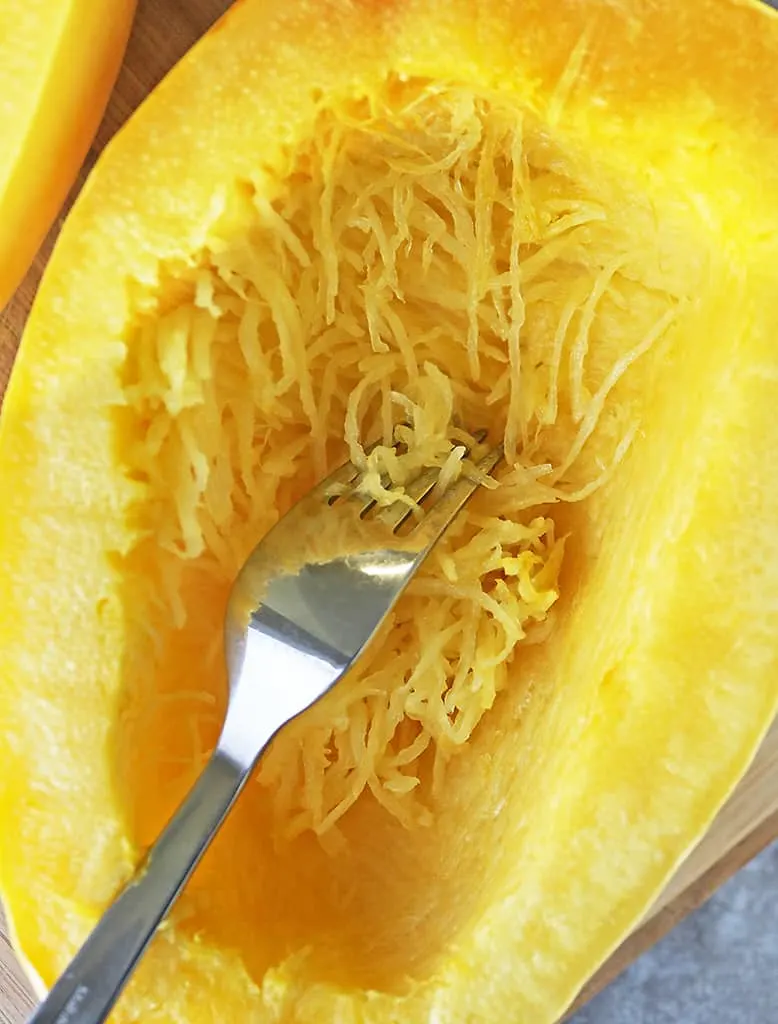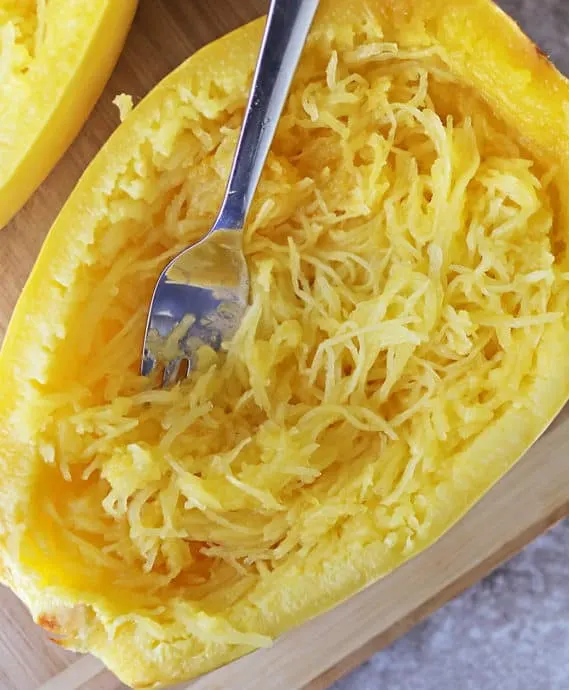 For this recipe, that latter method is what I employed. And, as you can see, the resulting spaghetti squash was so delightfully tender.

And – it paired beautifully with the spicy chickpea lentil sauté I made to top it with. I opted to use a plethora of fusion spices to flavor the chickpea lentil mix along with what is referred to as the holy trinity of South Asian cooking: garlic, ginger, and onion.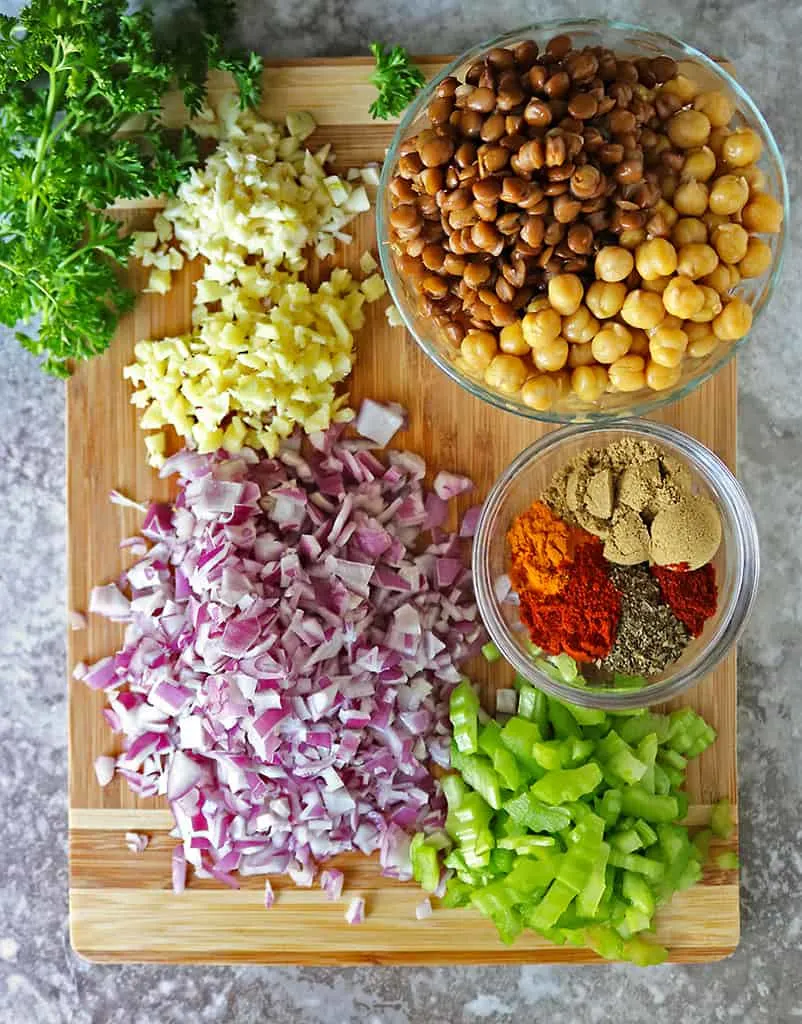 What are the ingredients to make this Spicy Vegan Chickpea Lentil Stuffed Spaghetti Squash?
You need the following 15 ingredients to make this recipe. While 15 ingredients might seem like a lot, you probably already have most of these in your kitchen:
Spaghetti Squash,
Red onion,
Ginger,
Garlic,
Oil,
Chickpeas,
Lentils,
Celery,
Coriander,
Turmeric,
Smoked paprika,
Zaatar,
Chili powder (option and can be omitted for a milder dish),
Parsley, and
Lemon.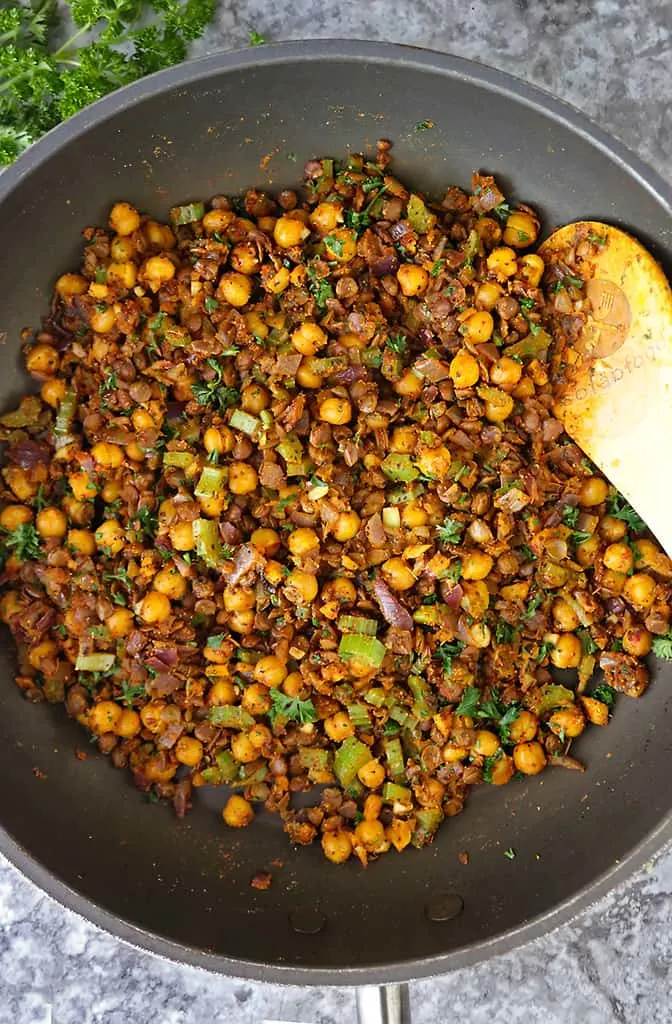 This is a versatile dish and if chickpeas aren't your jam, feel free to use beans or double the amount of lentils.

Or, use a meatless ground meat product. If you are not following a plant-based diet, then use chicken or ground turkey instead.

The spices and garlic, onion, ginger combo is one I would try to stick to as they add so much flavor to this easy recipe. By the way, if you are looking for more recipes with zaatar, check out this easy dinner or lunch idea.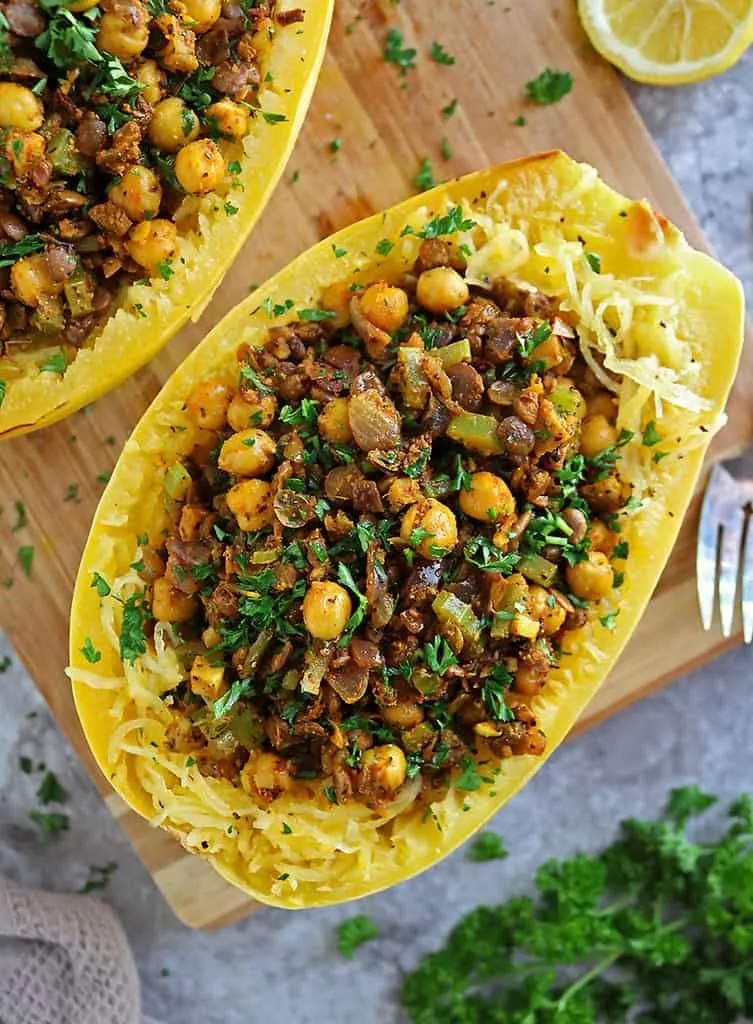 Did you try this recipe? Then please let me know in the comments below or share a picture of it and tag me on Instagram or Facebook.