This dish of Easy Harissa Salmon with Asparagus and Israeli Couscous might sound fancy – but, gosh, it is such a quick, easy and tasty to meal to whip up and enjoy during a busy weeknight or even a leisurely weekend evening.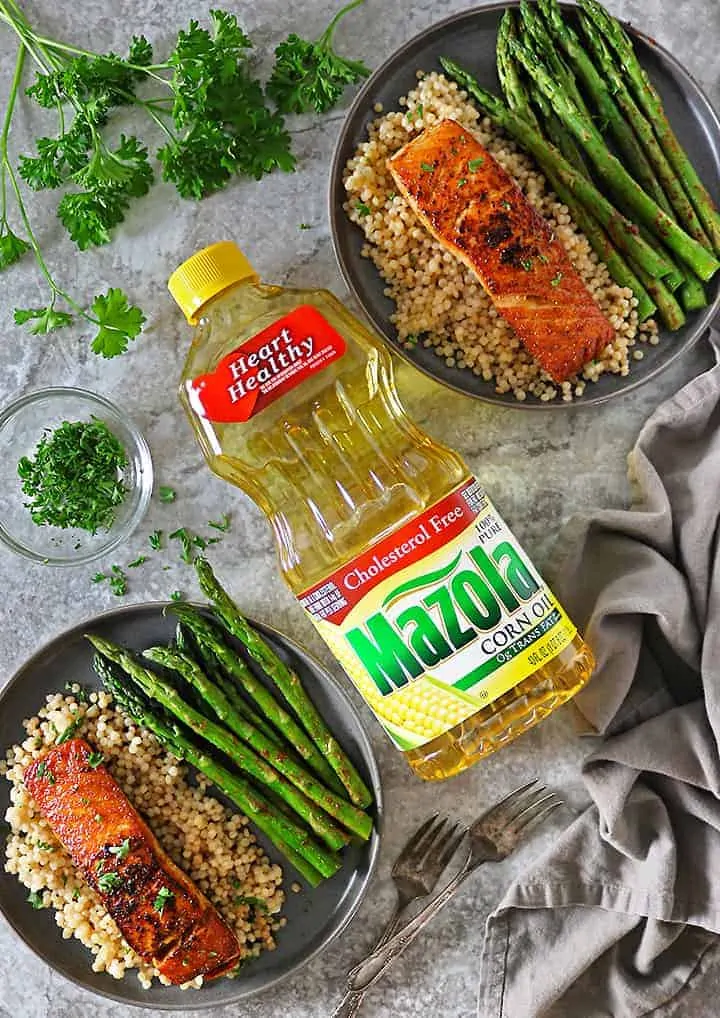 February is Heart Health Month and I try my darndest to be kind to my ticker. Part of that kindness is using Mazola® Corn Oil in just about everything ~ like this better-for-me, light and fresh, Easy Harissa Salmon with Asparagus and Israeli Couscous. By the way, did you know that "A clinical study showed Mazola Corn Oil reduces cholesterol 2x more than extra virgin olive oil. To learn more about this claim, visit Mazola.com."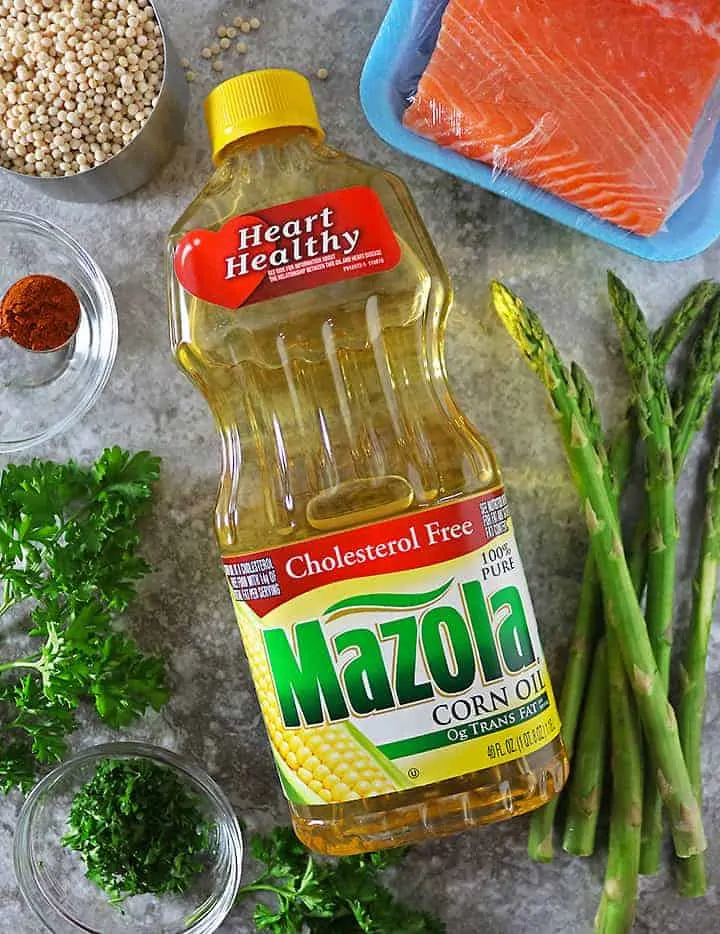 Mazola Corn Oil is an all-purpose, cholesterol free cooking oil that is a smart heart-healthy* choice for your family. *See Mazola.com for more information on the relationship between corn oil and heart health. It has a variety of uses include baking, grilling, sautéing, stir frying, or mixing up a marinade or dressing.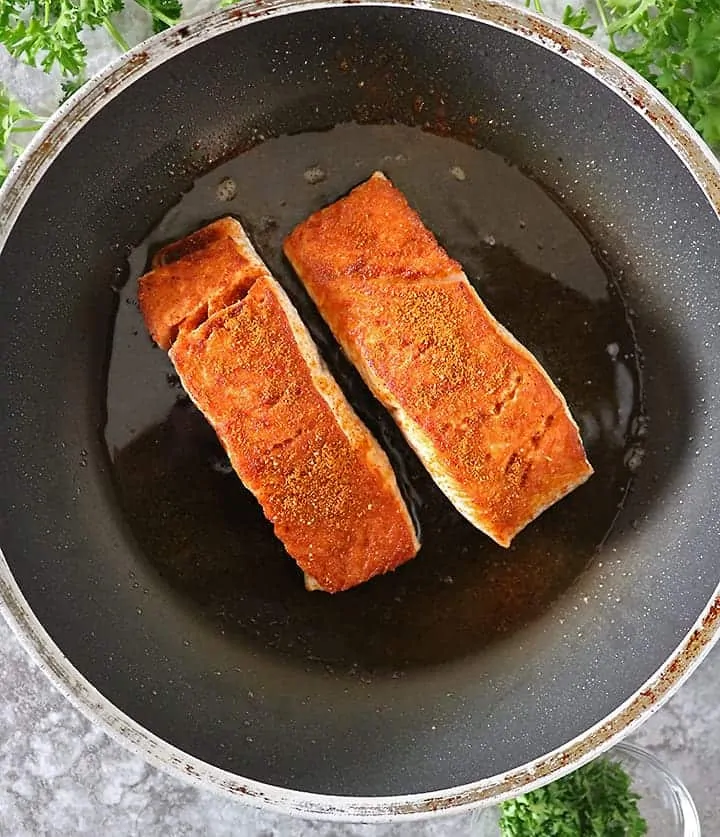 I have used Mazola in baking cakes like this Easy Lemon Cake and baking savory dinner recipes like this Easy Bean & Veggie Pasta Bake with Creamed Butternut Squash. I've also used it in grilled low carb dinners like this Grilled Curry Chicken as well as this stove-top Salmon Hash.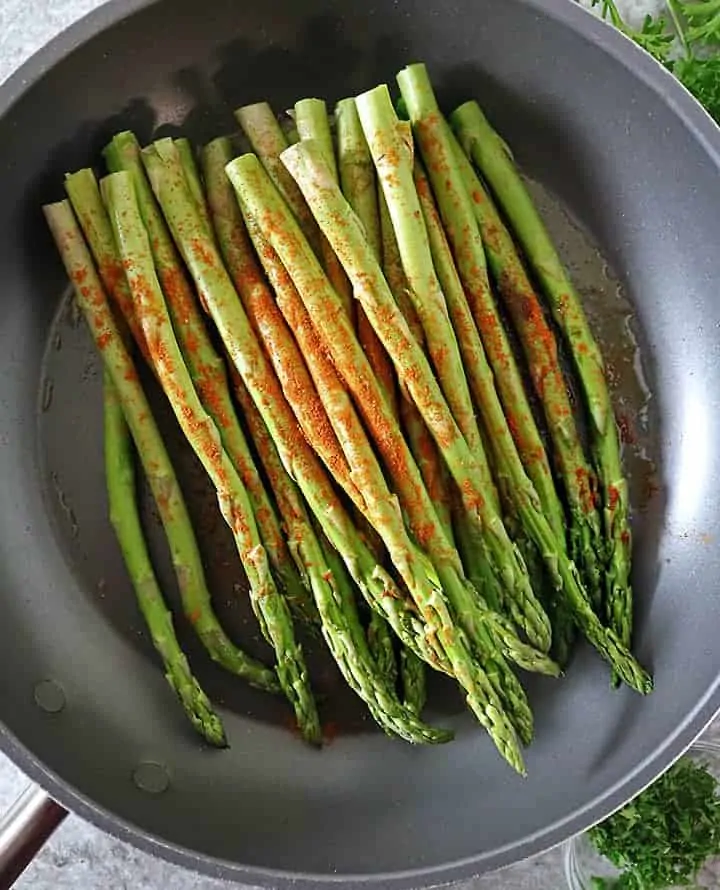 I love using Mazola Corn Oil as it has more cholesterol-blocking plant sterols than other cooking oils – in fact, four times more than olive oil and one and a half times more than canola oil. Clinical studies indicate that when consumed as part of a diet low in saturated fat and cholesterol, plant sterols can help reduce the absorption of cholesterol in the gut. And, according to the USDA, corn oil has more than five times the amount of polyunsaturated fats compared to olive oil. To learn more about this claim, visit Mazola.com.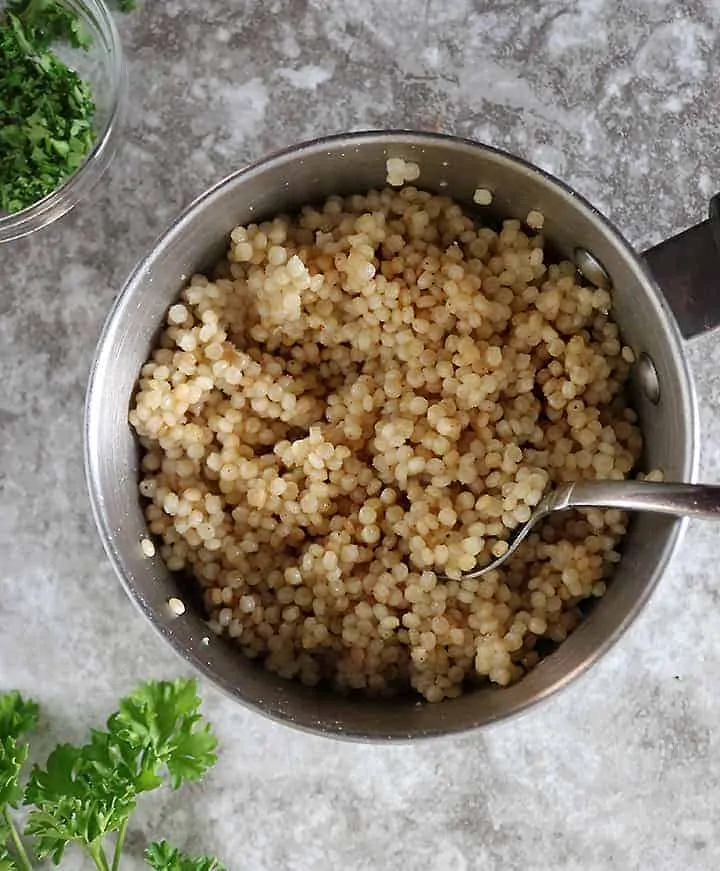 As it has a high smoke point of 450°F, Mazola Corn Oil performs well in a variety of cooking applications from grilling, to stir frying to baking! I used to not know that all cooking oils have a smoke point that, once exceeded, negatively affect my food's flavor and nutritional value.
Now, let's dig into this dinner of Easy Harissa Salmon with Asparagus and Israeli Couscous. Most nights I prefer to stay in and whip up better-for-me (and my daughter) dinners like this one.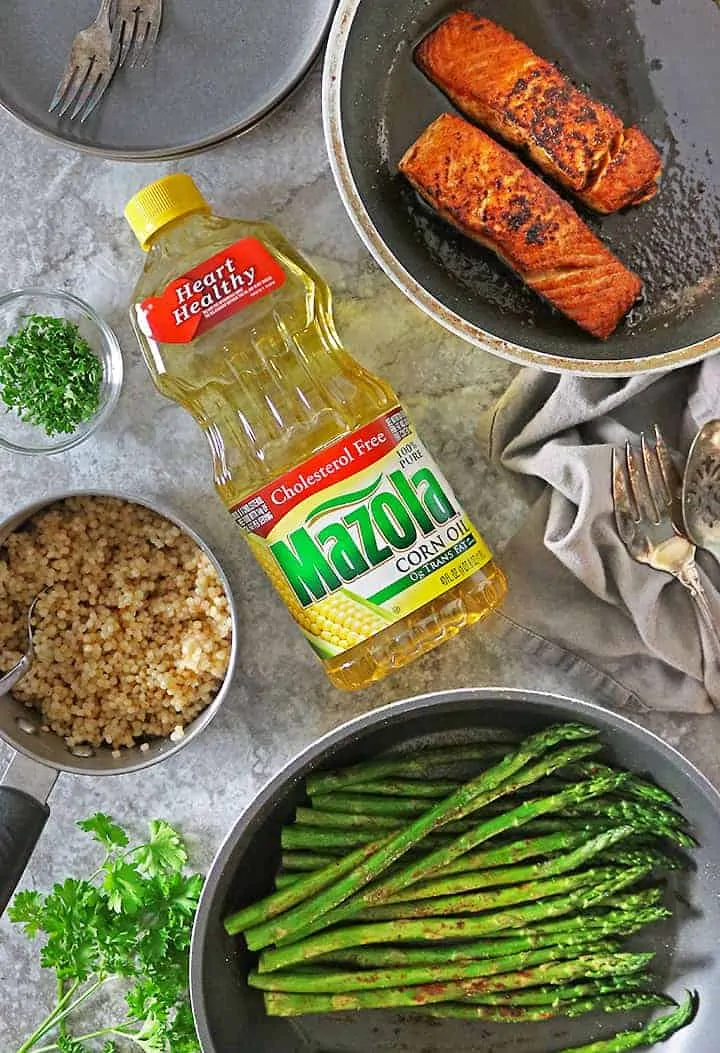 And, this meal is not only easy but it sure is tasty too. The one disadvantage is you might have to wash up 3 pans.

One to sauté up some salmon spiced with harissa. Another to sauté some crisp and delicious asparagus also flavored with harissa. And, a third to cook up some Israeli couscous with a smidge of harissa thrown in as well.

You can have all three items cooking at once – the Israeli coucous is pretty easy as you drop everything in a pan and put a lid on it with a timer going. As for the salmon and asparagus – these two will be ready in 20 minutes. From putting the pans on the stove with some Mazola Corn Oil in them, to siting down for dinner, it took us less than 30 minutes to whip up this meal!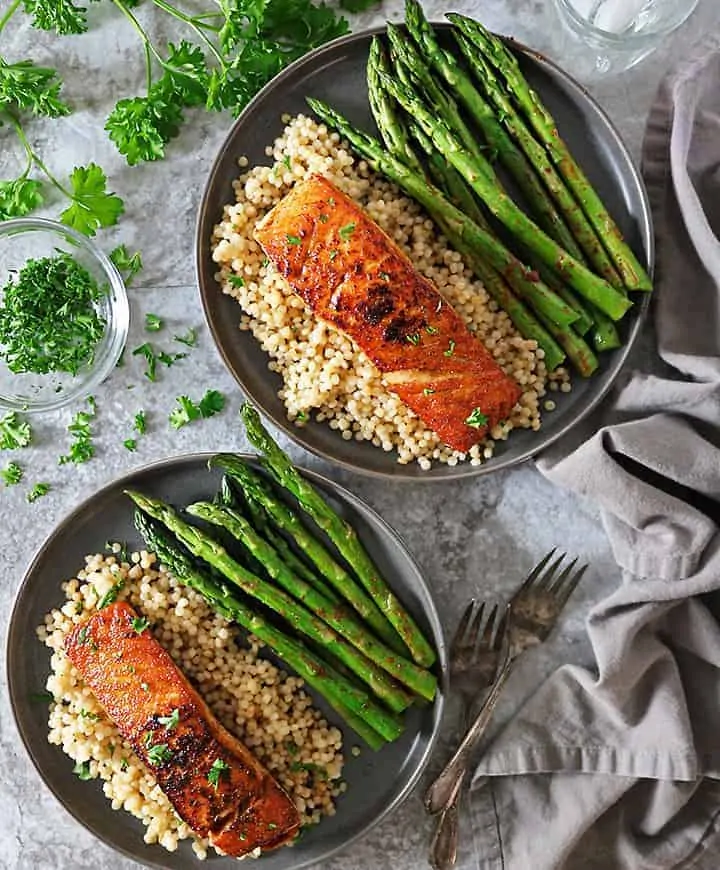 And, when you are noshing on a forkful of the perfect bite of a bit of harissa flavored salmon, a bit of asparagus spiked with harissa and a bit of Israeli couscous ever so tenderly spiced with harissa and a dollop of Mazola Corn Oil, you might not even mind doing all those dishes. And, if you do – there's always the kids to pin dish-duty on. Click here for more recipes with Mazola Corn Oil.
Do you love couscous and want to try it in a breakfast dish? Then check out this super easy and quick Breakfast Couscous recipe!