This easy, one-pot, Salmon Hash is a delicious saute of flaked salmon, spinach, onions, ginger, garlic, turmeric, smoked paprika, coriander, basil, cashews, and almonds.
This shop has been compensated by Collective Bias, Inc. and Mazola® Corn Oil​. All opinions are mine alone. #MakeItMazola #simpleswap #CollectiveBias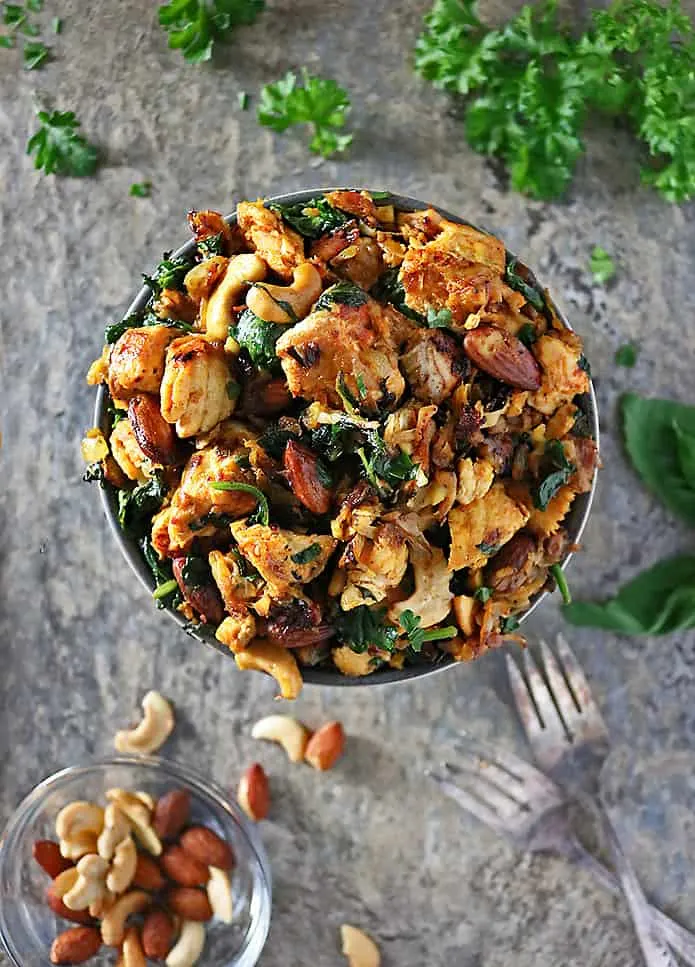 When my daughter and I were in Portland earlier this summer, we dined on a delicious basil-laced, fried fish dish at a tiny Thai restaurant. This restaurant was so tiny that when I hung my elbows off the table, the people at the adjacent table would bump into them.
But, the flavor in that fish dish was larger than life!
So, of course, when I came back home, I had to try and come up with something similar. I ended up adapting that fried fish dish to be a tasty, yet better-for-me Salmon Hash.
I chose to use salmon, and instead of frying it, I sauteed it in Mazola® Corn Oil. A clinical study showed Mazola® Corn Oil reduces cholesterol 2x more than extra virgin olive oil. To learn more about this claim, see Mazola.com.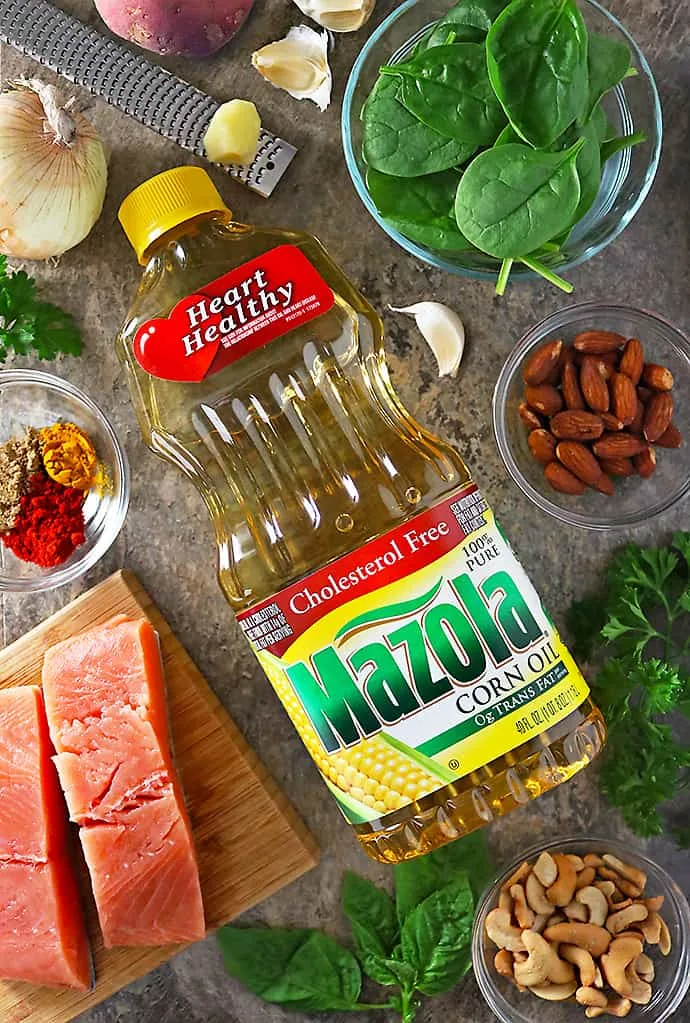 Growing up, I often heard my dad say "precious things come in little packages." And, I like to think he was right. I mean, there's myself at 5'2″ that's proof!!! I kid! I kid!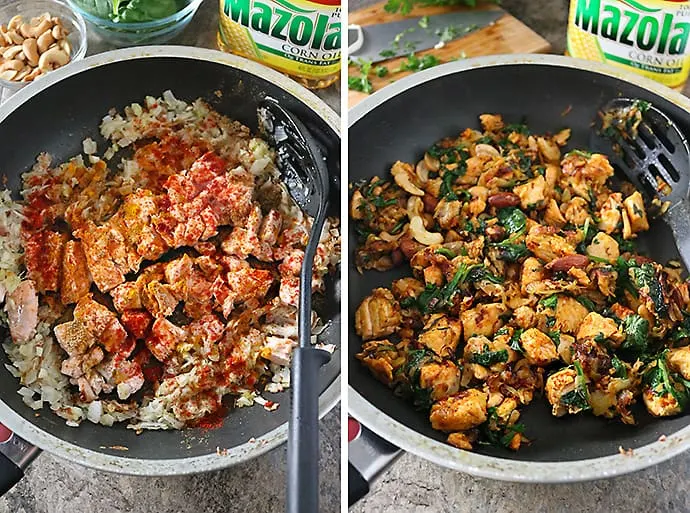 Seriously though, dining at that little Thai restaurant in Portland reminded me of what my dad would often echo. Just about every dish at that tiny Thai restaurant was huge in the flavor department!
And the flavor combinations were mind blowing. For instance, the fried fish dish had a combo of herbs like basil, betel leaf, lime leaf, fish sauce and coriander! I tried looking around the interwebs for the exact recipe but wasn't able to find it.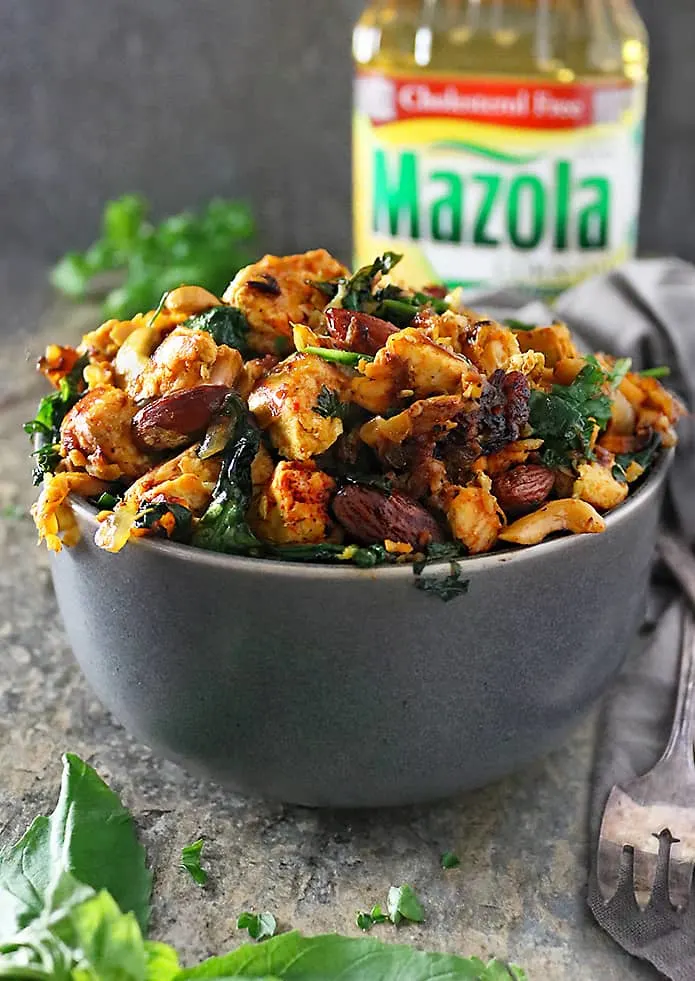 Besides, even if I found it, I am not sure I would replicate it exactly as, other than the occasional fish cutlet/croquette, I don't serve up fried fish all that often for dinner at home.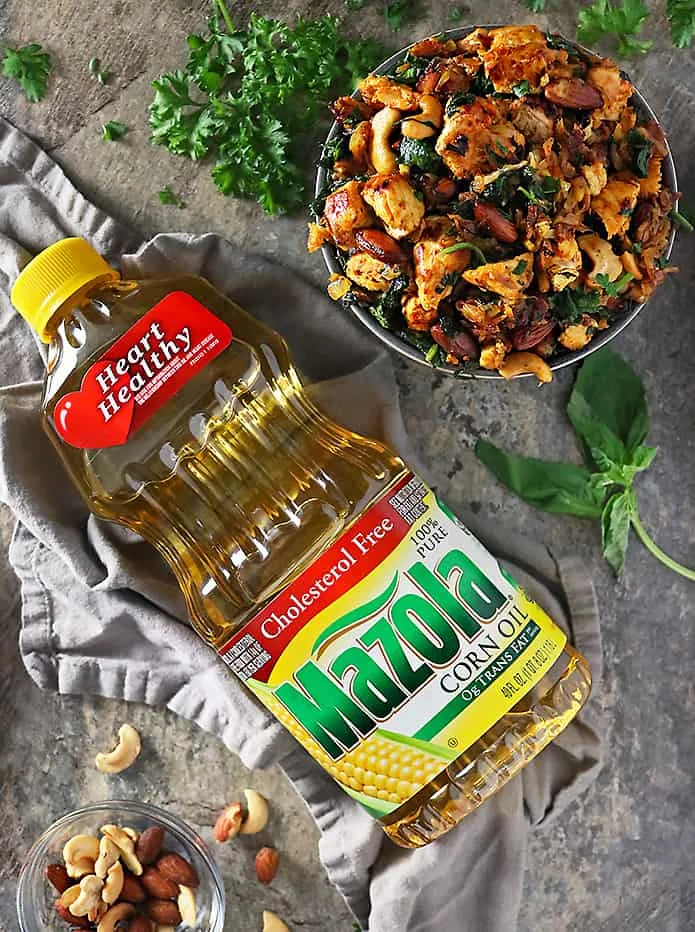 Speaking of dinner, I have been gravitating towards using more Mazola Corn Oil (like I did in this Bean & Veggie Pasta Bake) as it is a smart heart-healthy choice for my little family. Mazola Corn Oil is an all-purpose cooking oil that has a neutral taste that lets the natural flavor of my food stand out. Mazola has a smoke point higher than most cooking oils at 450°F and performs well in a variety of cooking applications, including stir-frying, sautéing, grilling and even baking. It took me some time to realize that all cooking oils have a smoke point that, once exceeded, negatively affect the food's flavor and nutritional value. So, I am choosing to reduce saturated fats and cholesterol in my meals with simple swaps, such as substituting butter/vegetable oil with Mazola Corn Oil.
Now, getting back to this salmon hash…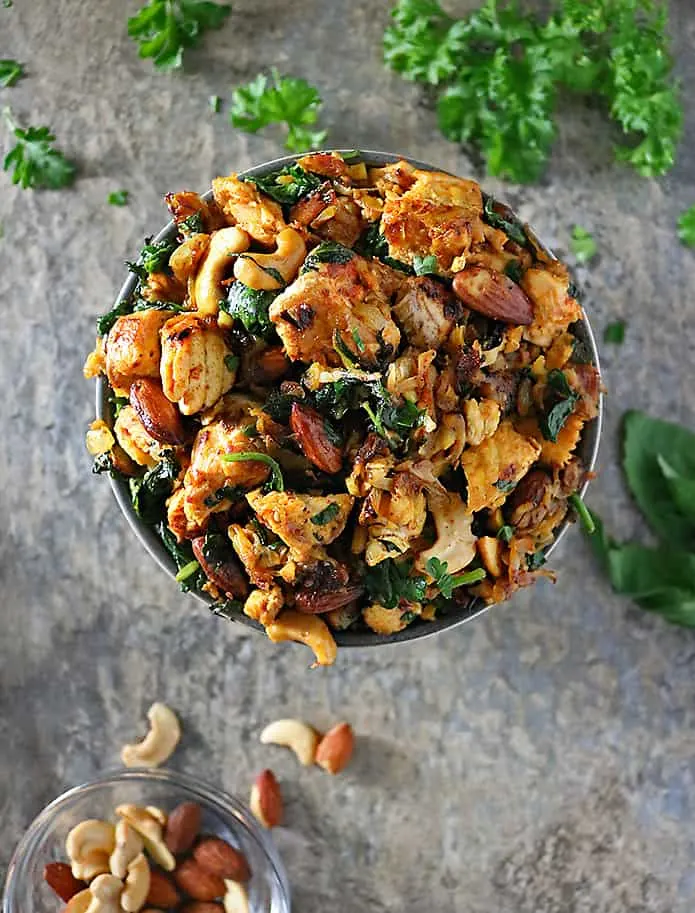 The flavoring for this Salmon Hash that you see here, was inspired by that fried fish dish at that tiny Thai restaurant. I stuck with the combo of basil and coriander as some of the seasonings.
But, I chose salmon instead of the tilapia that the restaurant used. The original fried fish dish was also served with peanuts and I chose to use a combination of heart-health-friendly almonds and cashews for added crunch. This makes for a delicious, one pot dinner or lunch that I'm hoping you will love as much as my daughter and I do.
I would love to know if you've make this recipe or any other recipe from this blog so please do rate the recipe and let me know your thoughts on it in the comments below. You can also FOLLOW ME on FACEBOOK, TWITTER, INSTAGRAM and PINTEREST to get recipe ideas and
Also check out this tofu sundried tomato hash.