This quick, easy, and thrifty, Creamy Coconut Pumpkin Pasta & Veggie Sauté is the perfectly delicious and nutritious vegetarian meal for those chaotic Fall evenings!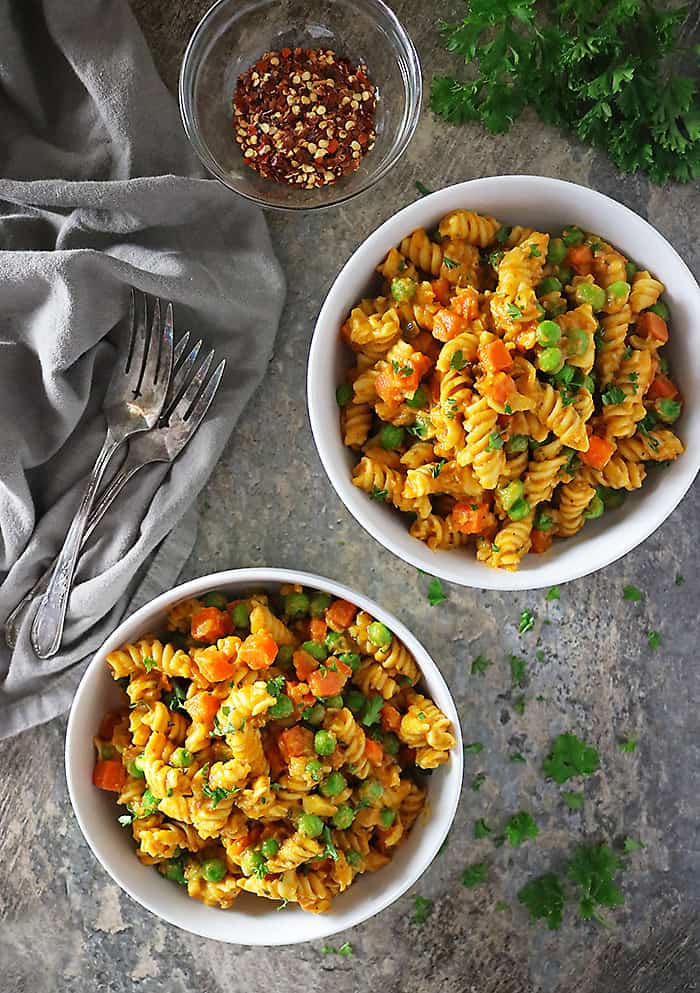 *This post on Coconut Pumpkin Pasta was originally published in October 2016. Life as I know it has changed a lot since then. This is one of our favorite recipes so today I am republishing this recipe along with some updated photos. Thanks so much for stopping by.*
To-do lists are my nemesis.
I am not sure what it is about them, but I have so much trouble writing them down. And, when I do end up writing them down, I manage to misplace them. And, if (by some miracle) I don't misplace them, I end up totally disregarding them – not bothering to check them even once.
Last week, seeing I didn't have to juggle blogging and my day job, I figured I would get around to tackling a few things around the house.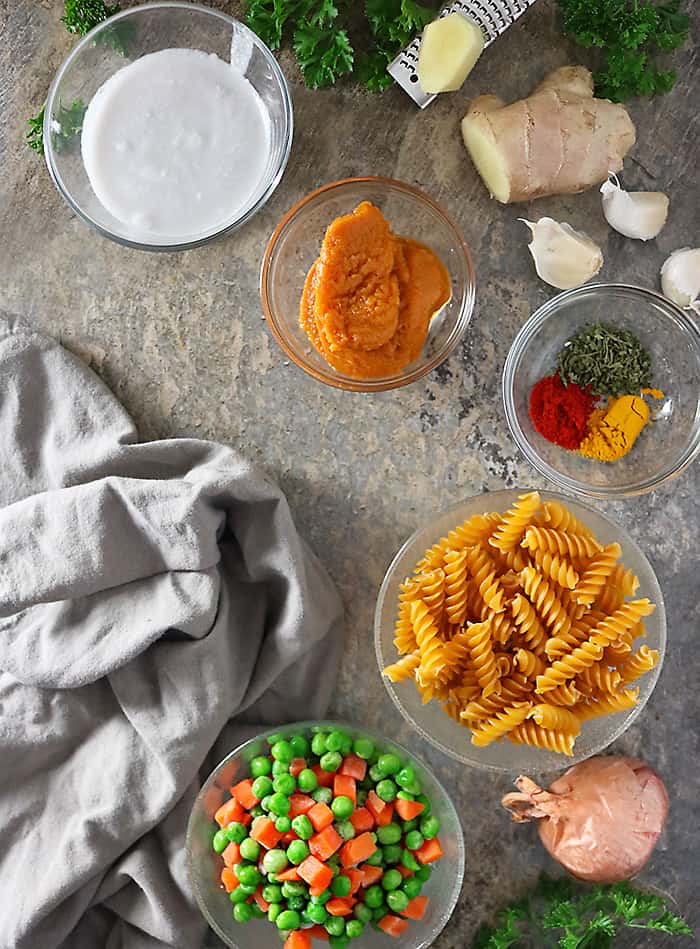 So, I actually sat down and made a list.
Not being in denial over my to-do-list-issues, I even taped that list the the fridge.
Before I knew it, Monday had turned into Saturday and I found myself on an apple picking trip to Mercier Orchards with my daughter instead of paying any heed to what was on that list.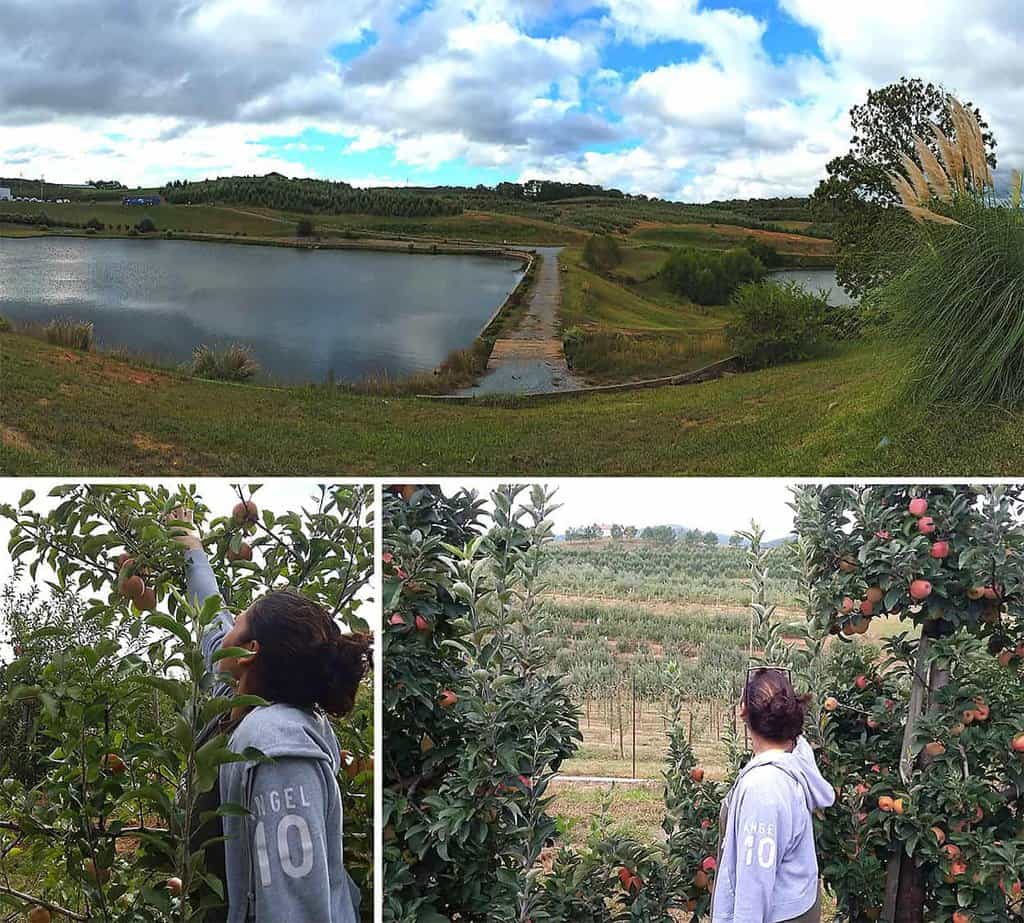 But, boy-o-boy was that apple picking trip so worth forgoing that list for!
We hadn't been to Mercier Orchards before – and were shocked that they let us pick and sample ALL the apples we wanted too.
And, I mean A-L-L the apples we wanted to! We drove home much later that day with our bellies full of Sun Crisp, Fuji, Corail, Ambrosia & Cameo apples – apple food baby anyone?! 
I figured I would glance at that list when we got home as I thought it would be a long while before either of us were hungry again. But, boy-o-boy was I wrong.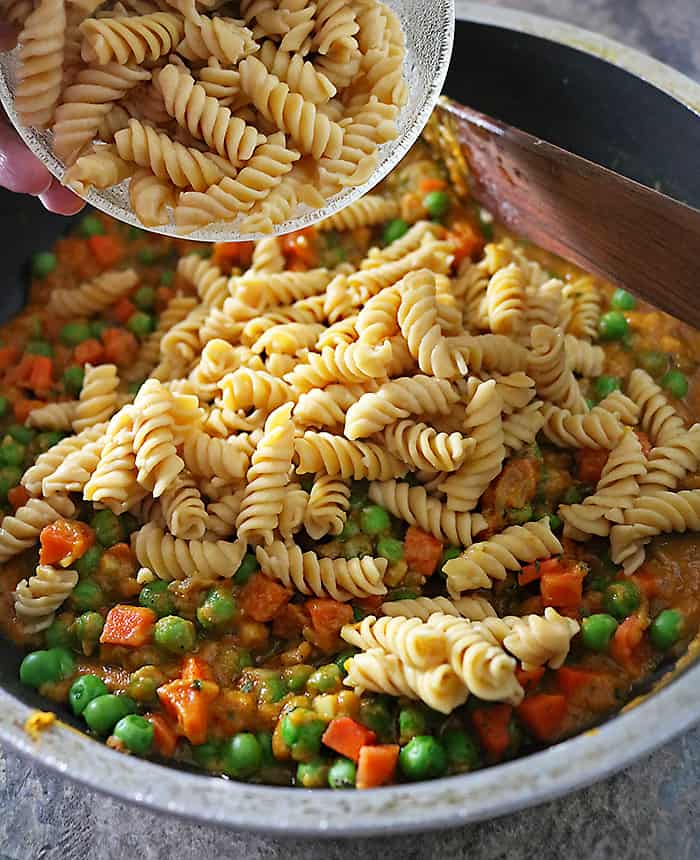 As soon as we walked into our home, my daughter grabbed a box of Banza Gluten Free Pasta and started in on getting some Coconut Pumpkin Pasta ready.
My daughter adores all sorts of gluten-free pasta, even though she isn't on a gluten-free diet any more. She says that since she is a brain-thlete, pasta provides her the delicious, balanced nutrition she needs to be healthy while spending her brain power on writing college essays and navigating the FAFSA and Common App!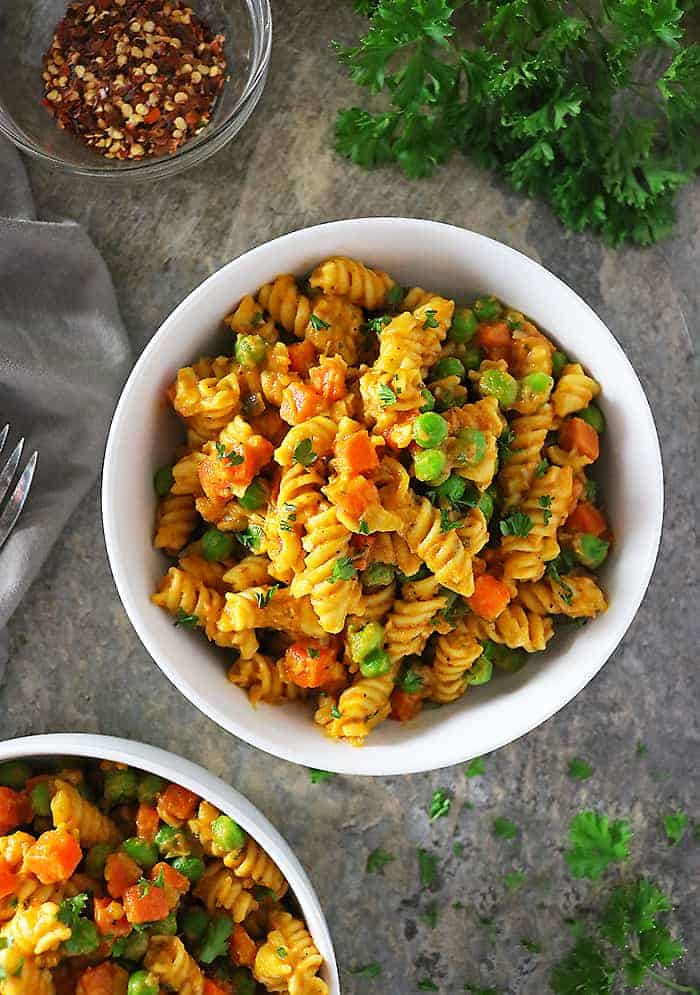 As she will be off to college soon, I have been trying to show her ways to come up with quick, healthy, budget friendly meals. And, this quick, easy, thrifty, Creamy Coconut Pumpkin Pasta & Veggie Sauté fit the bill. With a few spices, an onion, some garlic, ginger, leftover pumpkin puree, leftover coconut milk and frozen veggies, I helped her put an interesting and delicious fusion-like spin on pasta and vegetables.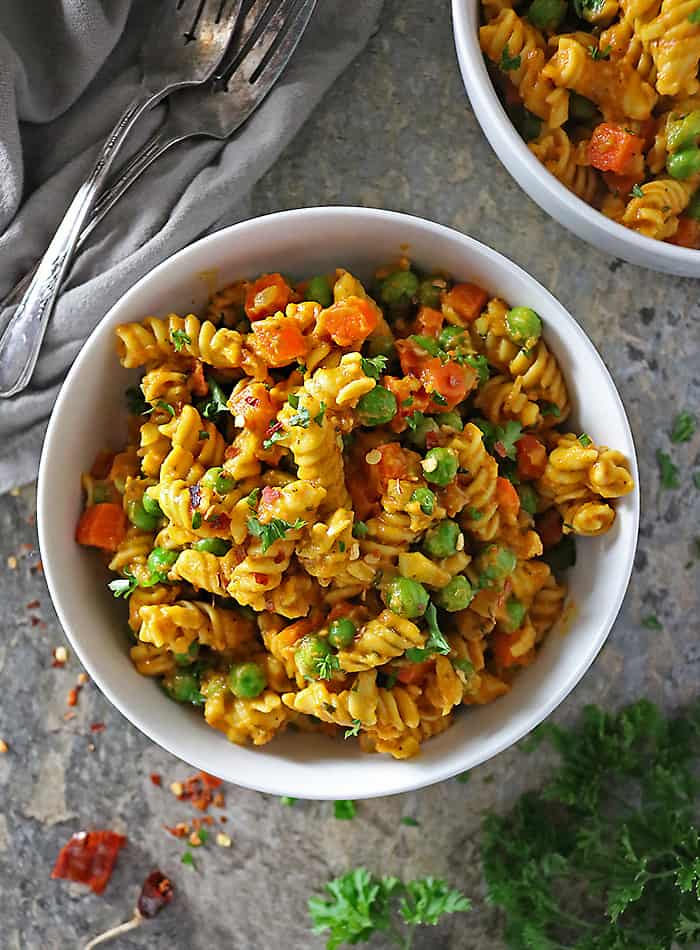 I would love to know if you've make this recipe or any other recipe from this blog so please do rate the recipe and let me know your thoughts on it in the comments below. You can also FOLLOW ME on FACEBOOK, TWITTER, INSTAGRAM and PINTEREST to get recipe ideas and inspiration.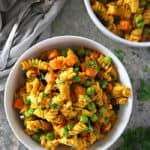 Print Recipe
Creamy Coconut Pumpkin Pasta & Veggie Sauté
With a flavor boost from slightly caramelized onions, garlic and ginger, this quick, easy, and thrifty, Creamy Coconut Pumpkin Pasta & Veggie Sauté is the perfectly delicious and nutritious vegetarian meal for those chaotic Fall evenings!
Ingredients
1

tbsp

oil

1

shallot

3

cloves

garlic

1

teaspoon

fresh ginger

2/3

cup

Organic 100 % pumpkin puree

2/3

cup

coconut milk

2

cups

frozen mixed veggies

- I used a carrot/peas blend

3

cups

Gluten Free Pasta

- I used Banza Chickpea Pasta

1/2

tsp

turmeric

1/2

tsp

paprika

1/2

tsp

parsley

1/4

tsp

dried oregano

1/4

tsp

salt

1/2

tsp

pepper
Instructions
Chop shallots finely (You can cook pasta according to package directions in another pan if you are short on time (Banza chickpea pasta cooks in about 5-7 minutes) or use the same pan like I did but cook pasta first and then continue on with the next step)

Then add olive oil to a pan and place over a medium flame. Add in shallot and saute about 5 minutes - stirring ever so often.

While shallot sautes, chop ginger cloves and grate garlic and then add the garlic and ginger into the pan and saute about 2 more minutes

Add in the frozen veggies and saute, stirring frequently till veggies are no longer cold (about 4-5 more minutes)

Add in the coconut milk, pumpkin puree, turmeric, paprika, parsley, oregano, salt and pepper and saute a couple more minutes

Add in the cooked pasta and stir until it is well coated with Coconut Pumpkin Sauce and veggies are spread throughout.

Garnish with parsley and serve warm
Notes
*Nutrition Info is per Very Well Fit, please use your own calculations for accuracy. 
Nutrition
Calories:
467
kcal
|
Protein:
19.8
g
|
Fat:
21
g
|
Saturated Fat:
11
g
|
Sodium:
309
mg
|
Fiber:
16.8
g
|
Sugar:
12.5
g