These light and fluffy, gluten-free, 6-ingredient, Oat Potato Pancakes are so satisfying, so delicious, so comforting, and yet, so good for ya! Whip up a stack to enjoy with your family this Saturday morning.
I've partnered with Eggland's Best to bring you these gluten-free, Oat Potato Pancakes! Thank you so much for supporting the brands that keep this Blog Spinning!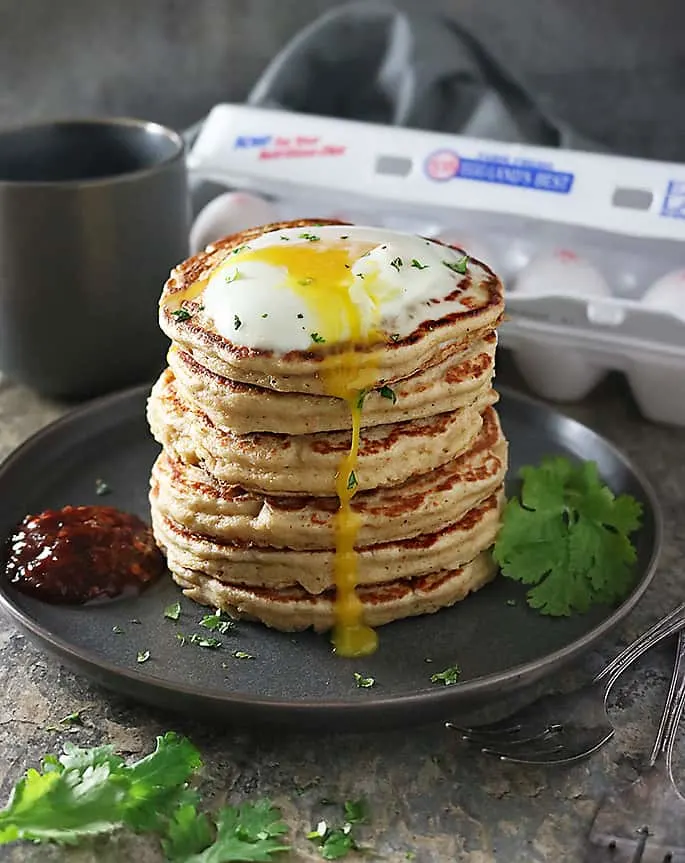 When Saturday Mornings are filled with drizzles, my daughter and I usually sit around, catching up on the latest episode of Below Deck Med and enjoy a stack of these super easy Oatmeal Pancakes.
I first shared those Oatmeal Pancakes on here in the early days of this blog and these pancakes are some of our all-time favorite weekend pancakes!
Some days, my daughter likes to top her oatmeal pancakes with a mile-high tower of whipped cream, and other days she goes the savory route and tops hers with cheese and avocado.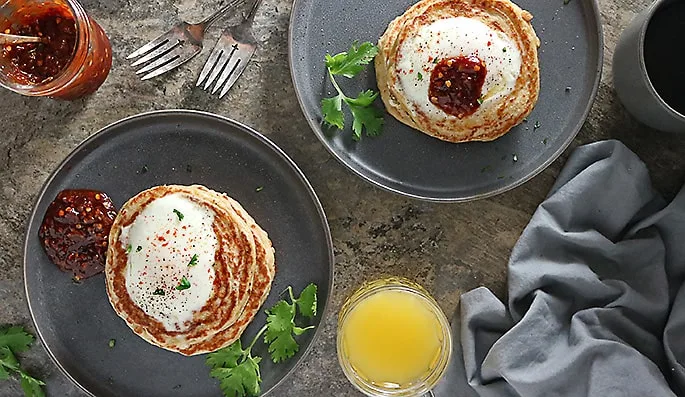 Well, a few Saturdays ago, I watched her add spiced potato wedges and scrambled eggs onto her pancake stack and I got to thinking: why not take the basics of those oatmeal pancakes and add some potatoes into them to make some savory Oat Potato Pancakes?
And, y'all, guess what I have here? Yuppers, a delicious stack of fluffy and tender Oat Potato Pancakes!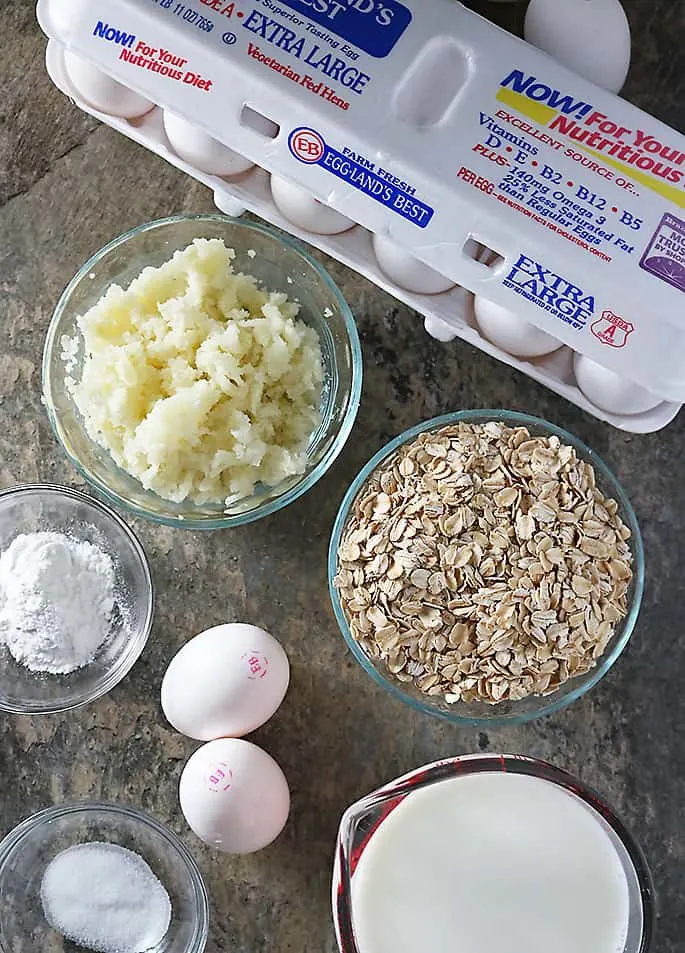 These pancakes only call for 6 ingredients:
Rolled oats,
Baking powder,
Salt,
Dairy-free milk,
Potato,
And, eggs!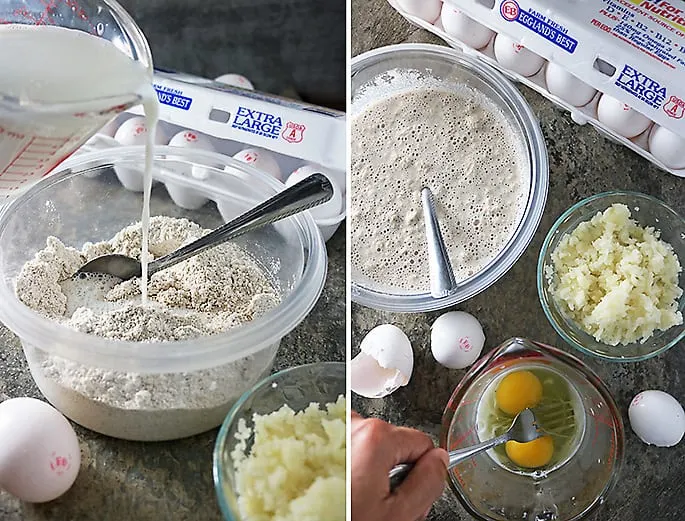 When It comes to eggs, Eggland's Best is my favorite choice. I make sure I give my small family the best by always using Eggland's Best eggs – like in these Oat Banana Chip Cookies and these Lemon Muffins! Truth is, Eggland's Best eggs are superior. After all, their catchphrase IS "Better taste. Better nutrition. Better eggs.®" EB Eggs have more of the delicious, farm-fresh taste you and your family will love – no matter how you cook them.
EB Large Shell Eggs have:
10x more vitamin E
6x more vitamin D
3x more vitamin B12
More than double the omega-3s
25% less saturated fat
38% more lutein
Excellent source of vitamins B2 & B5
And, only 60 calories!
By the way, a complete list of the vitamins & nutrients in EB eggs can be found here: http://www.egglandsbest.com/superior-nutrition/nutritional-benefits-eb-eggs/ And, a complete nutritional breakdown of Eggland's Best eggs versus ordinary eggs can be found here: http://www.egglandsbest.com/superior-nutrition/eb-eggs-vs-ordinary-eggs/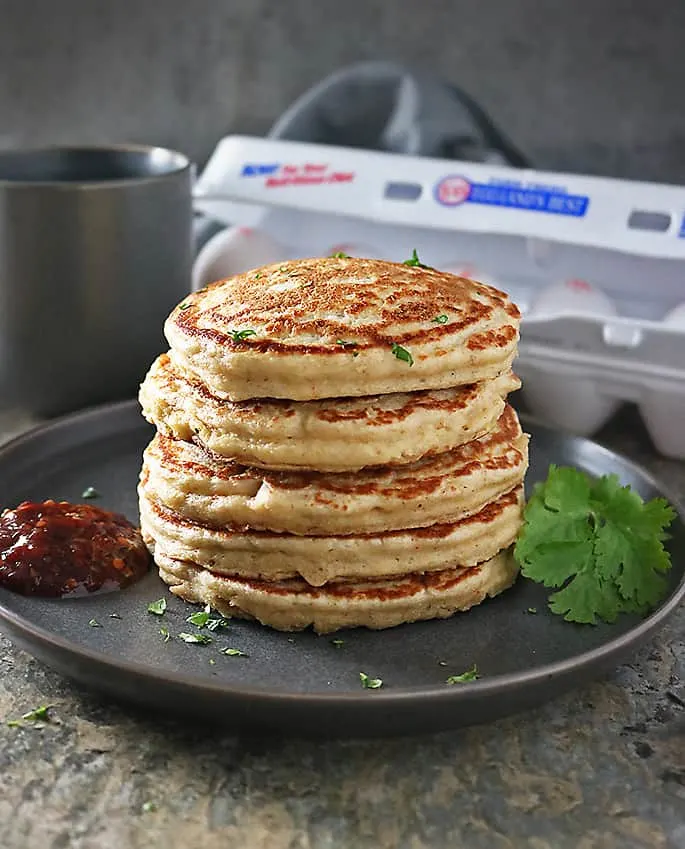 Now, coming back to these oat potato pancakes, I also added in a small smidge of smoked paprika but that's totally optional. Y'all, these pancakes turned out so darn delicious. So satisfying, so delicious, so comforting, and yet, so good for ya!
I was almost through making a whole stack of these and whipping up some scrambled eggs to accompany them along with some Sweet Chili Sauce, when an idea occurred to me. Why not scoop out the middle of some of these pancakes and drop an egg into them kind of like you'd do with toast to make an Egg In A Hole?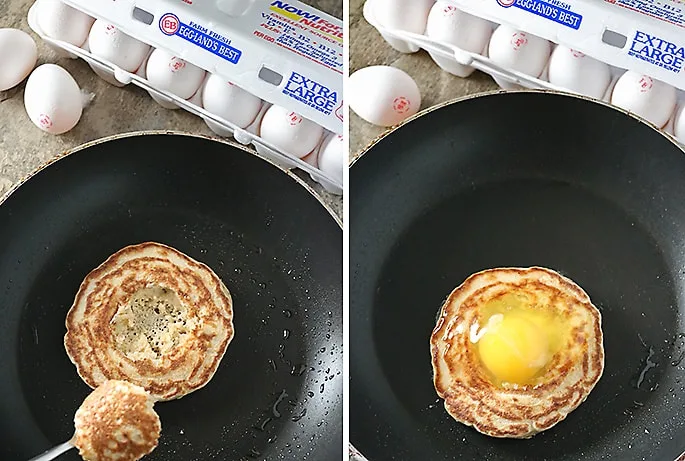 And, that is exactly what I did with the remaining pancake mix.
When it was time to chow down, having one of those egg-filled oat potato pancakes on top of a plain oat potato pancake was such a delight. That oozy egg yolk dripping down and over both pancakes along with that sweet chili sauce, made for one heck of a glorious breakfast.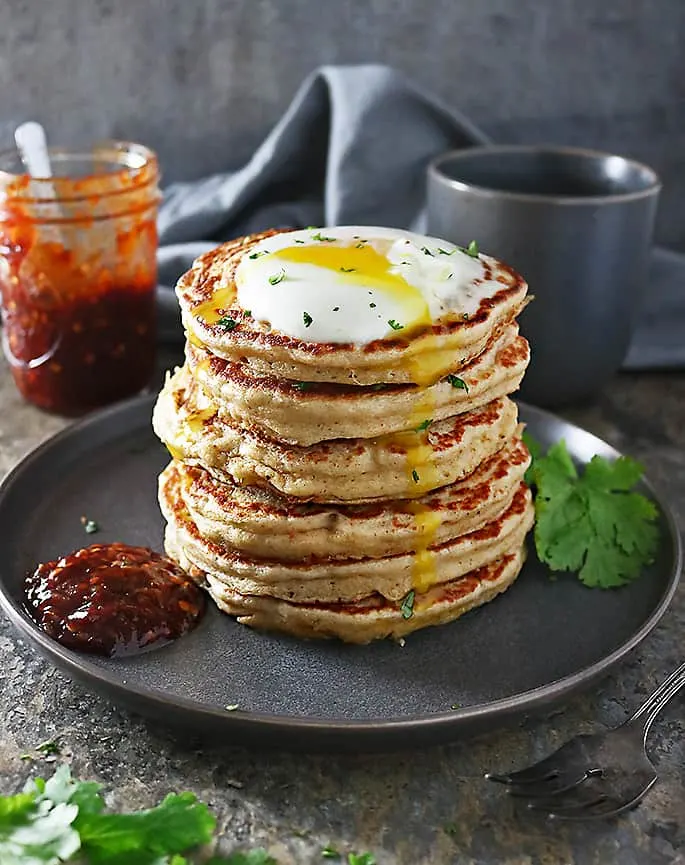 If you happen to fancy this recipe, let me know what you think by leaving a comment and rating below. If you make this recipe, please post a pic on INSTAGRAM -tagging @savoryspin so I can see! For more recipes and ramblings, like us on FACEBOOK and follow along on PINTEREST!
Please head to Eggland's Best to check out this recipe and more.