Creamy avocado, savory bacon, fresh parsley, and a hint of tart lemon make these gluten-free Avocado & Bacon Pancakes a meal that will satisfy all your senses – and are perfect for a fall evening or a cool & crisp fall morning.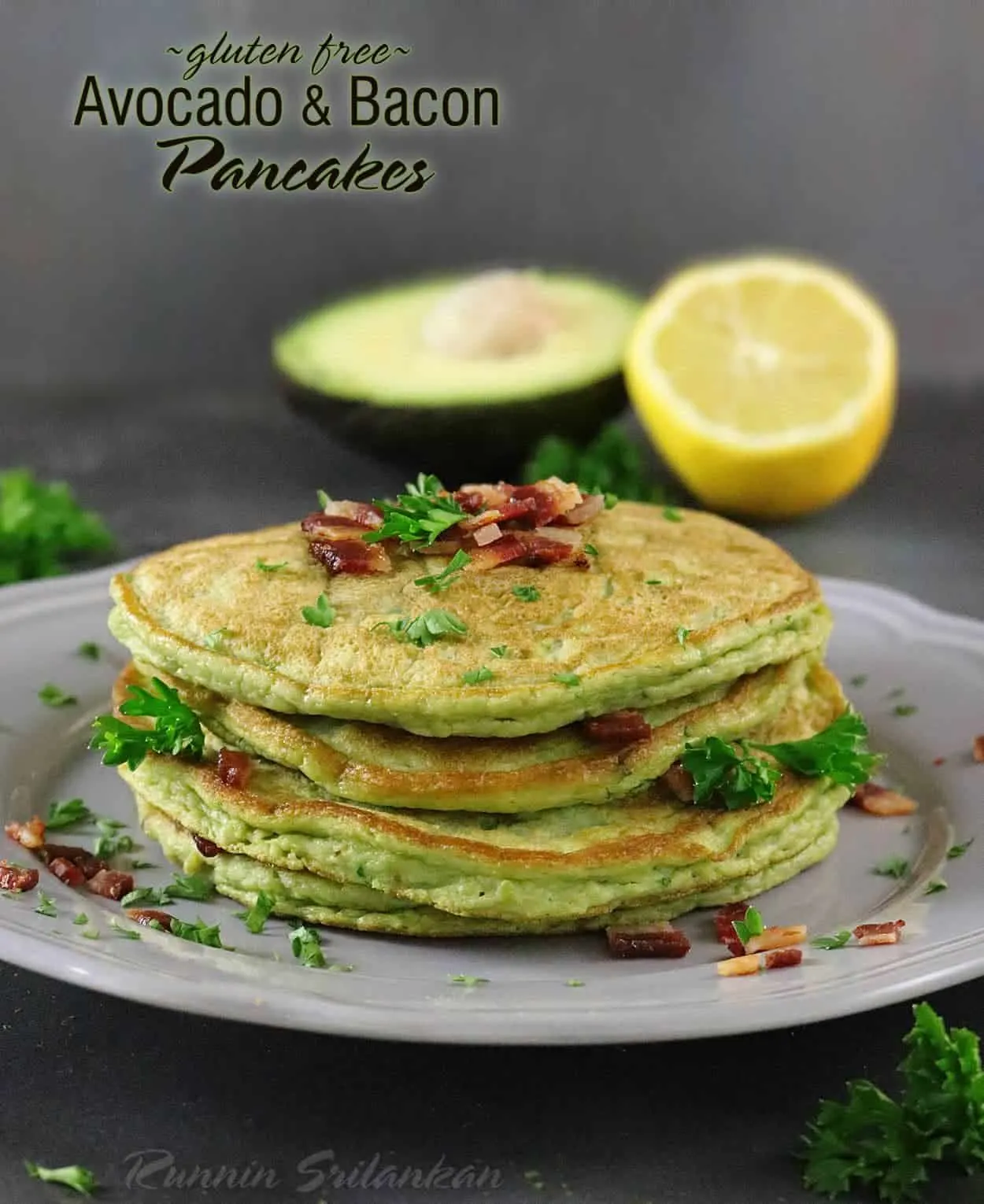 Sugar, I LOVE it, and I hate that I love it so.
When I was a young one in Sri Lanka, I didn't consume vast quantities of soda or candy, but, I hate to admit that when my cousin and I got together, we would eat sugar by the spoonful when no-one was looking. Fast forward to adulthood and sometimes I'd catch myself thinking "what's for dessert?" when most people were thinking "what's for dinner?" Yes – I'm that person that wouldn't turn down dessert after breakfast, and sometimes even indulge in it for breakfast. When I was brainstorming blog names back in 2013, my first choice was "Running on Dessert" – but, someone had beaten me to it!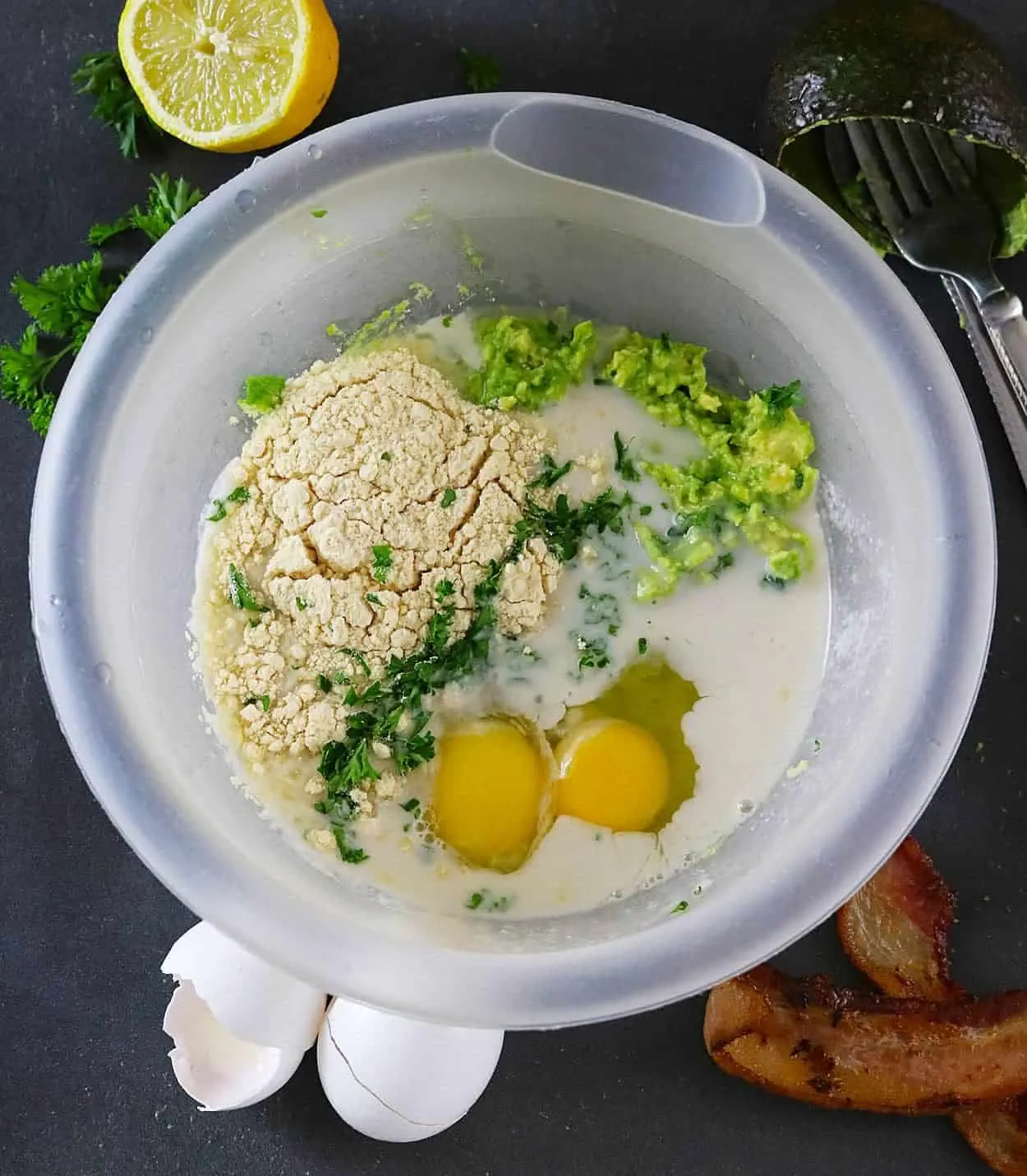 Then a few days ago, I stumbled on this article by Anahad O'Connor in the Food section of the New York Times "How the Sugar Industry Shifted Blame to Fat" and then a friend shared a trailer to the movie "Fed Up" on Facebook, and, all I've gotta say is gosh darn, I wish I could squelch my sweet tooth, like I squelched that spider!
This past week, I have been trying to give my body a break from refined sugar and most other sugars (with the exception of a few natural, zero sugar sweeteners). And it's been hard! So Hard! Yesterday when I saw this Hummingbird Cake, I wanted to throw my proverbial towel in and break my sugar-fast by sending my drone up to grab a slice of that cake. But then the clip in that trailer showing the similarities in effects of sugar and cocaine on our brains made me squelch my drone and whip up these pancakes instead.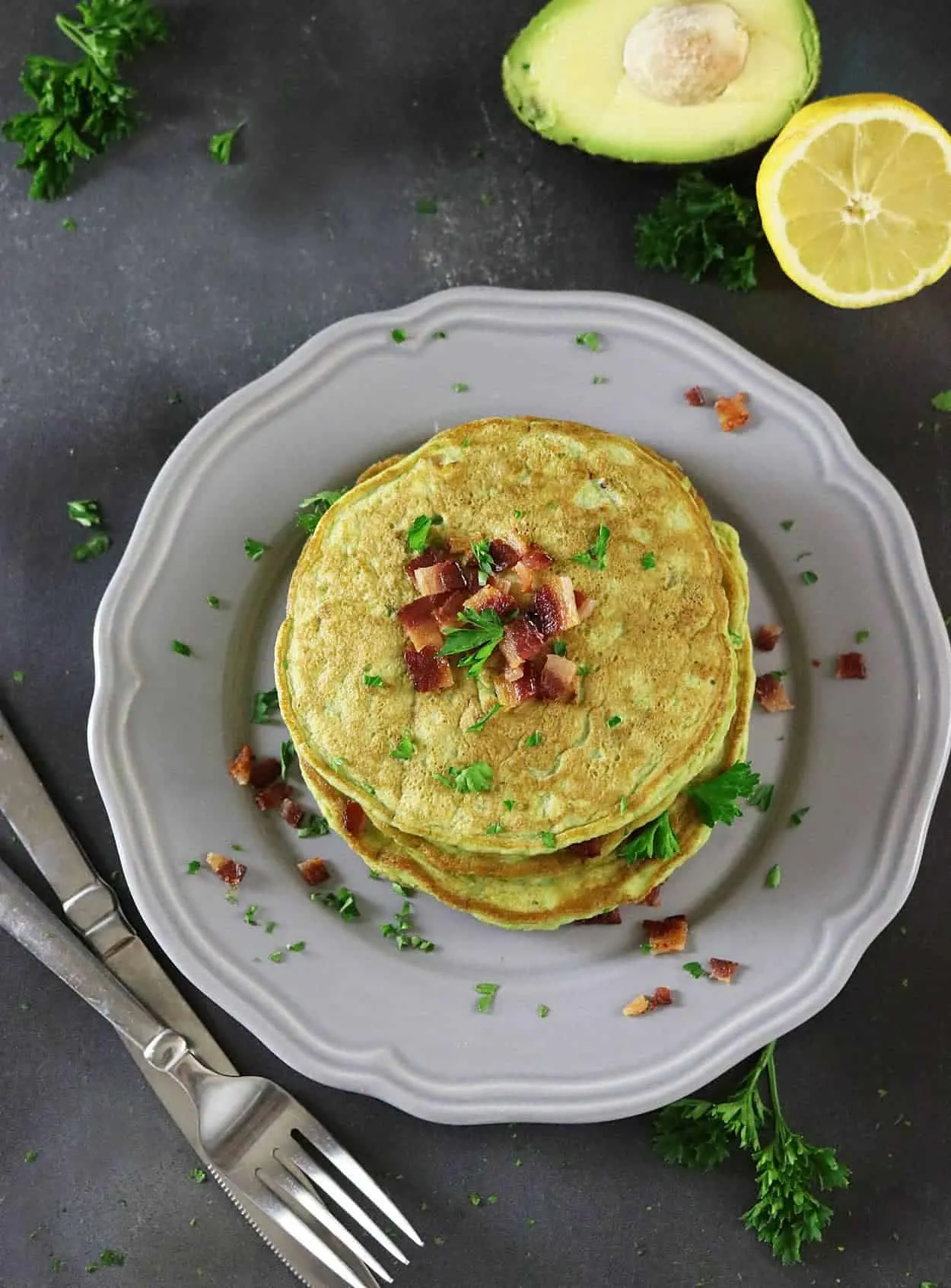 These Avocado & Bacon Pancakes aren't anything fancy, they are savory and do not contain any sugar in them and as I used coconut flour, they are also gluten free. They do take a little while longer to cook than these Yogurt Oatmeal Pancakes did, but, you can still whip up 4 of them in less than 30 minutes. But y'all, that bacon combined with avocado and lemon and parsley make these pancakes a wonderfully sensory-satisfying dinner or breakfast!
[Tweet "Y'all gotta try these #glutenfree #sugarfree Avocado & Bacon Pancakes!"]
*Please note, I am not a nutritionist or dietician and all opinions expressed here in are just my opinions. We all have the freedom to make our own choices and my post is just to inspire, inform and maybe convince you to try these pancakes. Here's to making choices that make you feel good in your skin, my friends.

I'd love to know if you happen to make this recipe (or any other on here) so pretty please tag me @RunninSrilankan and #RunninSrilankanon Instagram, Twitter, Pinterest, &/or Facebook. And, if you haven't yet, then please make sure to subscribe to my mailing list to have all sorts of eats and treats delivered to your inbox! Thanks Y'all!