I've partnered with Premier Protein to bring y'all these Banana Matcha Oatmeal Pancakes with Cinnamon Cream Bananas And A Giveaway!
After a waffle heavy couple of weeks in our neck of the interwebs, I decided to pancake it up this weekend and made these super simple, 6-ingredient, protein-packed, Banana Matcha Oatmeal Pancakes.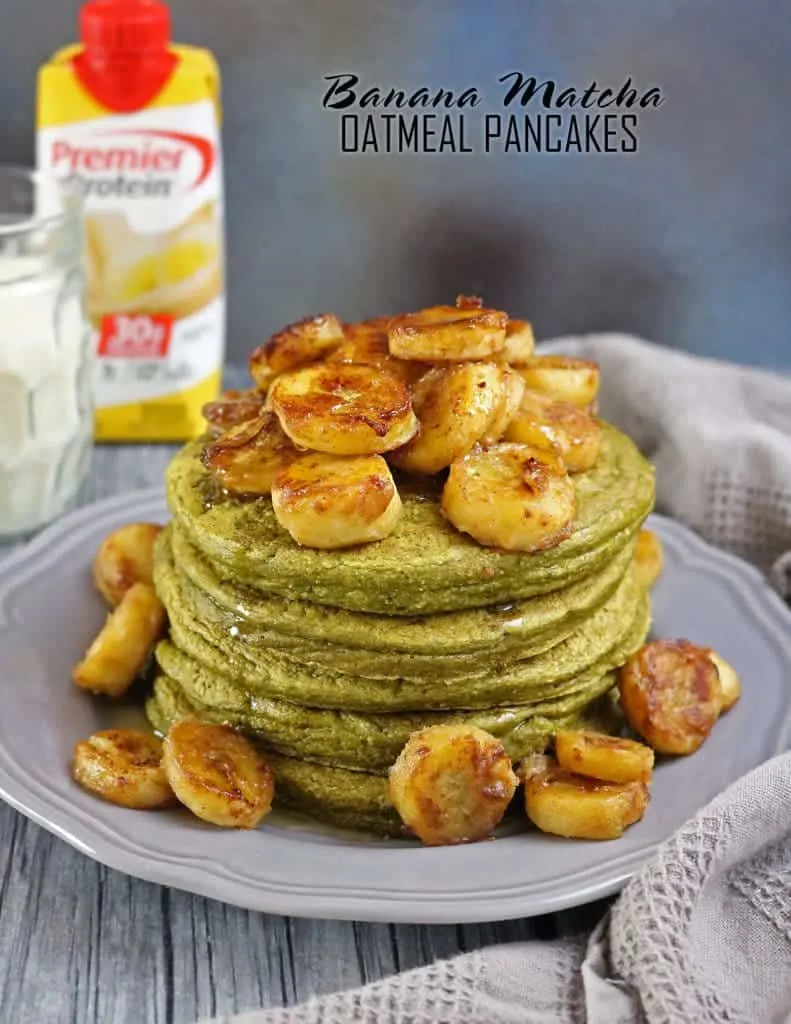 In the 18 years I've known her, my daughter has always preferred to go wild with her choice of pancake toppings.
There was this brief period of time when she would only eat pancakes topped with ketchup and mustard.
Then there was the ice cream phase which morphed into the eggs and cheese one!
When most people were enjoying their avocados smashed on toast, my daughter was enjoying them smooshed on pancakes – with parmesan!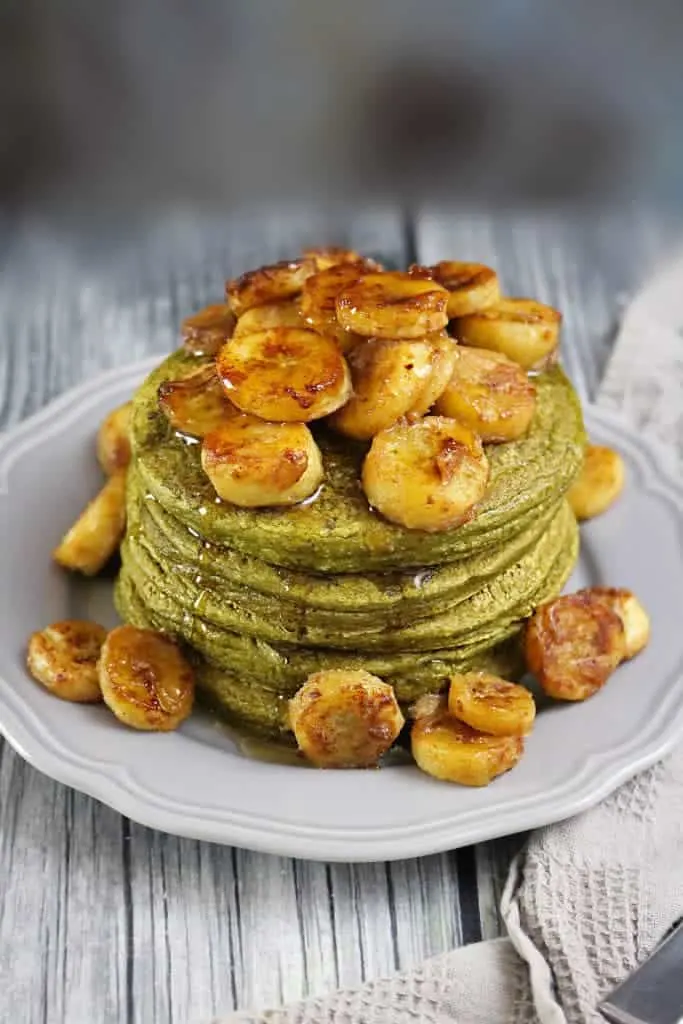 I, on the other hand, have pretty tame (I think) choices when it comes to pancake toppings.
I'd much rather have a smear of jam or sauteed bananas or apples with mine…unless they were chocolate (in which case all the chocolate chips and cookies in the house end up on top of them!).
But – to enjoy pancake toppings, there's gotta be some pancakes – right?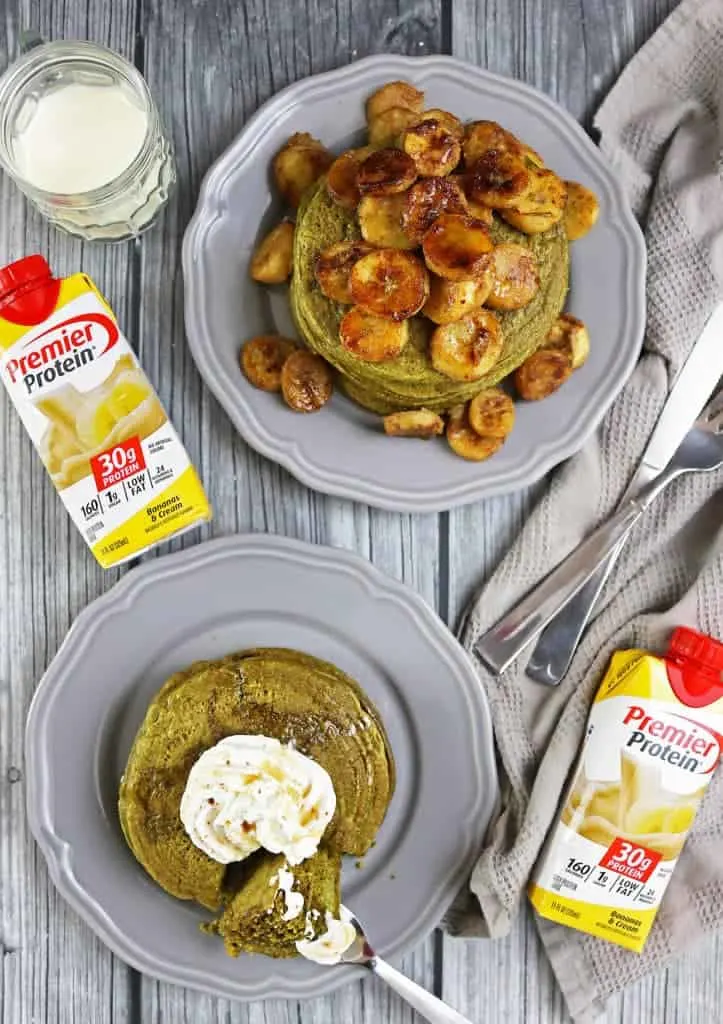 After feasting on waffles last week, this weekend I decided to give my waffle-maker a break and whipped up these super-simple, Banana Matcha Oatmeal Pancakes.
These bad boys are made with ground up rolled oats – making them very similar to these Oatmeal Pancakes.
However, instead of using almond milk, I used Premier Protein's Bananas & Cream Protein Shake and, added in a smidge of matcha powder.
While matcha is on the pricey side, these pancakes come nowhere close to the $200 price tag of these ones found at Opus in the Printworks in England – which are said to contain Madagascan vanilla pods and 23-carat gold leaf!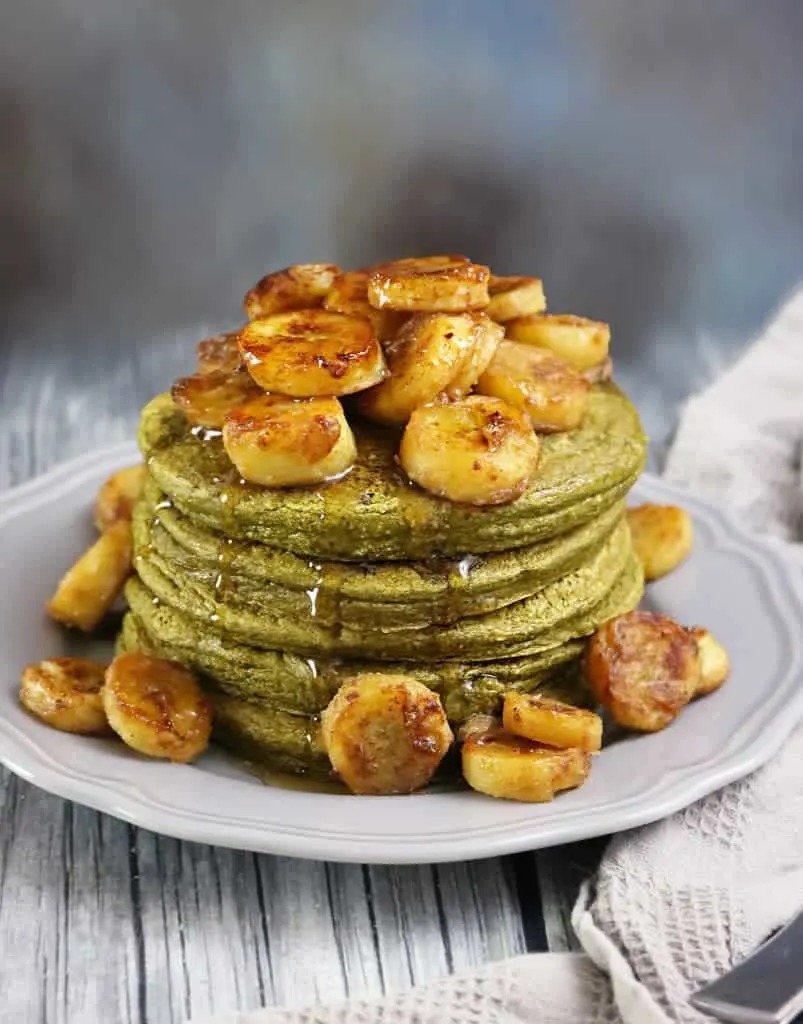 I ended up sauteing some bananas with brown sugar and cinnamon to go on top of these pancakes, but, then had the idea to add in some of that Premier Protein's Bananas & Cream Protein Shake into the saute and I gotta say, the result was pretty darn delicious! So delicious, I had a hard time prying the pan away from my oddball-pancake-toppings-loving daughter!
[Tweet "Banana Matcha Oatmeal Pancakes w/ Cinnamon Cream Bananas + A #giveaway https://savoryspin.com/banana-matcha-oatmeal-pancakes/ #TheDayIsYours #sponsored @premierprotein"]
Premier Protein is on a quest to help show everyone and anyone how a good source of protein can help them "tackle life's daily challenges, feel their best and live the life they want." Thanks so much for supporting them in their quest and my little blog in the process. If you haven't had a chance to try Premier Protein's Bananas & Cream Protein Shake, then please enter the giveaway below for your chance to win a 4-pack!
Please check out Premier Protein on Facebook • Twitter • Pinterest • Instagram as they have a ton of products and recipe ideas that can help ya incorporate a tad more protein into your day!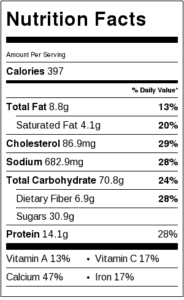 Here's hoping your day is off to a good start – and if it's not, well, am thinking some of these pancakes might help?
But before y'all head off, please do tell me, when it comes to pancake toppings – would you rather have something unusual or tried and true?
©Savory Spin All content and images are protected by copyright. Please do not use my images or recipe without my permission.