These aromatic baked Golden Donuts are spiced with turmeric, cardamom and ginger and bathed in a decadent caramel sauce ~ making them one heck of a tasty breakfast!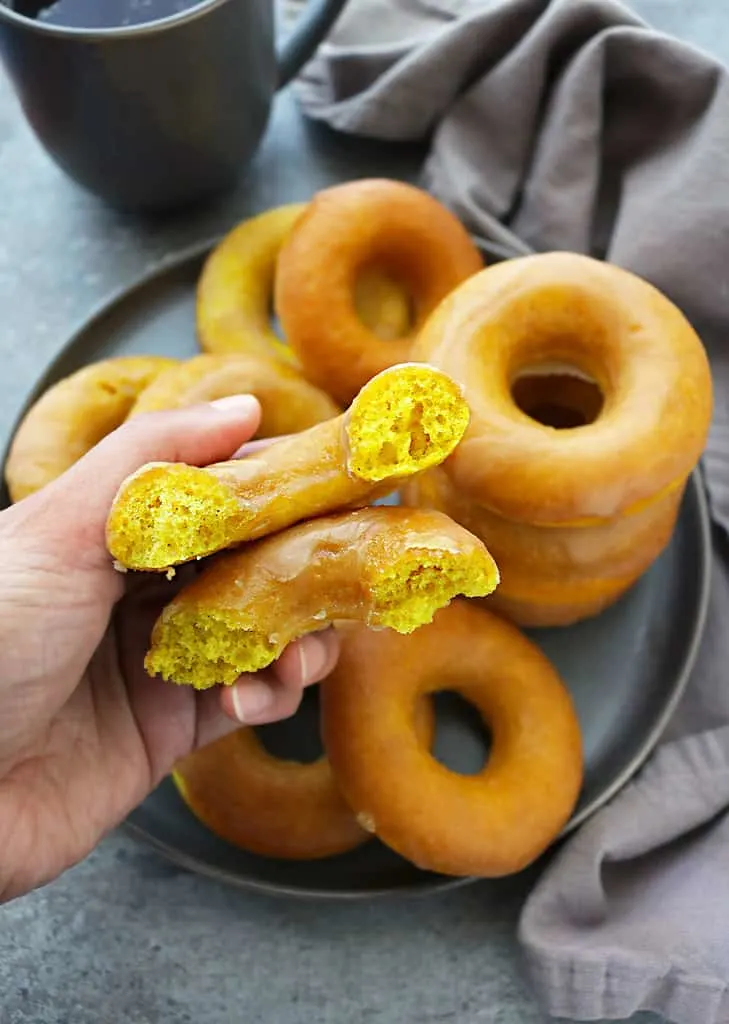 Last summer, my daughter introduced me to the Instagram account of Supermoon Bakehouse in New York, and I was mesmerized. All over their IG were these glorious, mile high creations called cruffins! A cruffin, described as a cross between a muffin and a croissant, was totally new to me. My curiosity was on fire as I'd never had a cruffin before. Cronuts yes, but never a cruffin.
Well, I love food.

And… well… I had enough points for a couple of return tickets to New York… so…

I think you can guess what happened next…
The weekend after, we were on a jet plane, heading to NYC to experience one of Supermoon Bakehouse's cruffins.
When we got there, I was expecting to spend a couple of hours standing in line, like we did when we came to NYC to taste cronuts. But, I was shocked. There was no line. And, they were NOT sold out!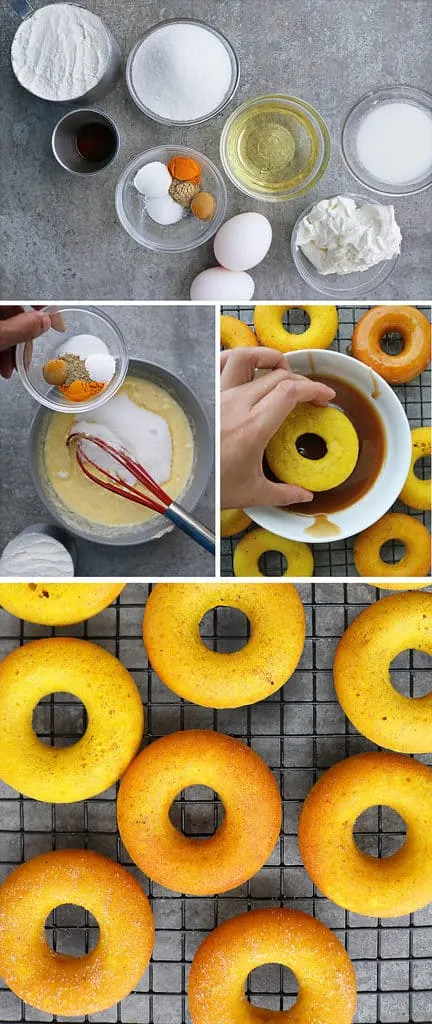 Among the variety of cruffins that they had displayed, they also had a couple of unique (to me) donuts. One was a Golden Boy Doughnut and another, a Blueberry Pie donut. We grabbed the donuts to bring back to our hotel and dug into a chocolate orange cruffin.

That cruffin was absolutely glorious! And it made me glad that I didn't live in NYC as I could NOT justify how a cruffin a day could fit into my 80% healthy-20% indulgent diet.
Well, after trudging 18 miles around NYC, we finally made it back to out hotel and decided to dig into the donuts we had picked up earlier. And wowzers!

That Golden Boy doughnut was insane! It was a turmeric spiced brioche doughnut which was filled with a salted caramel filling. It was decadency at it's finest!

That evening, we ended up hopping a cab back to Supermoon to grab a couple more of those Golden Boy's! But, alas… they were all sold out when we got there.
Well, we got back from our trip and put away the wonderful memories of those Golden Boys.

At least, that was until Supermoon Bakehouse decided to send out an email blast about their new care packages that would be available for pick up.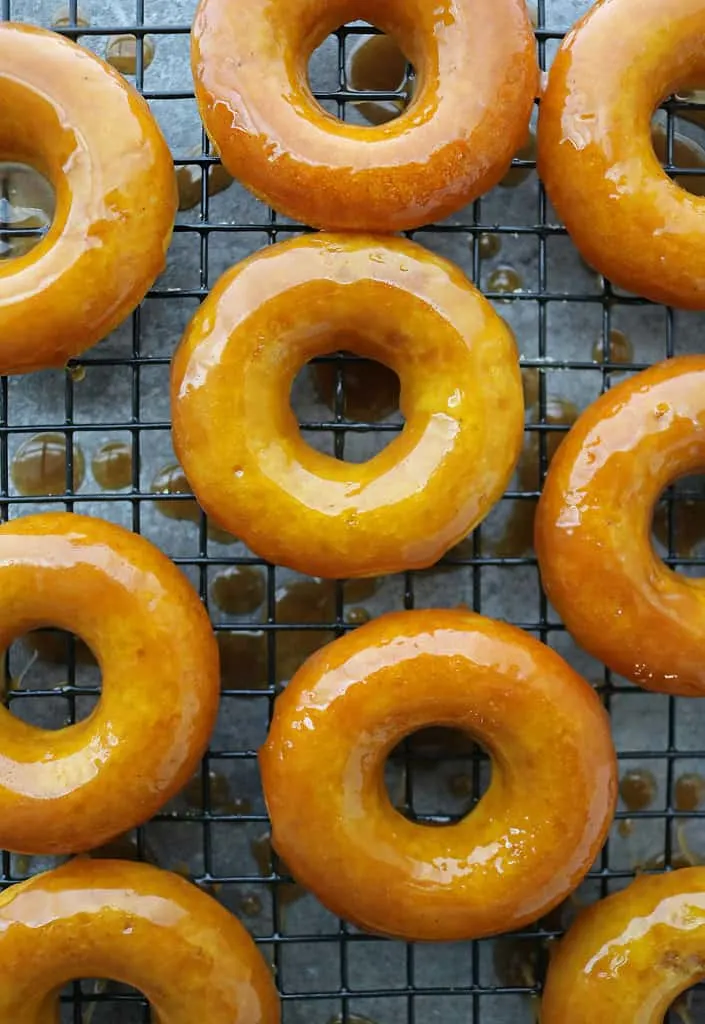 I figured a trip anywhere was not a good idea, so instead, I decided to whip up some Golden Donuts and bathe them in a caramel glaze, inspired by my memories of those Golden Boy doughnuts we had.
I am not even going to pretend that these donuts are anything like those we had. But, these Golden Donuts with a caramel glaze are delicious just the same.
These Golden Donuts are spiced with turmeric, cardamom, and ginger. They are baked and not fried, but I would consider them more an indulgent treat as they are smothered bathed in a decadent caramel sauce.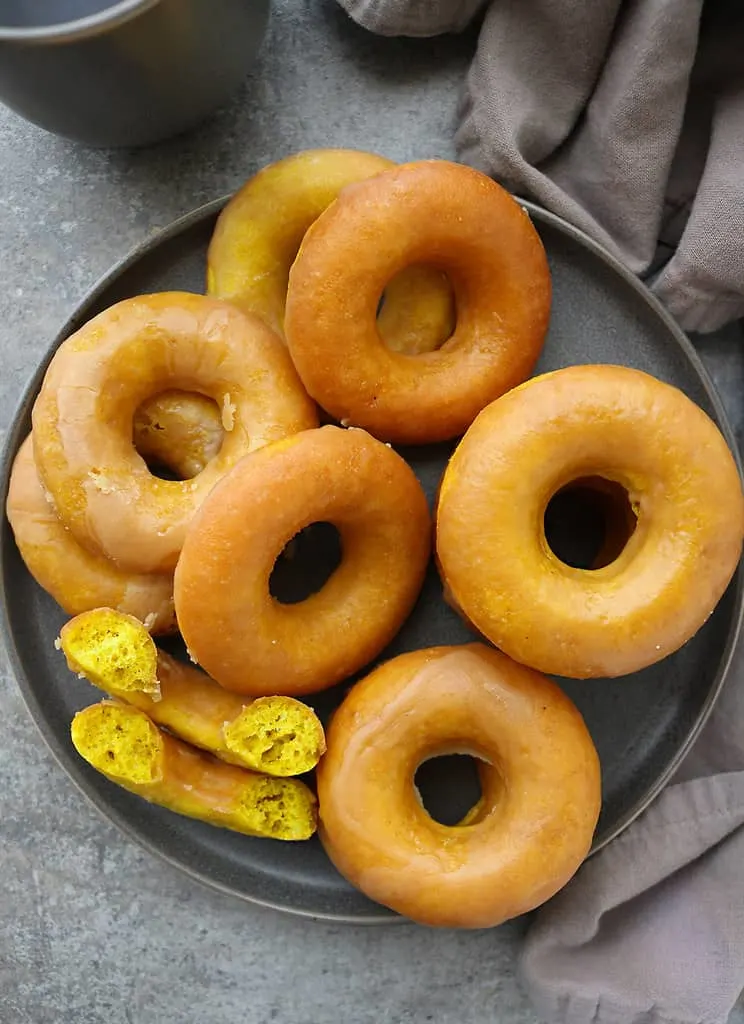 If you are still staying home, these are a delicious treat to bake and enjoy midweek. But, if you are back at work, these donuts are super easy to whip up on a Saturday morning.

Just gather all your ingredients, then whisk the wet ingredients, add in the dry ones, spoon the mixture into a donut pan and bake!

When these donuts are done baking, carefully take them out of the donut pan and set them on a cooling rack as you whip up the caramel sauce ~ which involves putting all the ingredients for the sauce into a pan and mixing them up. When ready, you can spoon the sauce onto the turmeric donuts or pour it over them ~ which is the method I used.
Hoping you and your family enjoy these Golden donuts with caramel glaze as much as my daughter and I did!