This post is sponsored by FAGE; however, all thoughts and opinions expressed are my own.
Want a tasty, one-hand way to enjoy granola + Greek Yogurt and fruit? Then, these easy granola cups filled with rich and creamy FAGE Total Split Cup Greek Yogurt are well worth a try!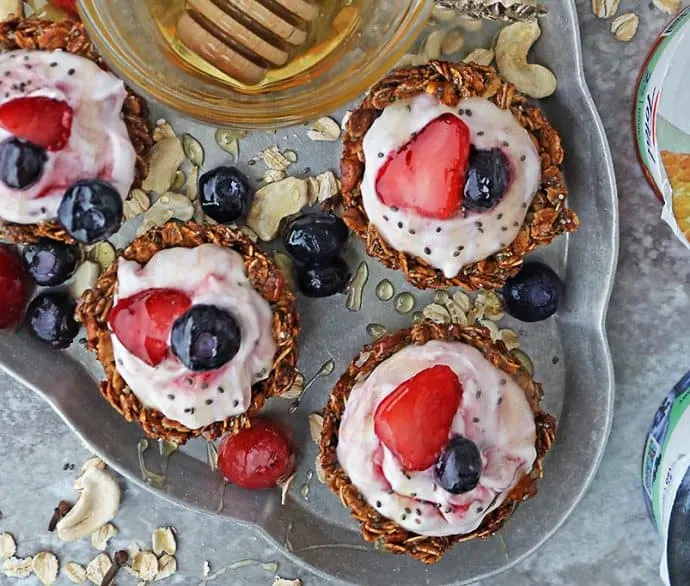 Breakfast is my favorite meal of the day. It's not because I am "breaking the fast" of the night, but more because of the foods that are considered "breakfast foods." Foods like pancakes, waffles, eggs, FAGE Total Split Cups, oatmeal, bowls of Greek yogurt sprinkled with crumbly granola – I love them all. And, one of my favorite things to do on a Saturday morning (even more than sleeping in) is making and leisurely enjoying some of my breakfast favorites.
Well, on a Saturday not too long ago, I found myself up before the crack of dawn. I couldn't force myself back to sleep, so I decided to potter around my kitchen. I was craving some Greek yogurt and some granola, but could not find my large, granola-baking tray.
At the time I wrote this post, I was surrounded by packed and half-packed boxes and I really did not want to dig around to find my large granola baking tray. However, I did find my muffin tray. I still wanted some granola, but the muffin tray reminded me of the granola cups I had seen scrolling through Pinterest.
So, I decided that instead of making a batch of crispy, crumbly granola, I would take the ingredients that I would normally use to make granola and smoosh them together in a muffin tin to make my version of granola cups.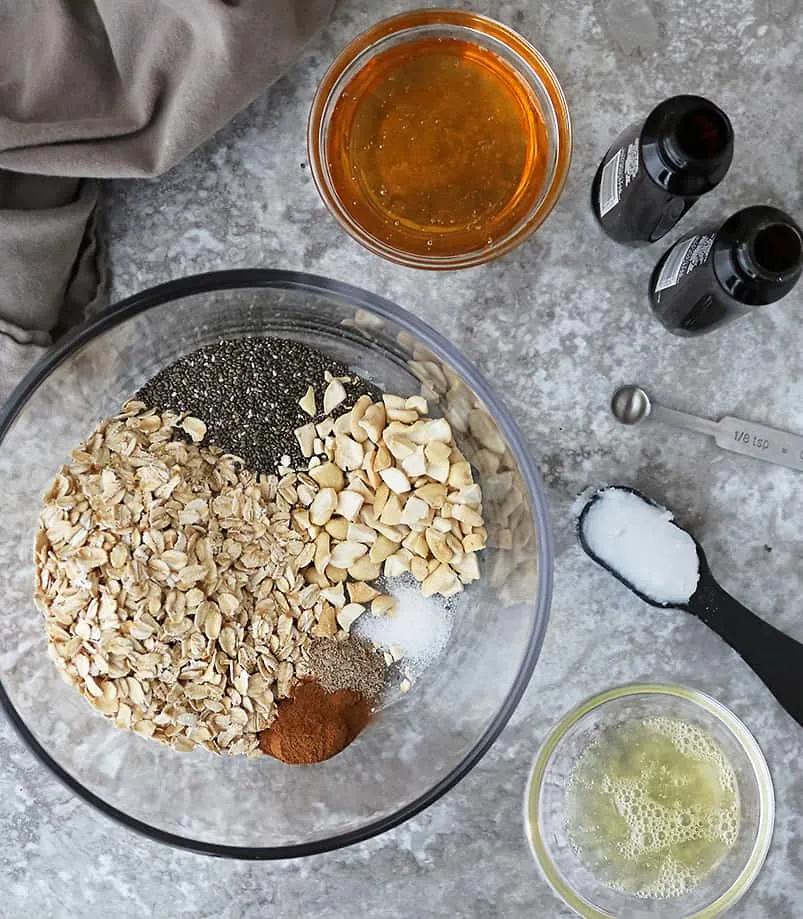 These granola cups are so easy to make. I made these with the ingredients I use to make granola, ingredients such as:
• Oats
• Chia seeds
• Cashews
• Coconut oil
• Honey
• Salt
• Cardamom
• Cinnamon
• Vanilla, and
• Egg white
Just mix, smoosh (into muffin pans), bake, and enjoy!
This was one morning when I didn't even need a spoon to enjoy my favorite granola, honey, fruit, and FAGE Greek Yogurt! In fact, I only had a handful of frozen fruit on hand – but, I did have a stack of FAGE Total Split Cups!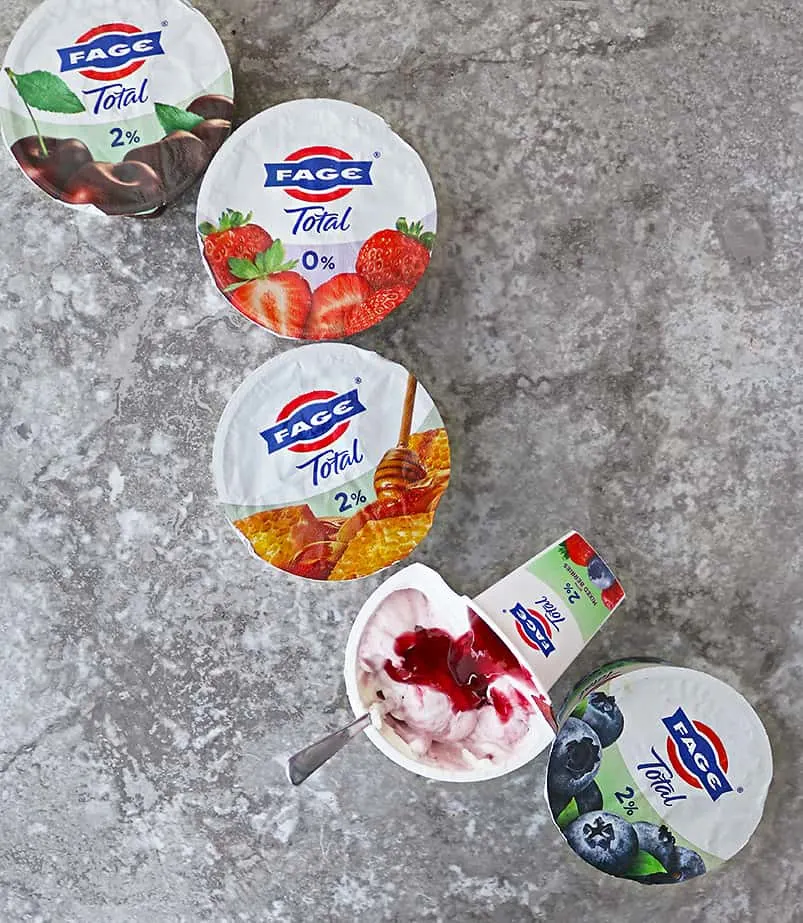 So, I topped my granola cups with some of my favorite flavors of FAGE Total Split Cup and a bit of the frozen fruit and enjoyed two of them while I started to pack some more. Rich, and creamy, FAGE Total Split Cup Greek yogurt varieties taste delicious and make these granola cups a luxurious indulgence.
By the way, I love all-natural FAGE Total Greek Yogurt products and use them often in everything from pancakes to raita to curry. Recently, FAGE has begun to expand their line of products to include Sour Cream and a creamy and delicious, lactose-free yogurt option named FAGE BestSelf.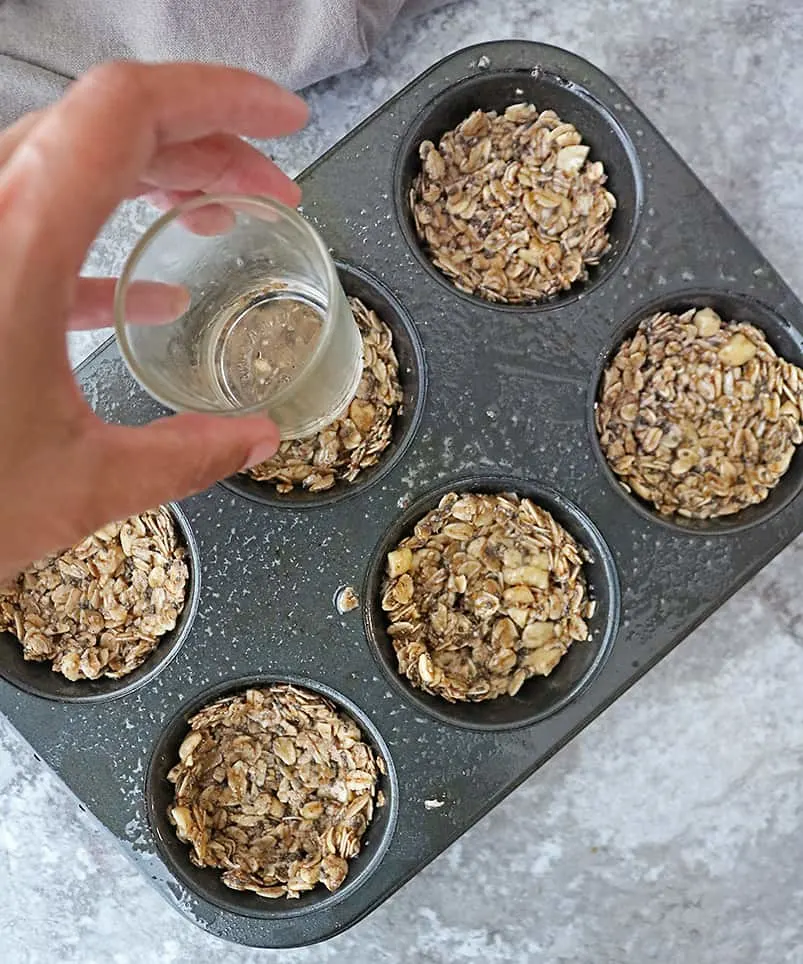 While breakfast is my favorite meal, FAGE fuels my day from sunrise to sunset. Recently, we have been enjoying chicken marinated overnight in a spiced FAGE Total Greek Yogurt sauce and then baked to golden deliciousness. This paired with roti has been a quick and easy dinner.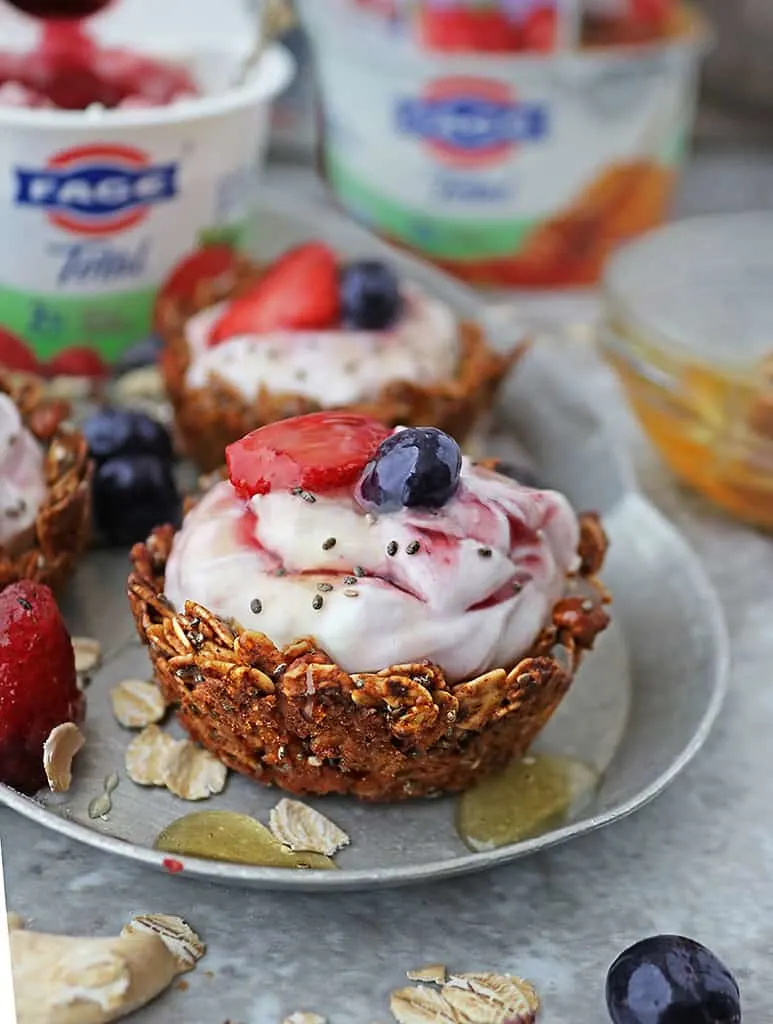 But, I don't just cook or bake with FAGE. Very often I love to snack on a FAGE Total Split Cup for an energizing snack and even enjoy it for dessert. FAGE Total Split Cups are easy for on-the-go, a protein-rich breakfast, a snack, or an indulgent dessert.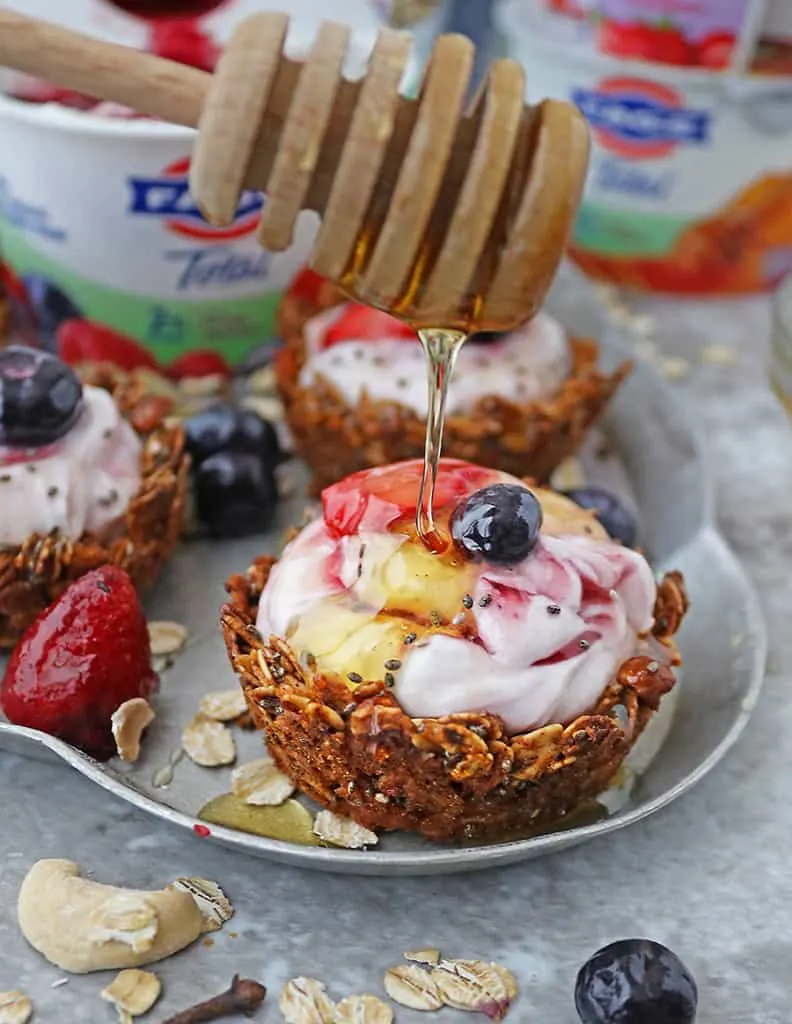 FAGE is Non-GMO Project Verified and a good source of calcium. All varieties of FAGE are delicious, and are available in multiple milk fat percentages to fit any lifestyle ~ now your whole family can enjoy FAGE as a perfect addition to their day!