This shop has been compensated by Collective Bias, Inc. and Quaker. All opinions are mine alone.
A delicious Yule Log made with Whole Grain Oats and a Chocolate Cashew Cream filling that would be a delightful dessert as well as a breakfast treat or a snack!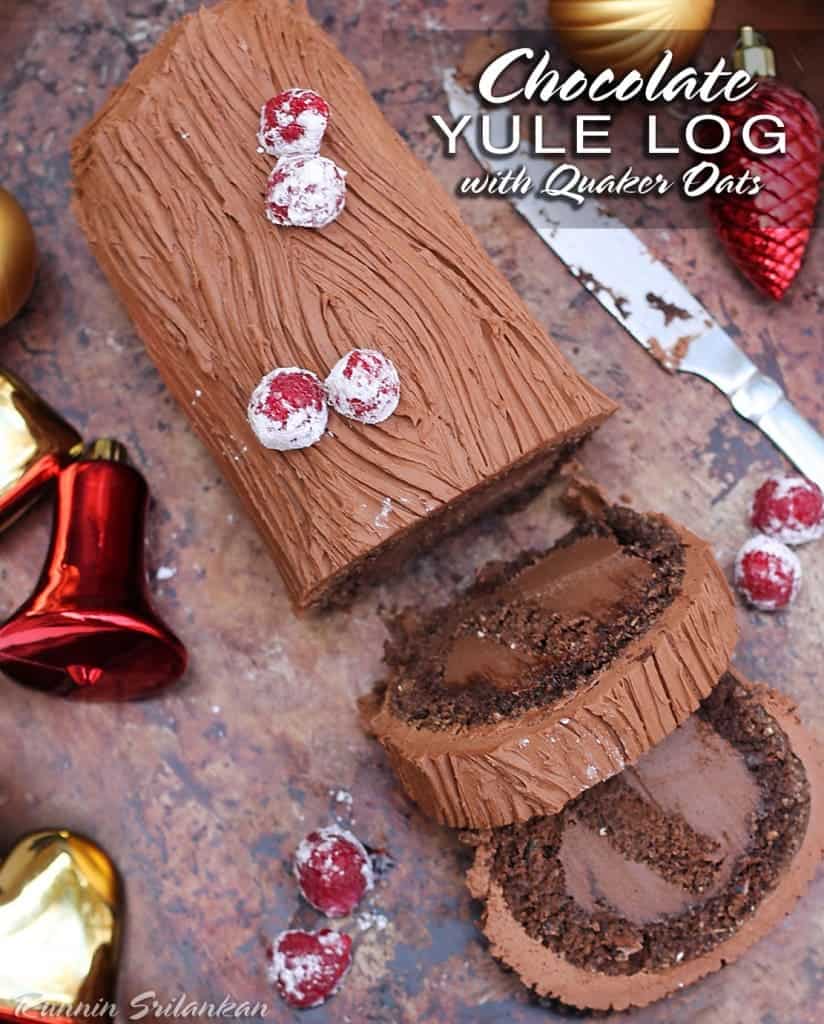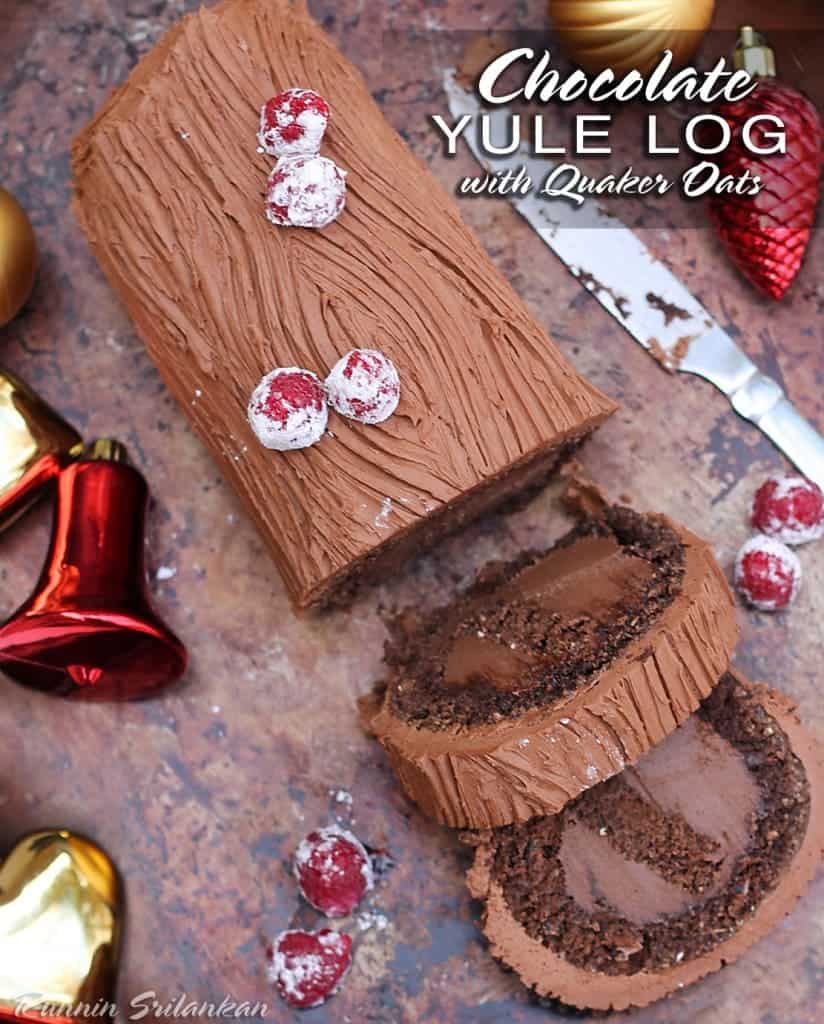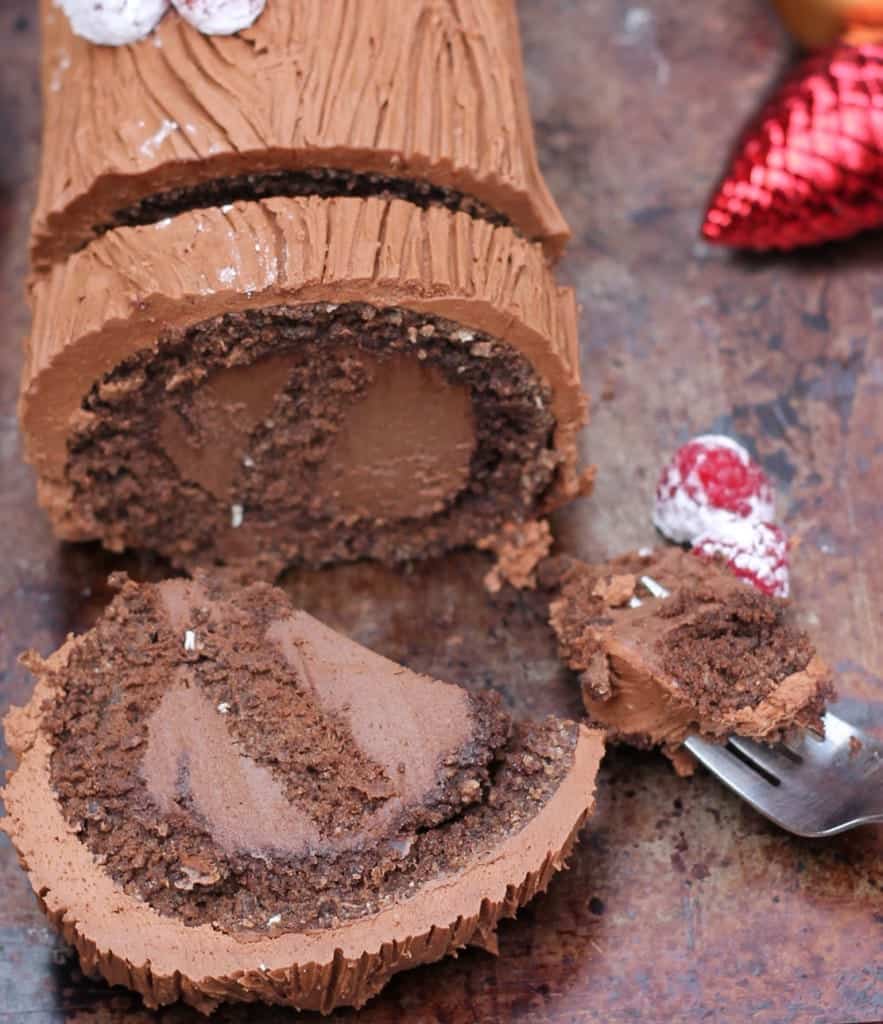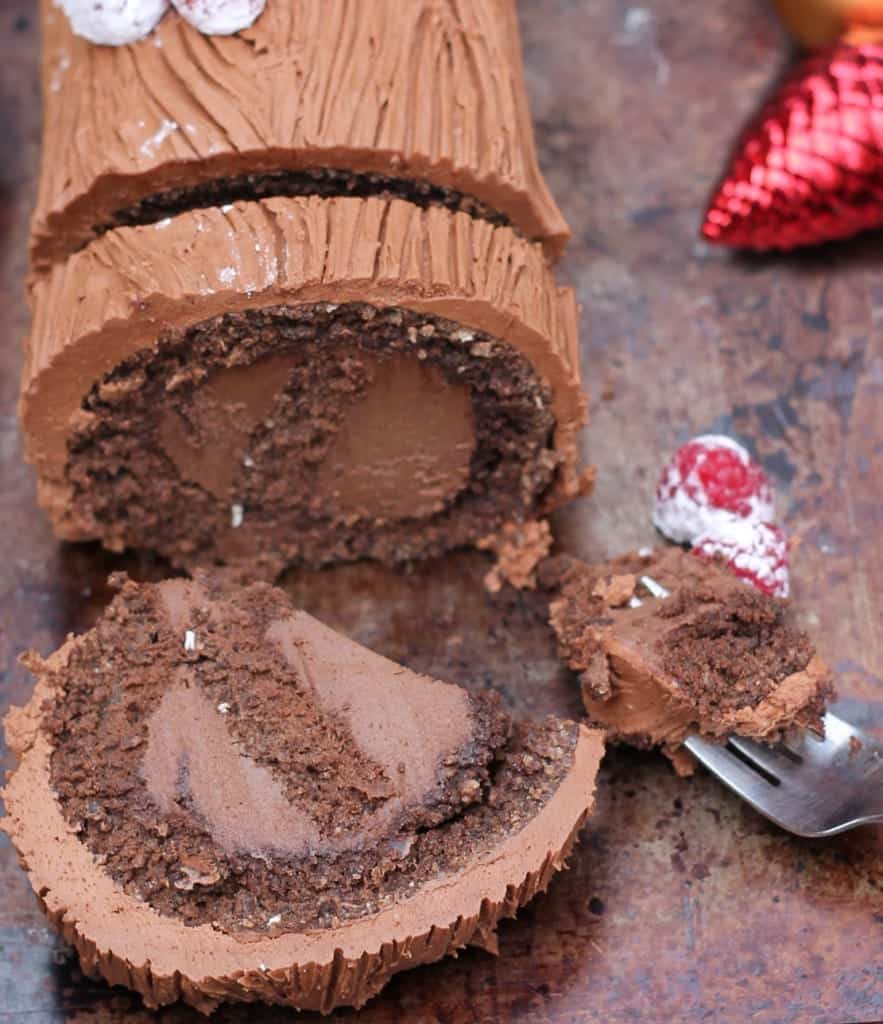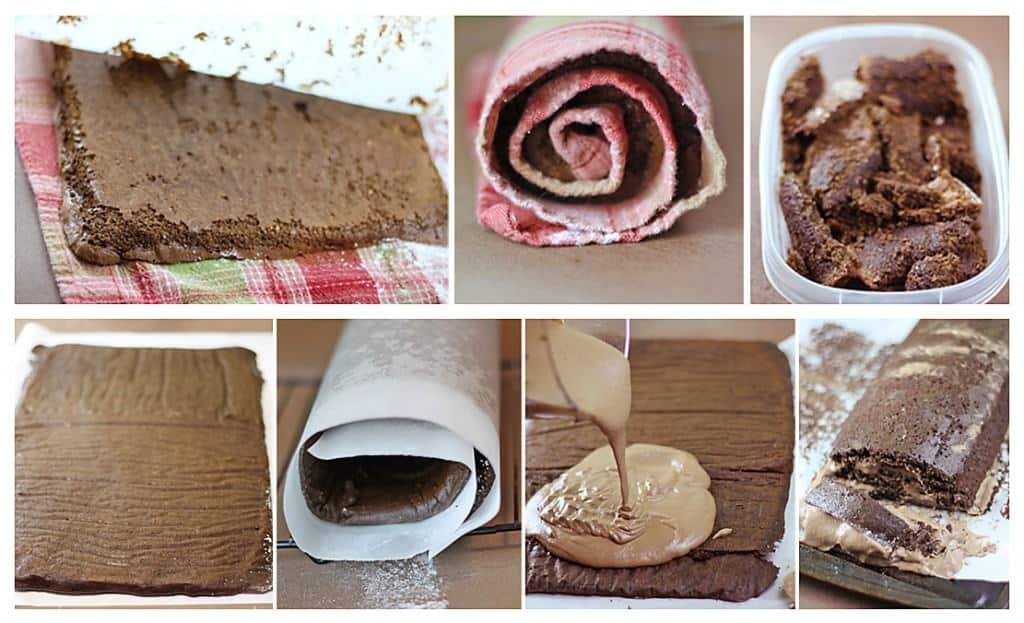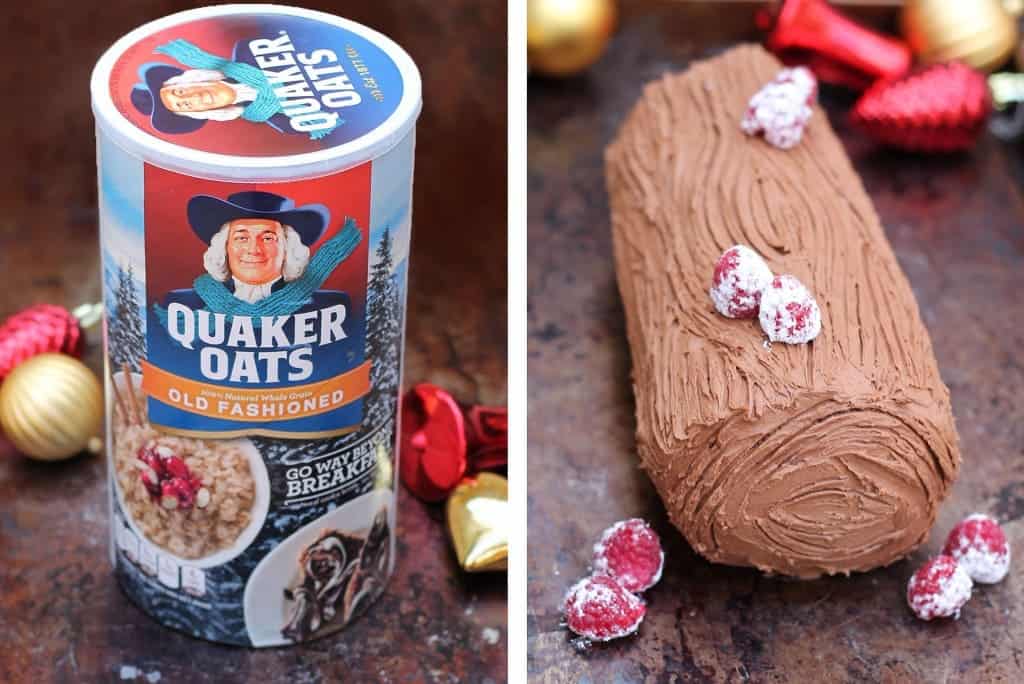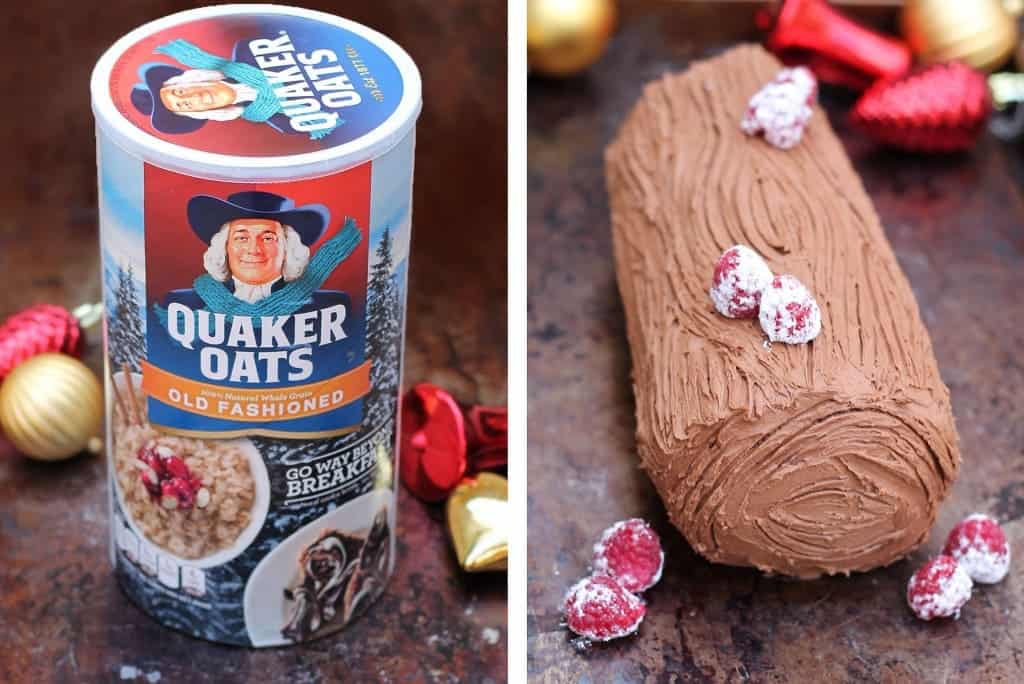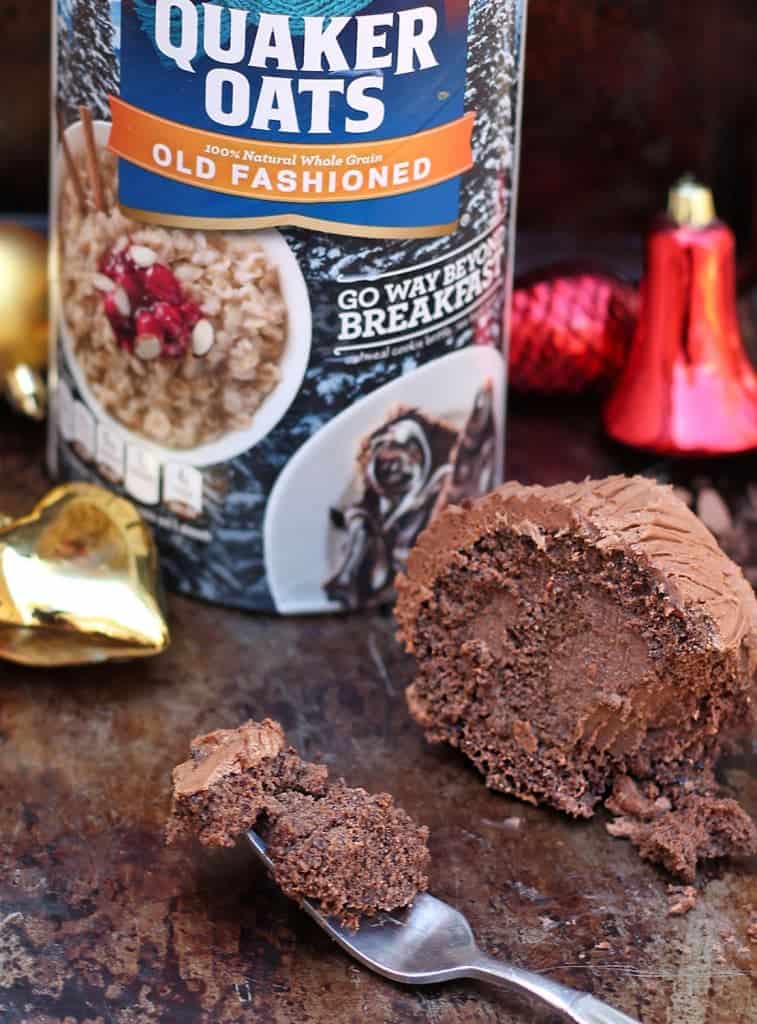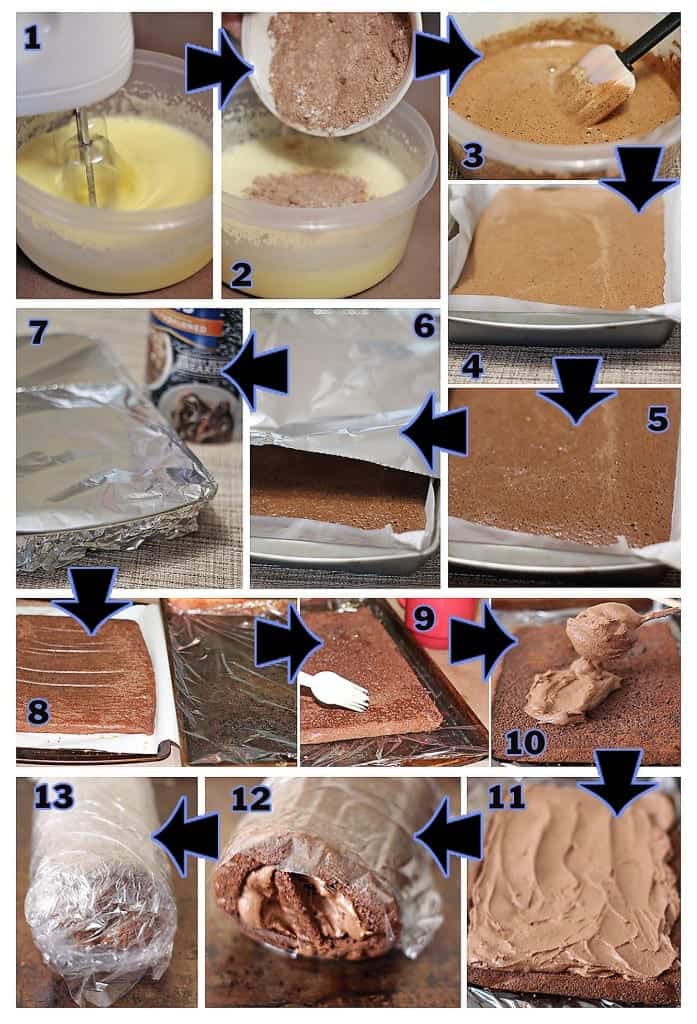 Most times, I think I enjoy "discussions" with my daughter that begin with: "when I was your age…" way more than she does. Most times, "when I was your age…" discussions are because she happens to think our non-existent maid is going to clean up after her; but then, sometimes, our "when I was your age…" discussions end up being reflections on memories from the past. Recently, we were discussing Christmas Dinners from when I was a young lass in Sri Lanka – back then, our main meal consisted of a fancy rice pilaf or "yellow rice" or "rice biryani", with at least a half dozen amazing curries my mom had labored over for hours. The Desserts that followed consisted of Sri Lankan Christmas Cake (a boozy, one of a kind fruit and nut cake), one of my mom's famous chocolate cakes and a Yule Log my dad would pick up from a local bakery, that I would sneak pieces of and hide under the table and devour! That Yule Log has been something I have struggled -quite unsuccessfully- to recreate over the last few years! There have been many Christmas's when my intended "Yule Log" had to be renamed to: "Yule Rolled-Layer Cake" or "Yule Chunks" or "Yule Surprise" – fortunately, there are advantages to being the only "experimental-baker" in the family and no-one questioned my "creations"! This year, after many failed attempts using different kinds of ingredients and techniques; I finally decided to use ground up Quaker Oats Old Fashioned Oats #QuakerUp; I picked up a 42 oz canister of Quaker Oats Old Fashioned Oats in special winter packaging from my neighborhood Target. If you are looking for these canisters of Quaker Oats with special winter graphics on them, they are available at your neighborhood Target, for a limited time only; please click >HERE< for a special coupon. I love rolled oats and eat them in the form of cookies, pancakes, bars and bowls at pretty much every meal and I figured if I failed again, I could just use the result of my attempt as breakfast or a snack or dessert over the next week (or couple of days as concoctions with whole grain oats usually don't last long in our house). I changed up my previous processes of going about making a yule log in addition to changing up the ingredients. I changed the order of mixing the ingredients; I gave up the idea of using a napkin or towel or even parchment paper to roll the cake and trap in moisture; and I changed my filling; and, what do you know, the result was actually a believable Yule Log! #MyOatsCreation Of Course, seeing it was made with rolled oats, we justified our ingestion of it for breakfast over the next couple of days, and finished the last bit off as dessert as my daughter engaged me in a "when YOU were MY age…" discussion about how desserts should NOT be consumed – in hiding – under tables… It's a good thing she is in the middle of finals and won't read this post and find out that under the table wasn't the only place I hid and ate stolen desserts – there was also the bathroom! #CollectiveBias While I have the recipe posted below – I figured the above step by step visual will clarify any confusions that might set in from my directions below so here goes:
1. I beat 5 eggs (yolks and whites) and sugar and vanilla for about 10 minutes till the mixture had almost doubled in quantity.
2. I folded in the salt, oats and cocoa
3. Made sure all ingredients were folded well together
4. Poured into a parchment lined baking tray
5. Baked it for 9 minutes at 375 degrees
6. Took it out of the oven and covered it with aluminum foil immediately
7. Let it sit, covered in foil till it cooled (while it cooled, I made the cashew cream and stuck it in the fridge to firm up some)
8. Using plastic wrap, I flipped the cake over, when completely cooled, and
9. I brushed each side with 2-3 tablespoons of strong black coffee
10. I piled on the cashew cream
11. Spread it around thickly (about 1/4 inch thick)
12. Rolled up the Yule Log gently using plastic wrap (I should have made sure the first roll was less straight -resulting in the straight line of cake in the log- and more curved over)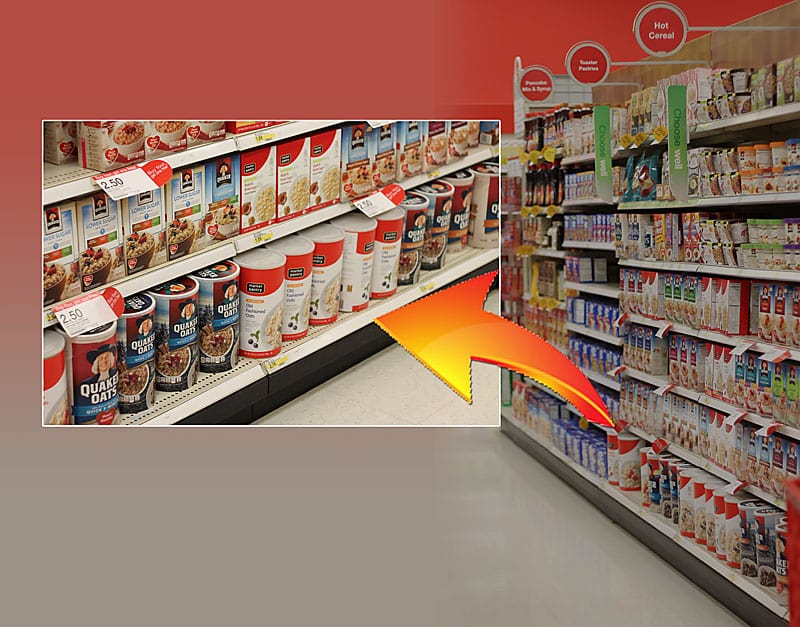 13. Using more plastic wrap, I wrapped the Log securely and placed it in the fridge for about 2 hours