Made with saffron, rose water, and cardamom, this creamy, comforting, and easy oat pudding is an ever-so-slightly adapted version of the one from The Plant-Based India Cookbook by Dr. Sheil Shukla.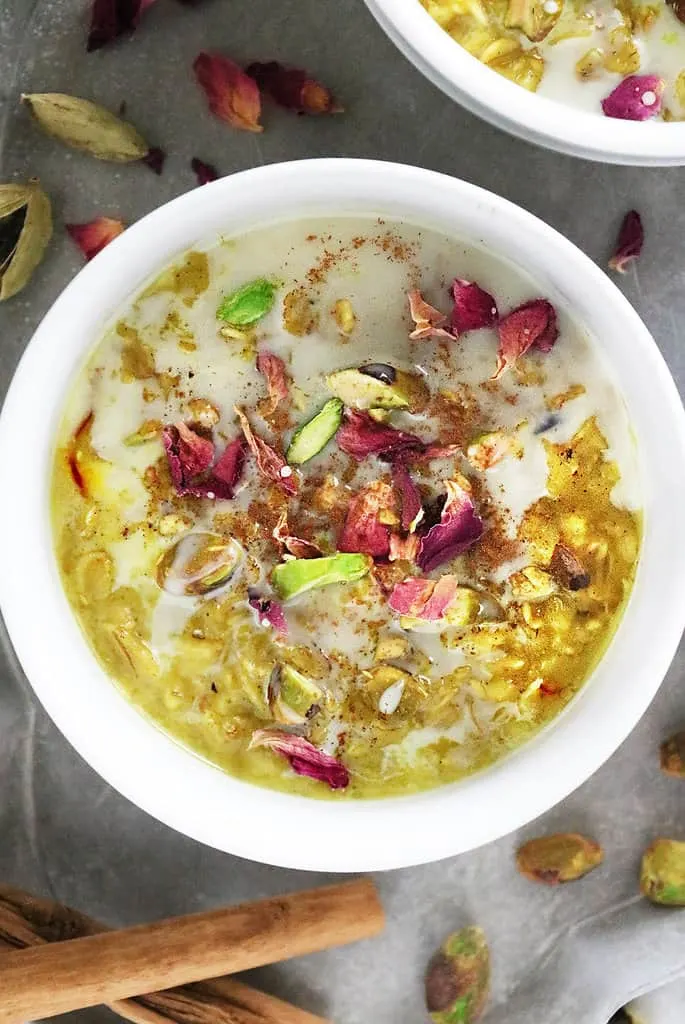 In this Oat Pudding, old-fashioned rolled oats are cooked in coconut milk that is flavored with maple syrup, cardamom, and saffron. Then, it is served sprinkled with rose water, dried rose petals, pistachios, cinnamon, and a bit of condensed milk. The resulting creamy and indulgent treat can be served for breakfast, a snack, as well as dessert!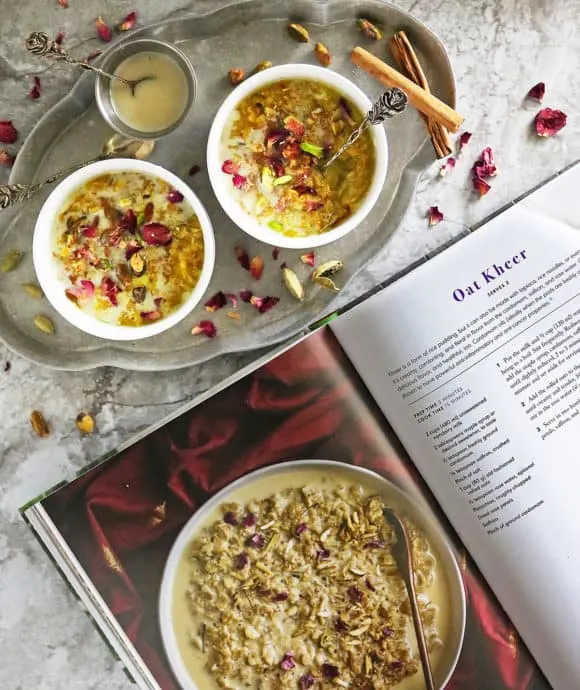 This delicious concoction is a slightly adapted version of the one from The Plant-Based India cookbook by my blogger friend, Sheil Shukla.

Sheil harmoniously unites his passion for food, art, and medicine in the beautiful and delicious creations he shares in his cookbook as well as his blog and social media channels.
I came across this Oat Kheer/Oat pudding in his cookbook and found the flavors and consistency so intriguing, I had to make it.
While I adore oats in everything from pancakes to waffles to risotto to muffin tops to yule logs, I had never had the joy of enjoying oats in a pudding.
What is the difference between Oatmeal and Oat Pudding?
For the most part, oatmeal is made by simmering old-fashioned rolled oats in some milk or water for about 5 minutes.
However, oat pudding is made by simmering old-fashioned rolled oats in milk for 10–15 minutes until the mixture is delightfully creamy. As with oatmeal, the consistency of oat pudding can be adjusted to be thick or thin by varying the amount of milk used.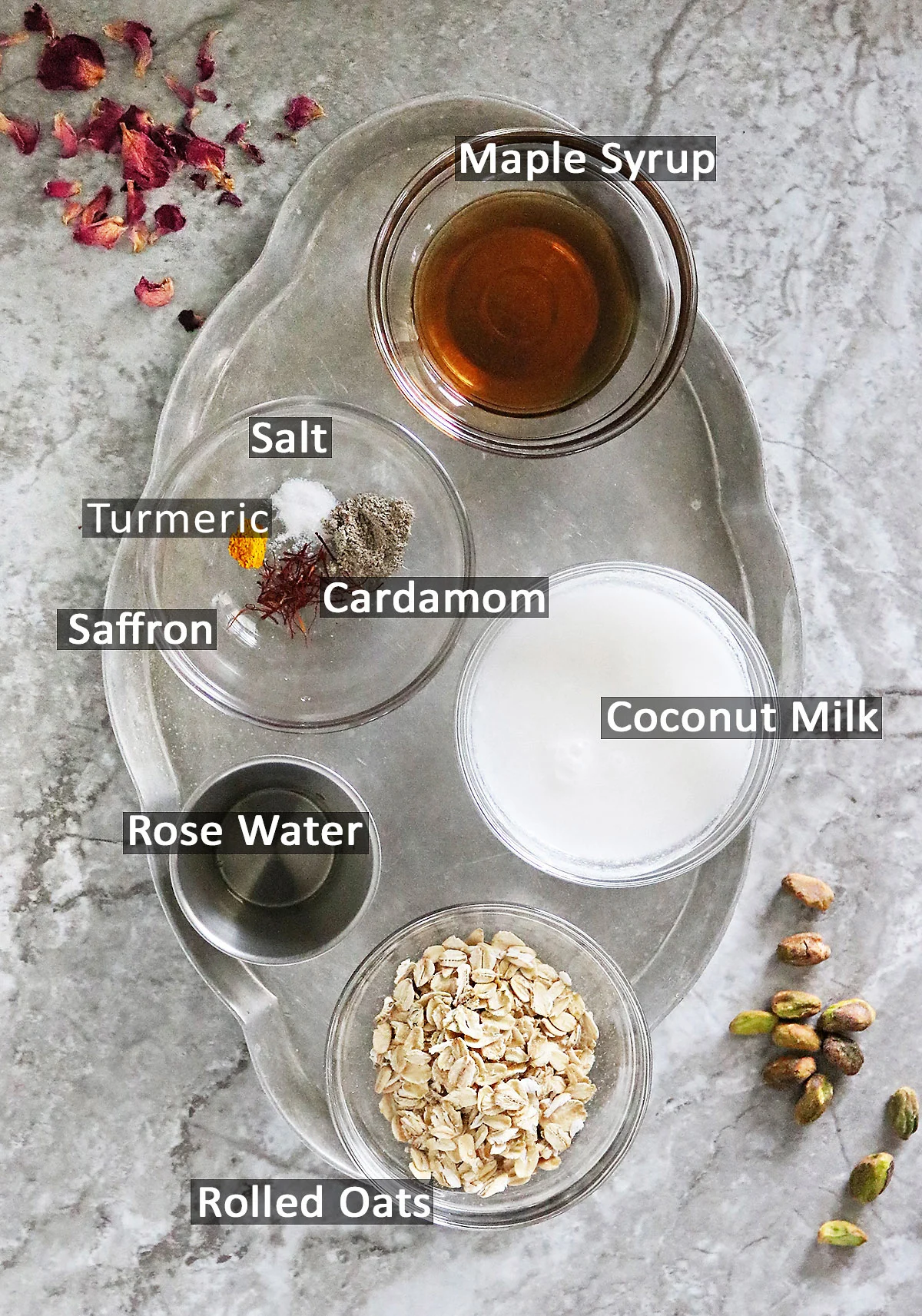 What are the ingredients needed to make this Oat Pudding/Oat Kheer?
There are 7 main ingredients needed to make this oat pudding as well as 4 toppings, and they are:
Main ingredients:
Old-fashioned rolled oats,
Coconut Milk
Maple Syrup
Cardamom,
Saffron,
Turmeric,
Rose Water
And salt to taste.
Toppings:
Dried rose petals
Pistachios
Cinnamon
Condensed milk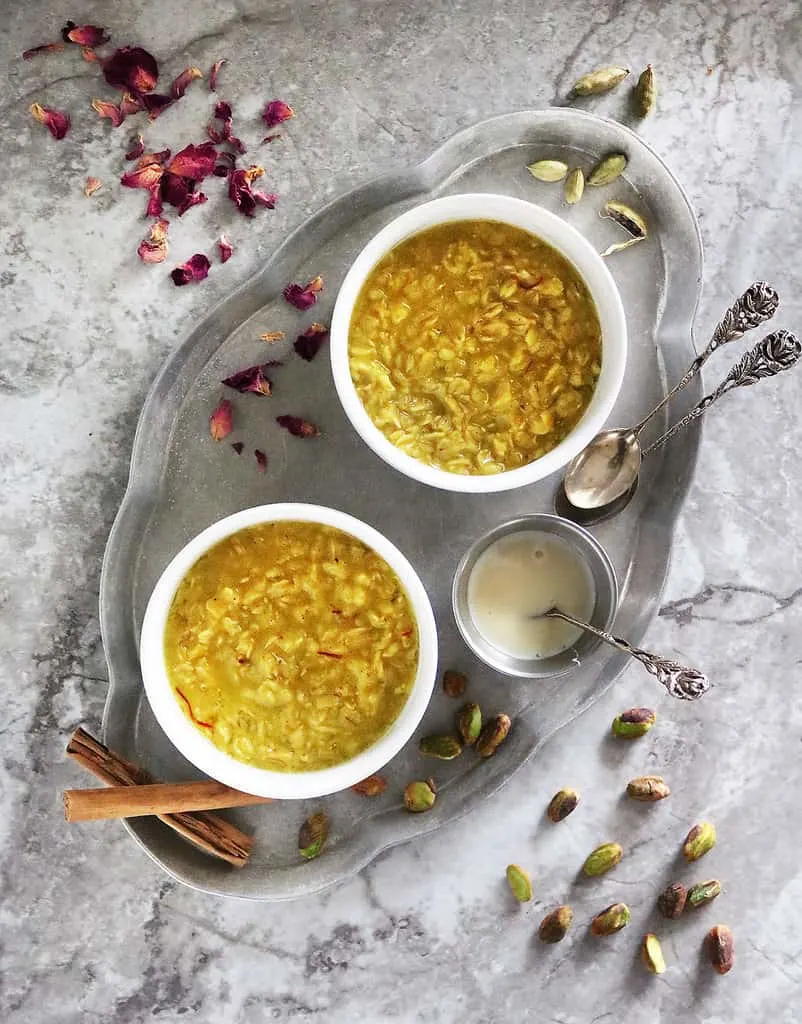 Substitutions:
Coconut milk:
You can use any milk of your choice and do not have to stick to coconut milk.

Maple syrup:
Honey, brown sugar, or even monk fruit sweetener are good stand-ins if you do not have any maple syrup on hand.

Saffron:
While saffron is pricey, it adds such a subtle flavor and delightful aroma to this dish. I usually pick up a small jar of saffron when I am at Trader Joe's. The one at TJs is quite budget-friendly.

Turmeric:
While this is not in the original recipe from the cookbook, I like adding it in for color and a nutrition boost.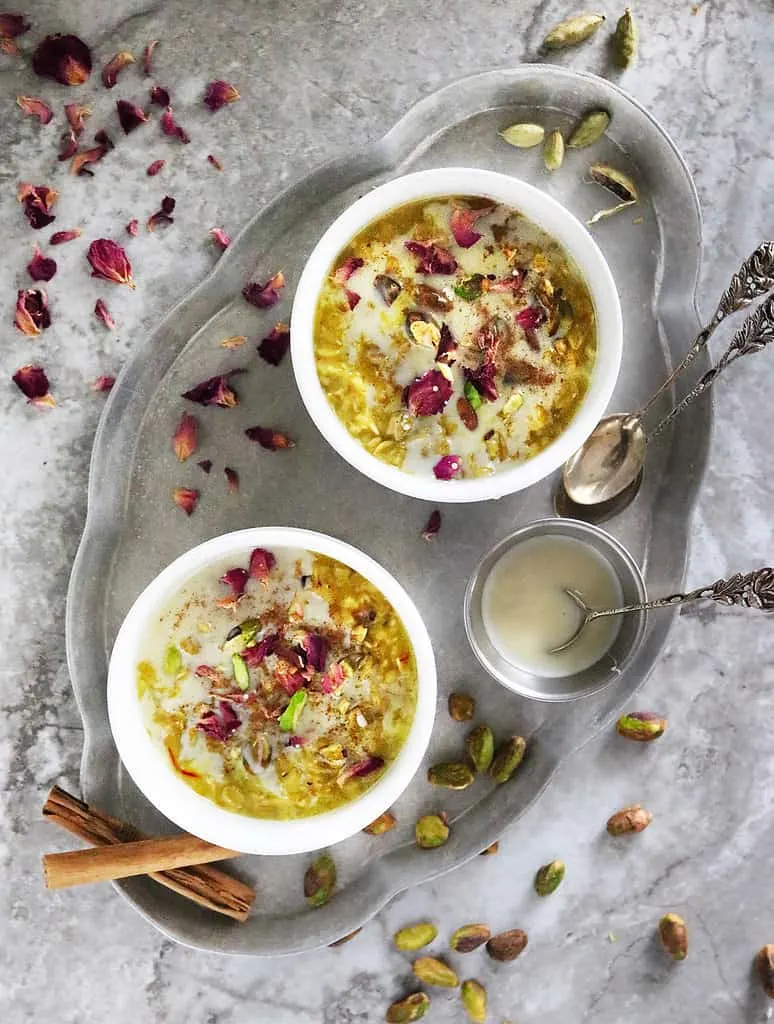 Rose water:
I get rose water from a little South Asian store called Cherians here in the Atlanta area. You can also find it on Amazon. While it adds a delightful aroma, you could easily leave it out and use a 1/2 teaspoon of pure vanilla extract and a quarter teaspoon of almond extract instead.
Dried Rose Petals: These are totally optional and can be left out entirely.

Pistachios:
I added pistachios as a topping, as they are one of my favorite nuts. If you happen to have slivered almonds or walnuts on hand, they would work just as well.

Condensed Milk:
Condensed milk is my weakness! I add it to tea and slather it on toast! So, could not help adding just a tad to this oat pudding. And, the best part is that now you can even get dairy-free condensed milk!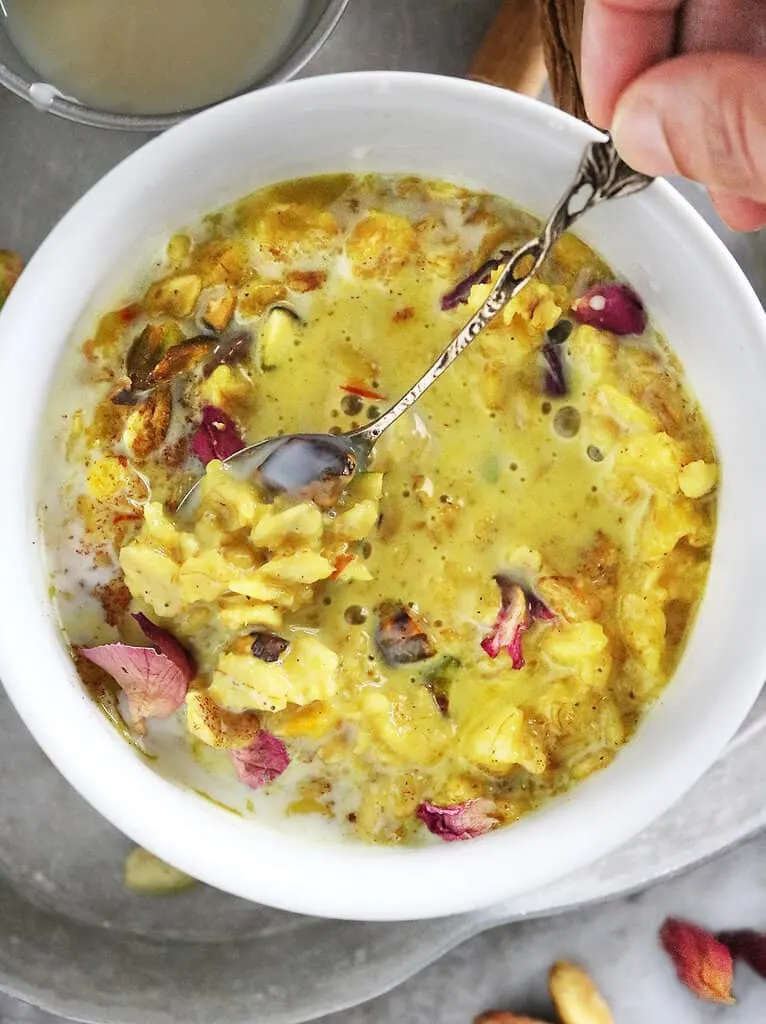 I thoroughly enjoyed this oat pudding.
It was creamy, comforting, and so tasty.
This version of Oat Pudding makes enough for one for breakfast, or (maybe) just enough for 2 for a very light snack or dessert.
If you would like to try the original version of this Oat Pudding, make sure you grab a copy of Plant-Based India and check it out on page 173.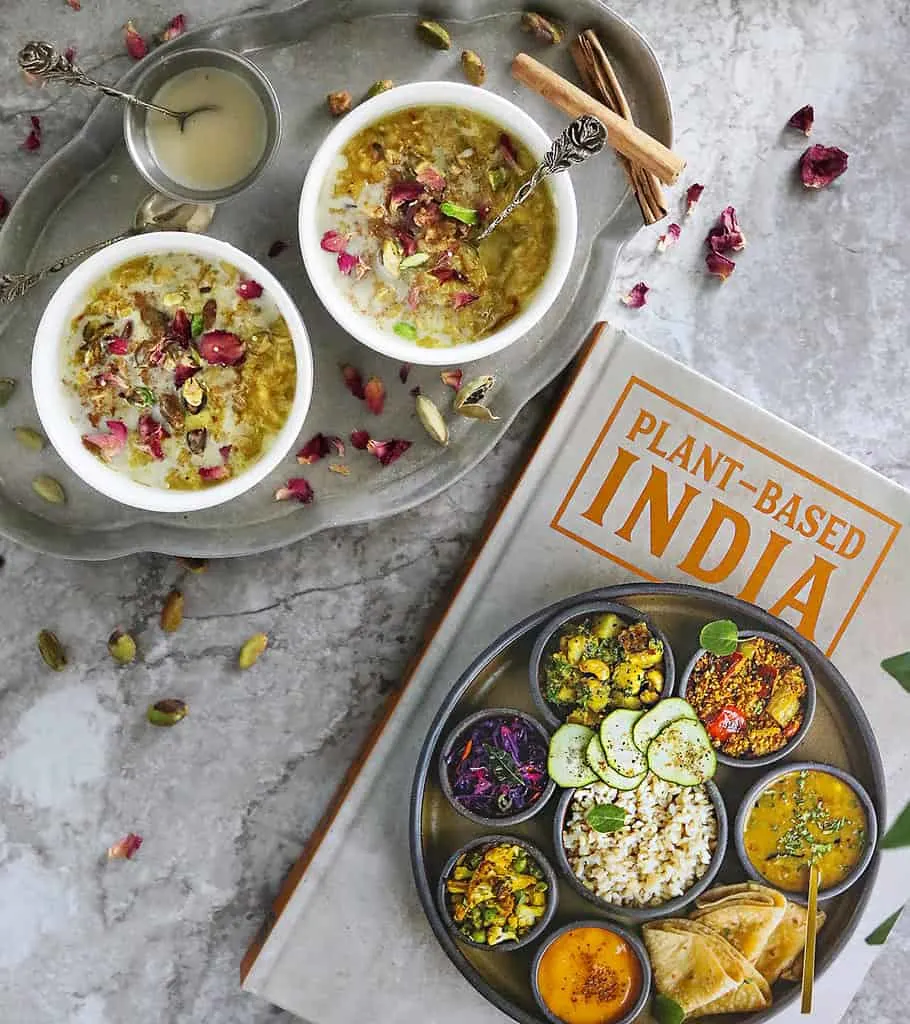 Plant-Based India is filled with so many tasty, nourishing, Indian vegetarian recipes such as Khichadi, Lemon Rice, Masala Chai, and this Oat Kheer or Oat Pudding, to name just a few. If you adore Indian food, as I do, make sure to grab yourself a copy.
Thanks so much for stopping by. If you make this recipe, please let me know in the comments below what you think of it. For more fusion, spice-filled, recipe ideas, please subscribe and follow me on Instagram, Mastodon, and/or Pinterest!