Made with only 8 main ingredients, these gluten-free easy oatmeal nut waffles are a tasty and healthy way to kick-start your weekend!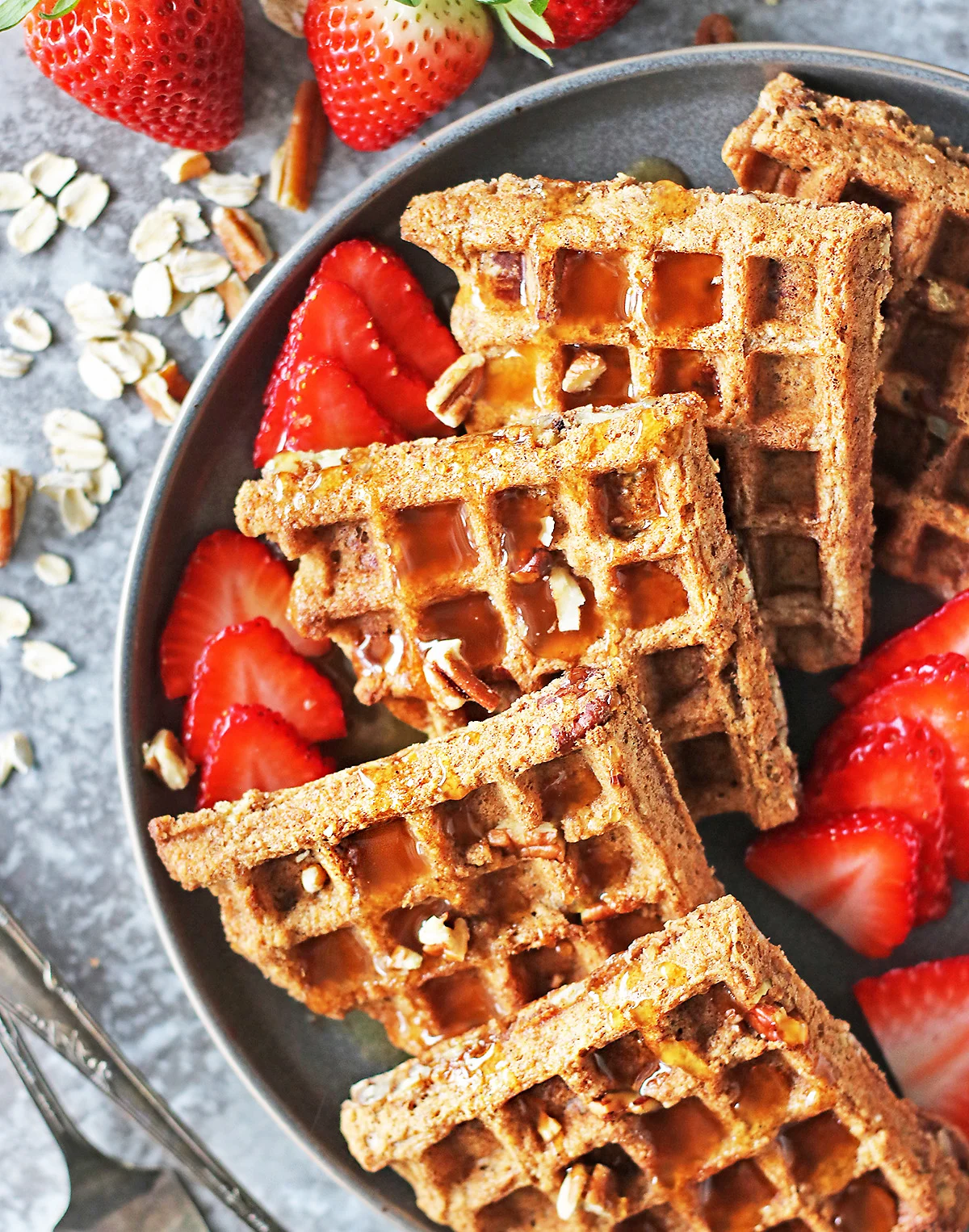 When it comes to breakfast foods, I haven't met one I didn't love. And, these Easy Oatmeal Nut Waffles simply fan that flame.
Deliciously satisfying, these waffles are a good-for-you weekend treat. They are made with just a handful of ingredients that you probably have lying around your home.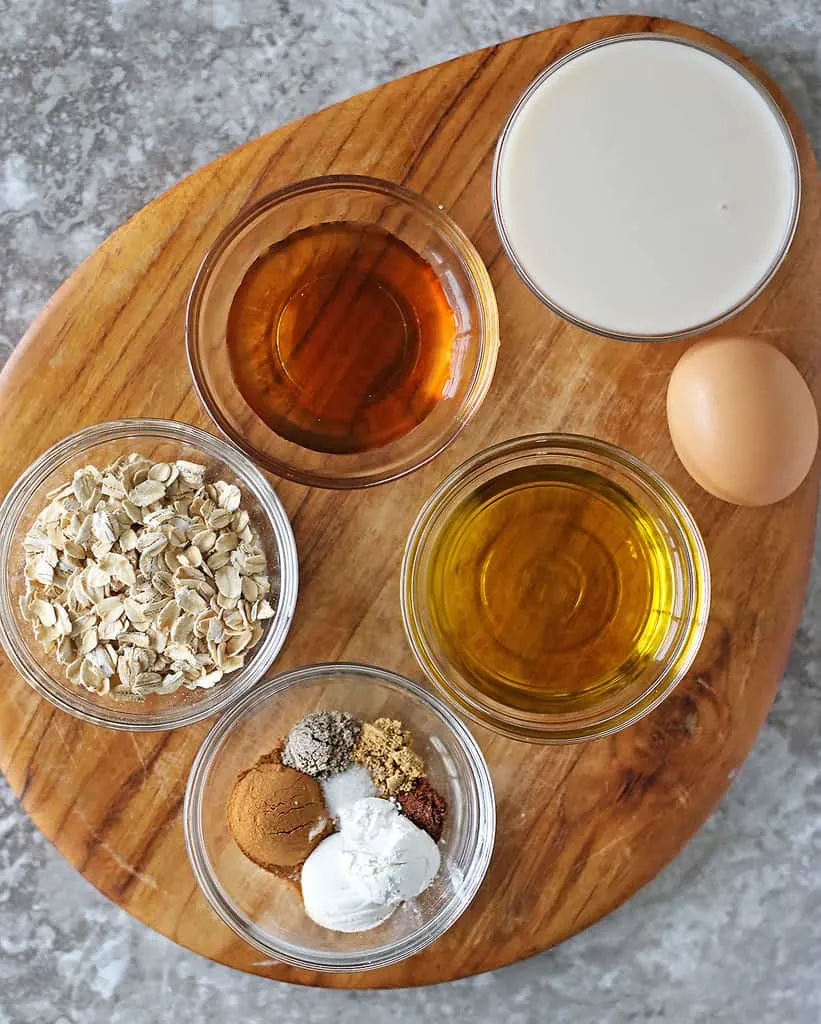 What are the ingredients needed to make these Easy Oatmeal Nut Waffles?
These healthy waffles are made with 8 main ingredients. By main ingredients, I mean those that should not be left out or substituted. There are 3 more ingredients listed in this recipe, 3 spices, that can be left out, if necessary.
The ingredients are:
Rolled oats
Almond Milk
Oil
Maple Syrup
Egg
Baking Powder
Pecans
Cinnamon
Cloves
Cardamom
Ginger
The first eight ingredients on the above list are the ones you do not want to leave out. If you do not have any cloves, cardamom, or ginger, please feel free to leave them out. If you like, you can add in a teaspoon of vanilla extract instead, or just use the first 8 ingredients.
Much like these oatmeal pancakes, these oatmeal nut waffles are completely flourless. They are made with ground-up rolled oats. I usually make my own oat flour by blending rolled oats in my blender. To me, it's a lot more budget-friendly than purchasing a separate bag of oat flour from the store.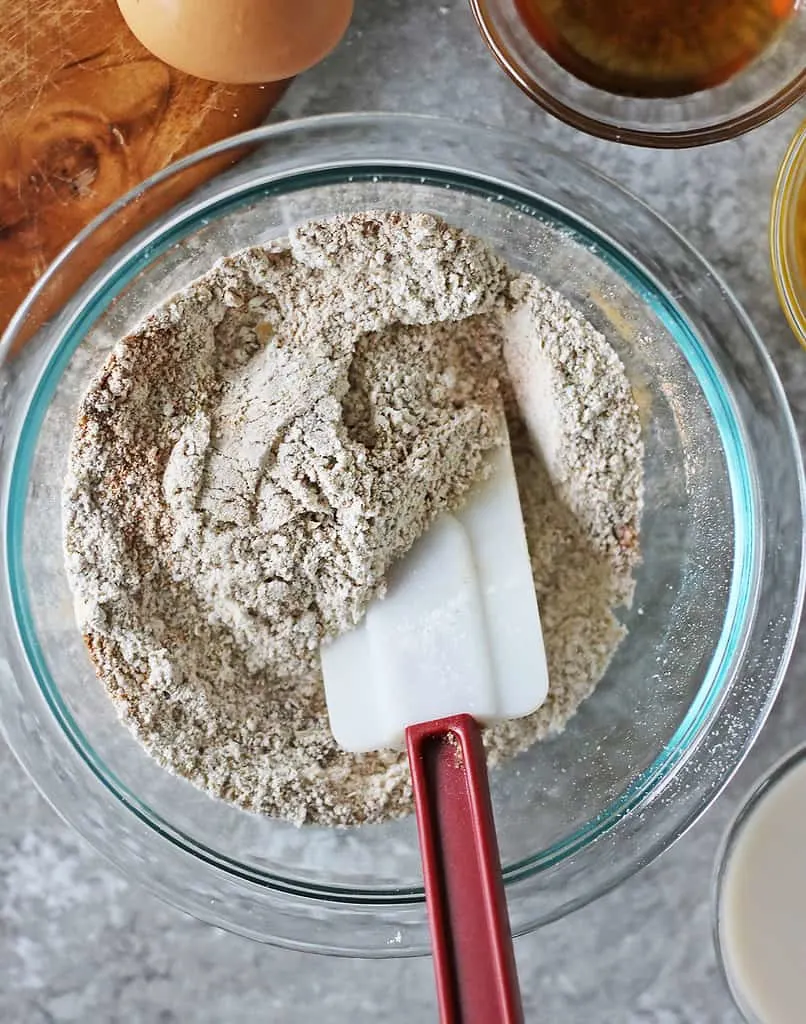 How do you make these oatmeal nut waffles?
First off, you will blend up your rolled oats. Once the rolled oats are a flour-like consistency, you will pour them into a bowl and add in the other dry ingredients, like the baking powder, cinnamon, plus the optional ginger, cardamom, and cloves. Once these are added together, mix them well.

Then, you will add in your wet ingredients – the egg, the almond milk, the maple syrup, the oil, and mix well.

When all the ingredients are mixed well, add in the pecans and fold them into the mixture.

This next step is incredibly important and should not to be skipped. After the waffle batter is ready, let it sit for 5 minutes at least. If you don't the batter will be too runny, and you will have thin, limp, waffles on your hands. However, let the batter sit, and the oats will absorb that liquid, and the resulting waffles will be thicker and more satisfying.

At this point, all that's left is to heat up your waffle iron and add 2-3 large spoonfuls of the batter to your waffle iron. I have an older waffle iron and usually I let it cook for about 2 cycles on high, so the waffles are crisp on the outside and soft on the inside. Now, all waffle irons are not equal, so you might want to cook the batter on what setting works best for you. If your waffles are not crisp enough, you could always place them in the oven at 350 degrees and bake them for about 10 minutes to crisp them up.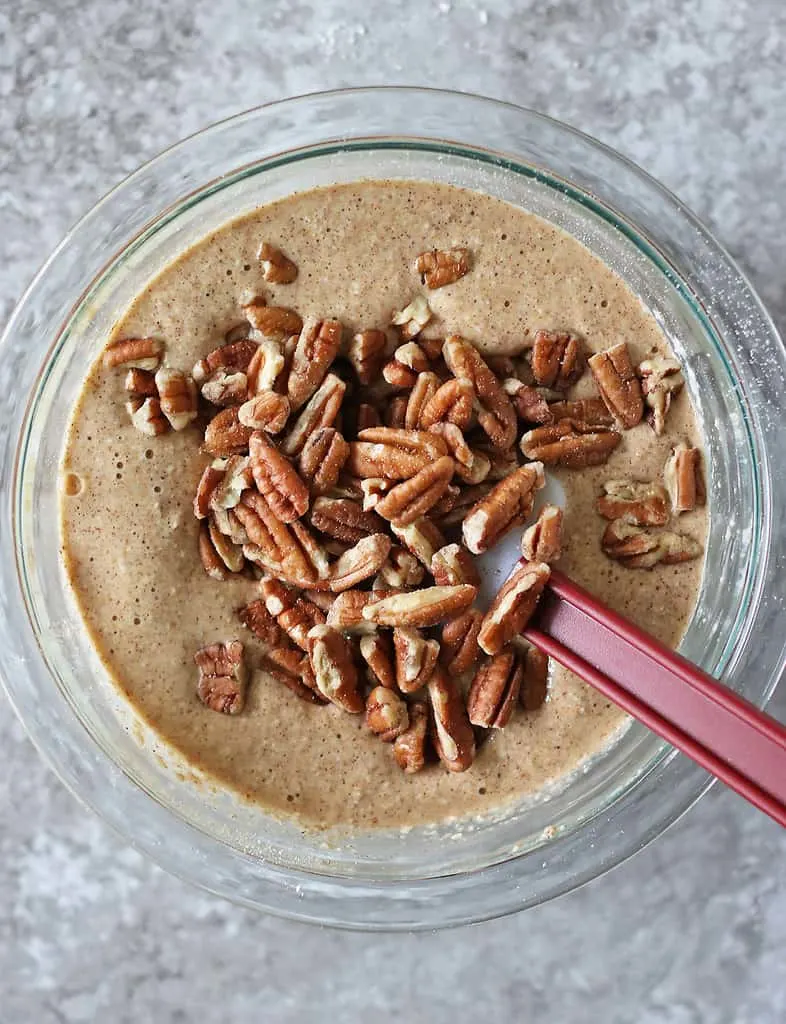 Tips when trying this healthy waffle recipe:
Make sure you use whole rolled oats not quick oats or steel-cut oats when making oat flour at home as there is a big difference in these oats. To find out more, check out this article.

After the waffle batter is ready, let it sit for 5 minutes at least, before you add the batter to a waffle iron. If you skip out on this waiting period, the batter will be too runny.

If your waffles are soft after you cook them on your waffle iron, then you can set them on a baking sheet and place them in an oven that has been preheated to 350 degrees for 10 minutes or so, to crisp them up.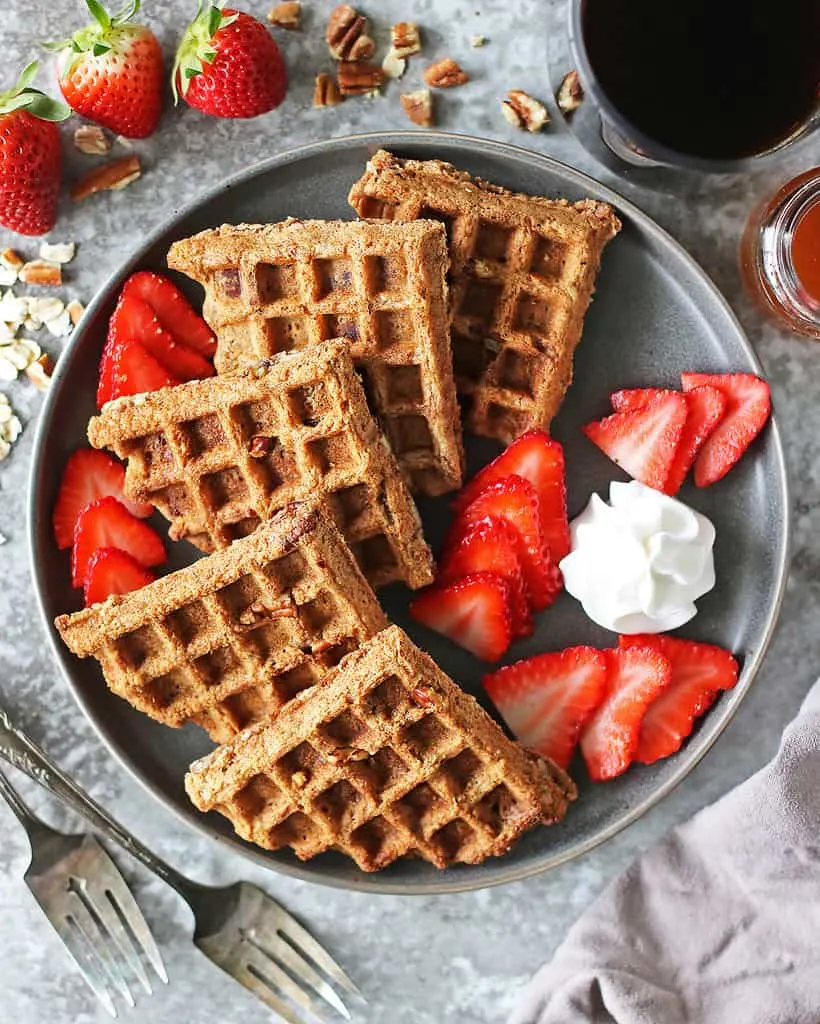 These easy oatmeal nut waffles are incredibly satisfying and filling. This Saturday morning, why not get your kids involved and whip a batch of these to enjoy for a leisurely breakfast. Or, meal prep a batch of these to enjoy during the week.
If choosing the latter option, you can store these in airtight containers in your fridge for up to 5 days. These waffles can also be frozen. When ready, thaw them out at room temperature and then place in a toaster or oven and bake at 350 degrees Fahrenheit for 10-15 minutes, or until crisp.