Made with frozen puff pastry, these Easy Bell Pepper Puffs are a delightful holiday (or anytime) appetizer. If you love bell peppers, then you are going to love these appetizers. They are made by sautéing bell peppers with jalapeños, ginger, garlic, onions, and an aromatic blend of spices which are stuffed into crispy puff pastry.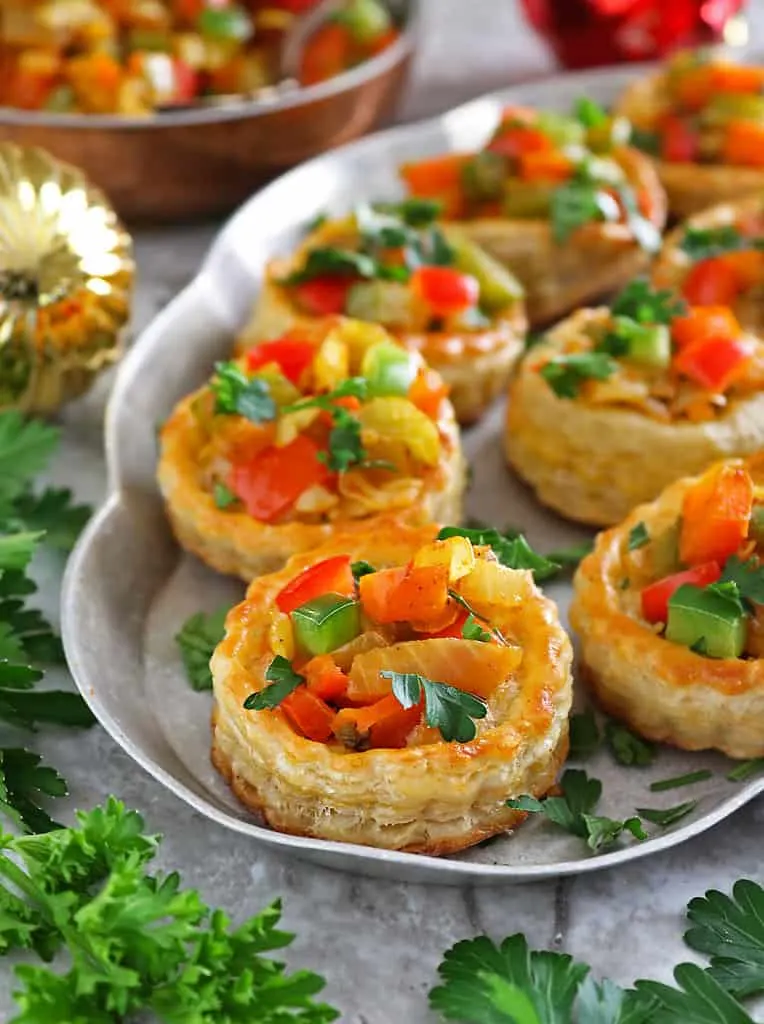 I have come to revel in the joy of Puff pastry, also known as pâte feuilletée. It seems to have magical properties to elevate the taste of the ingredients it is paired with.
These Easy Bell Pepper Puffs are a prime example.
The bell pepper filling/topping is a simple sauté of onions, ginger, garlic, bell peppers, jalapeño, cabbage, and spices such as coriander, turmeric, and smoked paprika. When this simple sauté is placed atop small puff pastry baskets, the result is a truly delicious concoction.
I have made puff pastry from scratch, a handful of times, using this recipe by Paul Hollywood. However, most times, I use store-bought puff pastry, like I did when I made these Bell Pepper Puffs.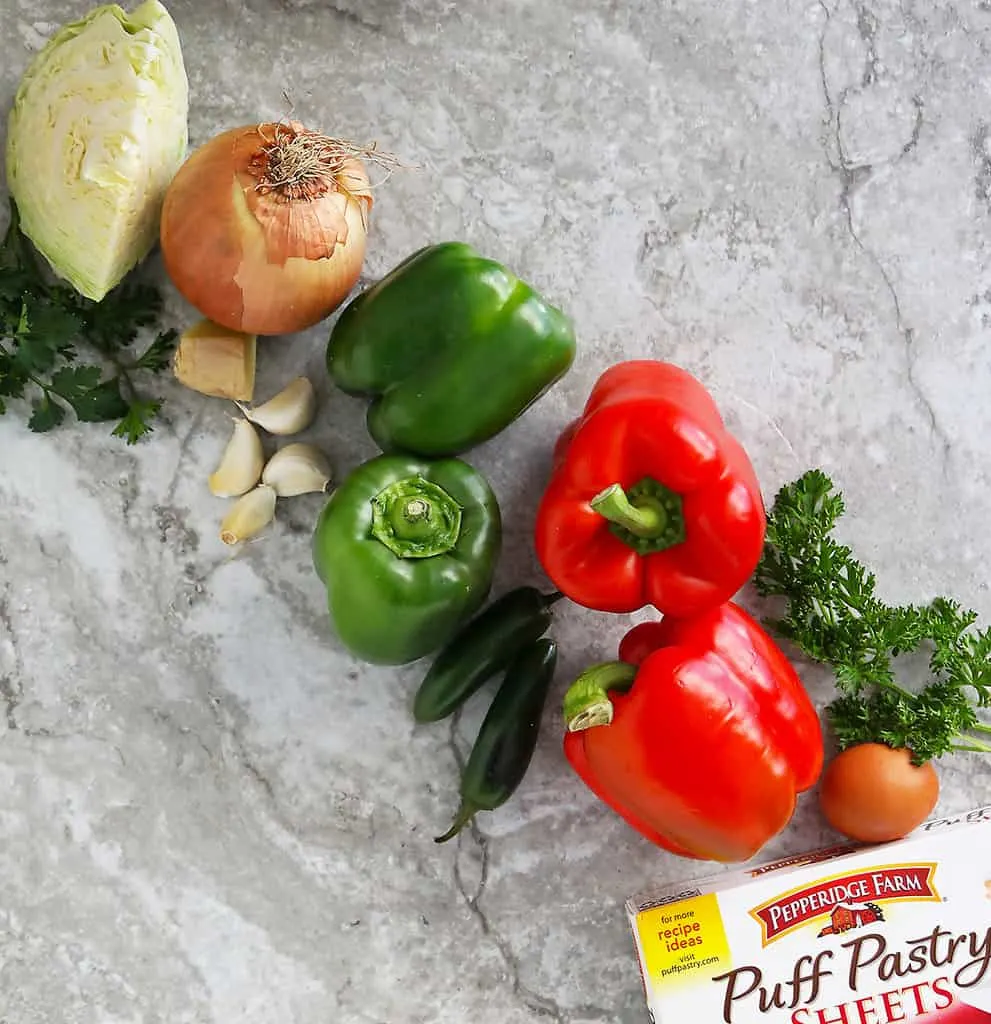 What are the ingredients needed to make these Easy Bell Pepper Puffs?
You will need the following ingredients:
Bell Peppers
I used a couple of red bell peppers and green bell peppers to channel the colors of Christmas. Speaking of the colors of Christmas, if you happen to wonder how red and green came to have won those spots, my friend, David, wrote this post that is an engaging read.

Onion
Fresh onion is best for this recipe. If you do not want to peel an onion and chop it up, you can purchase the peeled and cut onion sold in containers in the produce section of most grocery stores.

Ginger
As with the onion, fresh ginger works best in this recipe too. And, you should be able to find peeled and chopped ginger in most grocery stores.

Garlic
Fresh garlic is a must for this recipe. The holy trinity of most Sri Lankan recipes are onion, ginger, and garlic. This combination is believed to not only be a delicious base but have health benefits as well.

Jalapeño
I used 2 jalapeños in this recipe – seeds and all. However, if you prefer a more mild sauté, use less, or remove the seeds and use both. You could also opt to leave them out entirely.

Cabbage
I used a small wedge of cabbage I had in the fridge. You can substitute the cabbage for a yellow potato if you wish.

Coriander
Powdered coriander can be found at most grocery stores, or you can get some from Amazon. You do not need to use coriander or any of the next two spices in this recipe. This sauté is quite flavorful with onion, ginger, and garlic. I am just extra and like to add as much flavor to a dish as I can.

Smoked paprika
You can find smoked paprika in most grocery stores. But, as I mentioned in the paragraph above, it is an optional ingredient in this recipe.

Turmeric
While I used powdered turmeric in this recipe, you can also use fresh turmeric. The ratio of substituting fresh turmeric for powdered is 0.5: 1. But, as I mentioned above, turmeric is not a necessity for this recipe.

Egg
I used the egg to make an egg wash for the puff pastry.

Puff pastry
I used Pepperidge Farm puff pastry sheets, which you can find in the frozen section of most grocery stores.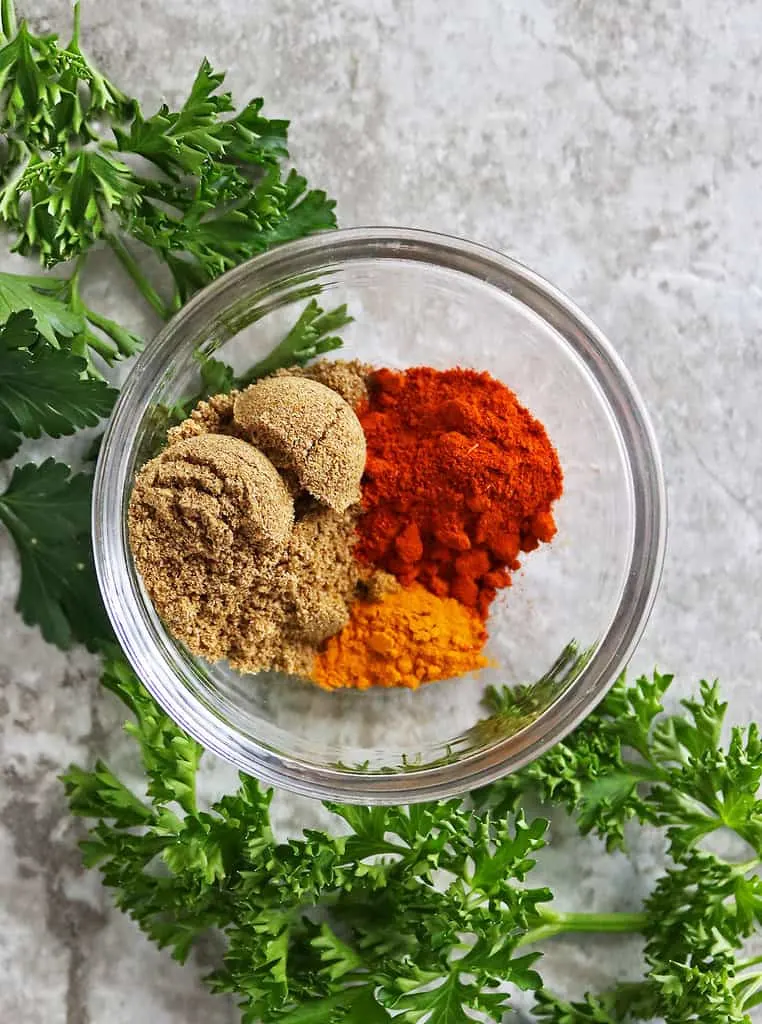 I usually buy puff pastry sheets and keep them on hand, so I can use the sheets to make a tart, stuffed puffs, or even fancy little baskets. Usually, making the baskets involve several steps and a couple of cookie-cutter molds.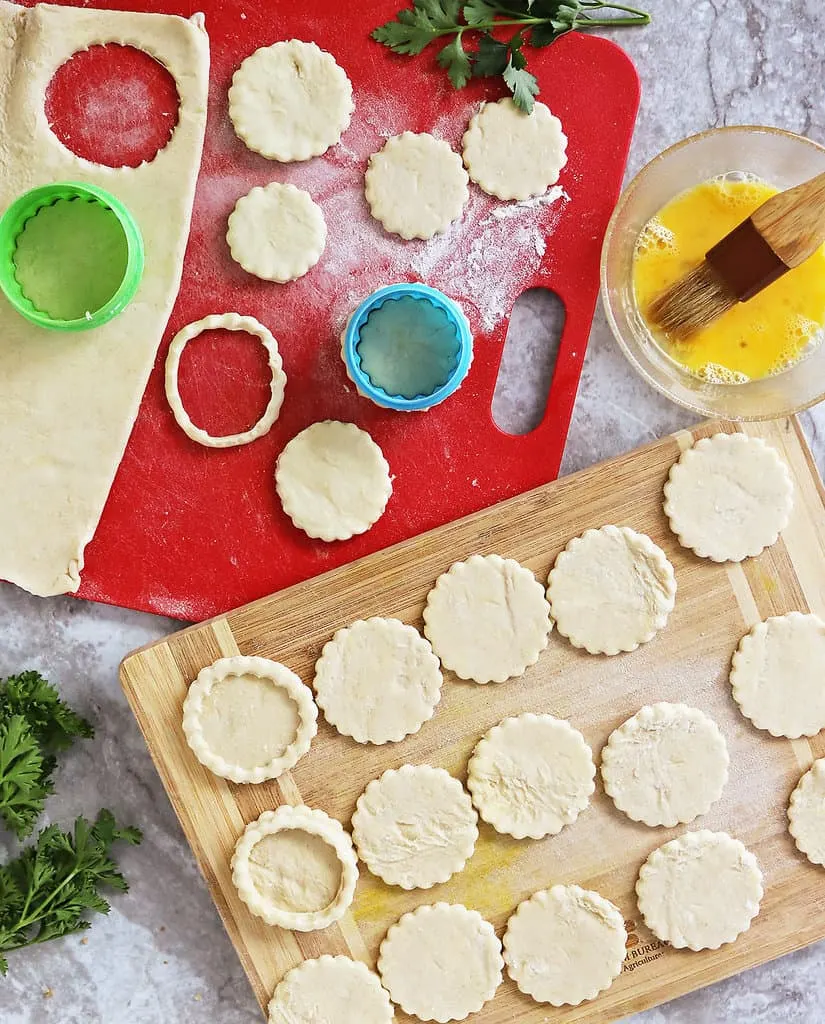 However, Pepperidge Farm also sells these puff pastry shells, which you can simply bake (according to package instructions) and stuff with a filling like this tasty bell pepper sauté.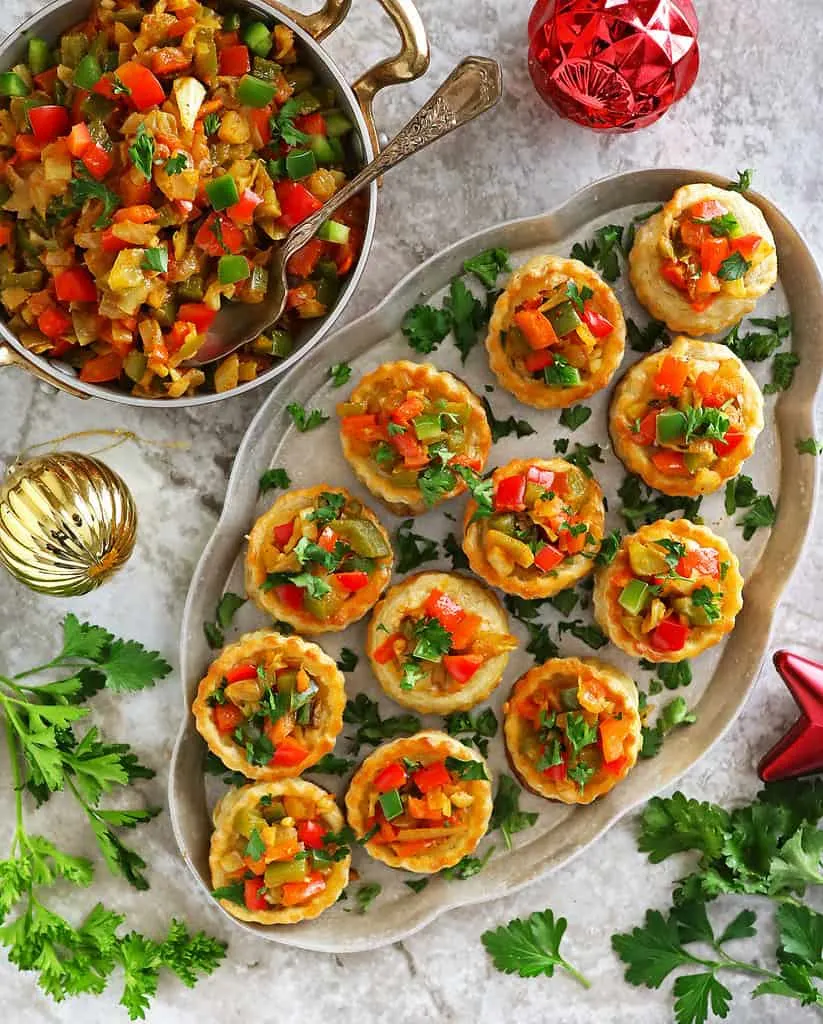 Christmas is just around the corner, so if you happen to celebrate it, these little Easy Bell Pepper Puffs are such a tasty addition to your holiday appetizer menu. I know I will be making at least one batch of these Bell Pepper Puffs next weekend.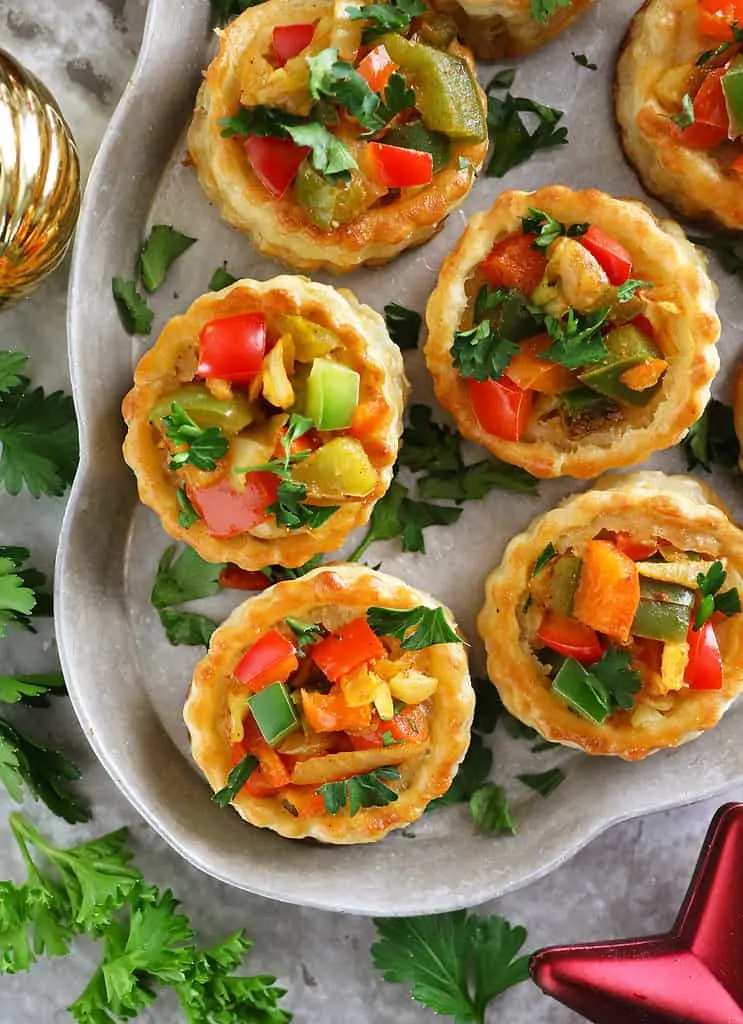 Thanks so much for stopping by. If you make this recipe, please let me know in the comments below what you think of it. For more fusion, spice-filled, recipe ideas, please subscribe and follow me on Instagram and Pinterest!