If you plan to serve up black-eyed peas and greens on New Year's Day, why not enjoy them in these fun and tasty Black Eyed Peas And Greens Puff Pastry Baskets?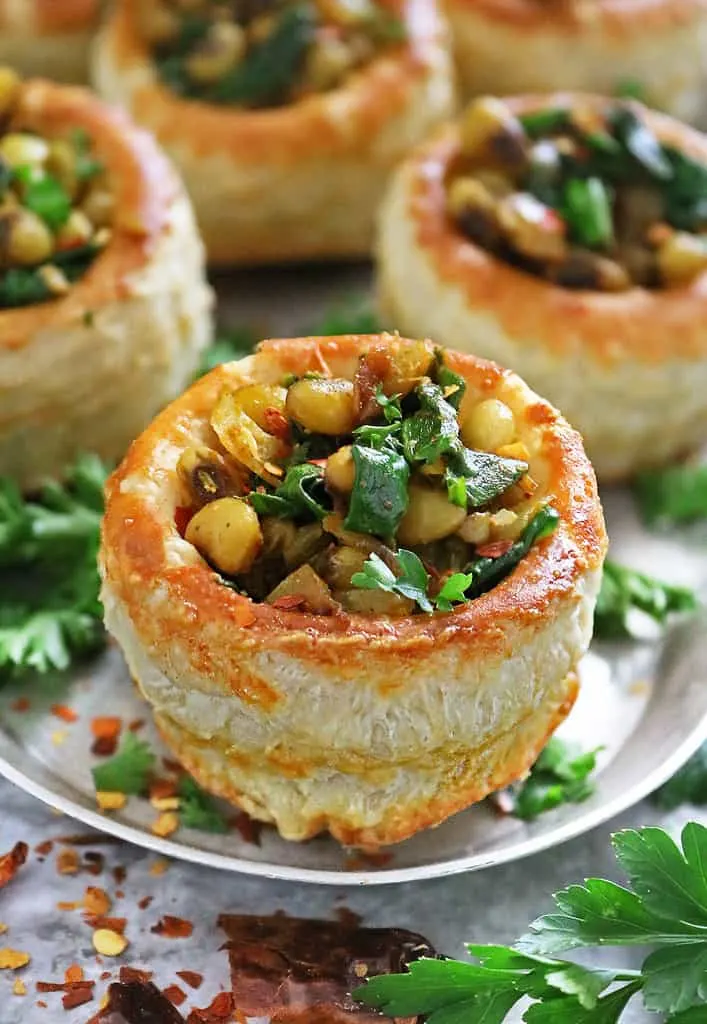 I have lived in the southern part of the US longer than I have lived anywhere else. And, the southern tradition of enjoying black-eyed peas and greens on New Year's Day is the inspiration behind today's recipe.
In fact, over the past 6 years, I have been trying to come up with fun and tasty alternatives to enjoying black-eyed peas and greens. I have made everything from croquettes to curries to stuffed buns featuring these ingredients that are said to bring good luck and prosperity in the New Year.
I like to think I do not believe in superstitions. But, here I am writing this and contemplating eating as many concoctions of black-eyed peas and greens as will fit into my belly because earlier this month I broke a mirror!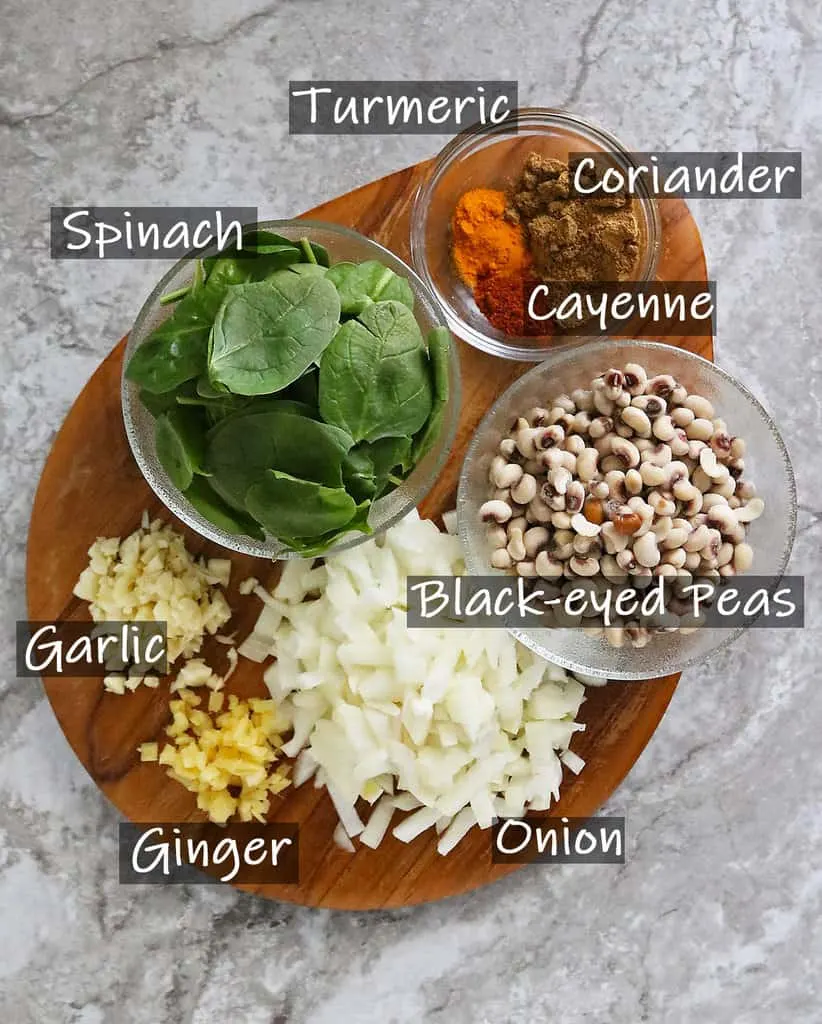 What are the ingredients needed to make these Black Eyed Peas And Greens Puff Pastry Baskets?
You will need the following 9 ingredients (of which 1 is optional) to make these appetizers:
Puff pastry Sheets or puff pastry baskets
I often have puff pastry sheets on hand and go through the rather tiresome process of making little baskets with the sheets. But, you can save yourself a boatload of time and hassle by simply purchasing the pre-made puff pastry baskets from the frozen section of your grocery store.

Onion
For this recipe, fresh onion is a must. If you are not a fan of peeling and chopping, you can use the onion that's peeled and chopped up and sold in jars in the produce section of most grocery stores.

Garlic
As with the onion, fresh garlic is a must in this recipe.

Ginger
As with the onion and garlic, fresh ginger adds the perfect hint of flavor to this dish and should be used instead of ground ginger.

Black-eyed peas
I had a bag of frozen black-eyed peas in the freezer and used some of them for this recipe.

Spinach
I prefer spinach, so used some fresh spinach as the "greens" in this recipe. If you prefer, you can sub kale or greens you prefer, instead.

Coriander
Ground coriander added so much flavor to this and can be found at most grocery stores or Amazon.

Turmeric
I used ground turmeric in this recipe. With ground turmeric, a little can go a long way.

Cayenne (optional)
I added in some cayenne for a bit of heat. But, it is completely optional. If you prefer the filling to be a bit mild, leave out the cayenne completely.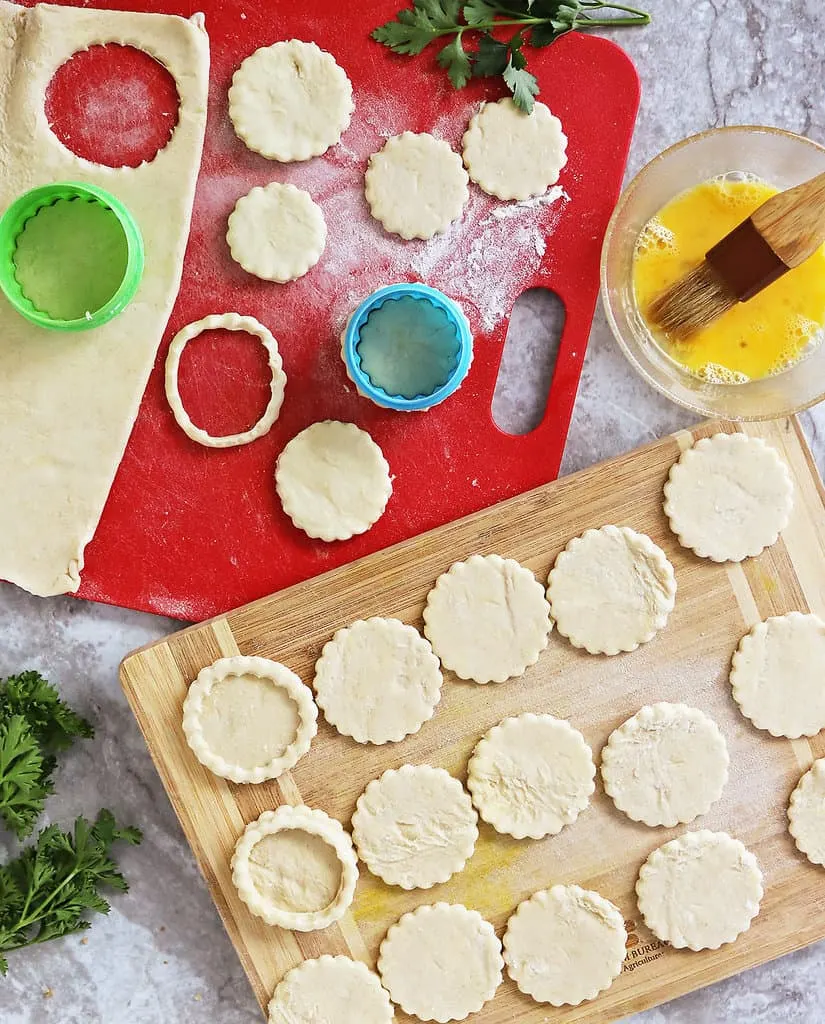 The filling alone is so tasty. It is so tasty that there has been many a time when I have enjoyed a bowl of it for dinner, along with a boiled egg or two.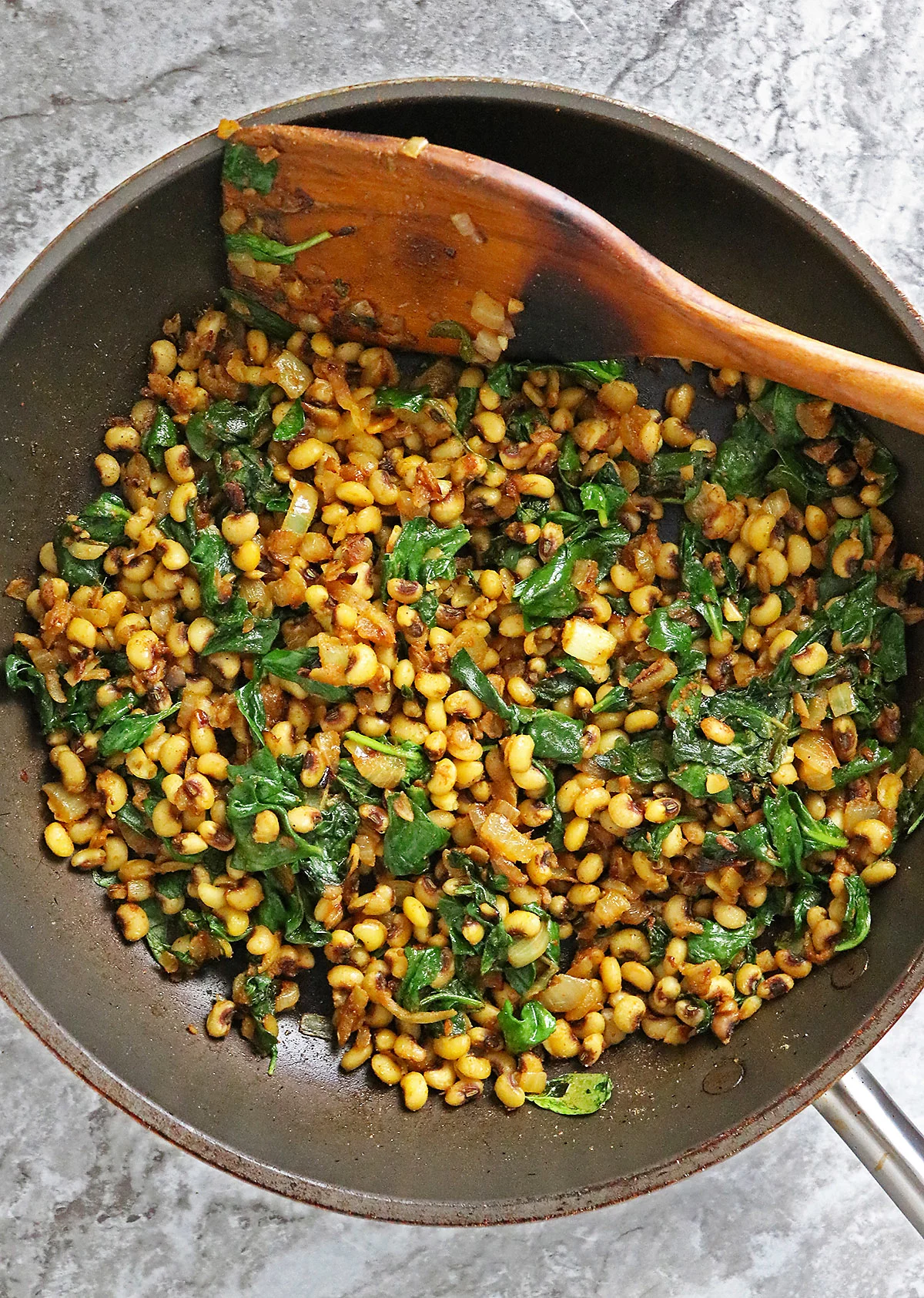 However, adding the filling into little puff pastry baskets or phyllo shells makes it an appetizer that is sure to be a tasty and unique conversation starter!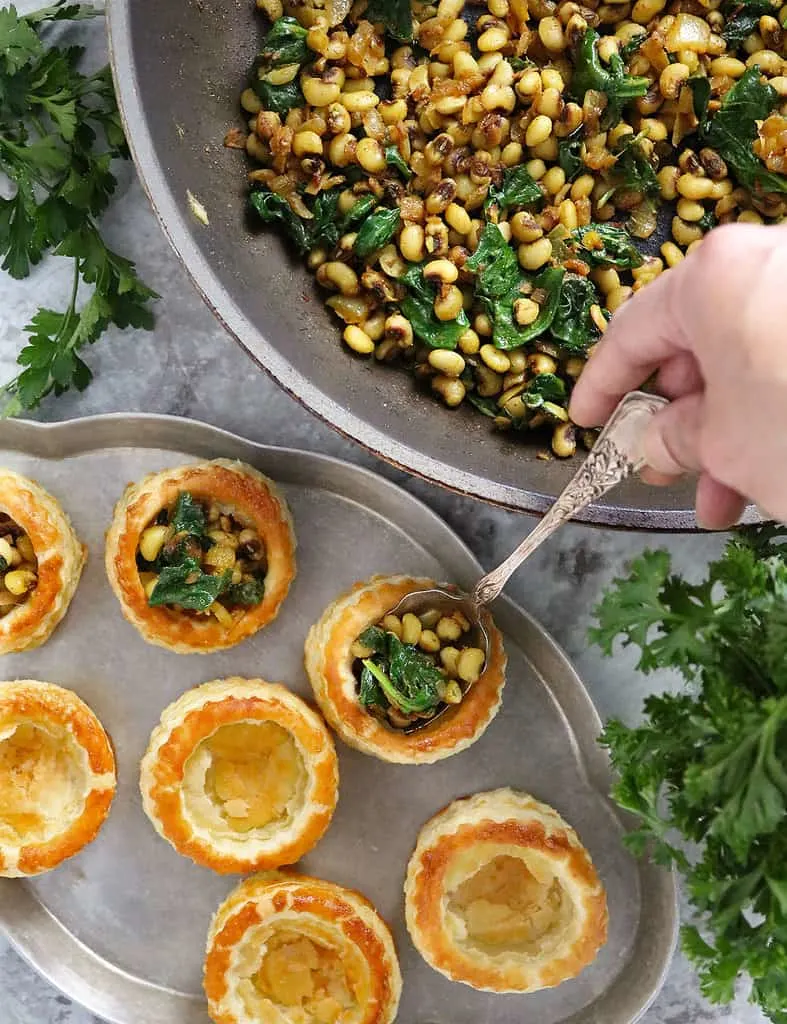 So, let's talk about these Black Eyed Peas And Greens Puff Pastry Baskets…
These are perfect to serve up as appetizers at a New Year's Eve or New Year's Day Party,
They can be made in about 20 minutes if you purchase pre-made puff pastry baskets,
They are so tasty,
They are portable – and require no utensils to enjoy,
And, they are a unique way to incorporate a southern tradition into your New Year's Day!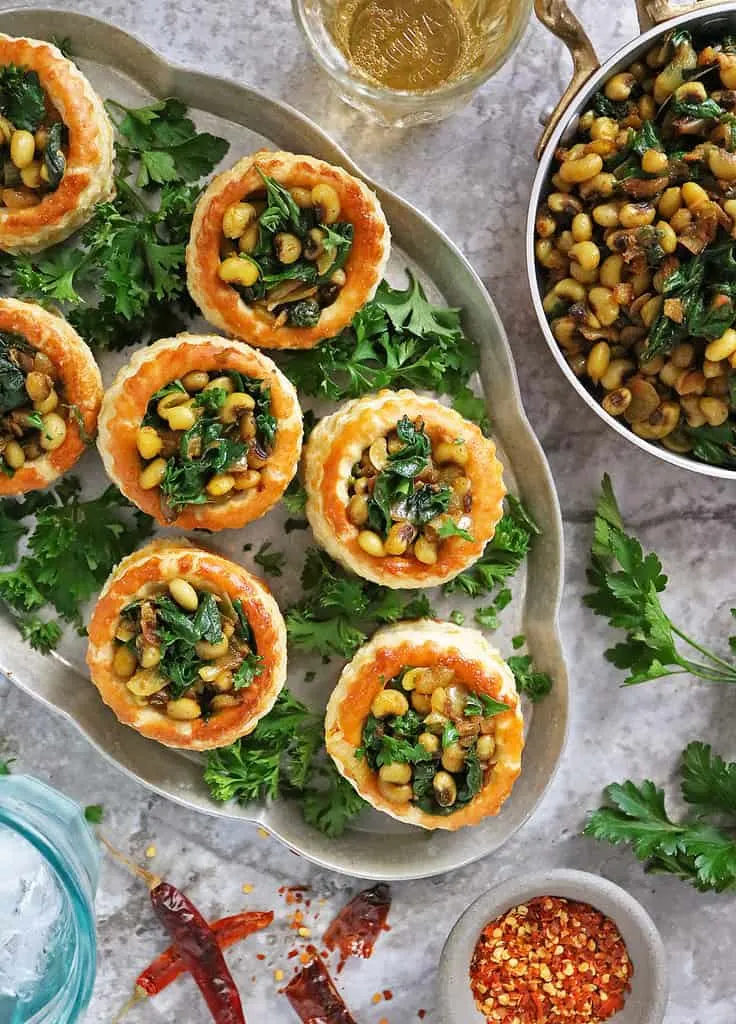 To all of you that have visited my little corner of the interwebs, thank you so very much! Here's to hoping 2023 is simply fantabulous for you! In the meantime, if you are looking for some fun and unique ways to enjoy black-eyed peas and greens, check out the list below:
Thanks so much for stopping by. If you make this recipe, please let me know in the comments below what you think of it. For more fusion, spice-filled, recipe ideas, please subscribe and follow me on Instagram and Pinterest!