Flavored with ginger and garlic, this Brussels Sprouts Kale Sauté with Cranberries & Walnuts is a nutritious addition to your holiday table.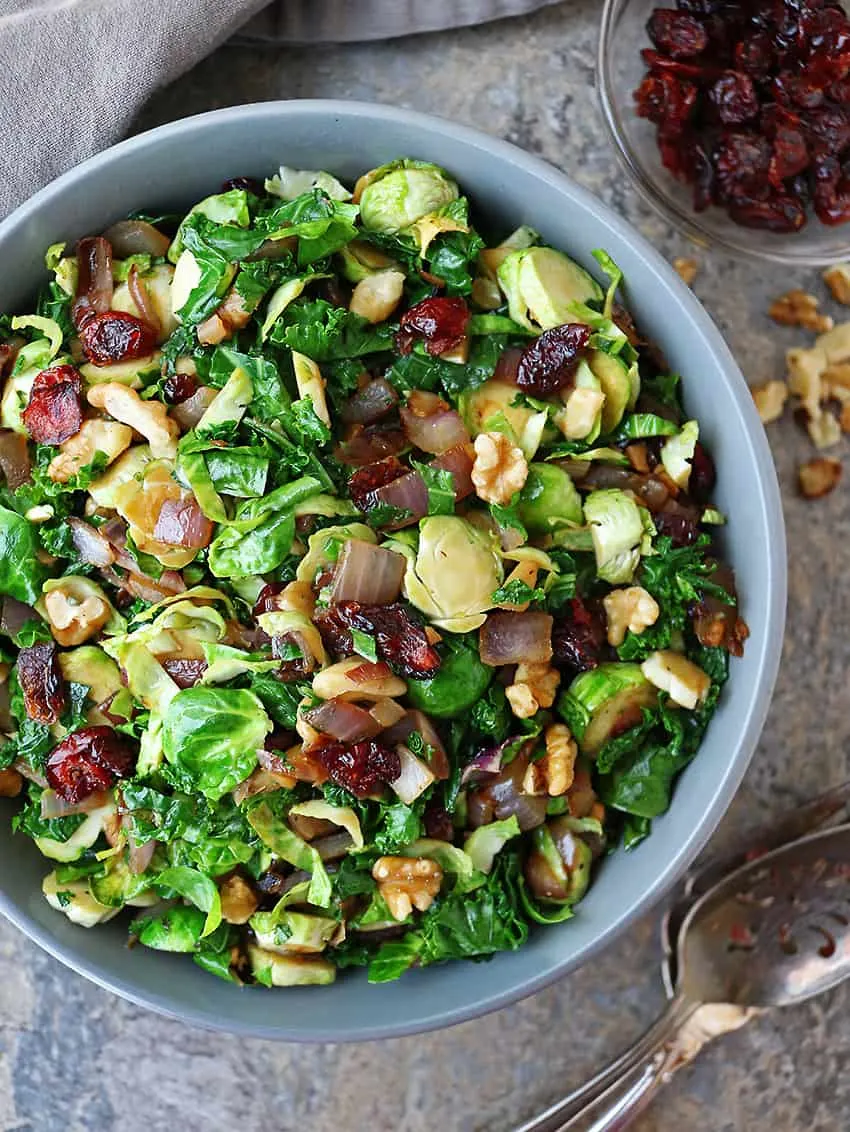 With just a few ingredients, you can have a delicious sautéed salad that is packed with flavors and textures, on your holiday table in no time.
What are the ingredients needed to make this Brussels Sprouts Kale Sauté with Cranberries and walnuts?
You will need:
Oil
Red onion
Garlic
Ginger
Kale
Brussels Sprouts
Dried cranberries
---
Like a lot of y'all, one of our Christmas traditions is decorating a gingerbread house.
There are those rare times when we bake up our own gingerbread house – walls and roof and all.
Well, at least I place cut out gingerbread walls, roofs, and doors into the oven. What comes out of the oven has no resemblance to walls, roofs or doors.
This means we use way too much royal icing trying to assemble these discombobulated pieces together ( btw, I'm not saying extra icing is a bad thing )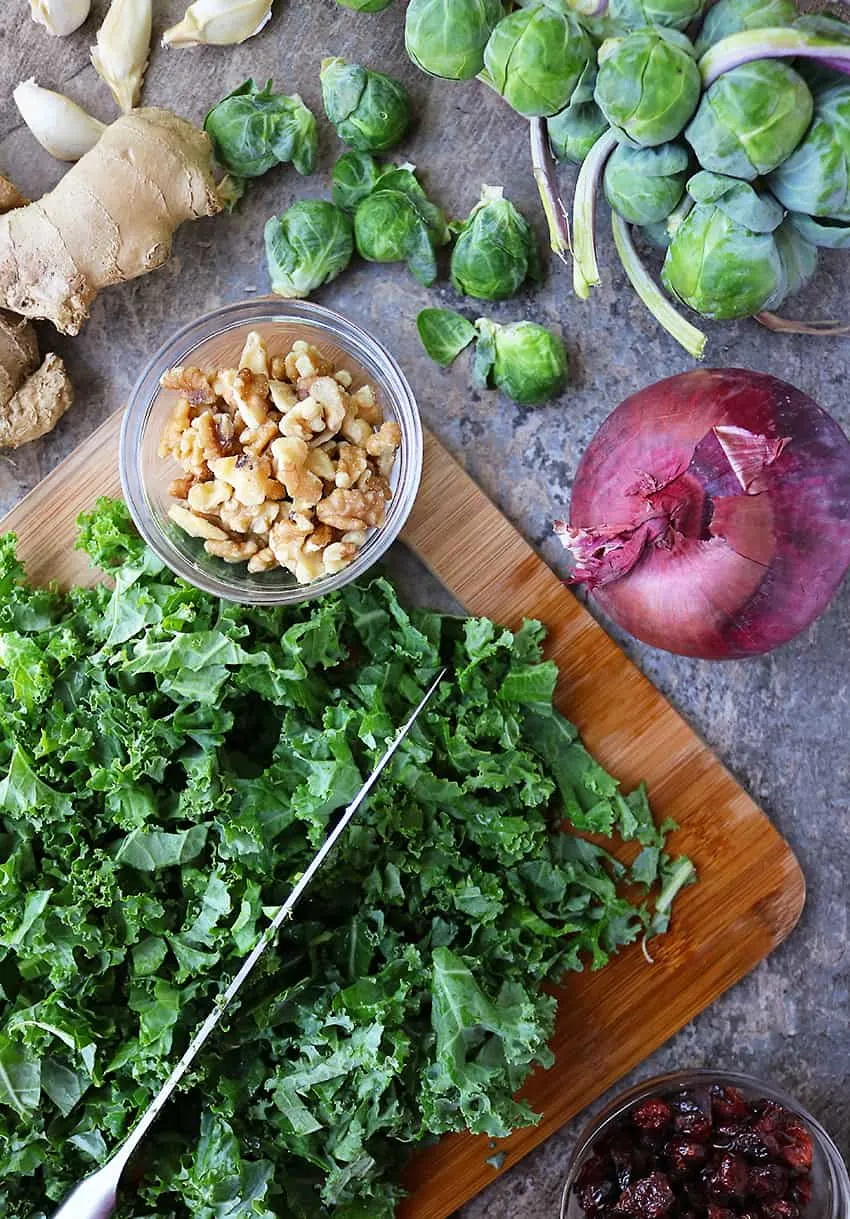 Most times though, we get a store bought gingerbread house with all the extras. With these store bought ones, the walls, roofs and doors fit perfectly. And, they last as a centerpiece a lot longer as neither my daughter or I find them tasty enough to nibble on.
However, this year store bought Christmas house has new meaning for our taste-buds. This year we plan on grabbing an Oreo Holiday Chocolate Cookie House!
Have you seen these yet? Better yet, have you tried one?
If so please do share!
As an Oreo fan – I CANNOT wait!
And, I'm hoping they include extra Oreo creme as Oreo creme to me is like … sun is to grass…
Or, frosting to cake…
Or, cream cheese to cheesecake… yes, I do love my desserts!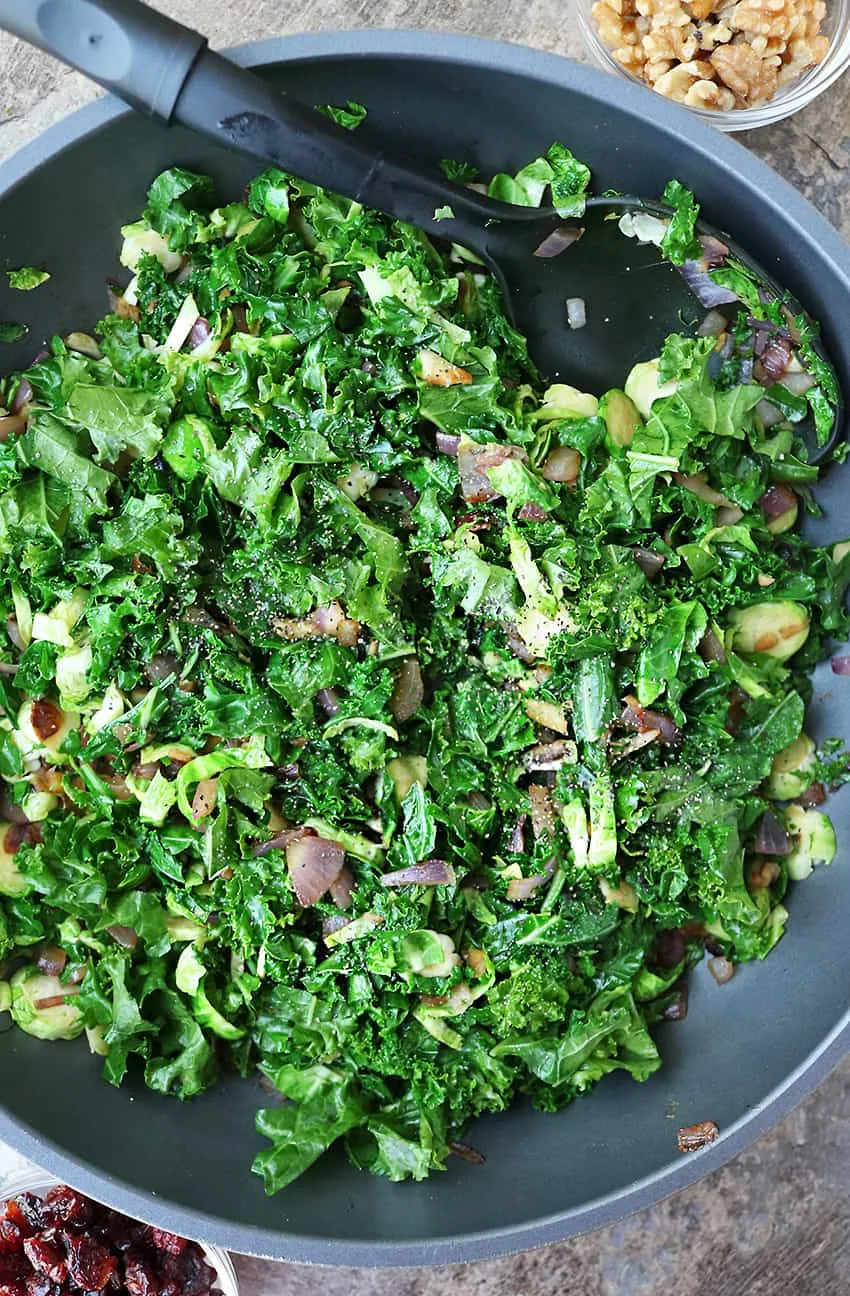 I'm also a huge fan of balance.
So I have to balance out my love for desserts with healthy, nutritious, foods – especially around the holiday season.
And that's where this Brussels Sprouts Kale Sauté with Cranberries & Walnuts comes in.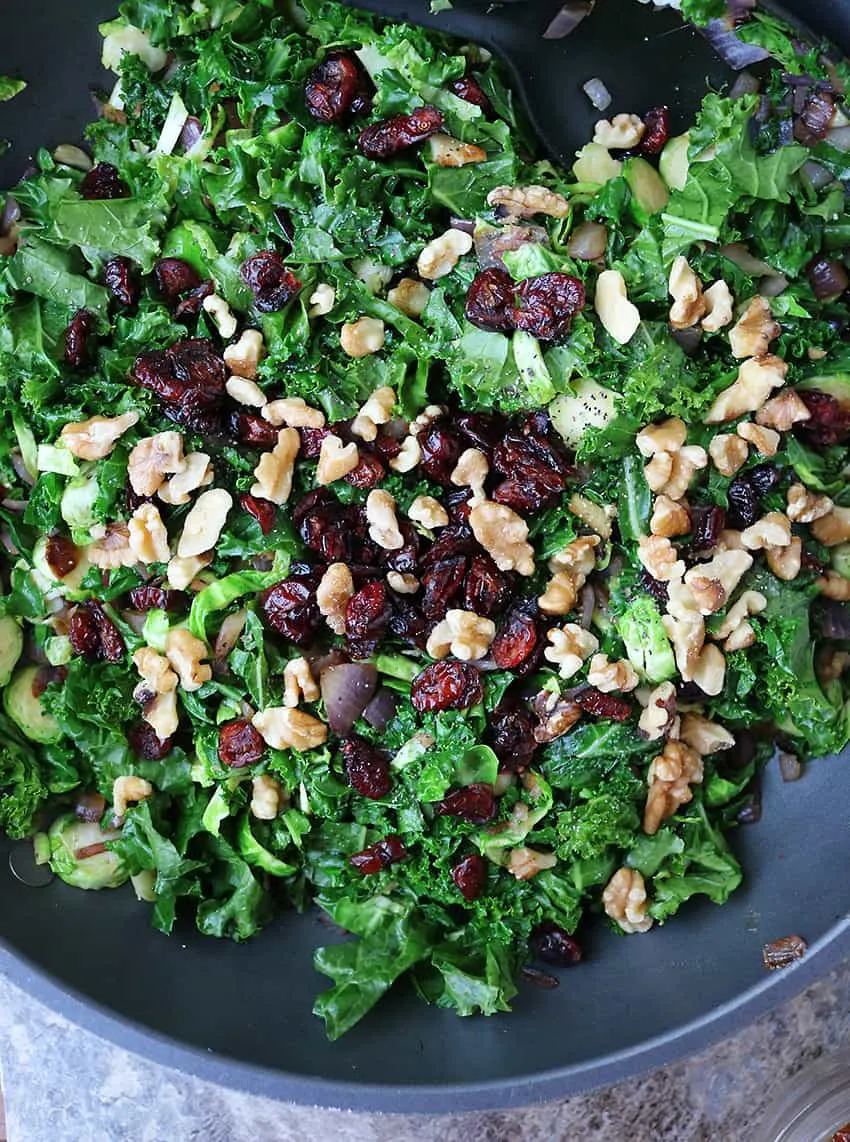 I need sides like this Brussels Sprouts Kale Sauté with Cranberries & Walnuts or this Brussels Sprouts and Apple Salad on my holiday table.
This is one of my favorite side dishes. It is such a pleasing mix of flavor and texture.
There's ever so slightly sweet and smoky caramelized onions, fresh garlic and fresh ginger along with tart and sweet cranberries enhancing the flavor of the Brussels Sprouts and kale.
And there's those soft caramelized onions, juicy cranberries and hard walnuts to complement that sautéed kale and Brussels Sprouts.
Along with these beans, these carrots, these potatoes and this turkey, I love having this on my holiday table.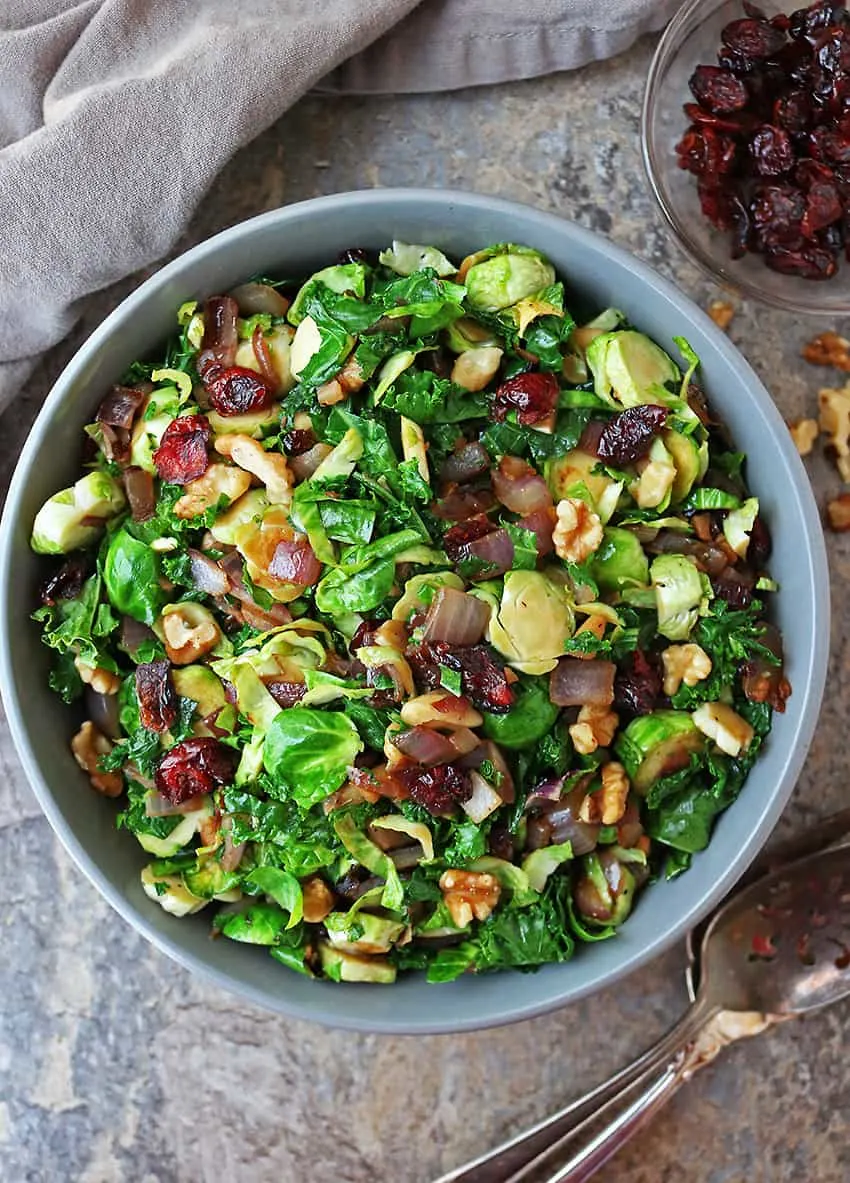 This Brussels Sprouts Kale Sauté is not just a wholesome side dish but it is so tasty too. And I'm so thrilled to say am not the only one who thinks so because I've seen kids of friends of mine head to the table for second servings of this sauté.
Today I am serving this Brussels Sprouts Kale Sauté with Cranberries & Walnuts at a Virtual Friendsgiving Potluck hosted by Julie.
Y'all have got to check out the rest of the delicious dishes by my fellow bloggers at this Virtual Friendsgiving Potluck… I gotta say, scrolling through this list has me wishing this was an in-person potluck instead!
Appetizers
Baked Brie with Honey & Walnuts from Kelley of Mountain Mama Cooks
Reindeer Bacon Cheddar Cheese Ball from Julie of Julie Blanner
Salads
Sauteed Kale and Brussels Sprout Salad with Cranberries and Walnuts from Shashi of Savory Spin
Creamy Brussels Sprouts Salad from Faith of An Edible Mosaic
Main Dishes
Savory Vegetable Crisp from Bree of Baked Bree
Rosemary Lamb Steaks from Danyelle of The Cubicle Chick
Turkey Pot Pie from Kelly of Eat Picks
Side Dishes
Fried Brussels Sprouts from Erin of The Almond Eater
Cheesy Horseradish Mashed Potato Casserole from Renee of Kudos Kitchen by Renee
Cranberry Cream Cheese Dip from April of April Golightly
Sauteed Garlic-Butter Mushrooms from Linda of Simply Healthyish Recipes
Easy Cheesy Hash Brown Casserole Recipe from Mel of Adventures of Mel
Cornbread Stuffing with Chorizo from Isabel of Isabel Eats
Bacon Brussels Sprouts from Kara of Kara J. Miller
Crockpot Sweet Potato Casserole from Jennifer of Show Me the Yummy
Amazing Gluten Free Thanksgiving Stuffing from Sommer of A Spicy Perspective
Pumpkin Caramelized Onion Gratin from Denise of Chez Us
Crockpot Mac & Cheese from Leanette Fernandez of Funtastic Life
Cheesy Brussels Sprouts au Gratin from Rachel Gurk of Rachel Cooks
Drinks
Spiced Pumpkin Margarita from Sharon of Cupcakes and Cutlery
Breads
Sourdough Pull Apart Rolls from Erica of Buttered Side Up
How to Make Homemade Butterhorn Rolls from Mel of Flour on My Fingers
Sweet Dinner Rolls from Jocelyn of Grandbaby Cakes
Parker House Rolls from Irvin of Eat the Love
Desserts
Sugar Pie from Julie of The Little Kitchen
Oatmeal Apple Crisp from Julie of Peanut Butter Fingers
Pumpkin Pie Milkshake from Eden of Sugar and Charm
Strudel Pastry from Justine of The Typical Mom
Tahini Hawaij Pumpkin Pie from Amy of What Jew Wanna Eat
Turkey Cookies from Meaghan of The Decorated Cookie
Mini Apple Pie Bites from Lynsey of MoscatoMom
Kabocha squash pie from Hilah of hilahcooking
Pecan Pie Cupcakes from Courtney of Pizzazzerie
Coconut Cream Pie from Schnelle of Brooklyn Active Mama
Chocolate chip cheesecake from Jeannette of Hispana Global
Chocolate Pecan Pie from Kate of I Heart Eating
Mini Pumpkin Cheesecakes from Chelsea of Someday I'll Learn
Turkey Donut Race Cars For Thanksgiving Treats from Theresa of Chewable Structures
Crafts and Centerpieces
Cinnamon Stick Holiday Candle Place Setting from Alli of Made with HAPPY
Metallic Pumpkin Luminaries from Amy of As The Bunny Hops
Easy centerpiece that will stun + party favor from Noelle of Oh Happy Play