This Black Rice And Beans Recipe is a spin on black beans and rice. It is an easy recipe in which nutty and nutritious black rice is cooked with kidney beans, ginger, garlic, onion, and celery. This is a delicious, gluten-free, plant-based dish that would work well as a side dish as well as the main one.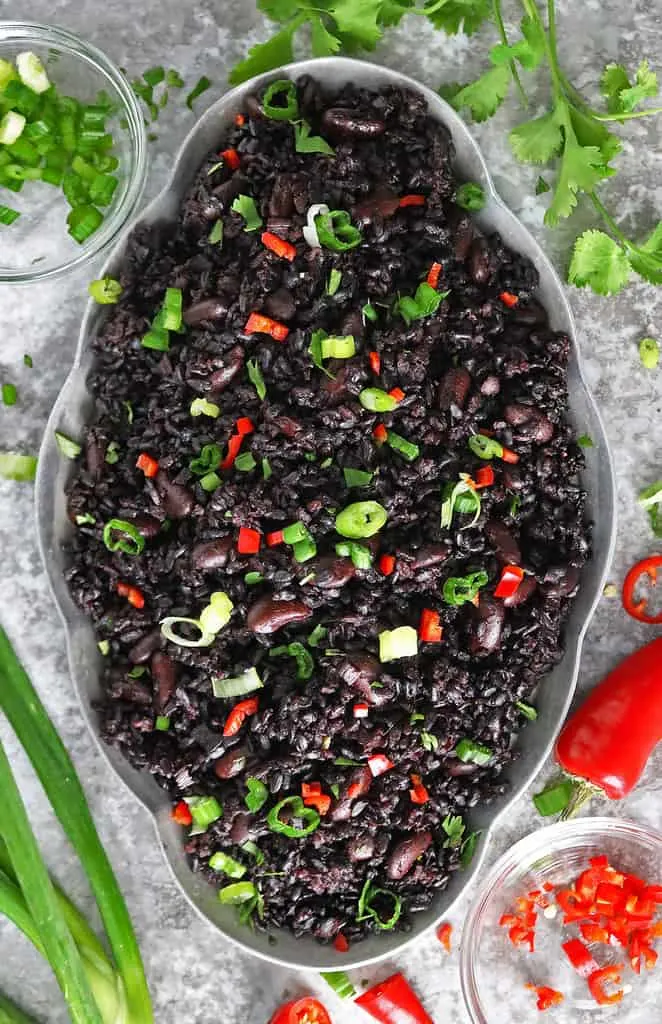 Made with just 9 ingredients, this Black Rice And Beans Recipe is a must-try.
Serve it as a side dish at your holiday gatherings or add it to your weekly menu roster. I love to enjoy this black rice and beans as a main dish.
Sometimes I pair it with an easy brussels sprouts saute, and other times, I enjoy it with some Pumpkin Lentils and Beet Curry on the side.
What is black rice?
Black rice is part of the Oryza Sativa species. It is characterized by a distinct black to black-purple color. Black rice gets its signature color from a pigment called anthocyanin, which has powerful antioxidant properties.
Black rice is not easy to grow. Add to that, when it does grow, its yield is said to be 10% of other rice varieties. Its scarcity made it quite expensive and only the very wealthy could afford it. This is the reason that way back in the day, in China, black rice was referred to as "Forbidden Rice" or "Emperor's Rice."
These days, we can find black rice at almost all the major grocery store chains. Personally, I have bought black rice from Public, Walmart, Kroger, and Sprouts stores in the Atlanta region.
It is still more expensive than other rice varieties because it's still harder to grow than its counterparts.
Is black rice healthy?
Black rice has the highest antioxidant levels when compared to other rice varieties. It also is packed with more protein, fiber, and iron than other rice varieties. One serving of black rice is said to have the same amount of antioxidants as a serving of blueberries, without the natural sugar content.
Because of its nutritional content, black rice has been said to have a host of health benefits. These range from heart health, weight maintenance, to inflammation reduction. You can read more about the health benefits of black rice here.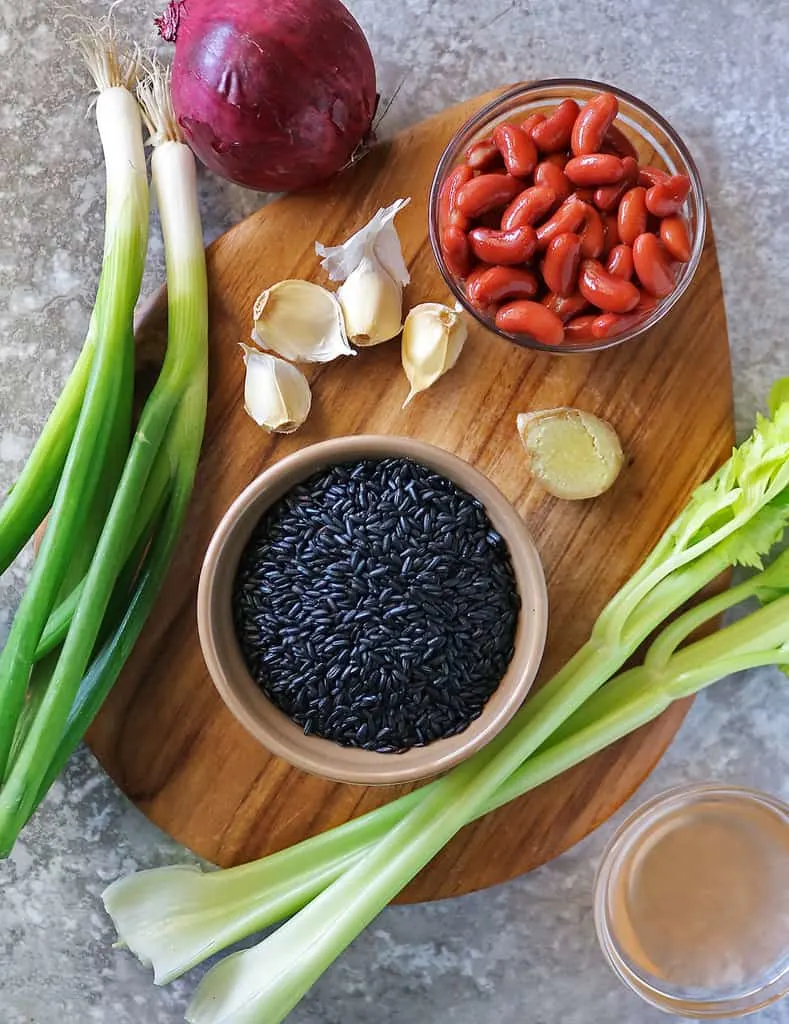 What does black rice taste like?
Black rice has an ever so slightly nutty and sweet flavor. It is a versatile rice that can be used in everything from porridges to pilafs, to this black rice and beans recipe you see here today!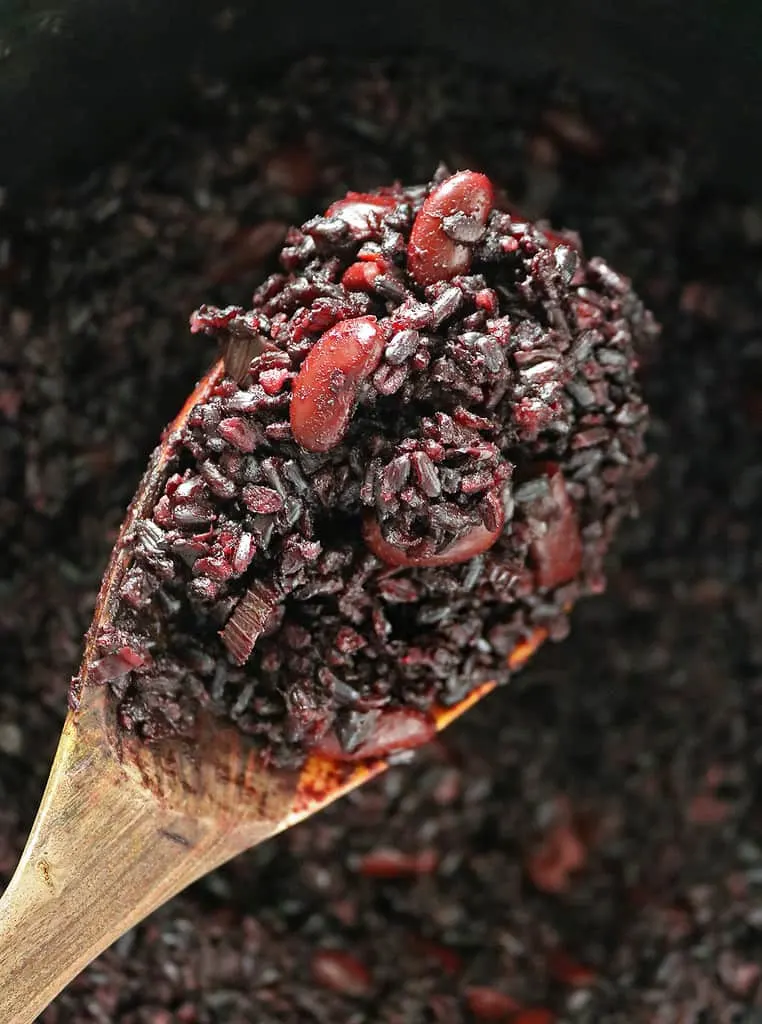 What are the ingredients to make this black rice and beans recipe?
To make this dish, you need the following 9 ingredients:
Black rice
I rinsed the black rice I used in this dish before adding it in with the rest of the ingredients. I did this by adding the dry black rice to a bowl, filling the bowl with water, and running my hands through the rice and water. Then, I carefully drained out the water. I repeated this about 7 times, until the drained water wasn't overly dark and cloudy. My mom always rinsed rice and lentils before using them in a dish. I used to do it because of her. But, I have found out that rinsing rice in this manner helps get rid of any lingering pollutants on the rice.

Red onion
I used a red onion in this dish dish purely for aesthetic reasons. So feel free to use a yellow one of you prefer.

Garlic
Fresh garlic is what I used in this dish. I like to chop mine up as finely as I can. But, if you like, you could also grate in your garlic into this. I would refrain from using garlic powder in this dish. Some stores sell containers of peels and diced garlic and if you are running low on time, I would suggest you use an equal quanittity of that instead.

Ginger
Just like with the fresh garlic, I would strongly suggest you use fresh ginger. Also as with the garlic, I chopped the ginger up, but feel free to grate it in if you prefer. Just make sure to peel or cut off the skin first. Powdered ginger would stronlgy alter the flavor of this dish and so i would suggest you not using it.

Celery
The celery simply disspaears into this dish. As this dish cooks, it turns the celery a darker hue too. but, the celery adds so much flavor to this that I would not leave it out. As with the garlic, onion, and ginger, I would use fresh celery in this.

Vegetable stock
Feel free to use any variety of vegetable stock. However, if you use one that is already salted, then you would not need to add any mroe salt into this dish. However, if you were using one that was unsalted or low in sodium, you might want to add in a half teaspoon or 3/4 teaspoon of salt. Though, best to taste this black beans and rice dish and tailor the quanitiy of salt to your liking.

Kidney beans
I used canned kidney beans in this dish. I drained the beans into a colander, then rinsed them well under cold water, and then added them to the pan. If you prefer, you could use pinto beans, black beans, or even chickpeas in this recipe.

Green onion (garnish)
The green onion I used in this was only for garnish. You can leave it out if you prefer.

Parsely (garnish)
While the parsley was for garnish, it also added in a nice flavor element as well.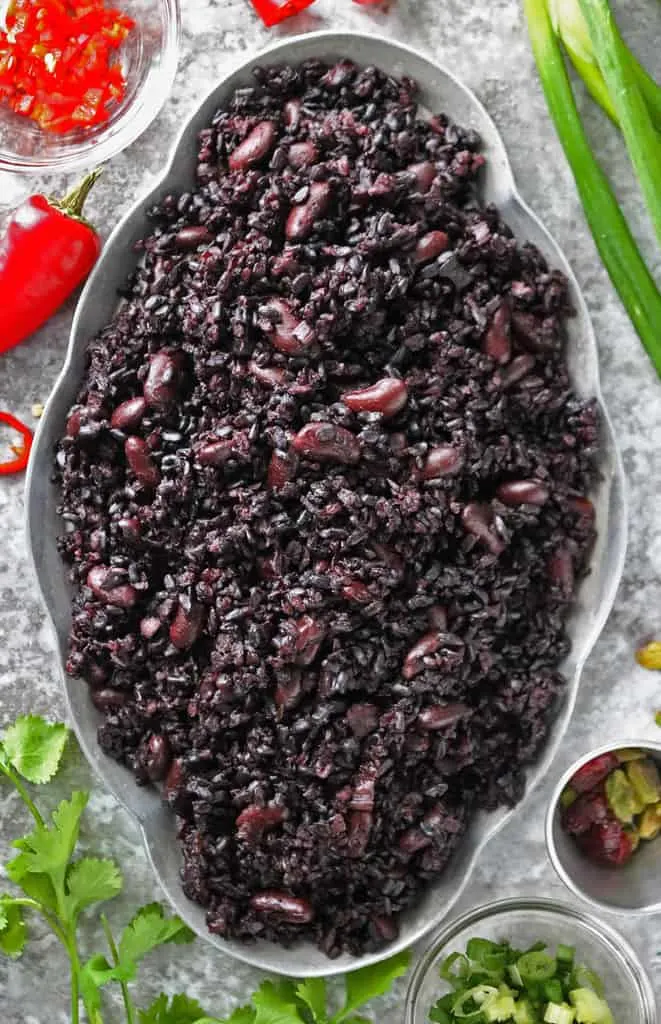 The red bits you see in the photos are some diced-up red chili pepper. I left that out of the ingredient list as it is totally optional. I love adding a bit of spice to this dish, so I added in some just as a garnish. There have been times when I have used dried red chili flakes instead, as well.
Once you gather up your ingredients together, it is a matter of prepping them, sauteing them, and then adding the rice in and letting it all simmer until it's ready.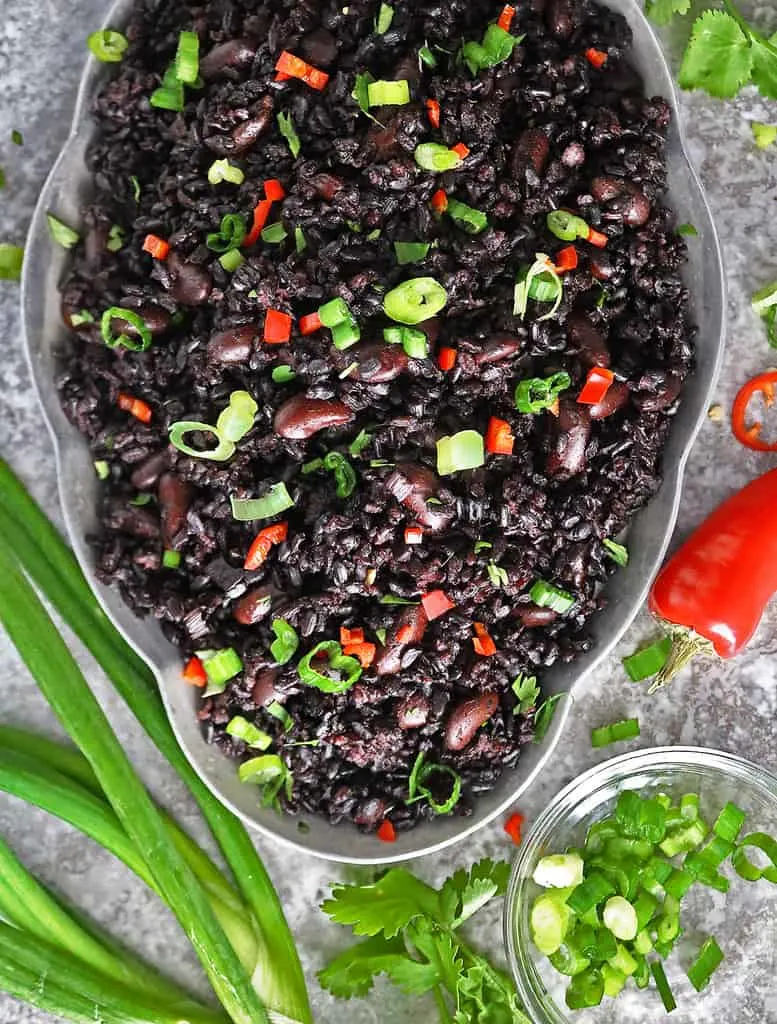 Some tips when making this dish:
Rinse the rice
Before cooking the rice, make sure you rinse it well. Place the dry rice in a bowl of water and distrub it with your fingers and drain the water out. Repeat until the water is not as dark and cloudy.

Saute the onions, ginger, garlic, and celery.
Sauteing these ingredients until they are very lightly browned adds so much flavor to this I would not skip this step.

Do not drain out any excess liquid after cooking
You should not have any liquid left when this is done cooking. However, if you do, do not drain it out. Just leave the pan uncovered until it is absorbed.
You could pair this with some harissa tempeh and some carrot raisin salad for a tasty meal!
This black rice and beans recipe is such a simple, healthy, delicious, and easy dish to make. I hope you give this recipe a try and please do not forget to let me know your thoughts on this dish in the comments below.
Thanks so much for stopping by. If you make this recipe, please let me know in the comments below what you think of it, or tag your creation on social media with @savoryspin or #savoryspin. For more fusion, spice-filled, recipe ideas, please subscribe and follow me on Facebook, Instagram, and/or Pinterest!