When it comes to tempeh recipes, this Harissa Tempeh is quick, easy, packed with flavor, and can be served as a side, in a salad, or in a bowl!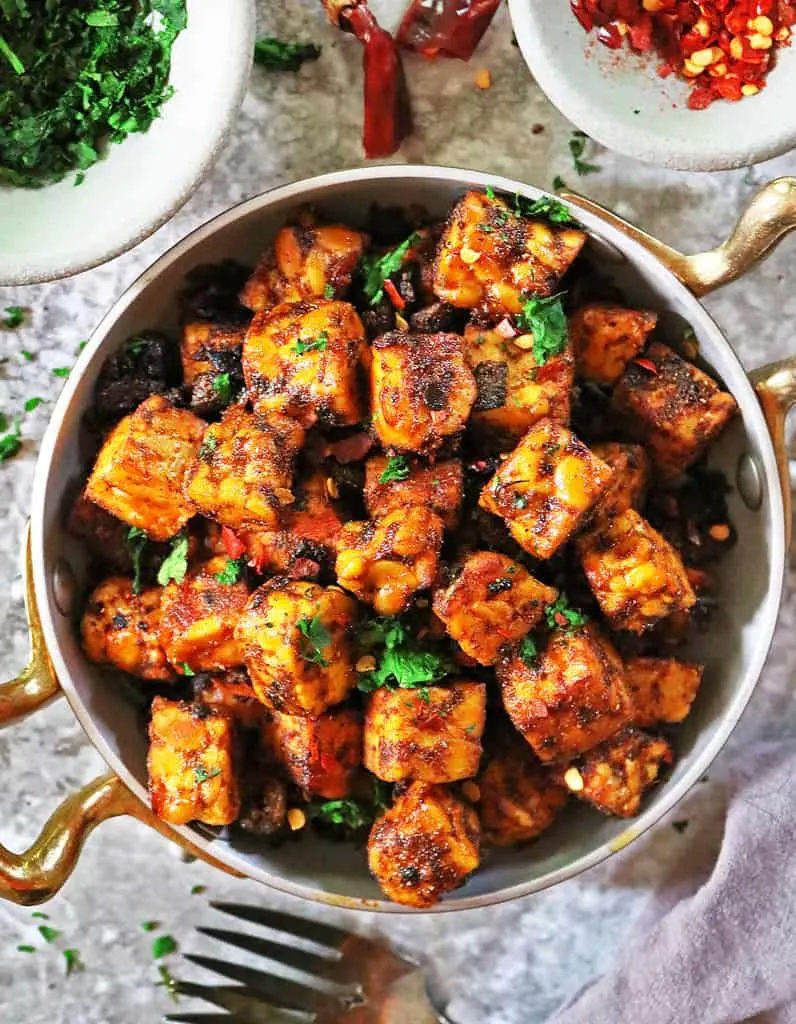 When I was first introduced to tempeh, over 2 decades ago, I thought it was downright disgusting. It looked lumpy and smelled so odd. I guess I should not be starting this recipe post with that opening line, huh?
Well, in all transparency, tempeh is something I have been trying to like for a long time.
If you are wondering why on earth am I trying so much to like it?
Well, tempeh is said to be a high source of plant-based protein. Higher than even tofu. And, it is supposedly less processed than tofu. So I figured I would try my best to like it. Which would eventually help me to incorporate more of it into my vegetarian diet.
What does tempeh taste like?
To me, plain tempeh tastes a bit like mushrooms that have been drizzled with white vinegar.
Nope, definitely not a selling point, right?
Well, yup, that's what I thought. Until I made this Harissa Tempeh!
Which brings me to the dish that you see here today.
This harissa tempeh recipe makes tempeh likable to me! It takes tempeh from some odd entity and elevates it into a delicious dish that works as a side or in a salad or bowl.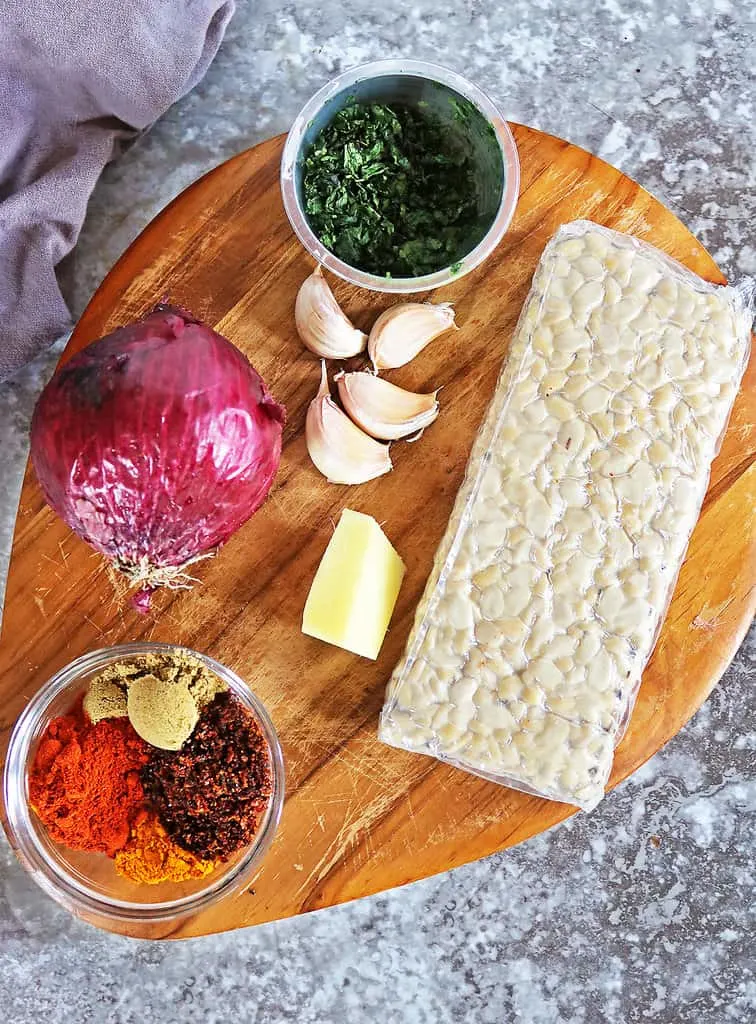 What are the ingredients to make this harissa tempeh recipe?
You need only 8 ingredients to make this, and they are:
Coriander
I used ground coriander I picked up from my local grocery for this recipe.

Harissa
When it comes to harissa, I love the New York Shuk brand. To me, it is such a perfect blend of smoky and spicy. By the way, I am not being paid to say that. You could also pick up harissa at any grocery store that has it. I have seen it at my local Sprouts store as well as Kroger and Publix.

Smoked paprika
While harissa has smoked paprika in it, I like adding a tad bit more of this smoky spice into this dish to this dish.

Turmeric
I used ground turmeric. But, I have seen fresh turmeric in a lot of stores. If you choose to use fresh turmeric, a general rule of thumb is that you use 3 times as much fresh turmeric as powdered turmeric. As this recipe calls for 1/2 a teaspoon of turmeric, you would use 11/2 teaspoons of ground turmeric. One of the advantages of using fresh turmeric is that the curcumin (an antioxidant) in it is more easily absorbed by the body than the curcumin in ground turmeric.

Onion
For this recipe, fresh onion works better than powdered onion. In fact, you could use the chopped onion that is sold in the produce section of grocery stores to save time (and tears) if you don't want to cut one up.

Garlic
Just like the onion, fresh garlic is the best option. Or, you could use the peeled and chopped garlic sold in the produce section of grocery stores.

Ginger
Again, fresh ginger is the best for this recipe. Like the garlic and onion, you could use the peeled and chopped ginger sold in the produce section of grocery stores.

And, last but not least is Tempeh
I used unflavored tempeh in this recipe, so it could be used as a canvas for all the other flavors I was adding.
I also used salt and pepper to season this dish and some parsley to garnish it.
Once you have all the ingredients, it's just a matter of chopping and sautéing, and in less than 20 minutes, you will have an easy and tasty side dish on your hands.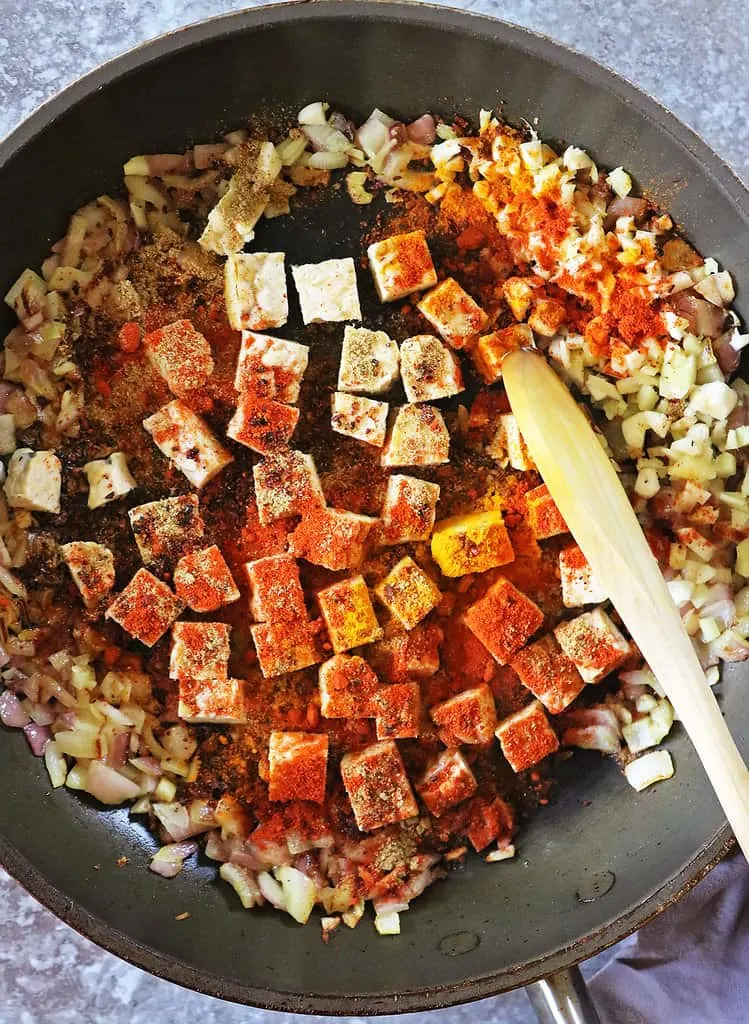 How do you serve this tempeh recipe?
You can serve this harissa tempeh as a side dish along with some yellow rice, an asparagus curry, some pineapple chutney, and some carrot and spinach croquettes.
You could also throw together a salad with butter lettuce, spinach, tomatoes, olives, avocado, and some of this harissa tempeh. If you want a light dressing, you could use this easy vinaigrette.
You could also serve this dish with some sautéed sweet potatoes, peas, sautéed mushrooms, quinoa, broccoli, and shredded carrots in a harissa tempeh bowl like this one.
The possibilities are endless!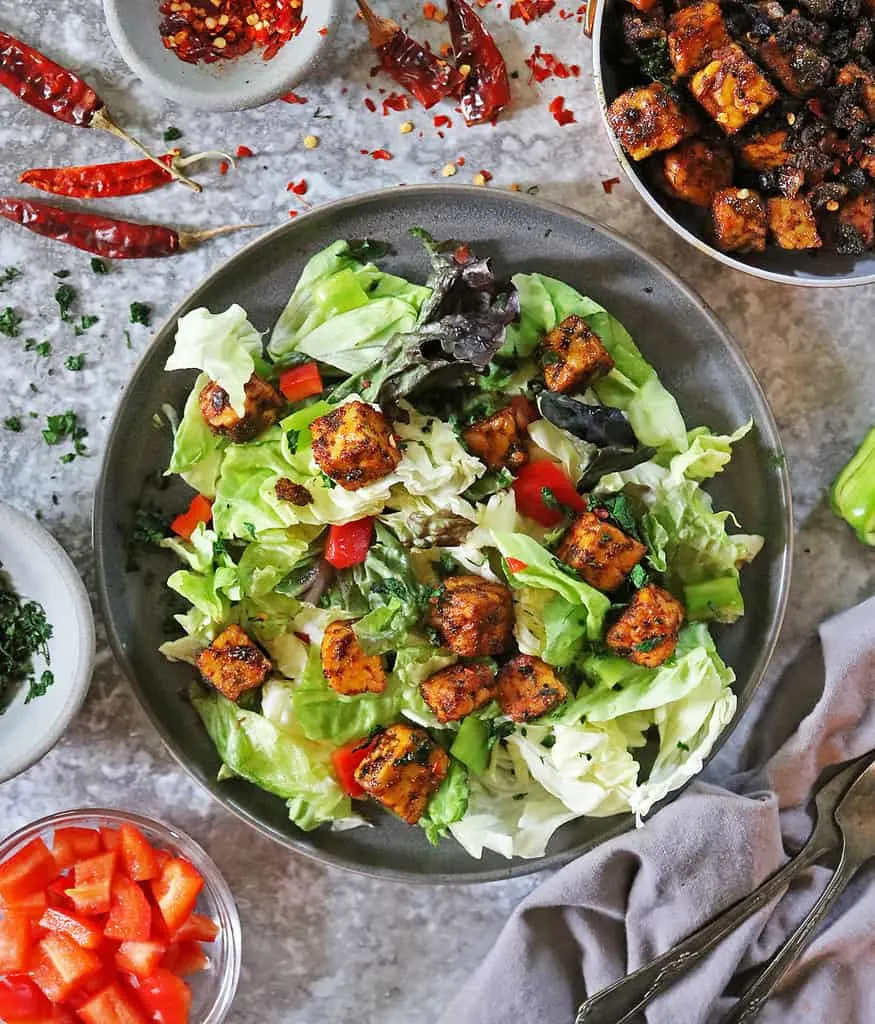 How do you store this tempeh dish?
I stored this dish for 3 days in an airtight container, in the fridge. To warm it up, I simply microwaved it for about 20-30 seconds.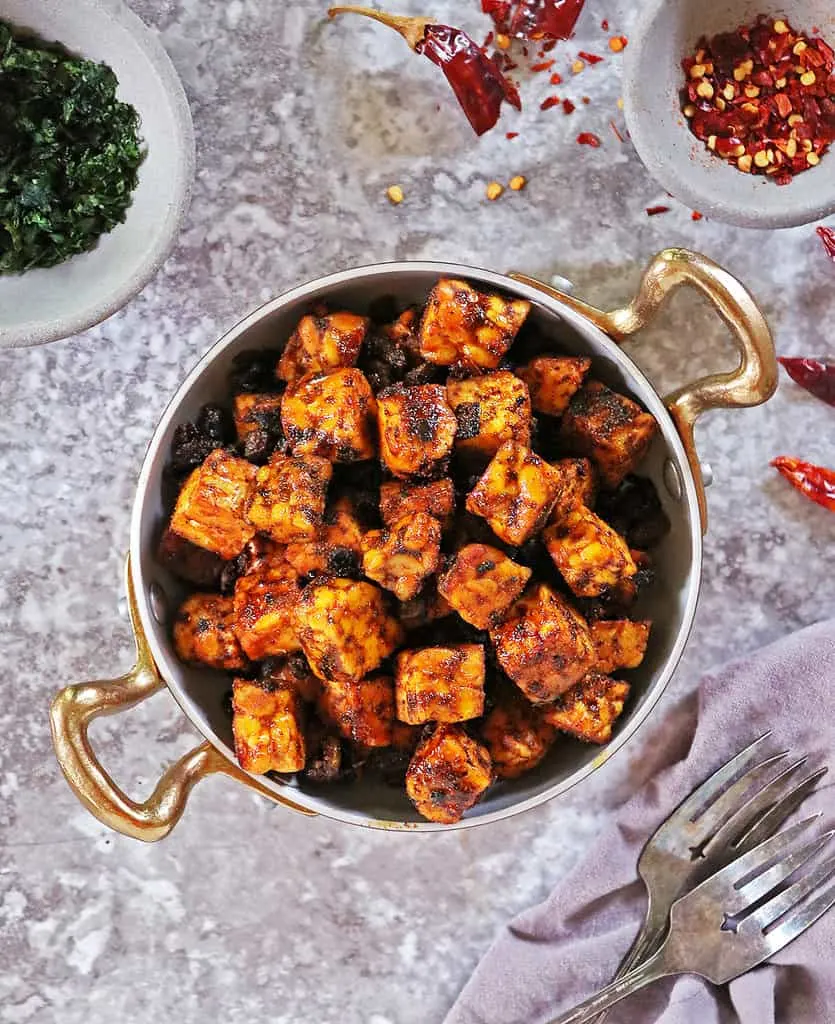 If you are reluctant to try tempeh or looking for another way to jazz up tempeh, I hope you give this harissa tempeh dish a try. And, if you do make it, please do leave me a comment or tag @Savoryspin on Instagram or Pinterest to let me know.