Creamy and delicious, this dairy-free, Cherry Chocolate Chia Pudding is a cool, no-bake treat that can be enjoyed for breakfast, a snack, or even dessert.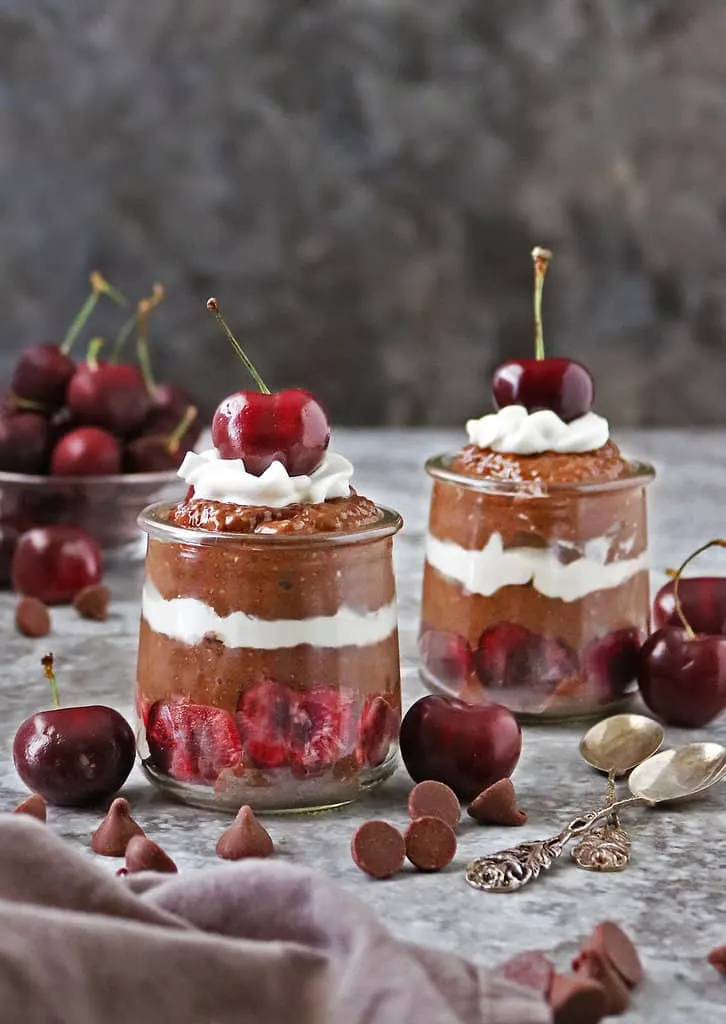 When it comes to pudding, chia pudding is a favorite of mine. I just love its consistency.
The fact that it is a nutrition powerhouse is an added bonus.
And, when it comes to chia pudding, this Cherry Chocolate Chia Pudding is simply delicious!
I love this Cherry Chocolate Chia Pudding as it is as tasty as it is easy to make. It is a dairy-free treat that I can enjoy for breakfast as well as a tasty snack or healthy dessert. And, it is made with only 6 ingredients.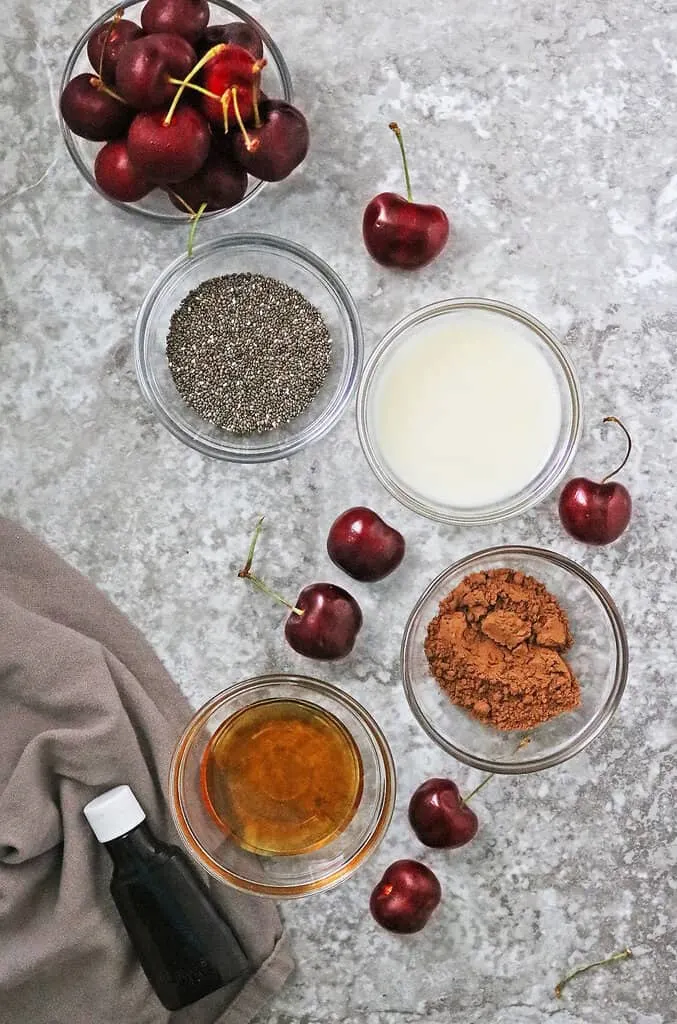 What are the ingredients to make this Cherry Chocolate Chia Pudding?
You will need the following 6 easy-to-find ingredients to make this chia pudding:
Almond milk
I choose almond milk for this chia pudding. But, you can use coconut milk or oat milk as well. If, unlike me, dairy doesn't do a number on your stomach, feel free to use the milk of your choice.

Chia seeds
I used black chia seeds for this recipe, but that is because these were all I had. Chia seeds are nutritional powerhouses and are said to help us keep our insides chugging along smoothly.

Cocoa powder
I used unsweetened cocoa powder. I have made chocolate chia pudding with melted chocolate too in the past. And, if you want to make this a richer and more indulgent treat, then replace the cocoa powder with semi-sweet chocolate. You will have to melt the chocolate and then mix it in with the other ingredients, but the extra step is well worth it.


Maple syrup


My sweetener of choice when I make chia pudding is maple syrup. In addition to sweetening it, maple syrup also adds a hint of caramel flavor to it.

Vanilla extract
Vanilla enhances and unites the cocoa powder and cherries in this pudding so beautifully.

Cherries
Make sure the cherries you use are ripe. If you use unripe cherries, this pudding will border on being more sour than sweet.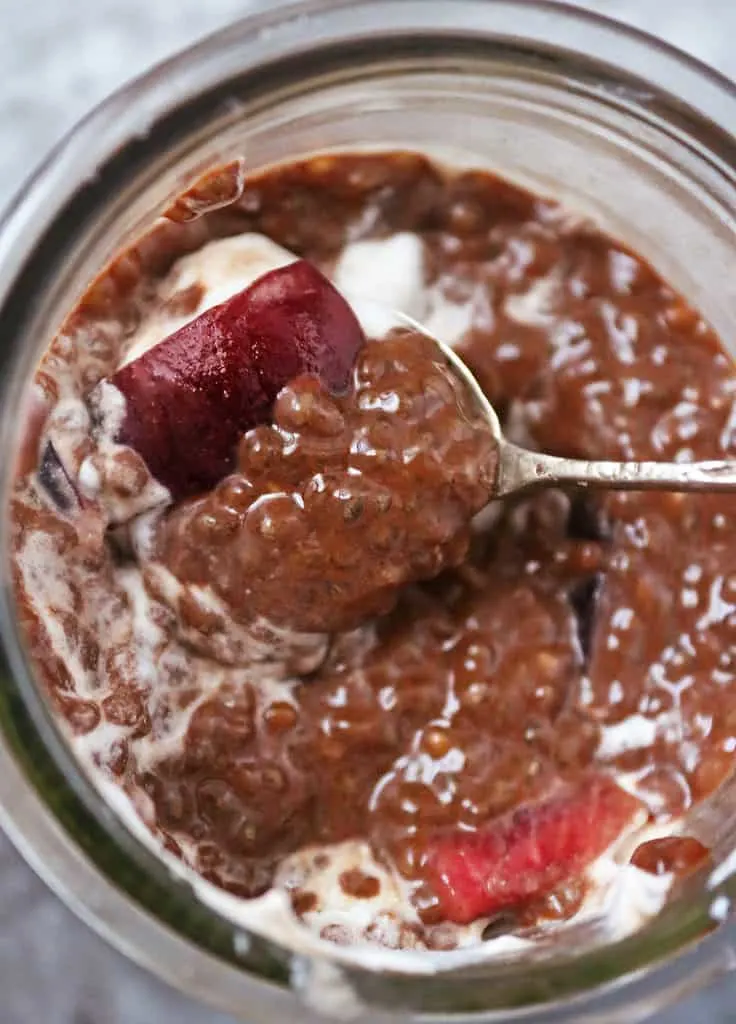 The last time I made a big batch of this Cherry Chocolate Chia Pudding, my daughter was in town. And, she made sure that batch of Cherry Chocolate Chia Pudding didn't last long.
Chia pudding is so easy to make.
There's no baking or cooking or blending involved.
Simply stir the ingredients together and set them aside in the fridge for a couple of hours. When you are ready to enjoy some, stir it up and dig in!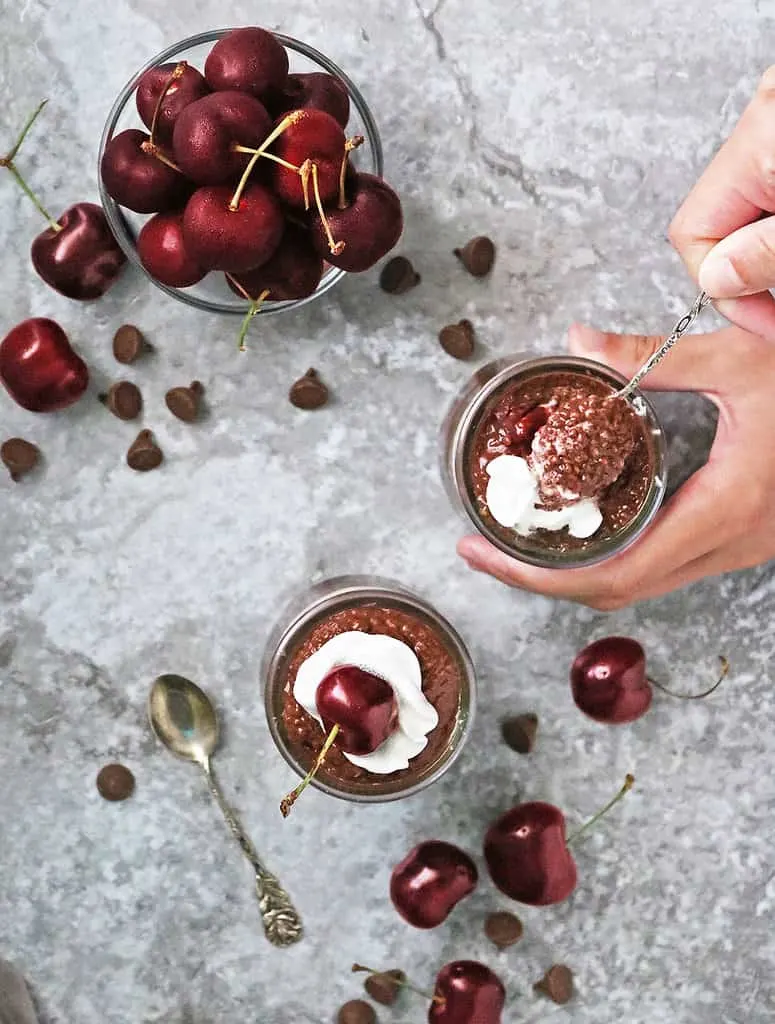 How long should chia seeds soak in milk to make chia pudding?
Usually, soaking chia seeds for 30 minutes or so should have them soaking in enough liquid to attain a pudding-like consistency. But, I usually like to let the seeds soak in the dairy-free milk for a couple of hours or overnight, in the refrigerator.
How long can you store this Cherry Chocolate Chia Pudding?
You can store this Cherry Chocolate Chia Pudding in a container for up to 5 days.
Can you eat too much chia?
Yes! You can eat too much chia. Usually, 15 grams of chia seeds is considered ok. If consumed over that suggested limit, chia seeds can lead to serious gastrointestinal issues. As chia seeds are known for their blood-thinning and blood pressure-lowering, consuming too many can lead to cardiovascular side effects too.
Why is my chia pudding not thickening?
A thin and runny chia pudding usually happens when there's too much liquid or there has not been enough time for the chia seeds to absorb the liquid. So, let your chia pudding sit for a bit longer, or add in a few more chia seeds for a thicker pudding-like consistency.
Why is my chia pudding too thick?
I've had this happen to me often. Usually this is because there is just not enough liquid. The solution is usually to add more liquid. But, there have been times when I have had to chuck the whole thing, as even adding more liquid did not seem to rectify the situation.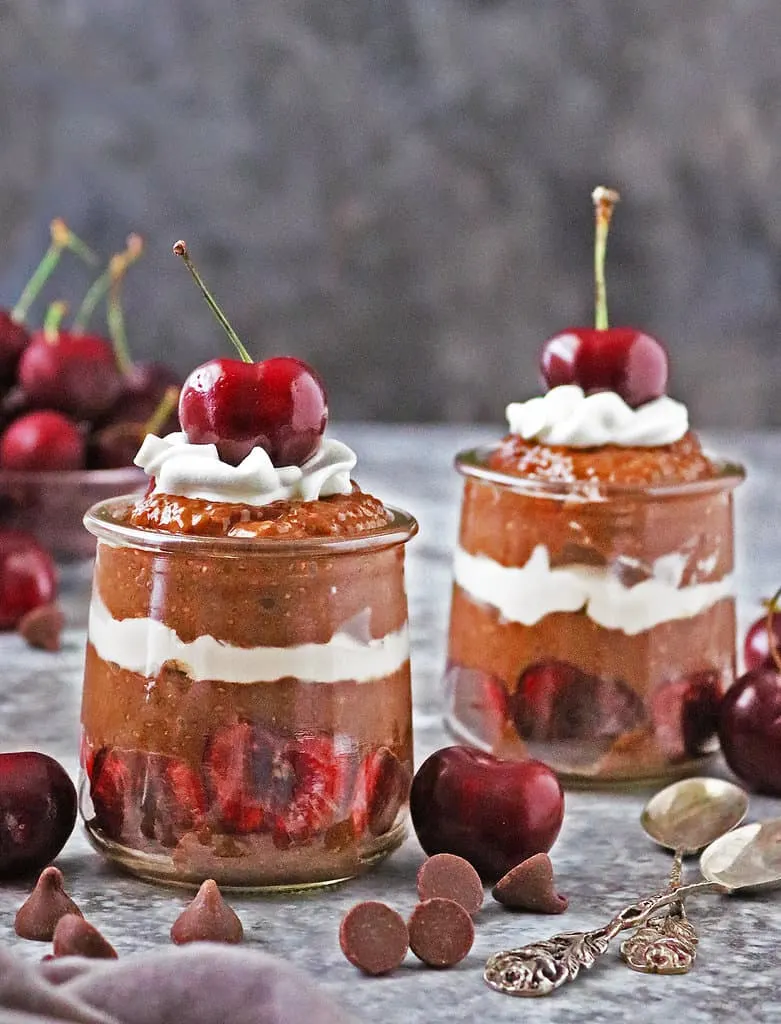 But, please do not let that story of too-thick chia deter you from whipping up a batch of this Cherry Chocolate Chia Pudding. You and your family are sure to love this sweet, creamy, nutritious, and versatile treat – hopefully as much as my daughter and I do.