This Chicken Biryani is an arousingly aromatic, spice-filled, one-pot rice and meat dish with a healthy-ish spin. It is light on the rice and heavy on the spices, nuts, and California Figs! Pair it with raita or salad and enjoy it with family and friends on those special occasions.
I've partnered with Valley Fig Growers to bring y'all this Chicken Biryani with Figs & Walnuts! Thank you so much for supporting the brands that keep this Blog Spinning!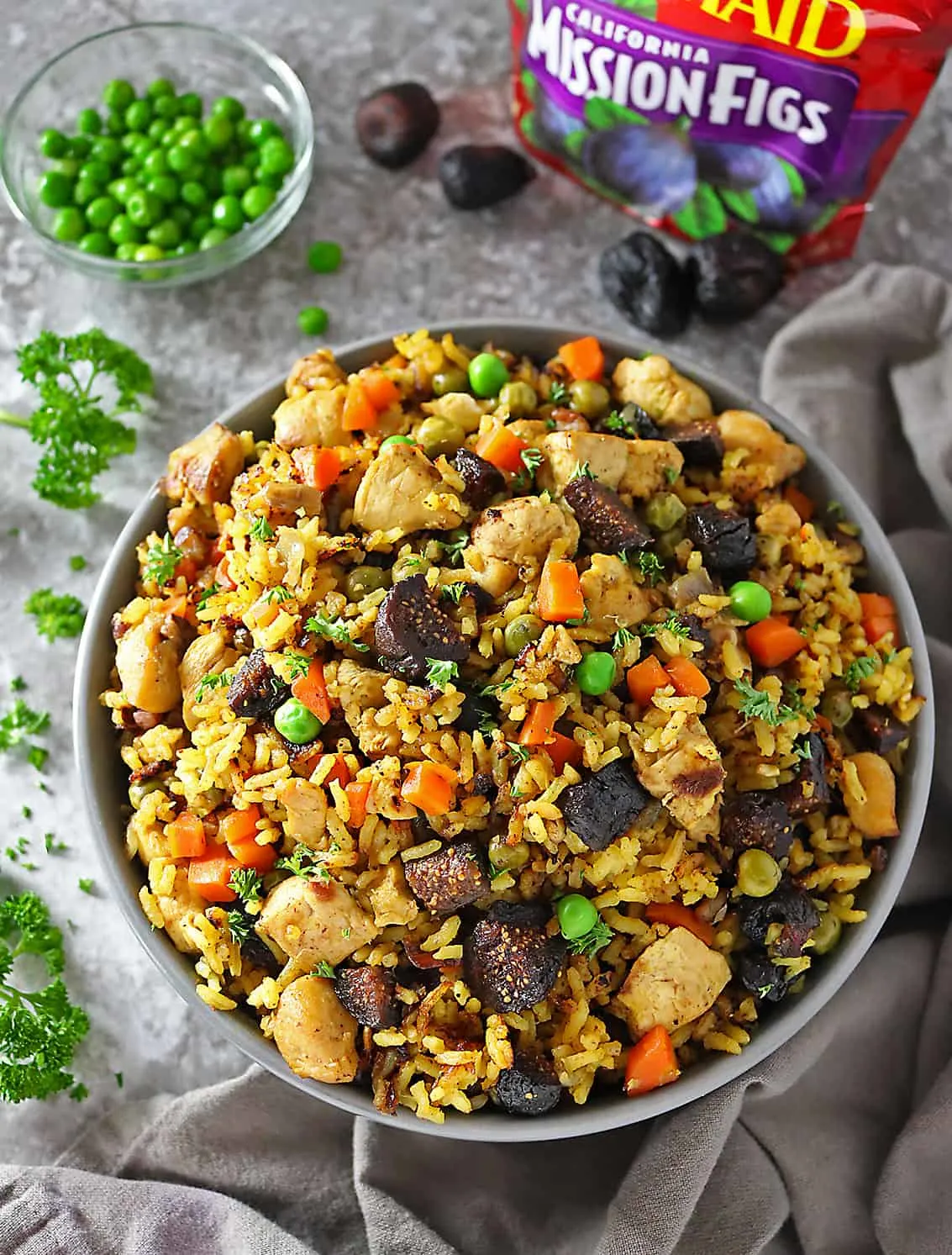 We love this Chicken Biryani with Figs and Nuts because it is:
✅ It is so tasty
✅ It is so easy to make
✅ It is gluten-free
✅ It can be made in one pot
✅ It is a delicious blend of flavors and textures
Biryani (or biriyani or briyani) is a heavily spiced rice and meat dish that is widely popular among South Asians and Persians. It is said to have been brought to Sri Lanka by South Indian traders in the early 1900s.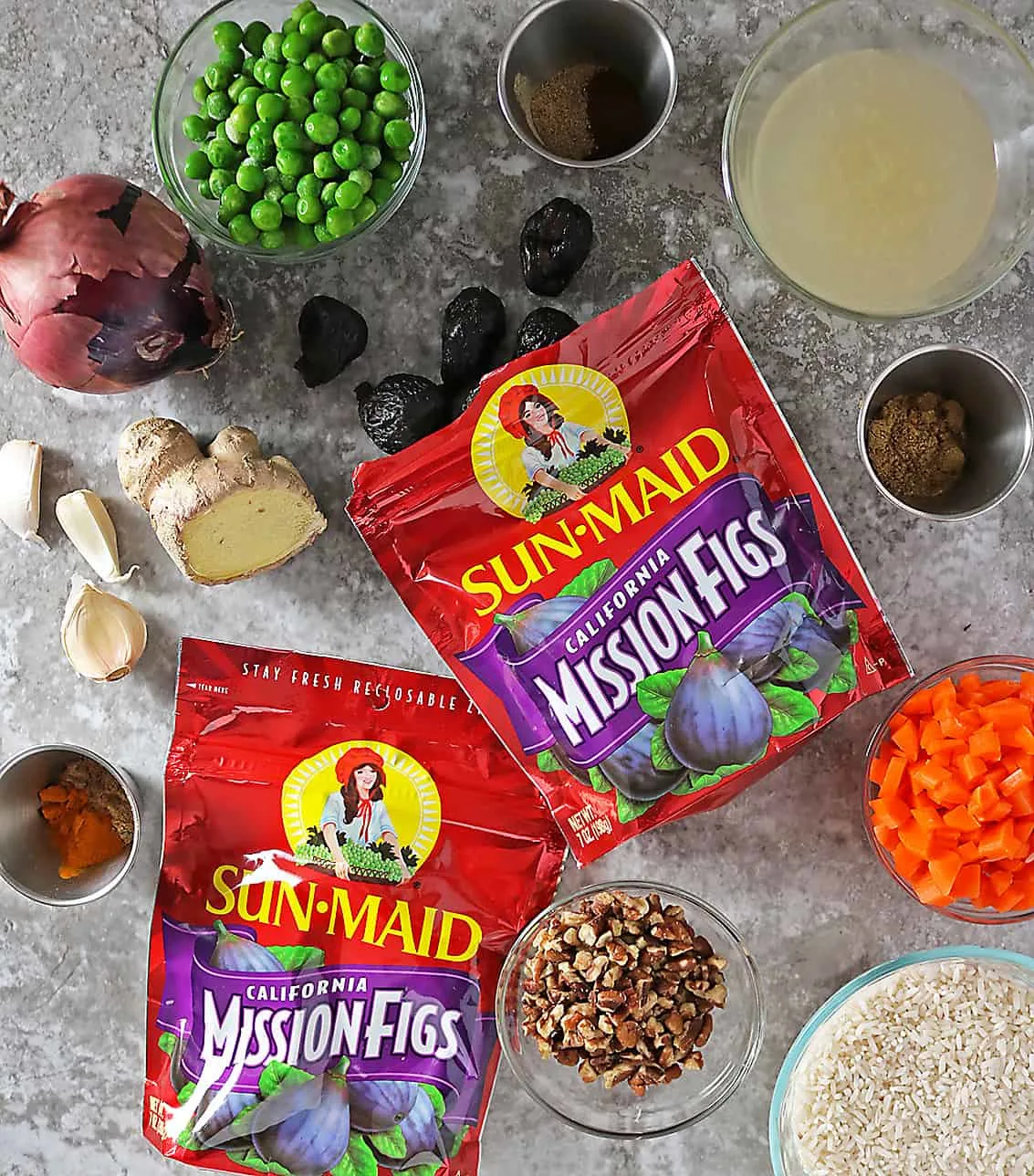 In Sri Lankan, biryani is Buryani and is usually very much spicier than its Indian and Persian counterparts'. And, my mom made one heck of a delicious biryani!
In fact, one of the scents of my youth was my mom's biryani. It was so insanely aromatic. The kind of aromatic that gets those salivary glands in the back of my mouth pinging painfully even now – at just the memory of it!
I guess that's what good food does – right?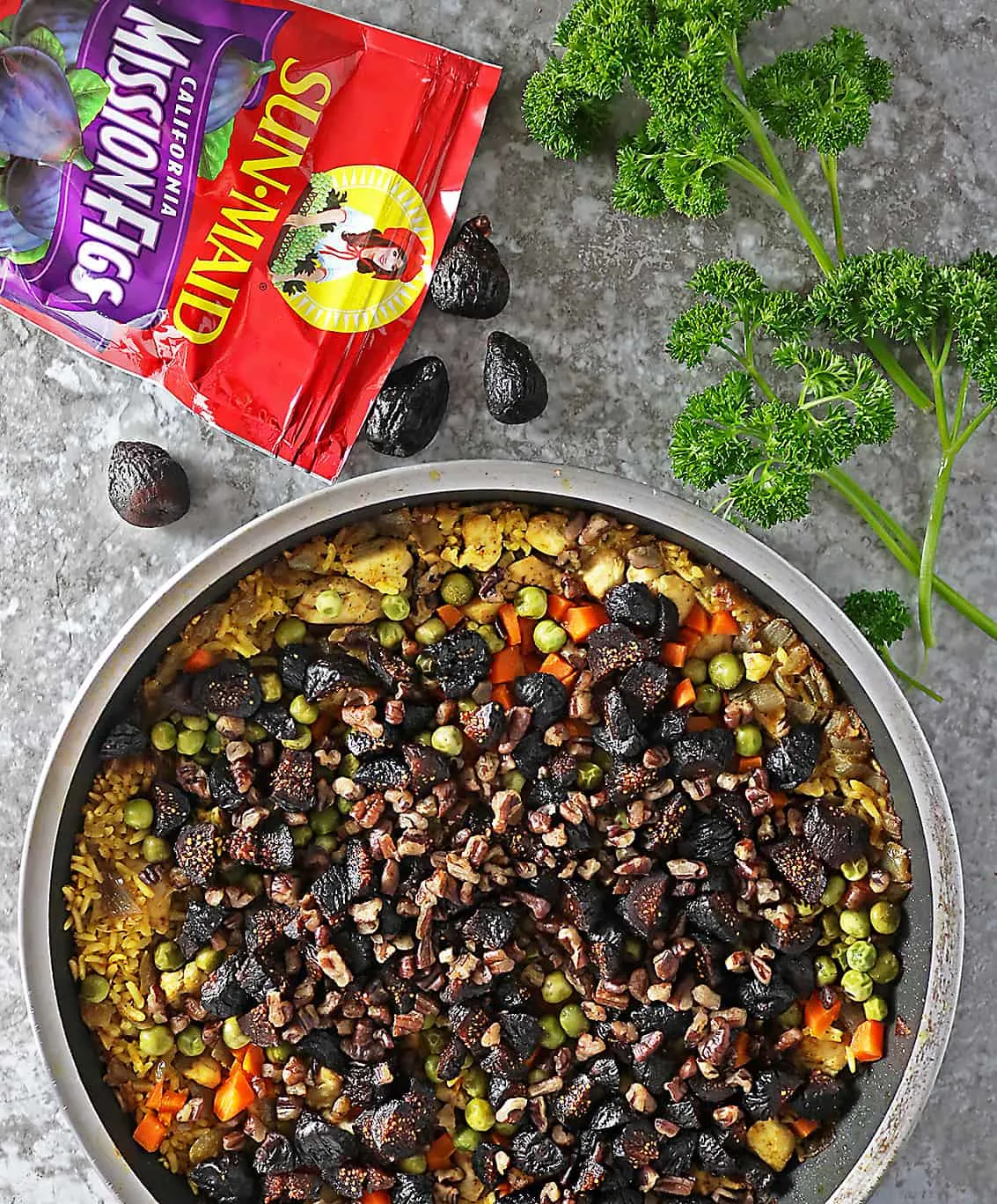 My mom's biryani was a simple dish – just rice, chicken (or mutton in some cases), a smattering of veggies, ghee, raisins, cashews, curry leaves and spices – tons and tons of spices.
Spices so well layered and intertwined, it was hard to pick one out. Back then, it used to be hard for my mind to grasp how spices like cardamom, cinnamon, and cloves could work so well right alongside cumin, coriander, and chili powder. Yet, they did. Only intensified when my mom used to roast them up before adding them to her biryani.
My mom often reserved this simple dish for special occasions like birthdays, or holiday get-togethers. I remember I kept wishing I would have more siblings just so there'd be more birthdays to enjoy this dish at.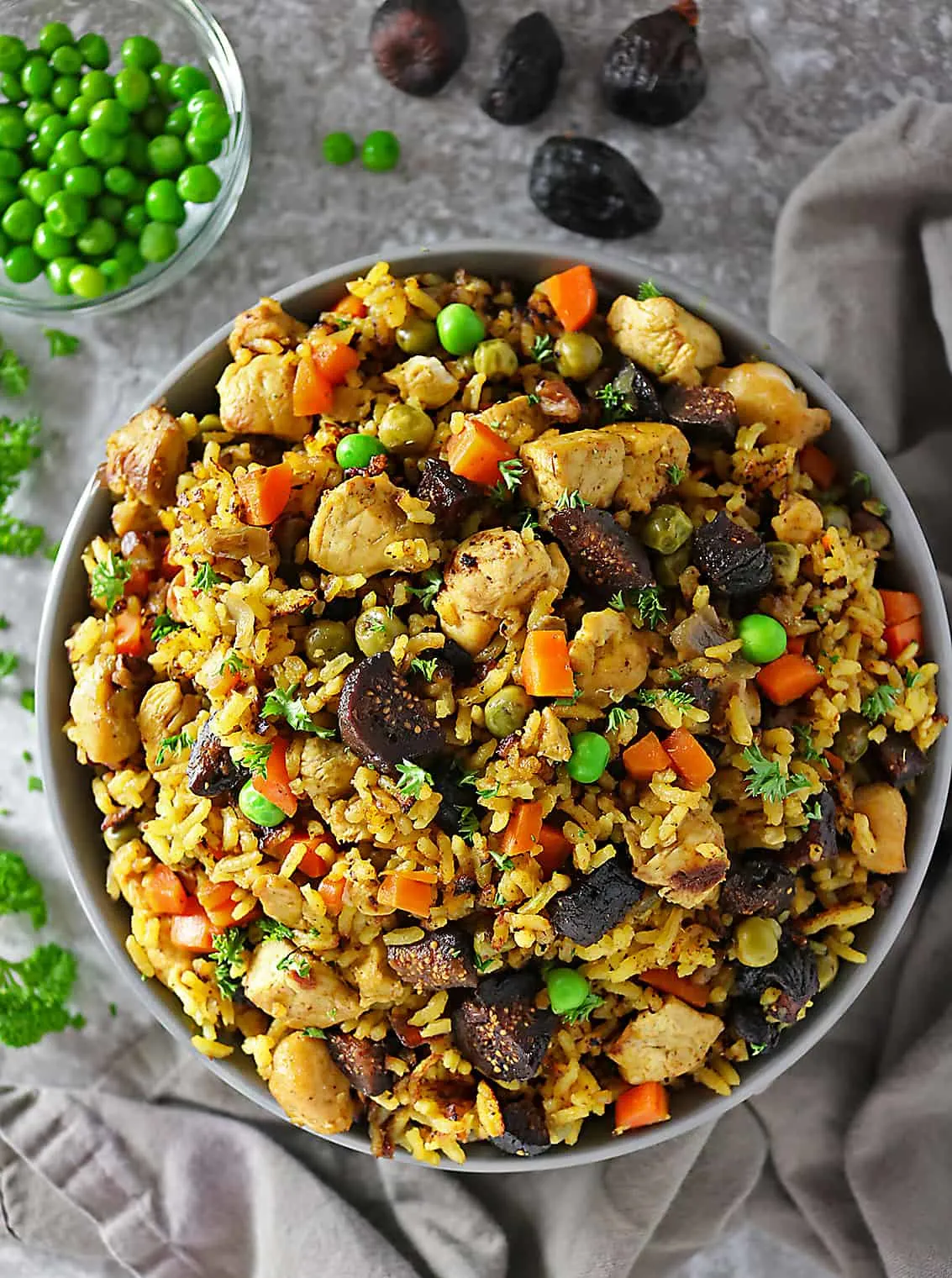 This Chicken Biryani with Figs and Nuts is so easy to make!
The beauty of this dish is it is so easy to make, yet tastes so exquisite.
The initial prep requires therapeutic dicing of onions, garlic, carrots, pecans, and California Figs into neat, bite-sized portions. But then, after you have layered in all the ingredients, you set this aside to cook.
You can then go about conversing with friends and family that you might have called over to linger over this biryani with – until it's time to uncover this Chicken Biryani and enjoy it!
Pairings
You can enjoy this biryani by itself or serve it paired with this Sautéed Brussels Sprouts And Apple Salad or Easy Cabbage Salad with Lentils.
This recipe can also be found here.
Pretty please, if you fancy this recipe, let me know what you think by leaving a comment and rating below. If you make this recipe, please post a pic on INSTAGRAM -tagging @savoryspin so I can see! For more recipes and ramblings, like us on FACEBOOK and follow along on PINTEREST!