I have partnered with Sprouts Farmers Market to bring you this Sautéed Brussels Sprouts And Apple Salad ~ all opinions herein are my own. Thank you for supporting the brands that keep this blog spinning.
In this Sautéed Brussels Sprouts And Apple Salad, Brussels Sprouts mingle with lightly caramelized onion, garlic, ginger and beautiful Lucy Glo apples in this delicious and festive, dish. Whip it up as a warm weeknight salad or serve it up at your next holiday gathering.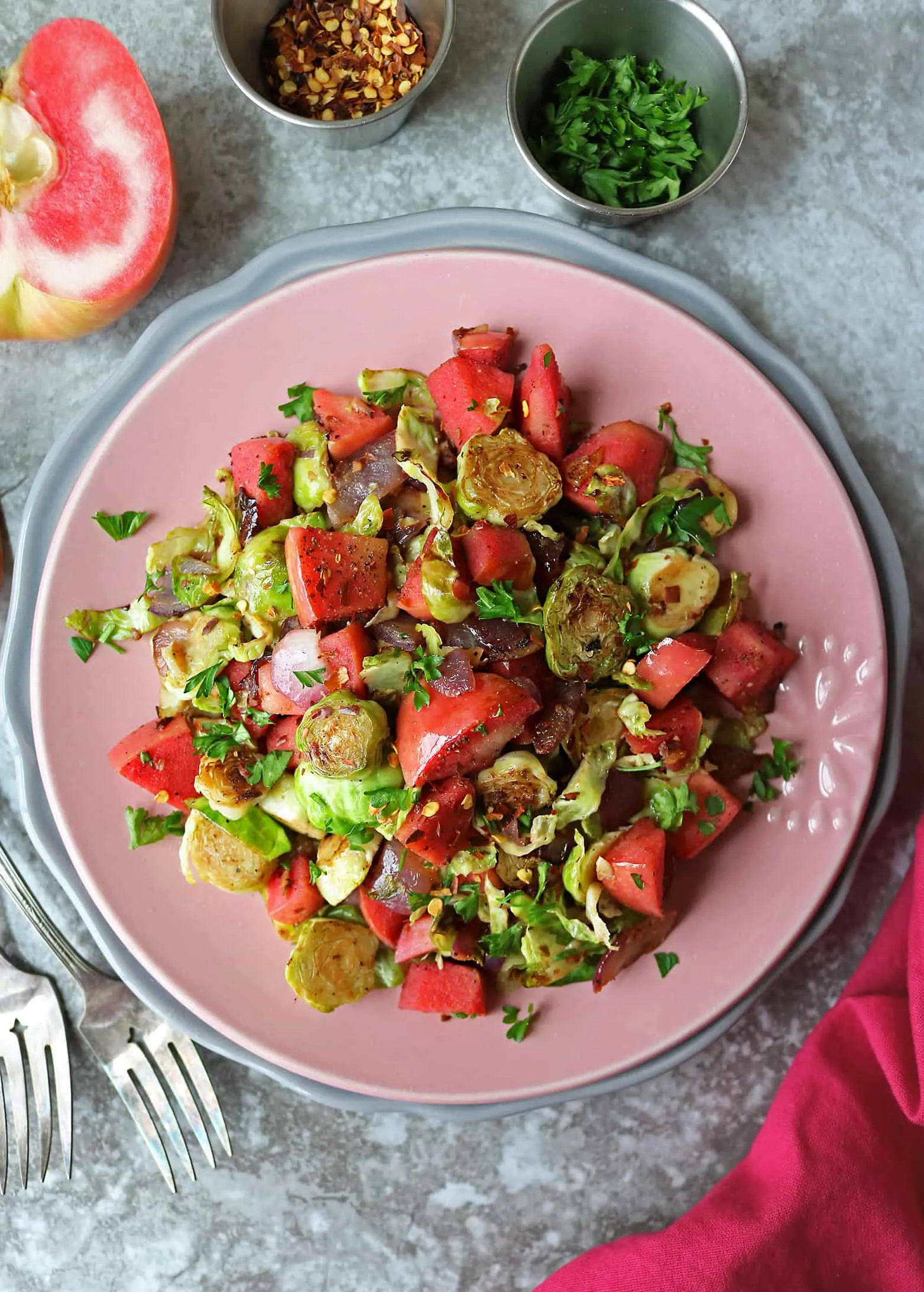 The first time I cut into a Lucy™ Glo apple, I was speechless.
Their bright red flesh is stunning – and lends one gorgeous pop of color to fresh salads and smoothies as well as baked pies and sautéed salads like this Brussels Sprouts And Apple salad.
Let's Talk about Lucy™ Glo apples for a bit…
With gorgeous red marbling flesh, Lucy™ Glo apples and its sister apple, Lucy™ Rose were introduced to the market in 2018 by Chelan Fresh. By the way, Chelan Fresh is a fruit company with farms located in north central Washington state.
Lucy™ Glo apples are a hybrid variety of apples – they are a cross between honeycrisp and an unknown variety. Botanically they are classified as Malus domestica and are members of the rose family.
Lucy™Glo has a gorgeous yellow skin that lets the red interior glow from within – these red-fleshed beauties offer an appealing look and flavor.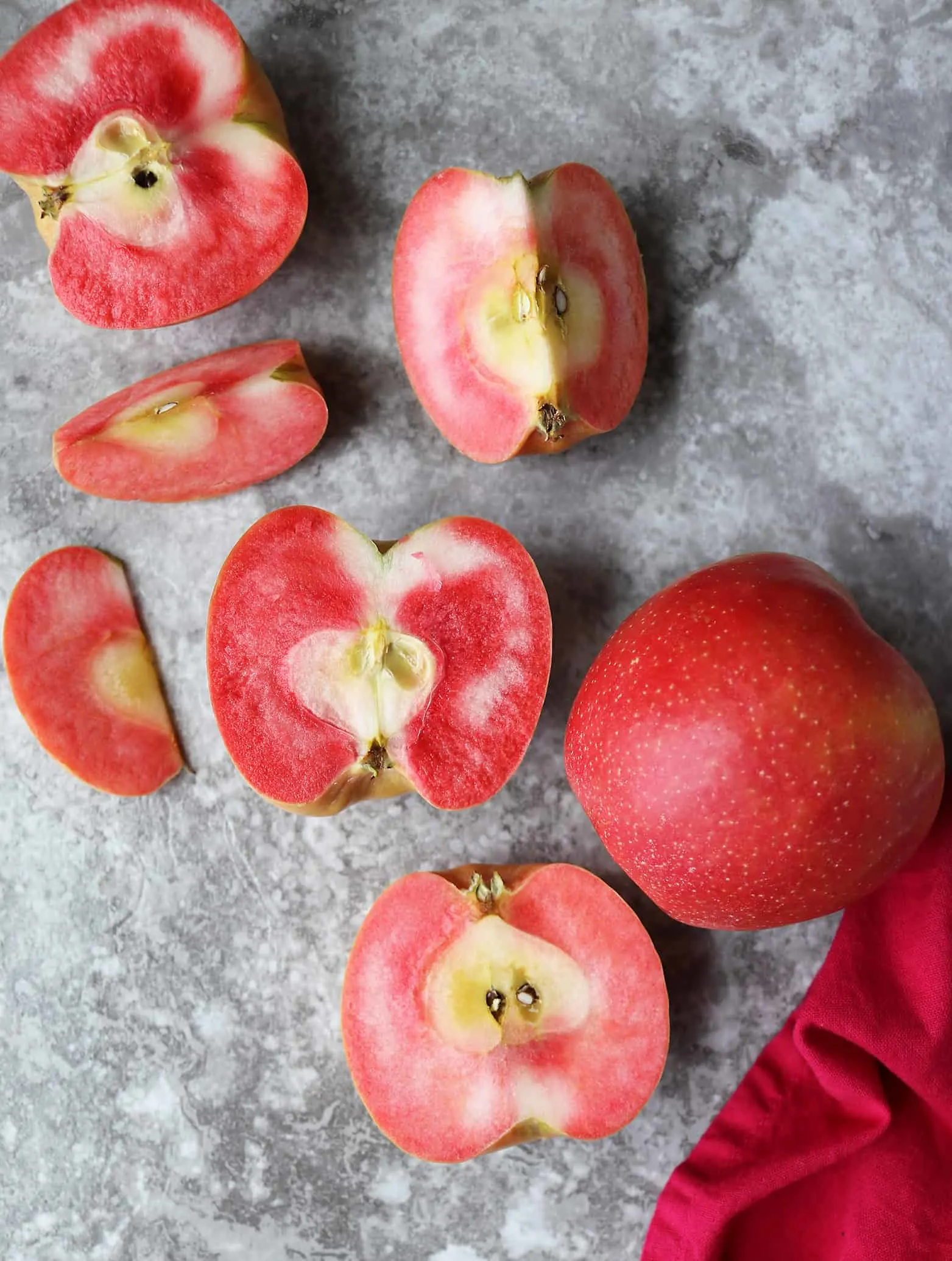 What do LucyGlo apples taste like?
Lucy™Apples are part Honeycrisp and are sweet, tangy and super crunchy.
What are the best ways to enjoy Lucy Glo apples?
Lucy™ Glo apples can be eaten fresh, baked, fried or pureed. Their colorful flesh does not oxidize as quickly as other apple varieties, and often retains its gorgeous red color even when cooked or baked.
Freshly sliced, they add a pop of color to lunch boxes, cheese platters, and a variety of salads.
Add them to smoothies or shakes as a natural colorant and sweetener. Bake them into pies, tarts, muffins, or scones or puree them for a rosy apple sauce.
You can even sauté them up for a holiday side like this Sautéed Brussels Sprouts And Apple Salad, and they still retain their gorgeous red hue.
When and Where are LucyGlo apples available?
Lucy™ Glo apples are available on a limited basis during the fall and winter months.
Currently Lucy™ Glo apples are available through Sprouts and other specialty markets.
If you live in Europe and are reading this, similar red-fleshed varieties are being marketed under the name "kissabel" in specialty European stores.
What is the best way to store LucyGlo apples?
You might want to rethink placing Lucy™ Glo apples on your counter as they are best stored in the refrigerator for up to a month.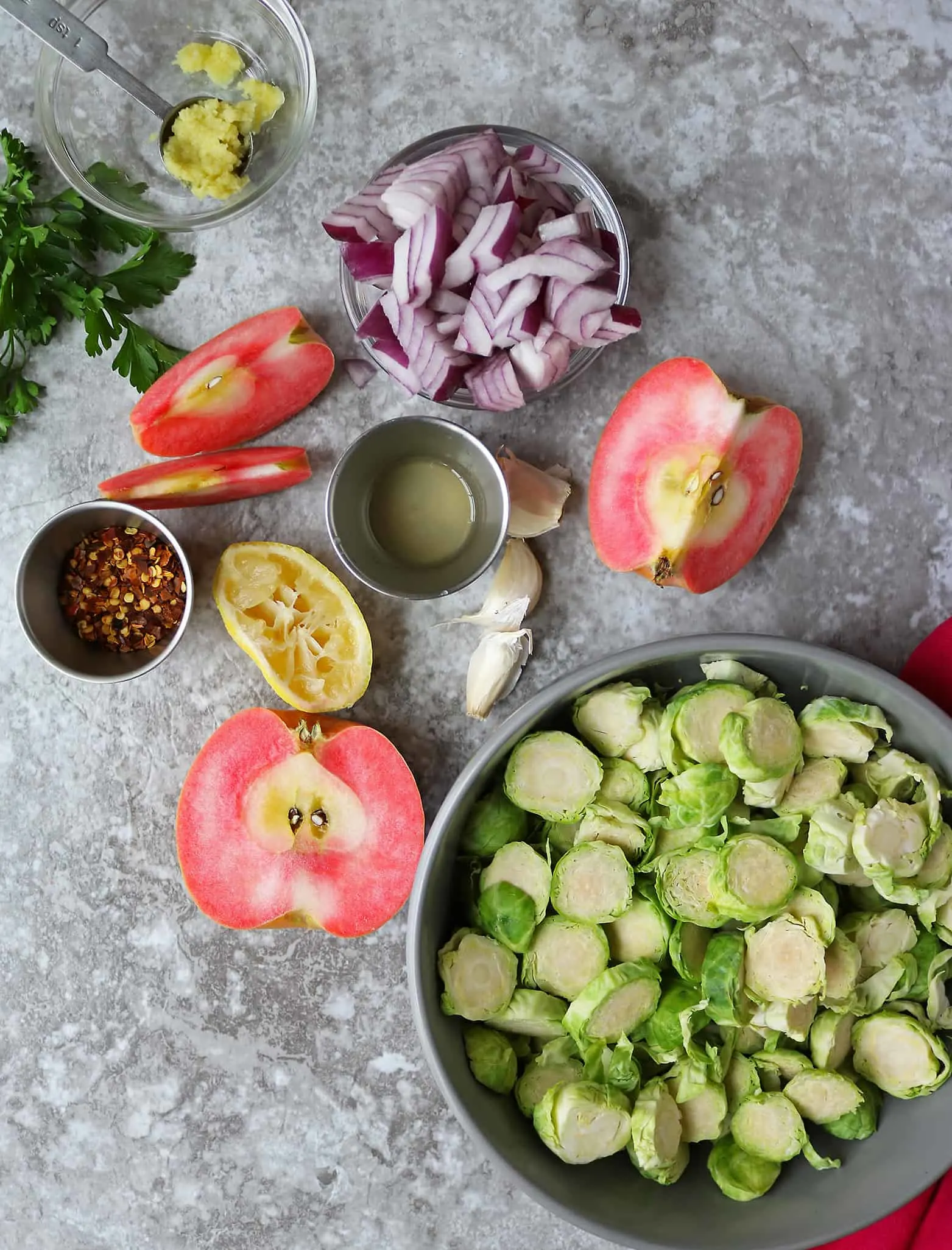 Now back to this Sautéed Brussels Sprouts And Apple Salad…
This salad is super easy to make.
It requires 7 ingredients such as: some oil, an onion, some fresh garlic, fresh ginger, fresh lemon, Brussels Sprouts, a Lucy™ Glo apple and some salt and pepper.
The Lucy™ Glo apple retained its coloring beautifully when I sautéed it over medium heat along with the Brussels Sprouts and other ingredients. If you have some parsley and chili flakes hanging out you can jazz up this salad even more.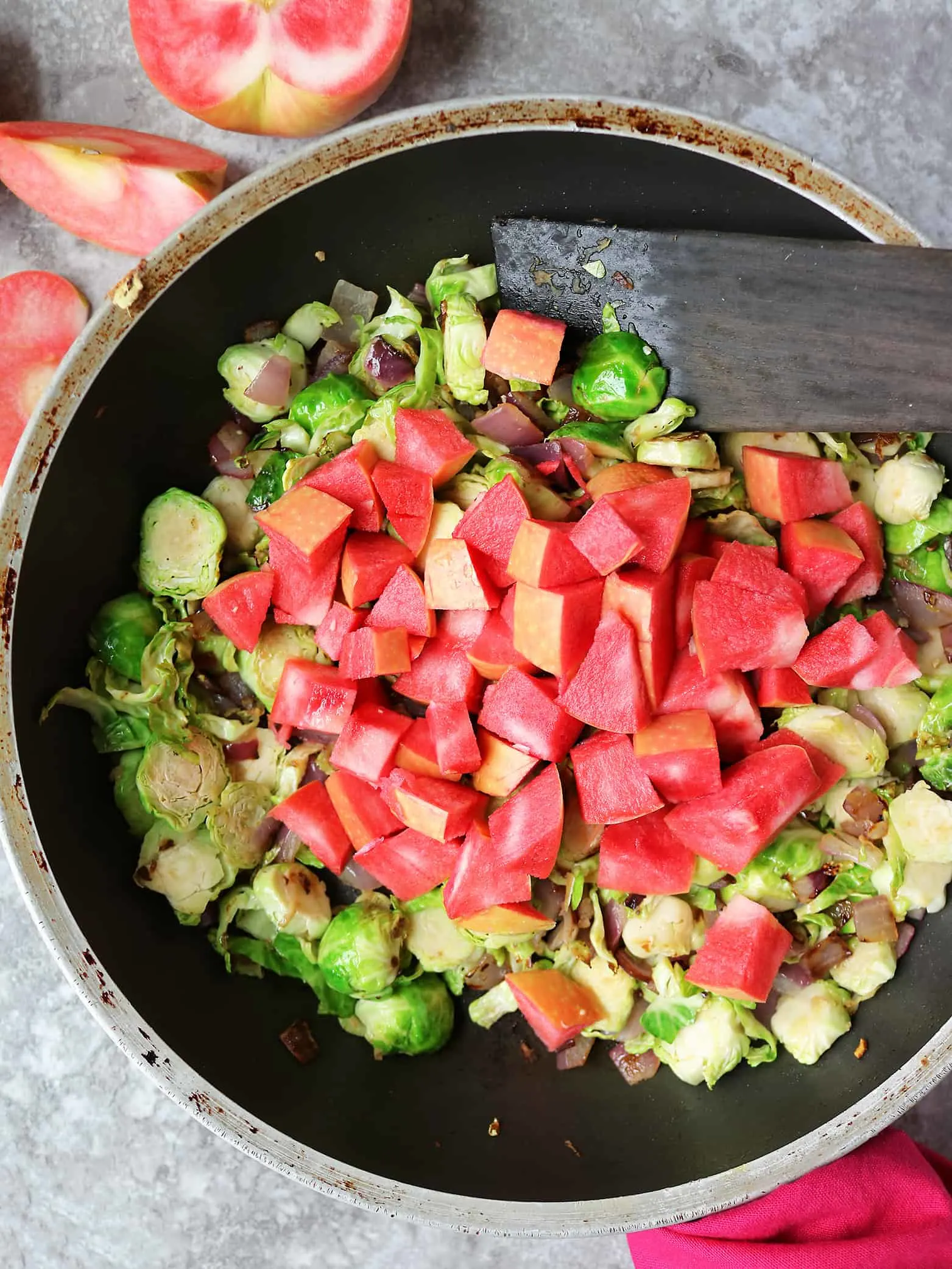 My daughter and I enjoyed this salad for lunch with some pan-sautéed pre-marinated Citrus Herb Chicken we found in the Butcher section at Sprouts while we were heading to the produce section to grab some Lucy™ Glo apples.
While this warm salad is delicious as an every-day side item, its coloring is festive enough for it to be enjoyed as a star side item at your holiday table.
If you are fortunate to have a Sprouts close by (or, like me, are willing to drive 45-50 minutes to get to one), make sure you head on over to a Sprouts and grab some Lucy™ Glo apples before they are all gone!
My daughter and I love shopping at Sprouts. From fresh produce, to marinated meats for busy nights to a wide variety of seasonal baked goods and products to their selection of bulk bin items, Sprouts is well worth the 45-50 minute drive for us!