Sweet, tangy, salty, spicy, crispy, and soft, this Honey Chili Apple Sausage Bake is filled with a gamut of textures and flavors. Made with a handful of ingredients that include gorgeous Lucy™Rose apples, this Honey Chili Apple Sausage Bake is a tasty and healthier dish for the holidays or any day!
I have partnered with Sprouts Farmers Market to bring you this Honey Chili Apple Sausage Bake ~ all opinions herein are my own. Thank you for supporting the brands that keep this blog spinning.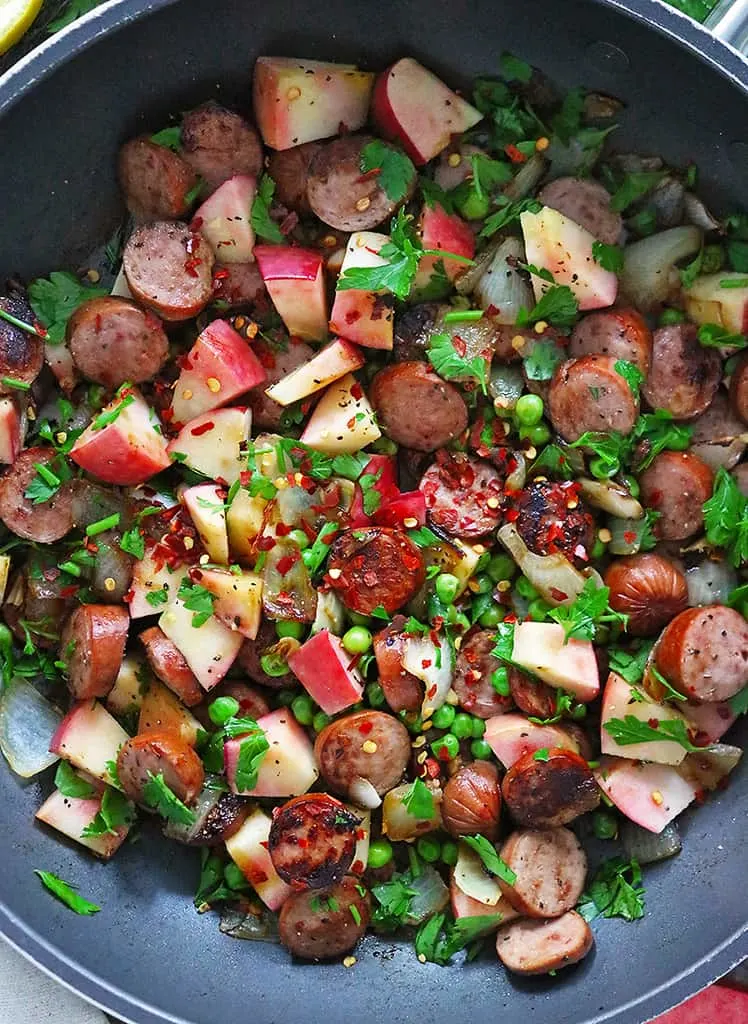 Last year I had the good fortune to get my hands on some Lucy™Glo apples through Sprouts. And, at first cut, I was mesmerized. With a stunning pink-red hued interior, these apples were just as beautiful on the inside as they were on the outside.
And today, I get to share a recipe with y'all, with Lucy™Glo's cousin, Lucy™Rose.
What are Lucy™Rose apples?
Lucy™Rose apples are a cross between Honeycrisp apples and Arlie Red apples. They originated in Central Washington. Lucy™Rose apples differ from Lucy™Glo apples with their bright red skin. But they both share a gorgeous pink-red hued flesh on the interior.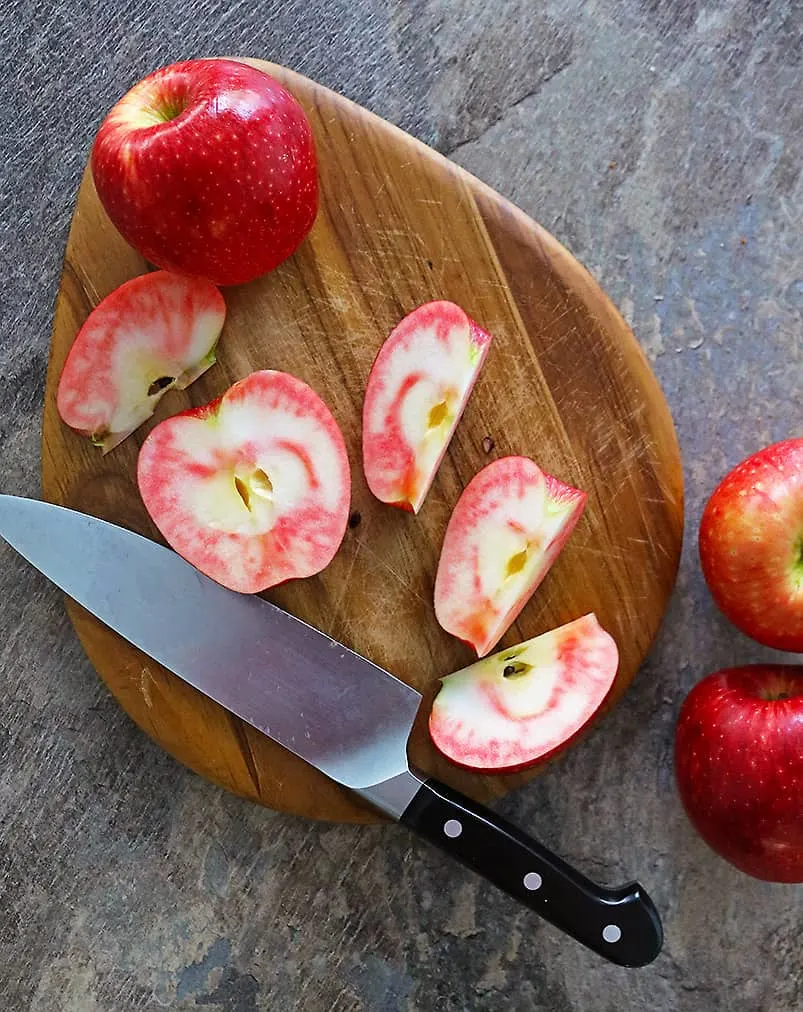 What do Lucy™Rose apples taste like?
They are crisp, sweet, and tangy, with slight berry notes. They make a delicious addition to a cheese plate and add a unique spin to salads.
But, hands down, my favorite way to enjoy Lucy™Rose apples is in this Honey Chili Apple Sausage Bake!
This Honey Chili Apple Sausage Bake is sweet, salty, tangy, and spicy ~ with a bunch of textures from crisp apples to smooth sausage.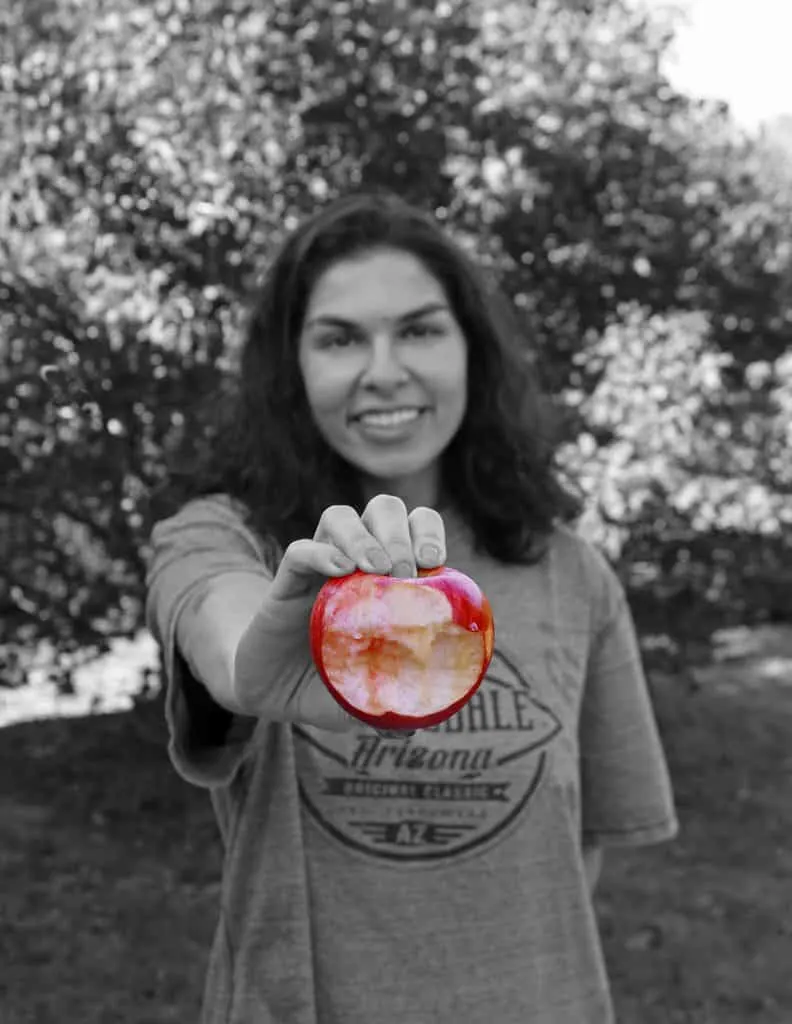 Yes – even though this dish is baked, it is only baked for 10 minutes, which ever so slightly softens the skin of the apples but leaves them still gloriously crunchy on the inside. If you are following a gluten-free or dairy-free diet, you can enjoy this dish.
My daughter and I couldn't get enough of this Honey Chili Apple Sausage Bake. We simply loved how flavors that we originally thought would not pair well, enhanced each other so beautifully. The perfect bite was when we grabbed a bit of sausage, a piece of apple, a sliver of a slightly caramelized onion, and a green pea that had been tossed with honey, chili, garlic and ginger.

What are the ingredients to make this Honey Chili Apple Sausage Bake?
In addition to salt and pepper, you only need 10 ingredients to make this delicious dish, and they are:
olive oil,
an onion,
garlic,
ginger,
Sausage,
Lucy™Rose apples,
honey,
chili flakes,
lemon,
& parsley.
You will need one oven-safe pan, a knife and a cutting board. You will start off by sauteing the onion, ginger, garlic, and sausage in the pan on the stove-top. You will then add in the honey and apples and bake for 10 minutes. You will finish off the dish by adding in the lemon, parsley, chili flakes, and -if needed- some salt and pepper. And this easy recipe is ready to be enjoyed!
I decided to use Lucy™Rose apples for this recipe as not only are they stunning, they are a perfect compliment to sausage and caramelized onion. And, they retain their texture beautifully even when heated.
Since we moved to Covington, we are closer to several Sprouts stores and fall is when Sprouts has a stunning array of unique and special apple varieties. Along with Lucy™Glo, Envy, Juici, and Sugarbee, Lucy™Rose apples make a very welcome seasonal appearance on Sprouts produce shelves. I love shopping at Sprouts because each season, they have a unique and fresh lineup of fruits and veggies. My mouth still waters when I think back to their summer melon extravaganza!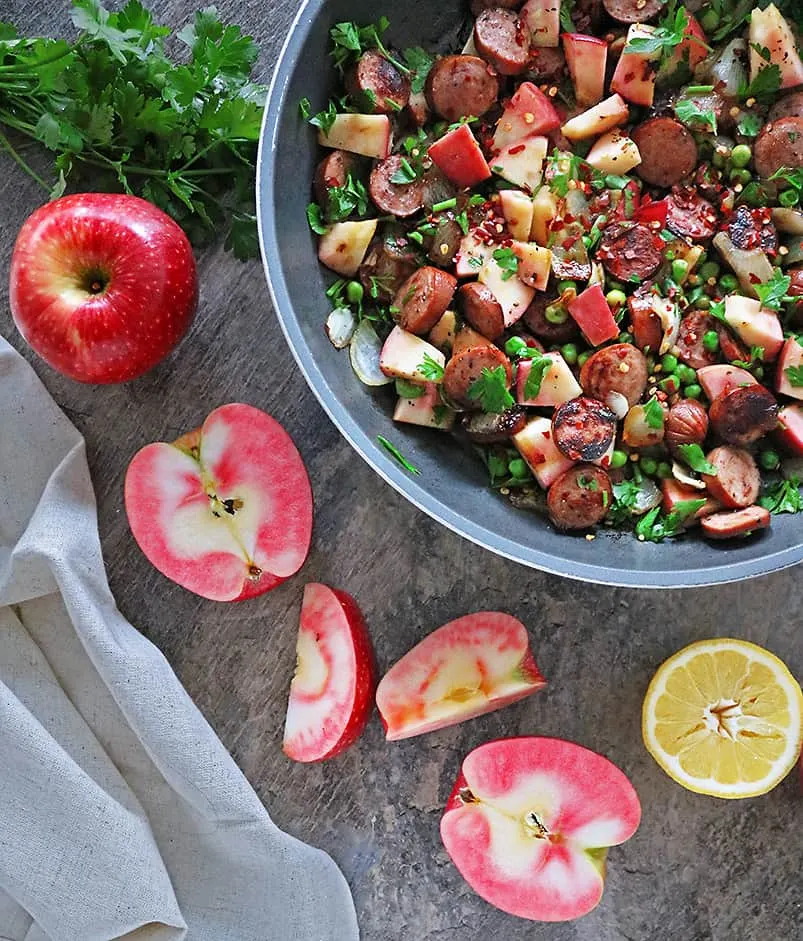 This Fall, make sure you stop by a Sprouts store and grab a few of these seasonal apples to enjoy. While you are there, grab the few ingredients you might not have on hand to make this Honey Chili Apple Sausage Bake and whip up a tasty side dish your family is sure to love!