This lightly crispy Maple Chili Tofu is a delightful blend of sweet and spicy. This plant based recipe makes for a light and tasty side dish.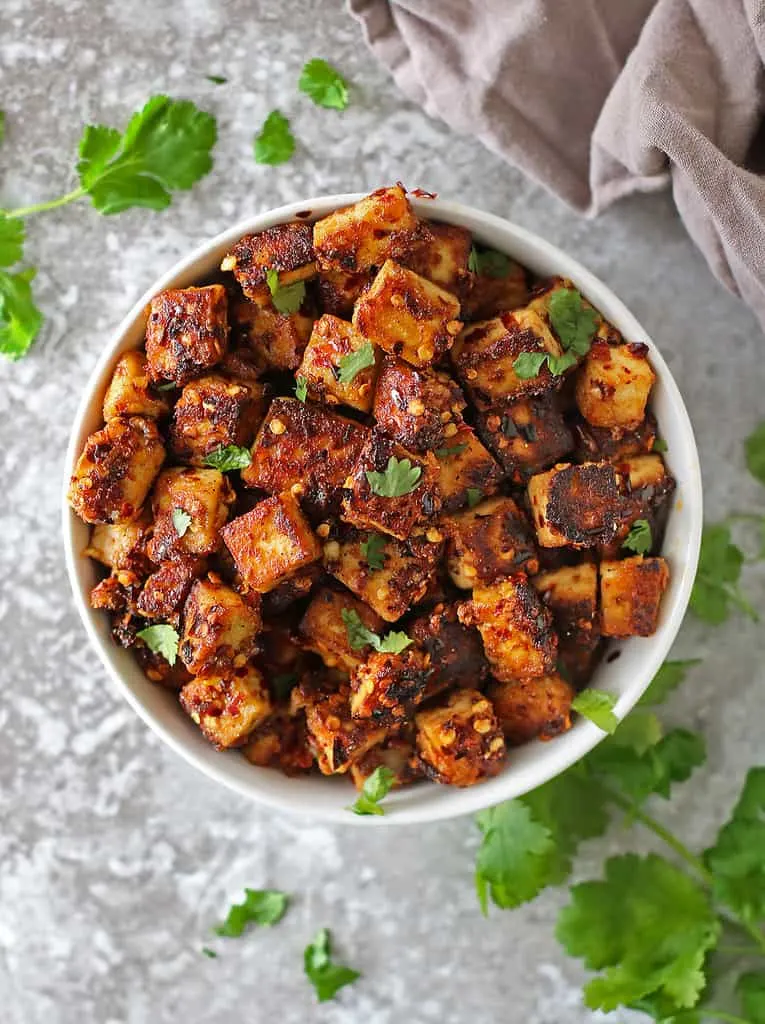 Tofu can be one tricky entity to cook. If it isn't drained well, then it turns out more mushy than crispy. If it isn't spiced right, it turns out to taste more like a moist towel than a tasty side. I know these nuggets of tofu wisdom through trial and error – yup, I've been there, done the mushy and moist towel tofu, and, thankfully, do not have the t-shirt.
However, this maple chili tofu does not fall into either of those above categories.
Each bite-sized piece of this tofu is ever so slightly caramelized and pleasantly crispy on the exterior and tender on the interior, enveloped with spicy undertones from the chili flakes.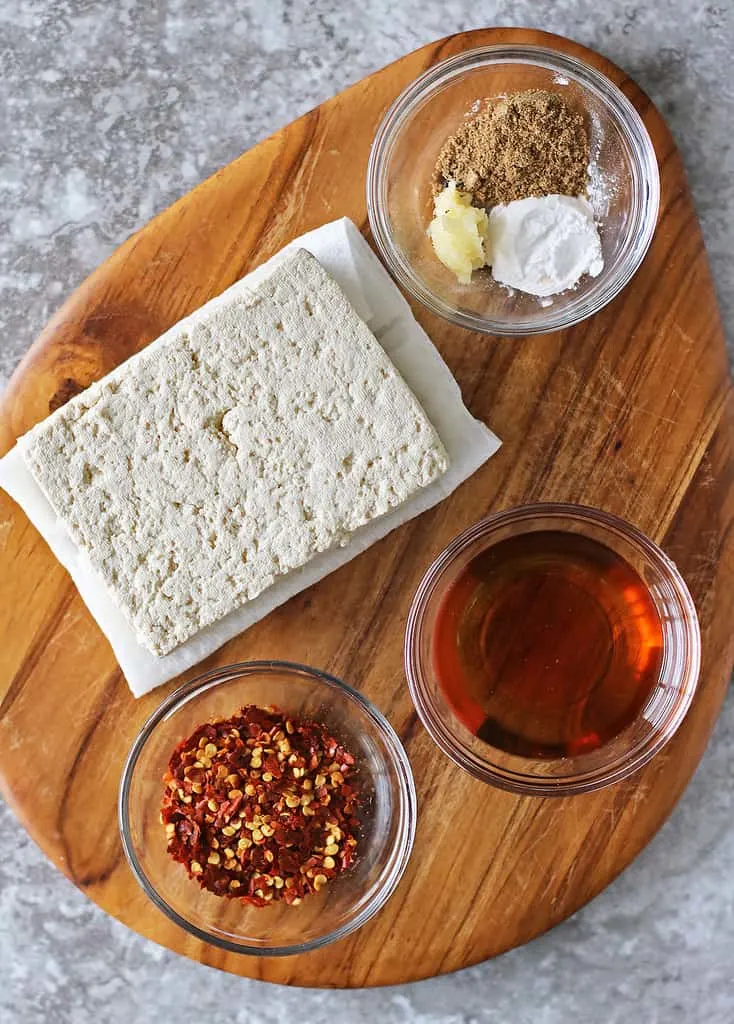 What are the ingredients needed to make this Maple Chili Tofu?
You only need the following 6 ingredients to make this tofu dish, and they are:
Tofu
I used extra firm tofu, which, I find, holds up well to sautéing. When making this dish, it is incredibly important that the tofu is drained well. You can use paper towels to squeeze out as much of the liquid that is in the tofu as you can. You could also wrap up the block of tofu in kitchen towels and place a heavy pan over it until the liquid in the tofu is drained out.

Maple syrup
I used maple syrup from Costco in this recipe. By the way, this is not sponsored by Costco, the maple syrup I find there is just a great deal. You could also use an equal amount of honey or brown sugar in this recipe if you do not have or like maple syrup.

Chili flakes
Chili flakes add a hint of heat to this tofu. Instead of chili flakes, you can add 2 teaspoons of cayenne pepper or a combination of the two.

Arrowroot powder
I used arrowroot powder in this recipe, as it always seems to help the tofu get a nice crisp exterior. Now, you could also use cornstarch instead of arrowroot powder.

Coriander
Powdered coriander adds a nice smoky spin and a ton of flavor to this tofu. If you are looking for a substitution, if you have curry powder on hand, you could add a teaspoon of that instead.

Garlic
Fresh garlic was grated and used in this recipe. Grating the garlic lets it imbibe its flavors thoroughly around the tofu. You could also chop the garlic up as fine as you can if you would rather not peel it.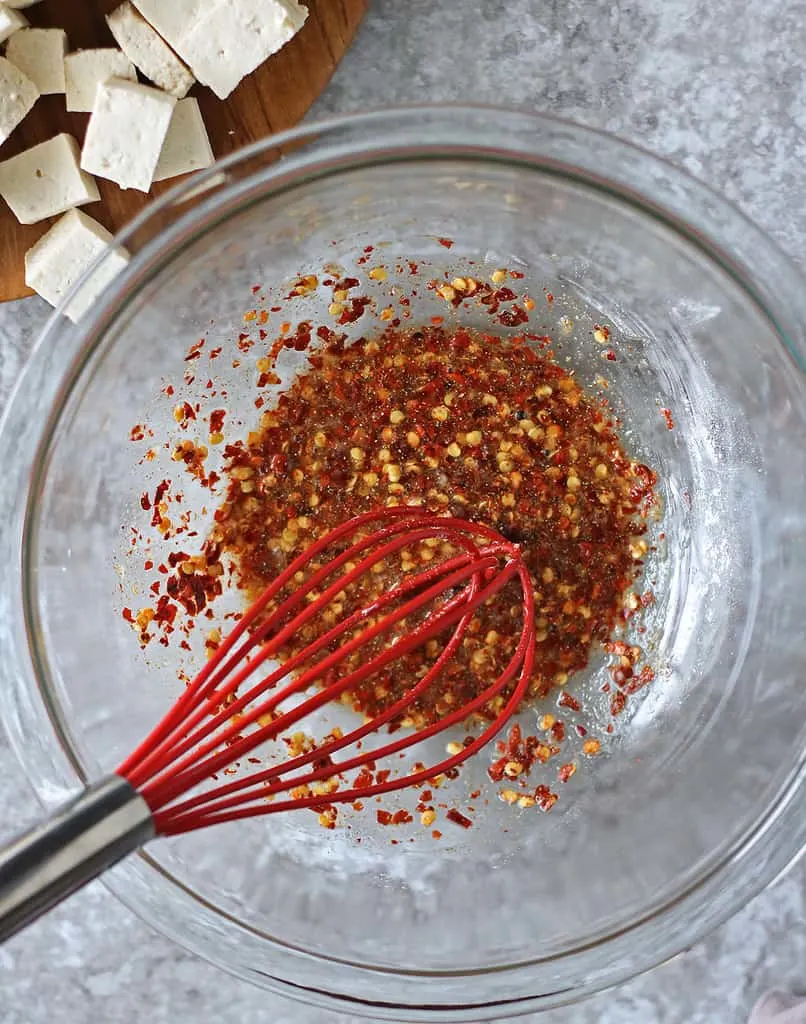 Tips when making this maple chili tofu:
Make sure to drain the tofu off the excess liquid. The drier the tofu, the crisper it will cook up.

Arrowroot powder is the secret ingredient to the crisp exterior of this tofu, so do not leave it out. Arrowroot powder can be substituted with cornstarch as well.

Sauté over a medium flame and make sure to flip the tofu pieces over, so each side can get a nice crisp, caramelization to it.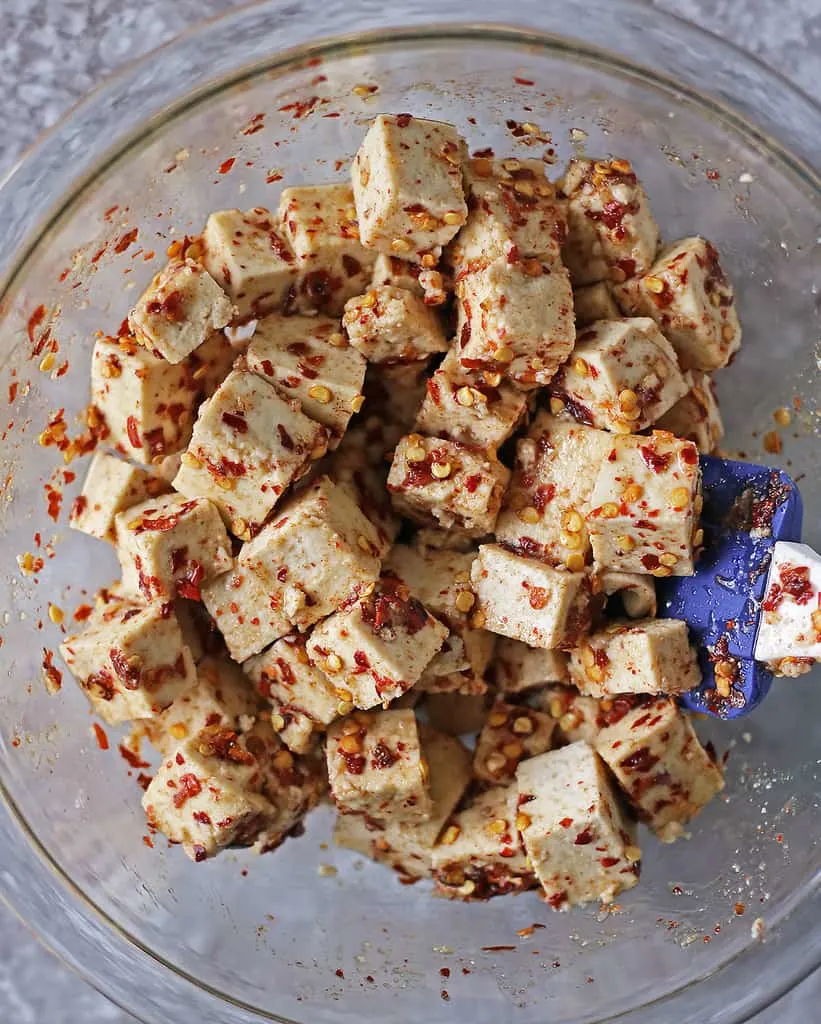 How do you store this tofu?
You can store this maple chili tofu in an airtight container in your fridge for up to 5 days.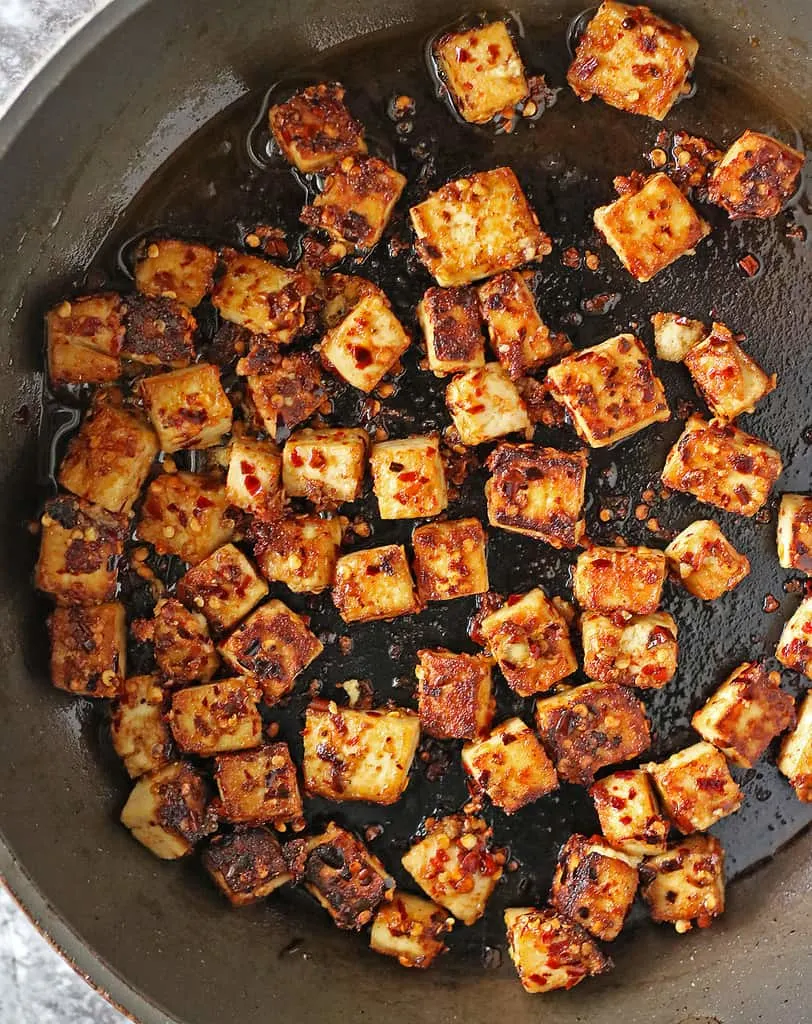 How do you reheat this dish?
When reheating it, you can add this to a lightly greased pan and sauté for 5-10 minutes, flipping the pieces over. Or, you can heat them in your air fryer by setting it to 375 and air frying this maple chili tofu for about 3-5 minutes.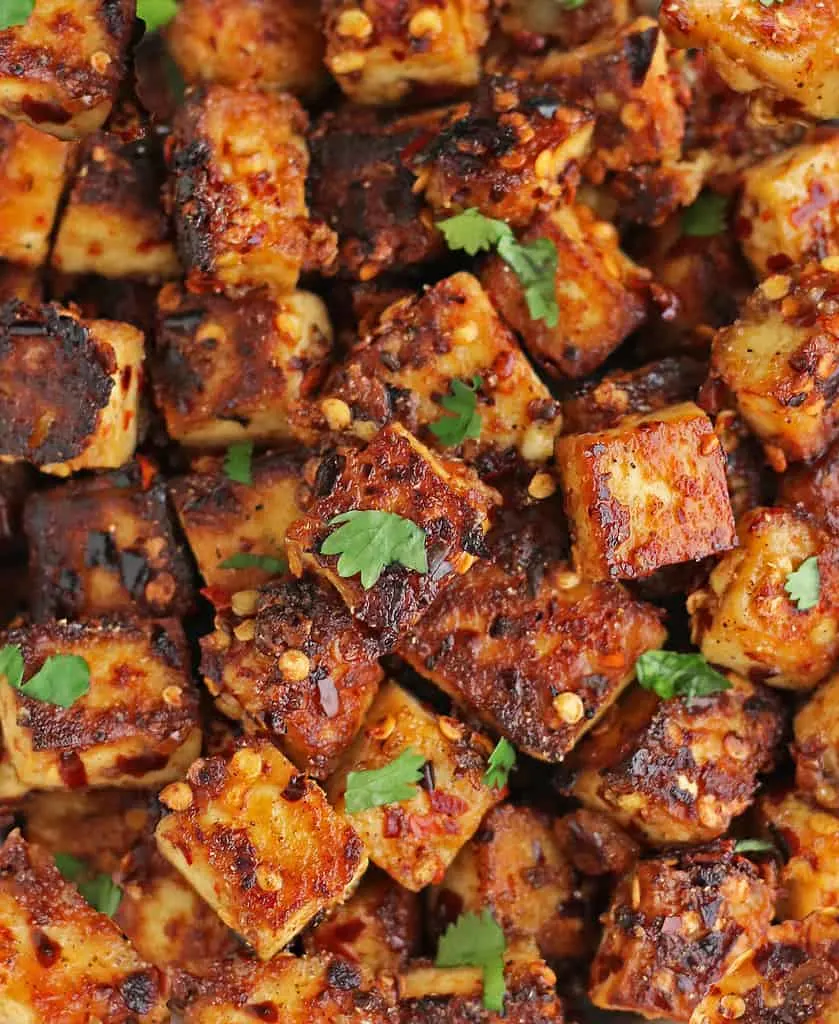 What do you pair this dish with?
You can use this tofu in a large, healthy bowl consisting of this tofu, some spiced carrots, quinoa, edamame, purple cabbage, and roasted broccoli.
Or, you can toss this maple chili tofu into a salad for a tasty and light lunch.
Or, you could serve this tofu with some yellow rice, cashew curry, croquettes, zucchini curry, and spiced eggplant as part of a satisfying, plant-based dinner.