This easy cashew curry is a rich and creamy curry that is a delicious addition to curry night. Made with only 10 ingredients, this plant-based curry is a versatile curry that your family is sure to enjoy.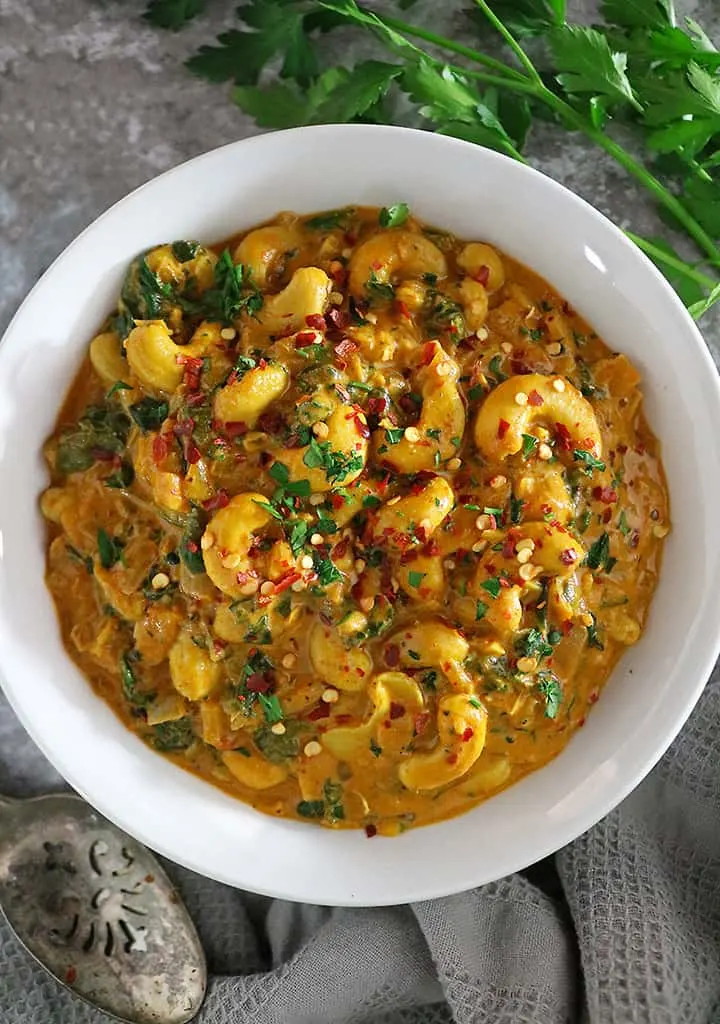 Cashews in a curry? Say What????

Yes, it might sound odd to some…

But, we Sri Lankans have been a tad bit obsessed with cashews ever since the colonizing Portuguese brought them over to Ceylon (now known as Sri Lanka) back in the 16th century or so.
We love to use cashews in everything from love cakes to curries like this easy cashew curry.
And, when it comes to cashew curry, my mom makes the tastiest, creamiest one. My mom usually uses curry leaves and a Sri Lankan spice blend in her curry. When we lived in Sri Lanka, every grocery store carried these items.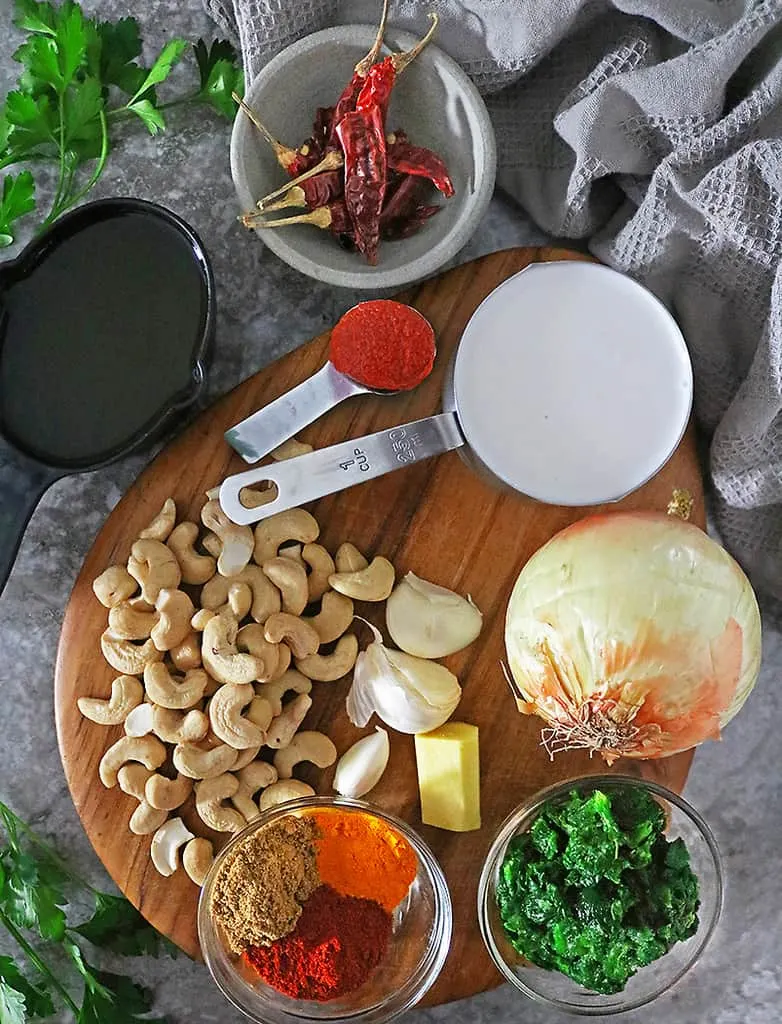 However, these items are harder to find here in Atlanta. My mom found a little South Asian store here in Atlanta where she gets fresh curry leaves from, And, she orders her Sri Lankan spice blend from a vendor in California.
I, however, like to enjoy cashew curry with ingredients I can find at my local grocery store. So, this recipe you see here today is my adapted version of Sri Lankan cashew curry.
It is an easy version of an authentic Sri Lankan curry made with readily available ingredients.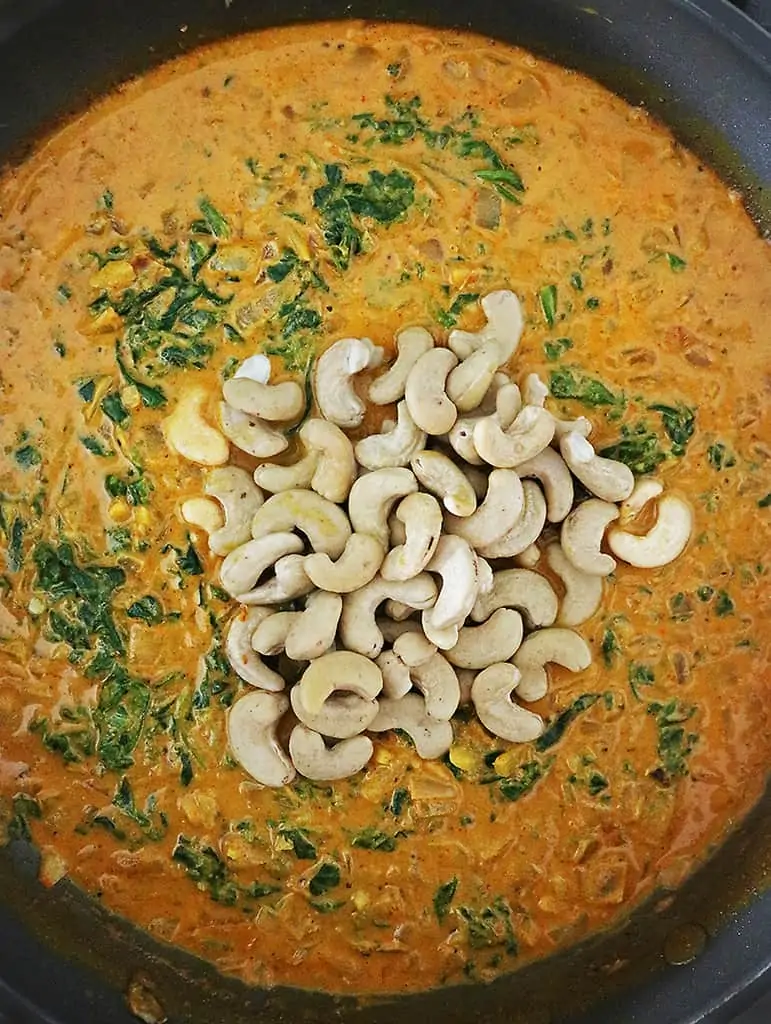 Why do we love this curry?
• This Cashew Curry is so creamy and so tasty.
• It is a plant-based / vegan curry that is a filling side dish when served with a lentil curry and some roti.
• You only need 10 ingredients to make this curry. In addition to oil, salt, and pepper, you will need an onion, some fresh ginger, garlic cloves, coriander powder, turmeric powder, smoked paprika, coconut milk, vegetable stock, tomato paste, and cashews.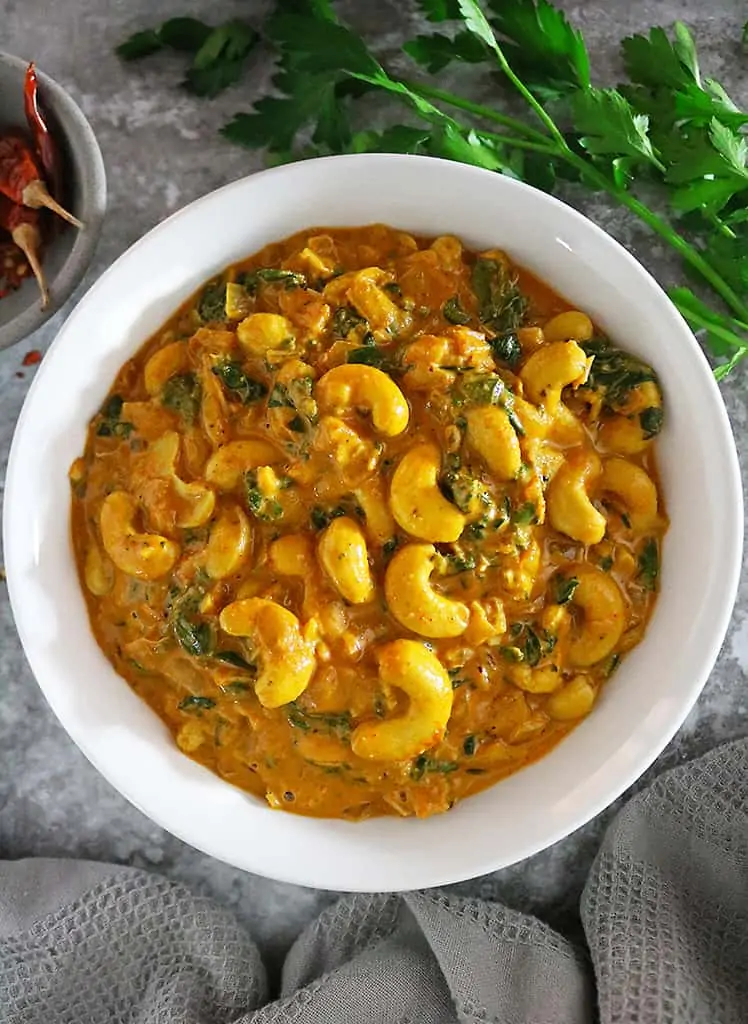 • This curry can be ready in a little over 30 minutes. From sautéing the onions to ladling spoonfuls of this curry onto your plate, the total cooking time is 30 minutes exactly. But, prepping the onions, ginger, and garlic might add a bit more time to the total time involved in getting this curry on the table.
• It is a mild curry that you can choose to spice up. You can do this in one of two ways. One way would be to add in a teaspoon or two (depending on how hot you like it) of chili powder. The other way is to add in some chili flakes onto your portion of the curry, once it is prepared. That way, if someone in your family prefers a mild curry, you don't have to cook two batches of this.
• You can also customize this versatile curry by adding vegetables to it. While traditional Sri Lankan cashew curry is made with cashews only, I have enjoyed cashew and vegetable curry in several Sri Lankan homes, during my early years there. You can add in vegetables like peas, spinach, or carrots, when you add in the cashews and let them simmer until they are tender.
This curry is an adapted version of traditional Sri Lankan cashew curry…
Traditional Sri Lankan cashew curry calls for the cashews to be soaked overnight and then used the next day. But, I've gotta admit, no cashews were soaked in making the curry you see here today.
Soaking the cashews will result in incredibly soft cashews when the curry is cooked. So soft that biting into the soaked and cooked cashews is like biting into a tender piece of jackfruit ~ like in this jackfruit curry.
As I like my cashews to have a bit of a crunch in my curry, I opt to skip soaking them overnight and let them simmer in the hot curry sauce for 20-25 minutes, which does soften them up quite a bit.
However, if you prefer, you could soak yours overnight or use the quick soak method like I did when making this no-bake cake.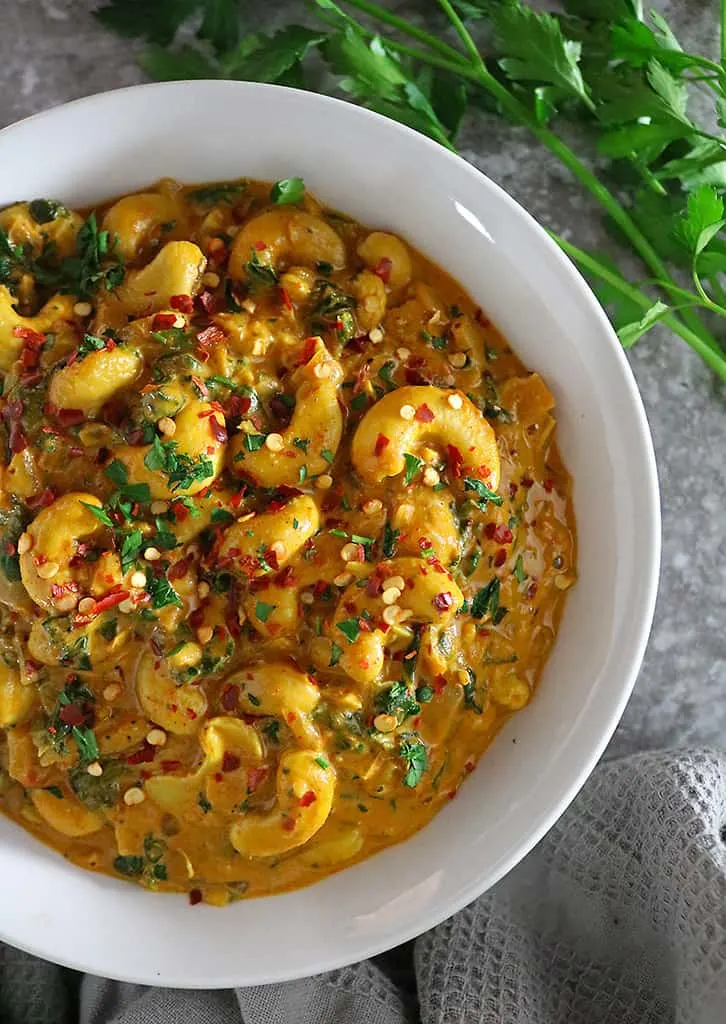 I also opted to make this curry without any curry leaves or Sri Lankan spice blend as I cannot seem to find them in any local grocery stores nearby.
However, if you do happen to find them, you can use 2-3 curry leaves in this while sautéing the onions. And you can sub in 2 tsp of the Sri Lankan spice blend (just be mindful that Sri Lankan spice blends have a lot more spicy chili powder in them) for the coriander, turmeric, and smoked paprika blend I have here.
Did you try this recipe? Then please let me know in the comments below or share a picture of it and tag me on Instagram or Facebook.