Made with under 10 ingredients, this aromatic and tasty, plant-protein packed, one-pot, beans and potatoes recipe makes for an easy and comforting meal.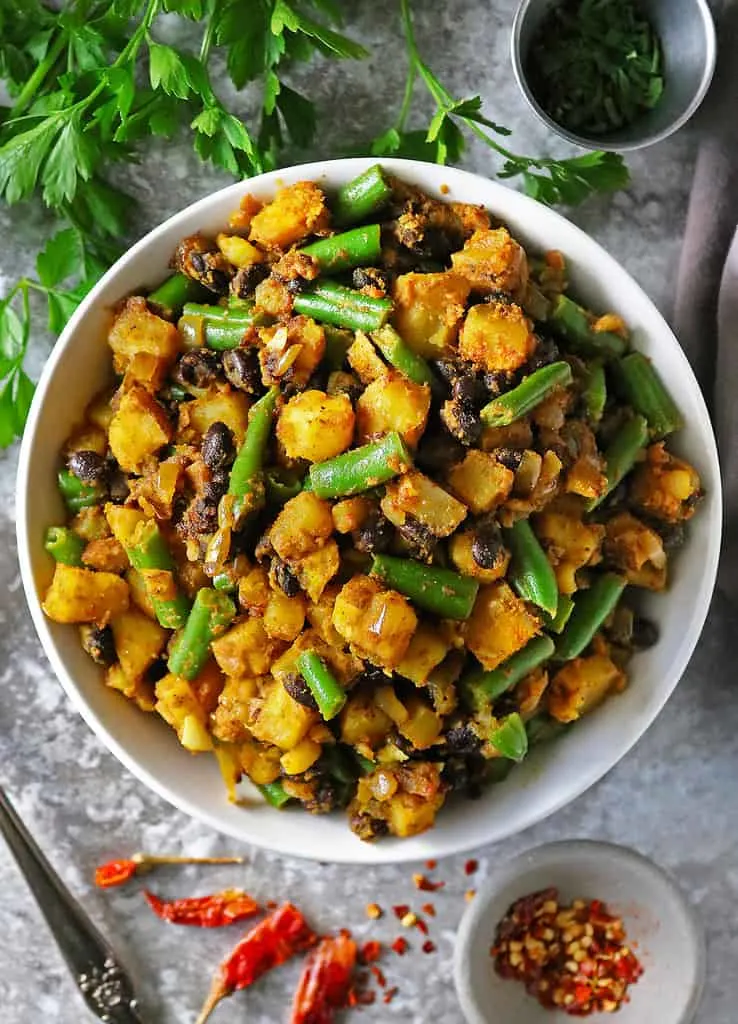 What meat and potatoes are to some carnivores, these beans and potatoes are to me. This is a satisfying, tasty, and comforting vegetarian meal that is sure to be a hit with all.
This easy, one-pot meal is full of flavor from sautéed onions, ginger, garlic, smoked paprika, coriander, and turmeric. It is as healthy as it is tasty.
What are the ingredients needed to make these beans and potatoes?
You need the following 10 ingredients to make this (and you probably have every one of these hanging out in your pantry):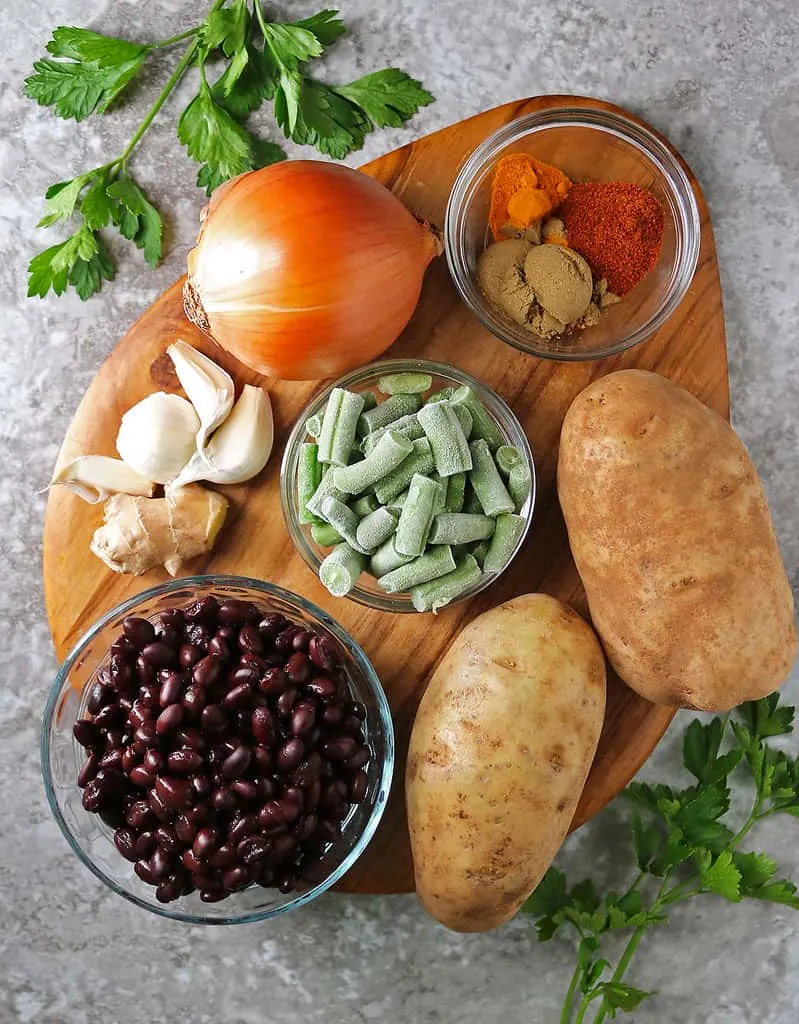 Coriander
I used powdered coriander I found at a local South Asian Store here in Atlanta. Now, I have found that not all powdered coriander is created equal. Some brands of coriander found at most neighborhood grocery stores are not as flavorful, so you might need to add in a couple more teaspoons. But, add in what I have noted in the recipe below first. Then, if you feel it needs more flavor after this dish has been seasoned with salt and pepper, add in a few more teaspoons of coriander to taste.

Turmeric
I used powdered turmeric in this recipe. But, if you have fresh turmeric, you can use that. If you do manage to get your hands on some fresh turmeric, then use 3 times as much as powdered turmeric. So, for this recipe, you would use either 1/2 tsp powdered turmeric or 1 1/2 tsps fresh, chopped or grated fresh turmeric.

Smoked paprika/cayenne
While I've added both here – smoked paprika and cayenne are not one and the same and differ greatly in taste, flavor, and heat. Cayenne tends to pack some heat and adds a nice hot, spicy flavor to this recipe. Whereas, smoked paprika adds a deep, smoky, flavor to it. I have added them both together, as I have made this dish sometimes with just smoked paprika only, and other times with just cayenne only. But, they can also be combined, if you want to enjoy the best of both spices.

Onion
For this recipe, fresh onion is a must. Onion powder would not be a good substitute. If you are short on time, you could grab one of those store-bought containers of pre-chopped fresh onion and use that.

Garlic
Just like the onion above, fresh garlic is a must in this recipe. You could grab a container of peeled fresh garlic, which is available at most grocery stores.

Ginger
Like the fresh onion and garlic, fresh ginger works best in this recipe.

Olive oil
I love the flavor of olive oil, so I use it in most of my recipes. However, you could use your favorite oil instead of olive oil.

Potatoes
I used 2 large baking potatoes in this recipe. I cut down on cooking time by dicing the potatoes into very small pieces – ever so slightly smaller than bite-sized pieces.

Green beans
Frozen green beans were used in this recipe. But, you can use canned green beans or fresh green beans as well

Black beans
Canned black beans that were drained and rinsed were used in this beans and potatoes recipe. Using canned black beans cut down on time as well as extra steps involved if dry black beans are used.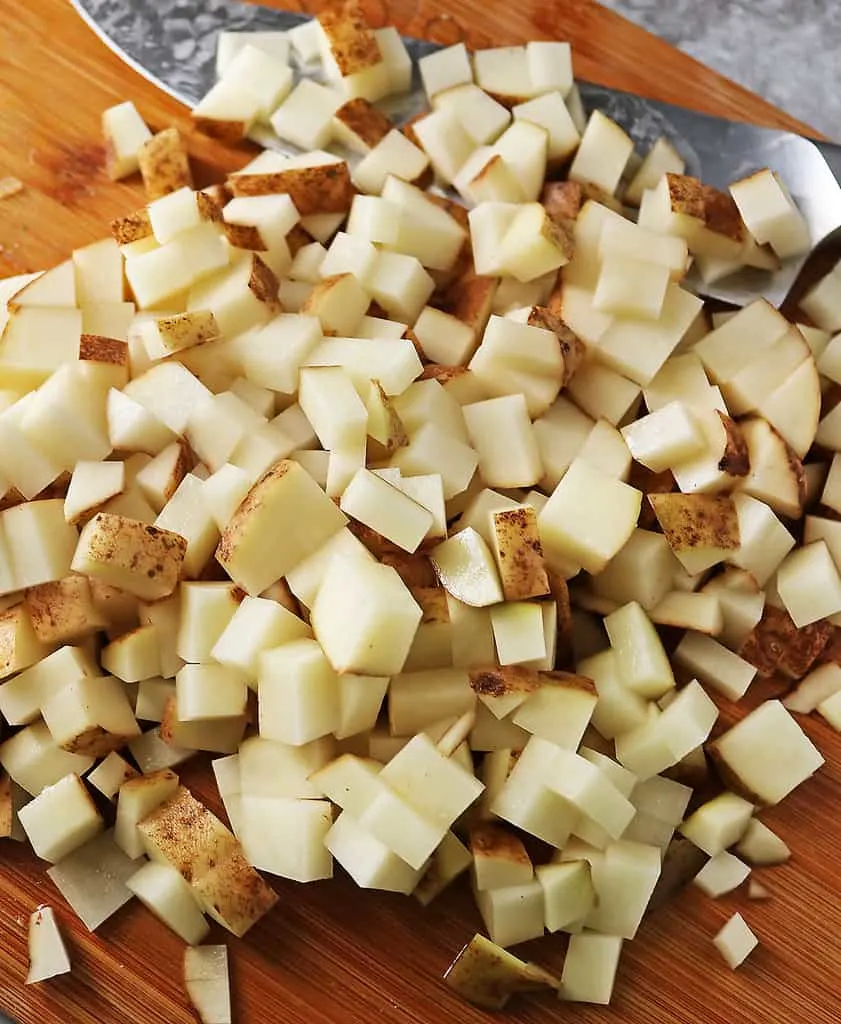 To me, potatoes are comfort food. And, this week, my daughter and I have needed all the comfort we can get.
This past Wednesday, our 10 years and 1-month-old Newfoundland mix, Ollie, decided to join his sister, Tawny, over the rainbow. He was diagnosed with an inoperable stomach tumor on Monday, and he succumbed to it on Wednesday morning.
Just like his sister, he showed us, especially my daughter, the depths of true, unconditional love. To have experienced his love and loyalty has been such an amazing blessing ~ one not easily forgotten. Our house is so quiet without him running around and grumbling and barking. To say he is missed is putting it mildly.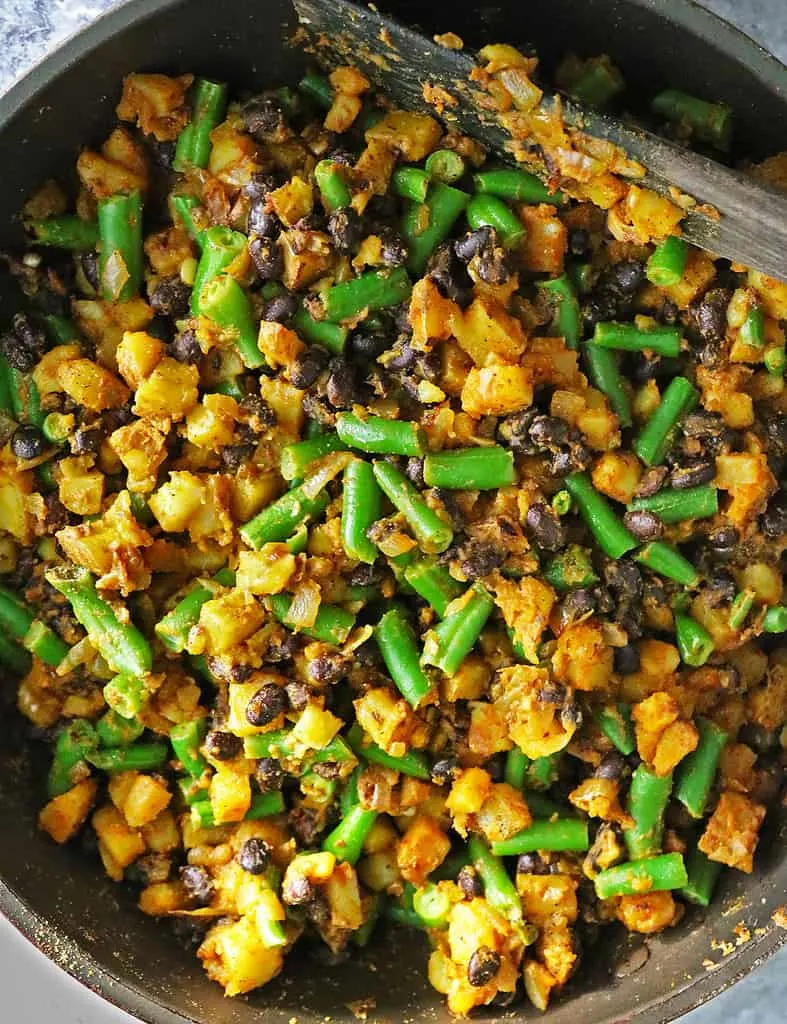 As we try to get back to some semblance of navigating this life without him, we have been trying to eat more potatoes, which are what some people call, nature's Prozac.
This easy, beans and potatoes dish has been so comforting and tasty. It is a plant-based, one-pot meal that is perfect to nourish ourselves with during this time.