Mini Andouille and Pepper Jack Pizzas on a cheesy, gluten-free, beet crust!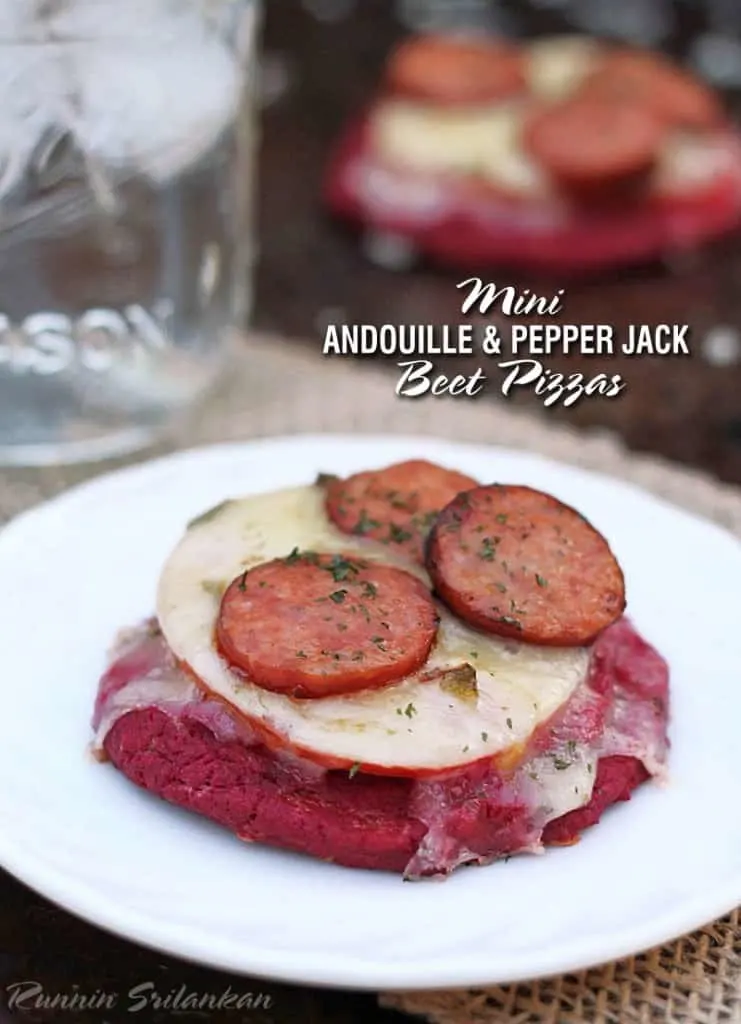 Once upon a time, I made a beet crust pizza that (not to toot my own horn) garnered rave reviews. I even had a few private chefs email me that they had tried out that recipe for clients who were gluten-free, and the clients seemed to have loved it!
So, I figured I would take that gluten-free beetroot pizza crust and make it into a base for these mini beet pizzas.
While I topped each mini pizza with sausage, tomato, and cheese, you can use whatever your favorite toppings are.
These mini beet crust pizzas are always a hit. They are tasty, gluten-free, and a fun and easy dinner or lunch recipe.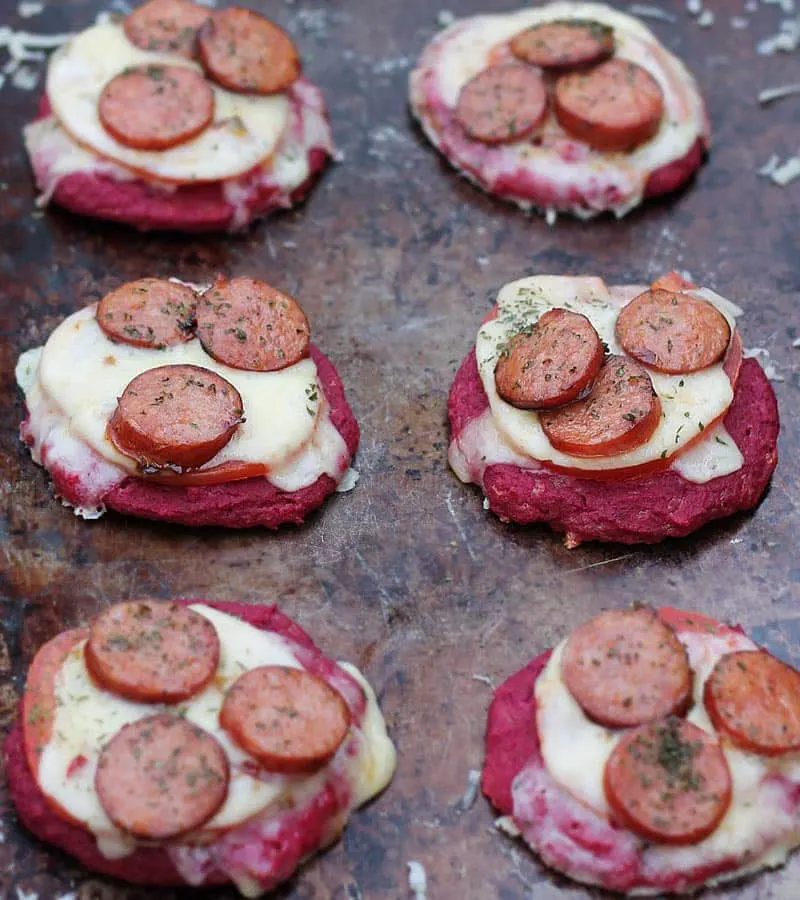 ---
Sometimes my daughter's study habits boggle my mind – heck, that's a lie!
What I should have really said is that ALL the time my daughter's study habits boggle my mind! She needs to have her iPod spewing tunes, and a show on the telly, for her to be able to study or do her homework! How she brings home mostly A's, I will never quite comprehend.
I think that hand-me-down Parent Handbook I got, forgot to mention that sometimes our children tend to be different from us! The Nerve! For as far back as I can remember, my brain has needed total silence to churn! Sometimes, I even drive in total silence!
Recently, I figured I would do the whole "mile in my daughter's shoes" thing; and started this post, with an old episode of Glee on the telly and Don't Dream It's Over by Crowded House on my iPod.
I managed to write down the disclosure to this post before being totally distracted by what was on Glee.
And, I haven't quite been able to kick that tune that was on Glee out of my head!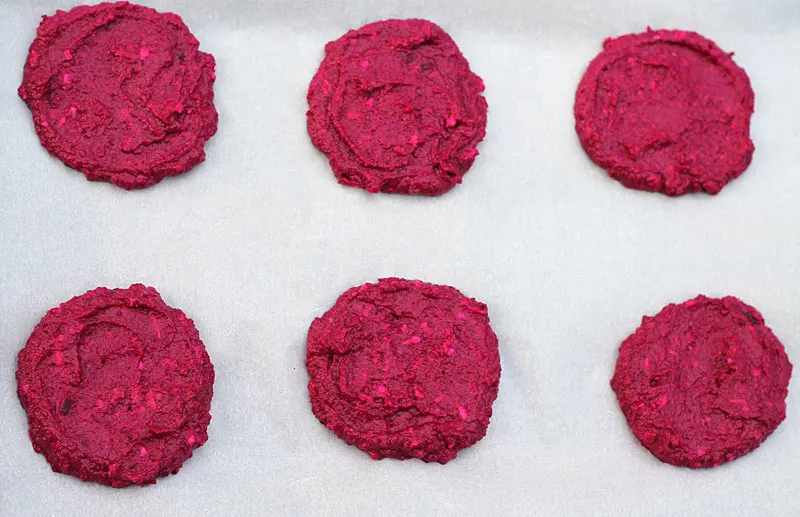 Maybe if I hadn't downloaded it on my iPod, I wouldn't stop mid-conversation and say, "let's have a kiki" – with matching hand gestures! I guess it's only fair I share and infect or re-infect your brains with this song too!
Maybe if we met for a kiki, I would share some of these mini pizza appetizers with y'all! They just happen to be gluten free and beet-full – I guess that gorgeous red coloring gave that last part away?
While my daughter and I have different study/work habits; these days, we both adore beets.
I make little gluten free beet discs and we usually sandwich two together with Cheddar or Gouda and/or some sort of meat and/or caramelized onions and/or spinach.
Yes – these are totally versatile and totally fun to eat.
If you happen to not be a beet lover (the nerve!) – these don't have a strong beet taste to them – so go right ahead and dig in!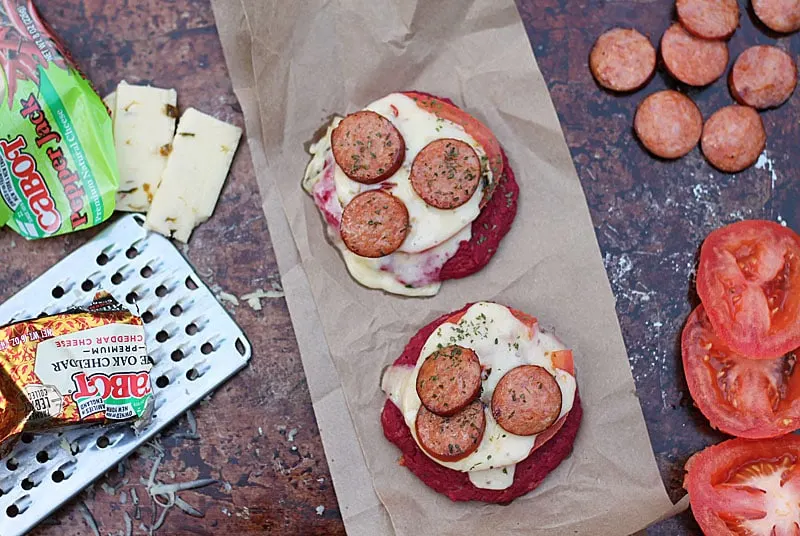 I used to try to keep these discs gluten and dairy free, but when the chance to experiment with Cabot cheese crossed my path through a contest sponsored by Cabot Cheese and The Recipe Redux, my daughter suggested adding cheese to the beet disc mixture and that's what led to these mini beet pizzas.
That added cheese took these discs to a whole other taste-level! I topped these with sliced tomatoes, sliced pepper jack and sliced and cooked Andouille Sausage – for a quick evening/after work/school snack.
But, feel free to chose any toppings you fancy – when you make these for your kiki! That color alone will spark conversation that might last into the wee morning hours!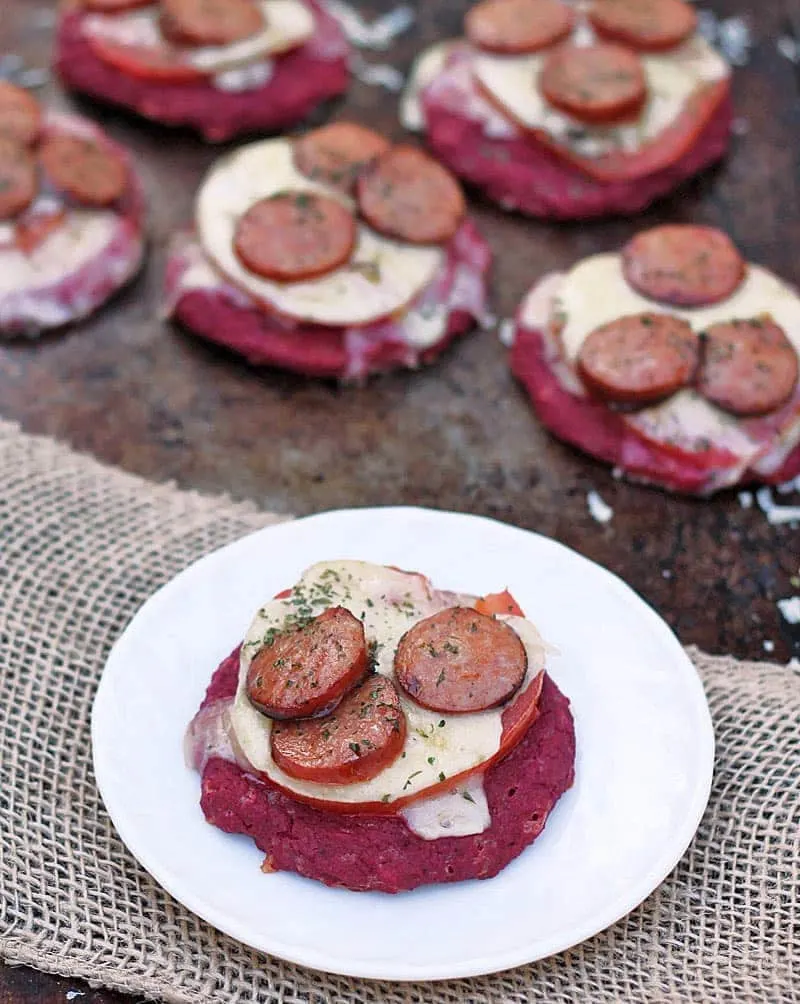 Please feed my curious mind – what's going on around you when you write/work/study? Do you thrive in silence or with the telly blasting or in the middle of a kiki? 🙂

"Cabot Creamery is a family-farmer owned cooperative of more than 1200 farms located throughout New England and New York. One-hundred (100) percent of Cabot's profits go back to their farmers. Cheddar cheese is a protein-rich snack and naturally lactose free."
Follow Cabot!
Facebook • Twitter • Pinterest