Lightly crispy, these Spicy Baked Tofu medallions are made with just 6 ingredients and are perfect to serve up as a holiday entrée or everyday side dish.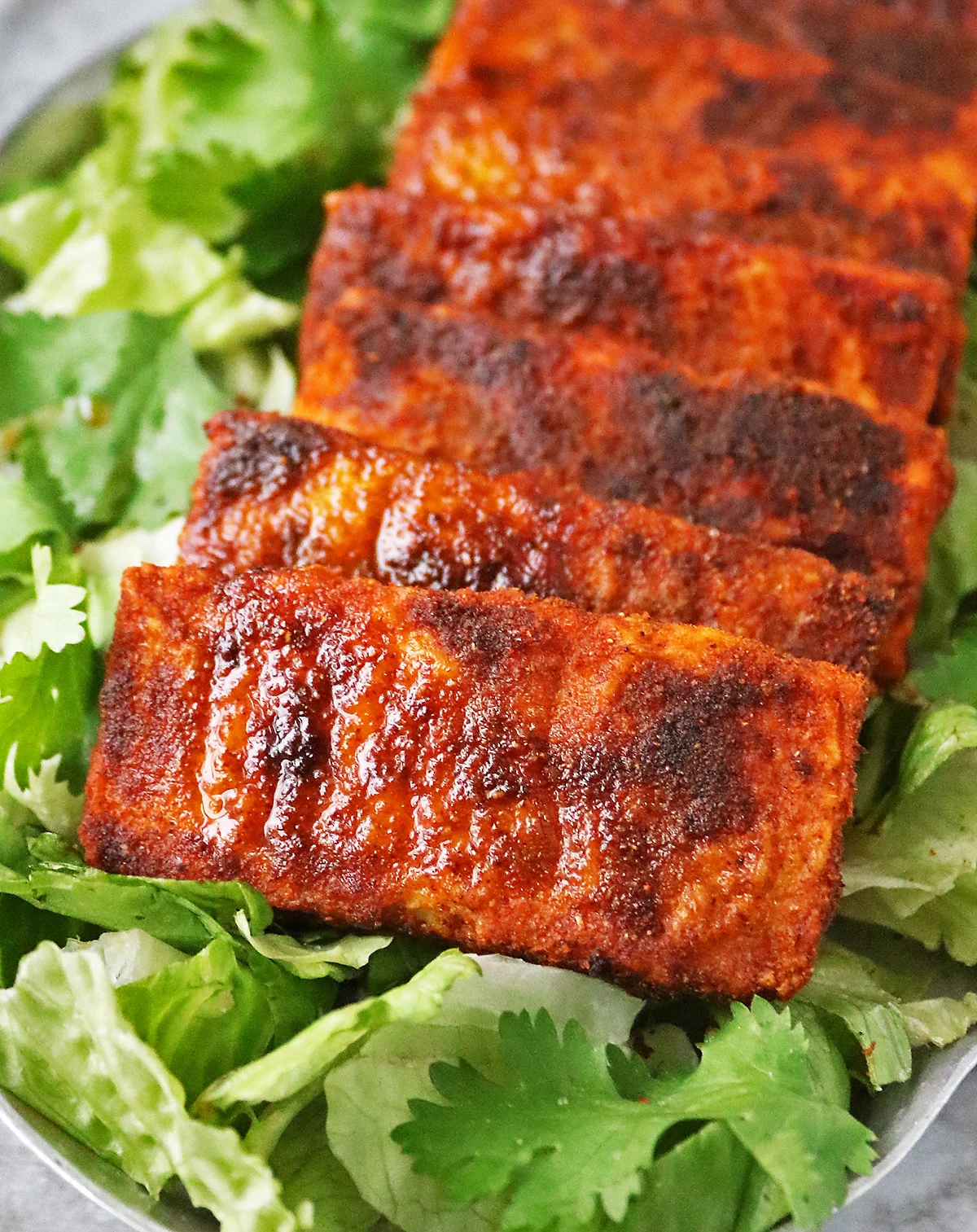 If you happen to be looking for a delicious plant-based main to serve up this thanksgiving or holiday season, this spicy baked tofu might just be for you.
Though, the same might apply if you were looking for something tasty to pair up with a quinoa salad for an everyday lunch or dinner.
The last time I made this Spicy Baked Tofu, I enjoyed medallions of it between lightly buttered and toasted bread slices. I think the technical term for this creation is a spicy baked tofu sandwich!
There are as many ways to enjoy this Spicy Baked Tofu as there seem to be opinions on tofu. Some people love it, some people hate it. Then, there are those, like my college roommates, who say it smells like feet. In fact, they would often refer to "tofu" as "tofeet" ~ le sigh!
Me, personally, I love tofu – when it is cooked just right. And the recipe you see here was a tantalizing treat for my taste buds.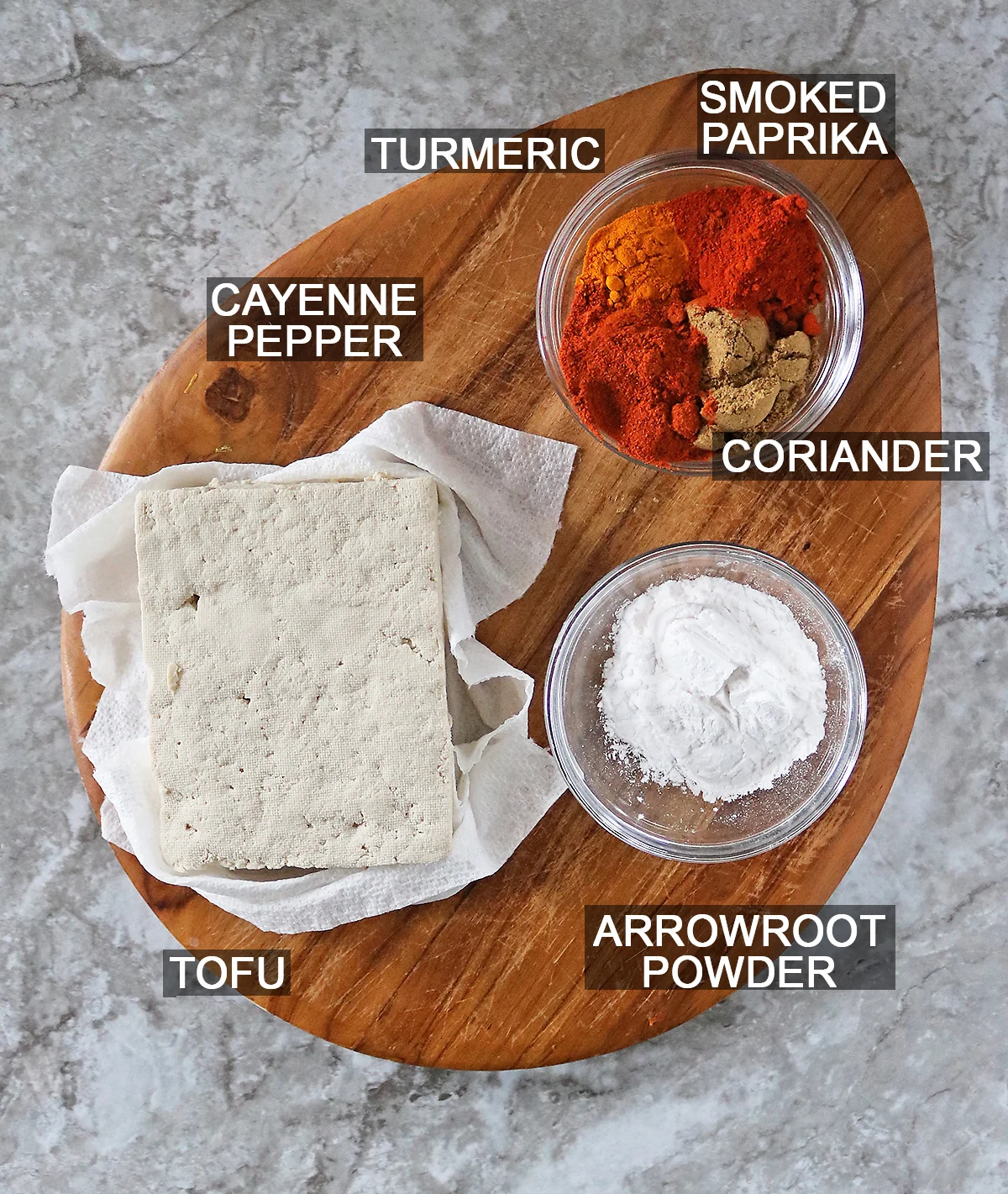 What are the ingredients to make this Spicy Baked Tofu?
This dish is made with 6 ingredients only, and they are:
Tofu
I used extra firm tofu for this dish. It holds its shape well even when rigorously dried, slapped with spices, flipped, and baked.

Coriander
Coriander powder can be found in most stores, these days. If not, there is always Amazon. Make sure you check the expiry dates, as coriander loses its potency with time and is not as flavorful or pungent.

Smoked paprika
Ground smoked paprika blends well with the other spices in this dish and should not be skipped.

Cayenne
This is the only optional spice. I like a bit of a kick to my food and cayenne delivers. If you would rather your tofu medallions be milk, leave out the tofu entirely, or use a fraction of it.

Turmeric
Ground turmeric can also be found in most stores these days and rounds off the rest of the spices so well.

Arrowroot
I love to use arrowroot powder as it helps dry out the tofu. It also helps it bake up ever so lightly crispy. If you do not have arrowroot powder on hand, then use cornstarch.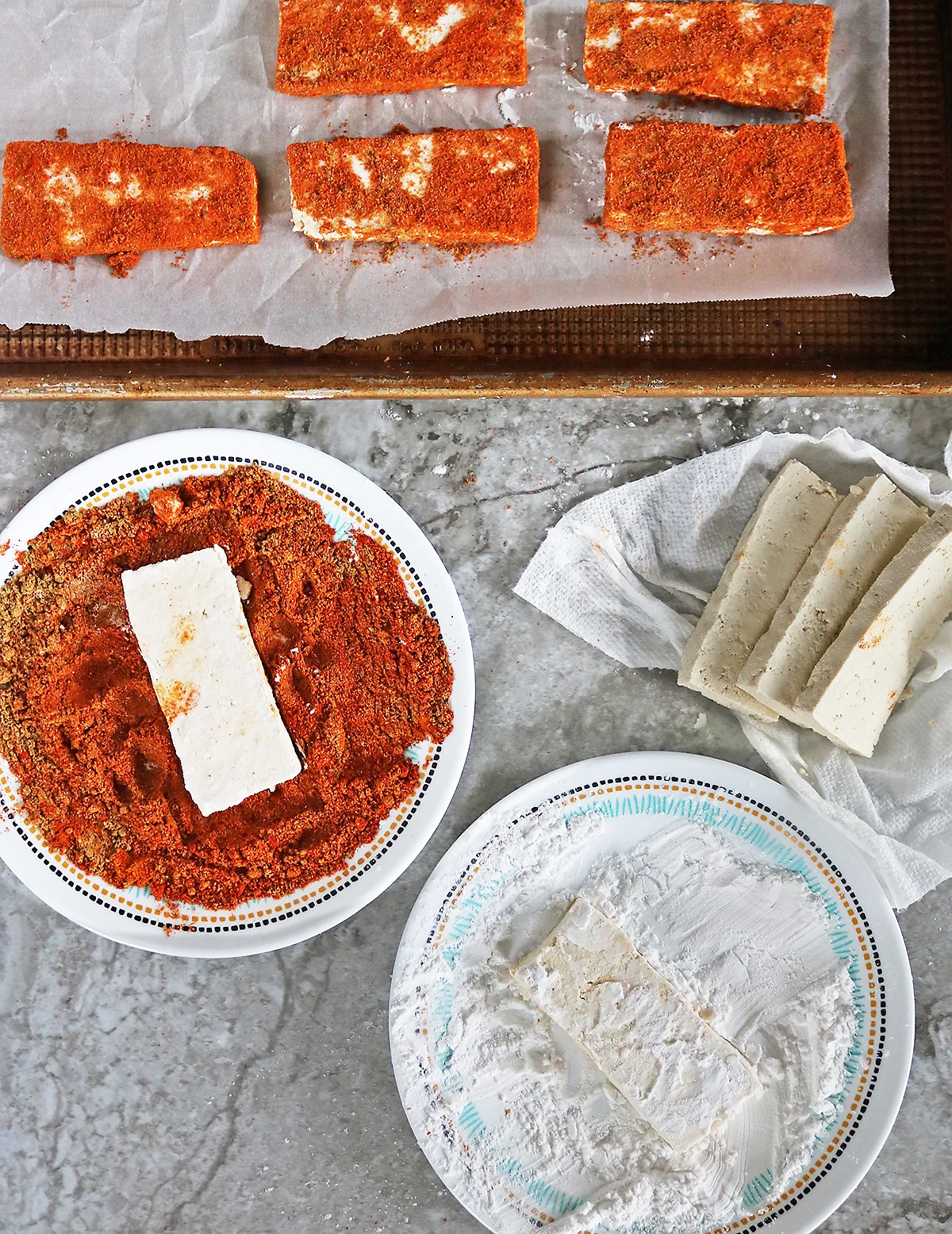 A Few Tips When Making This Dish:
Make sure to thoroughly dry the tofu. I like to wrap it in some paper towels or kitchen towels and leave it on a plate, with a pan on top of it to squeeze as much of the water out. I change the towels after 15 minutes or so. And repeat this 3-4 times. Sometimes, I just leave the wrapped tofu on a plate in the refrigerator overnight.

Dredge the tofu in the arrowroot powder or cornstarch, making sure it covers the medallions of the tofu well.

Do not discard any leftover spice mix. When you flip the tofu slices after the first 15 minutes of baking, you can use the spices to cover up any spots that get exposed during the flip.

This is one of those dishes that are best made and served the day of. You can store this in an airtight container, in a refrigerator. But the reheated medallions of tofu just don't get the same crispness as when they are first baked. So, if you plan to serve this for Thanksgiving or The Holidays, then make this just before the meal. It doesn't involve a lot of work or prep (other than the drying bit), so it is quick and easy to whip up.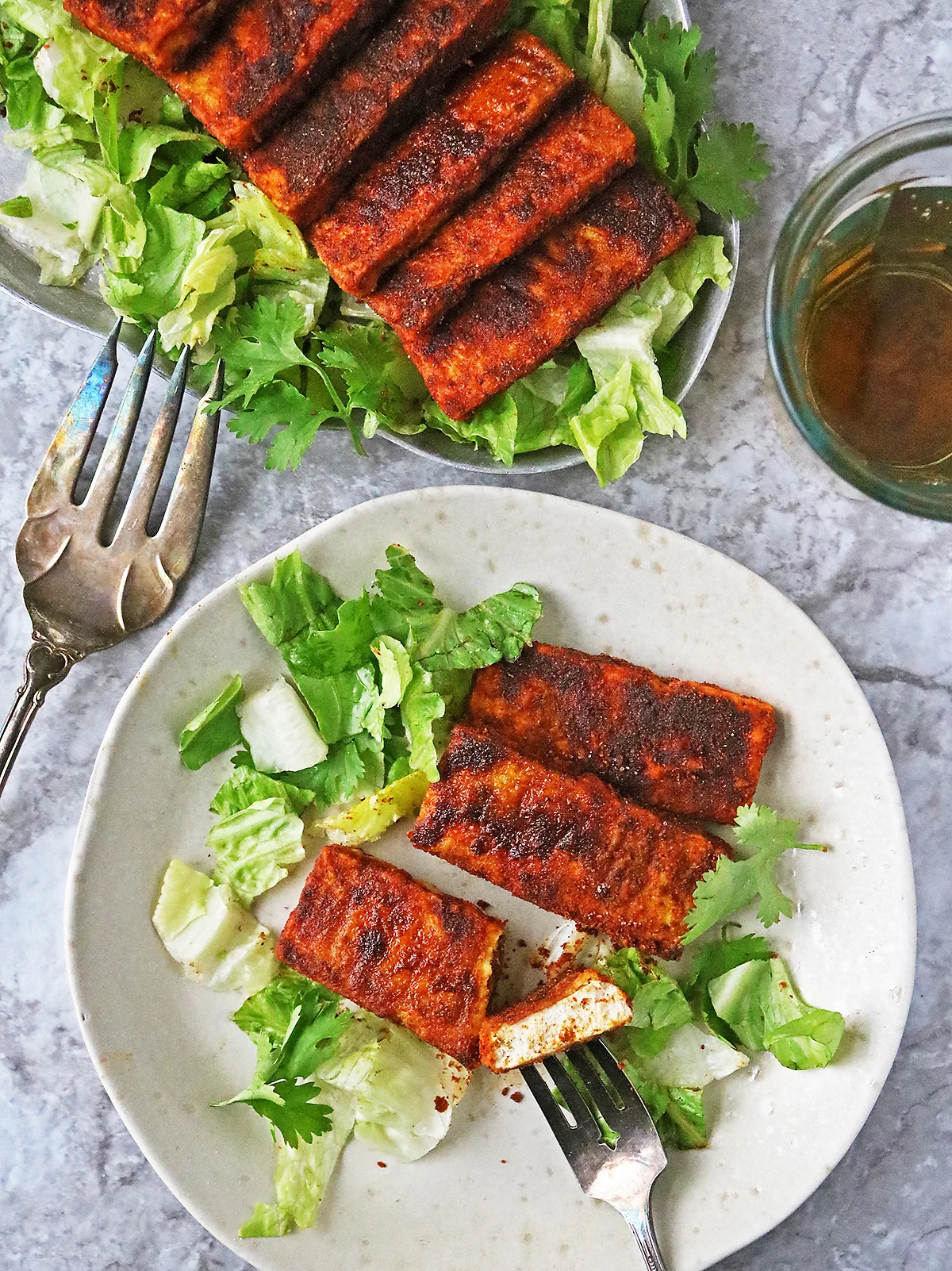 How To Serve This Spicy Baked Tofu?
This tofu dish would be delicious as part of a vegetarian/vegan Thanksgiving or Holiday Dinner. It is also a tasty side with some quinoa salad or yellow rice and broccoli curry.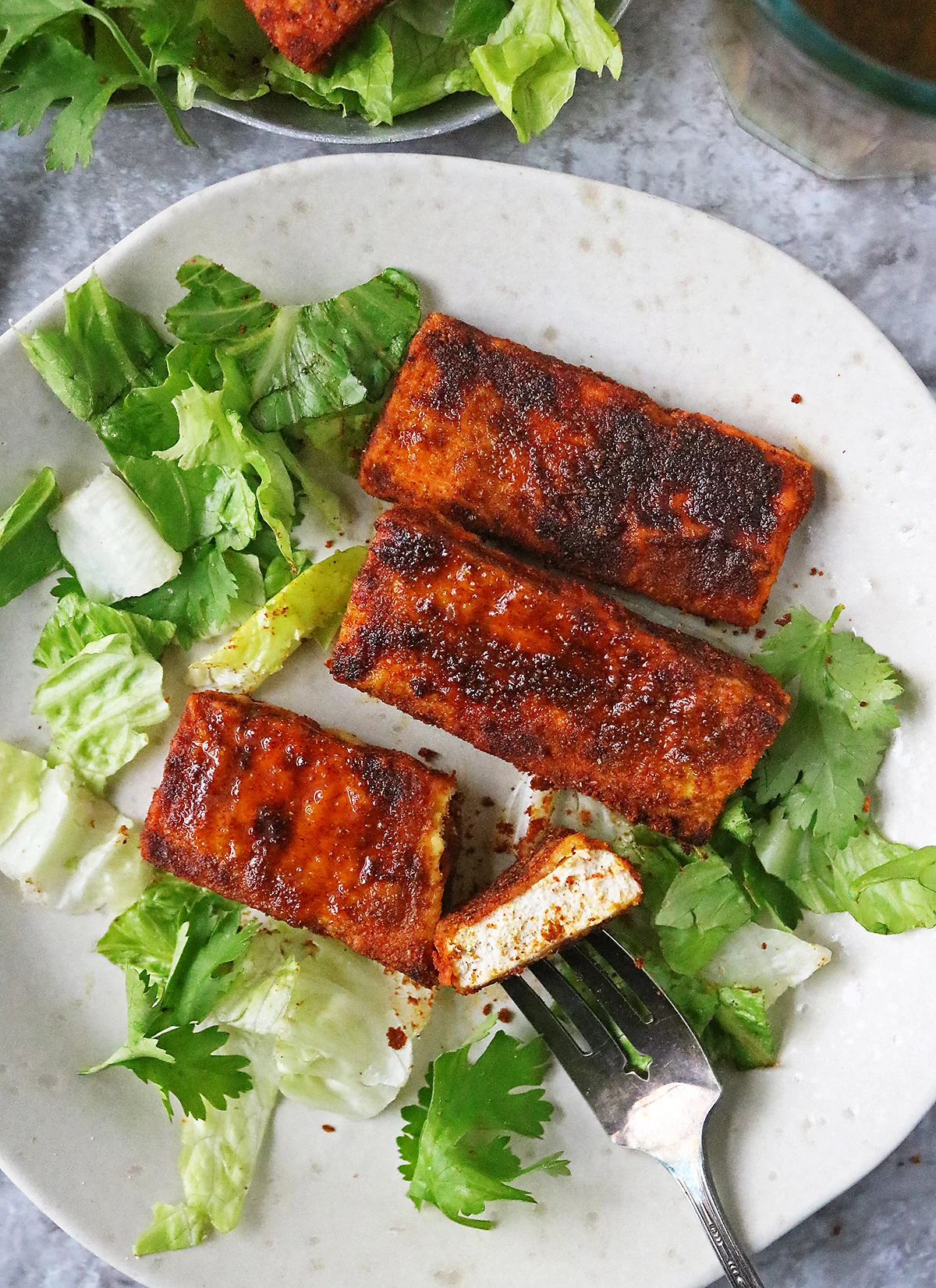 Thanks so much for stopping by. If you make this dish and ENJOY It, please let me know in the comments below. If you DO NOT enjoy it, then bugger off ~ I kid, I kid! All jokes aside, please do subscribe and follow me on Instagram and Pinterest for more easy fusion recipe ideas!