Tofu is spiced and oven-roasted until crispy, along with a medley of comforting vegetables in this Easy Sheet Pan Spicy Tofu dish.

I've partnered with Sprouts to bring you this Easy Sheet Pan Spicy Tofu Recipe. All opinions expressed are my own. Thank you for supporting the brands that keep this blog spinning.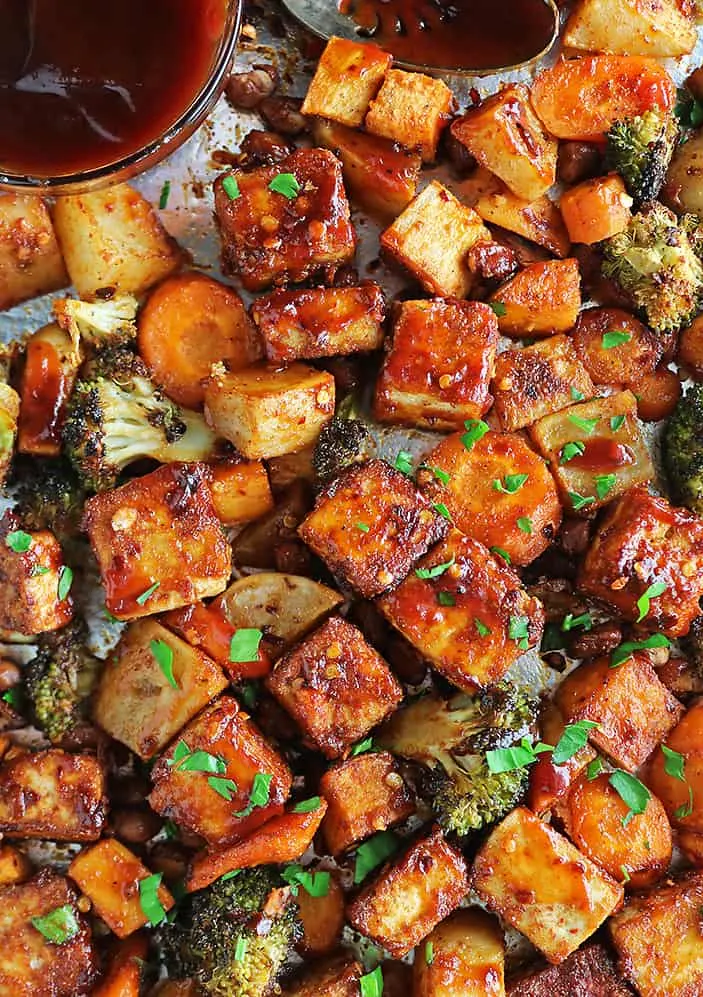 Right in the middle of cutting the grass on a sweltering 98-degree day with the humidity at 87%, I begin to yearn for the cooler temperatures of fall.
But, this fall is bittersweet. This fall my daughter spreads her wings and sets her sights on furthering her academic life in another city. Yes, this fall I will be an empty nester and all I'll say is that empty nesting is overrated!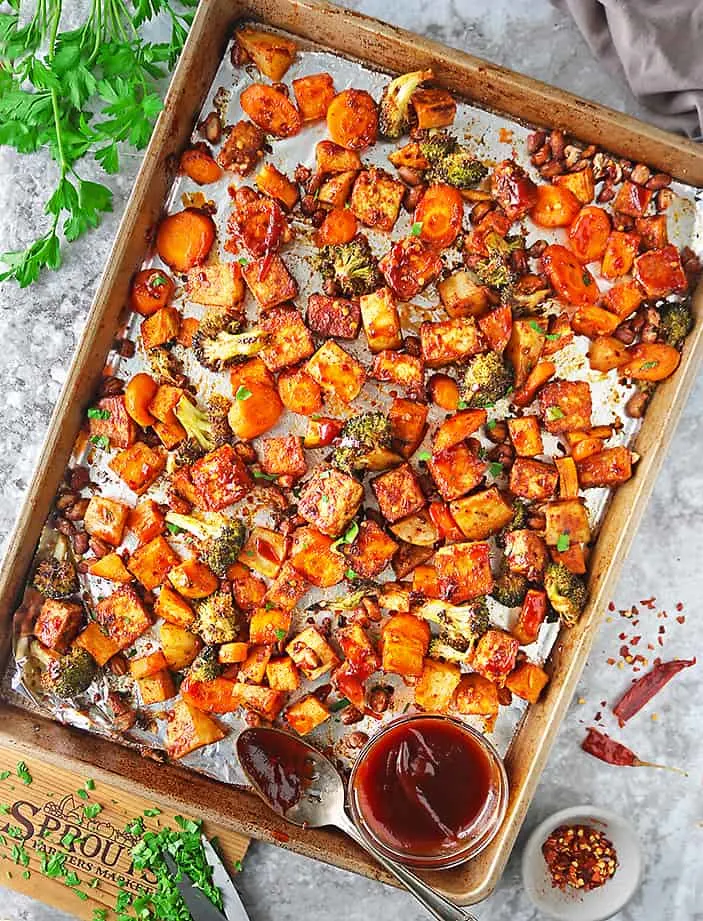 Thank goodness for comforting potatoes and crispy tofu – especially when they can be easily baked up on a sheet pan!
When the weather starts to cool down, I love to fire up my oven and fix an easy sheet pan meal like this.
I love this Easy Sheet Pan Spicy Tofu! It is spiced just right and filled with a smorgasbord of flavors and textures! It has crunchy pinto beans, deliciously spiced and roasted roots veggies like carrots and potatoes, tender and charred broccoli, and crisp bits of tofu, which is a popular dinner option for us.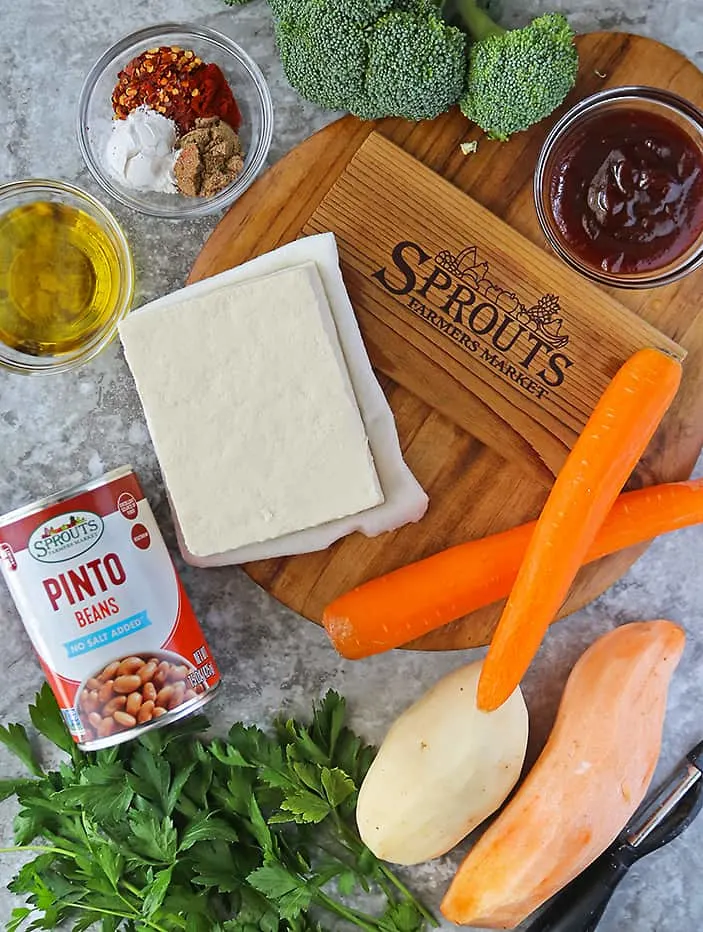 A tip to bake up crispy tofu…
By the way, if you would like your tofu to crisp up in the oven as it bakes, coat it with arrowroot powder, in addition to other spices you may use. When tofu is coated in arrowroot powder, it always bakes up crisp.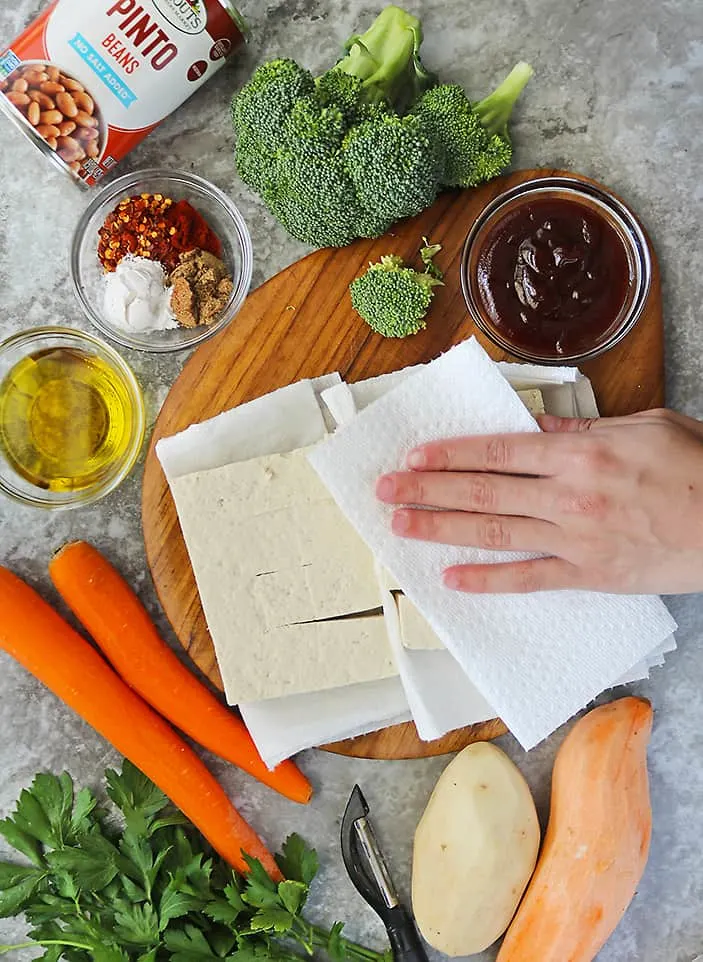 What are the ingredients to make this Easy Sheet Pan Spicy Tofu?
This Easy Sheet Pan Spicy Tofu is a simple recipe. And, you need only 12 ingredients to make it. Those 12 ingredients are:
extra firm tofu
arrowroot powder
coriander
smoked paprika
chili flakes
carrots
sweet potato
yellow potato
broccoli florets
Your favorite barbeque sauce
Extra virgin olive oil (EVOO), and
pinto beans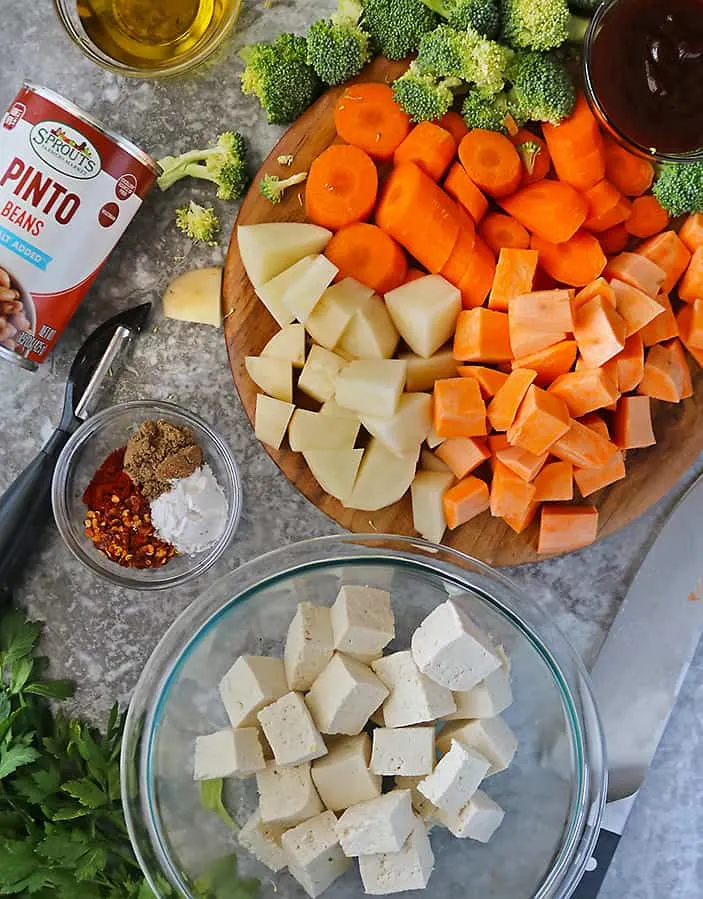 Parsley makes a pretty garnish but it is completely optional. And, not included as ingredients but what are paramount to uniting all the flavors is a bit of salt and pepper.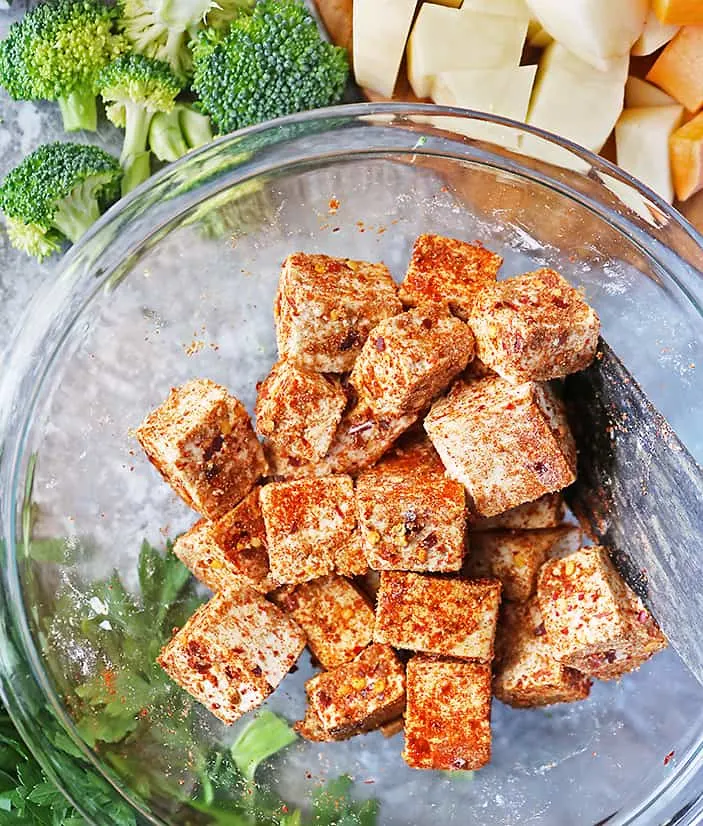 In years past, sheet pan dinners have been an easy go-to option on a busy evening. Though they have also been the go-to option when we wanted to spend a lazy evening in front of the telly.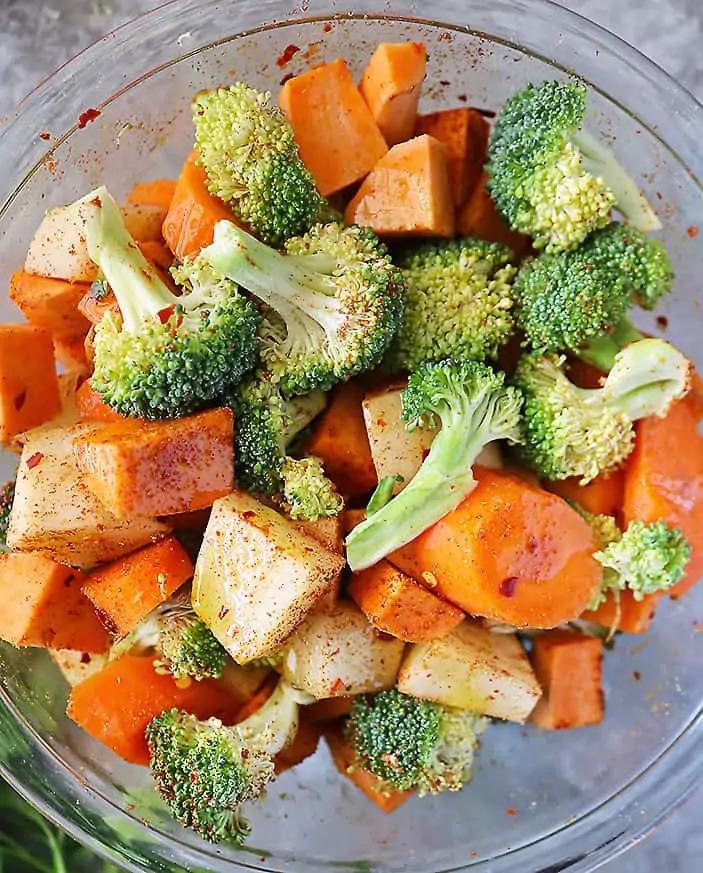 Sheet pan dinners are so easy. Most of the time, I season a bunch of veggies and toss them onto the pan to roast. There have been times when I have layered the roasting process and placed certain items to bake first that needed a longer bake time.
However easy they may be, sheet pan dinners can be as delectable as a complex dish with layers of flavors and textures.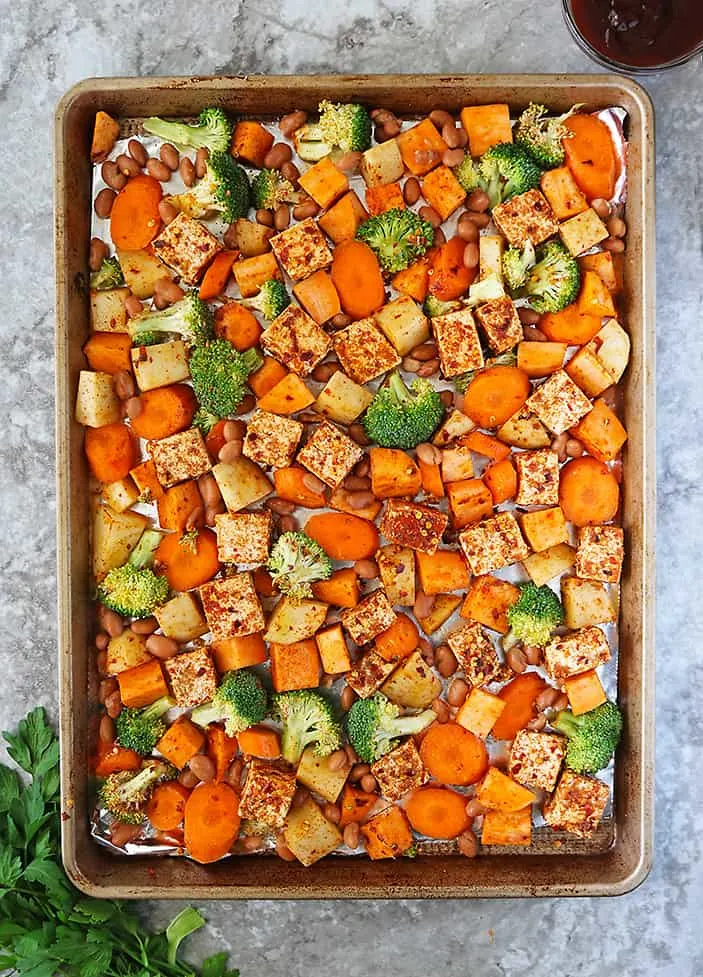 Like in the case of this Easy Sheet Pan Spicy Tofu!
My daughter helped me devour an entire batch of this Easy Sheet Pan Spicy Tofu just before she left. Between cleaning off her plate and the sheet pan, she said we must go back to Sprouts and grab all the ingredients to make this recipe when she comes home to visit this fall.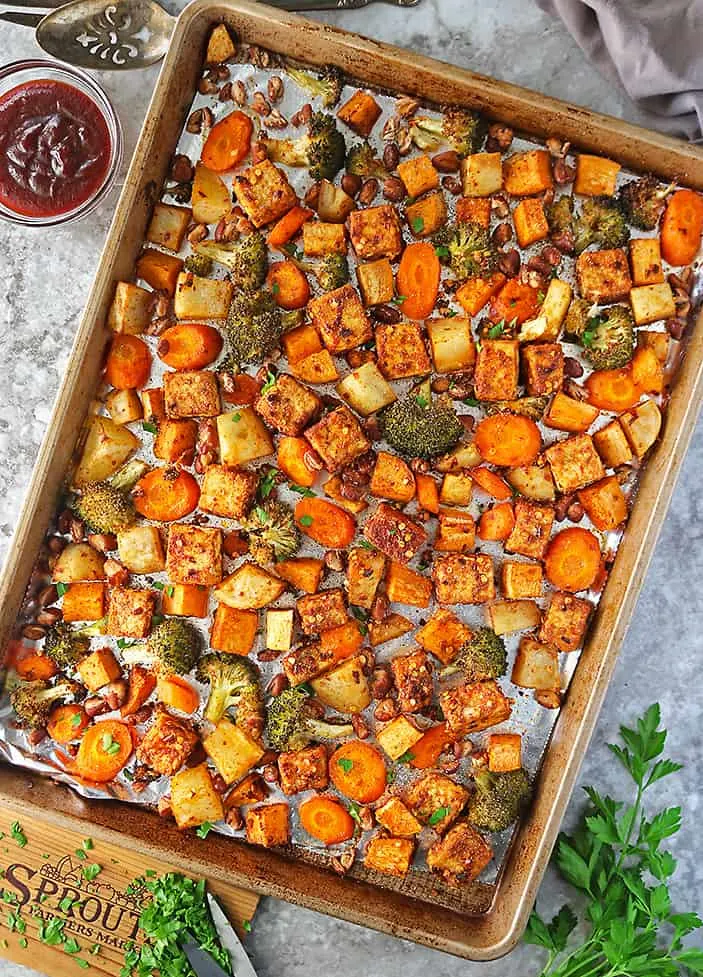 Sprouts is one of my favorite places to shop at all year long. They always manage to stock fresh and unique (to me) seasonal produce. And, I just so happened to grab all the ingredients I used to make this recipe from Sprouts.

If you are fortunate to have a Sprouts near you, make sure you check out their fall produce and products. Maybe you could even grab the ingredients needed to make this recipe, while you are there?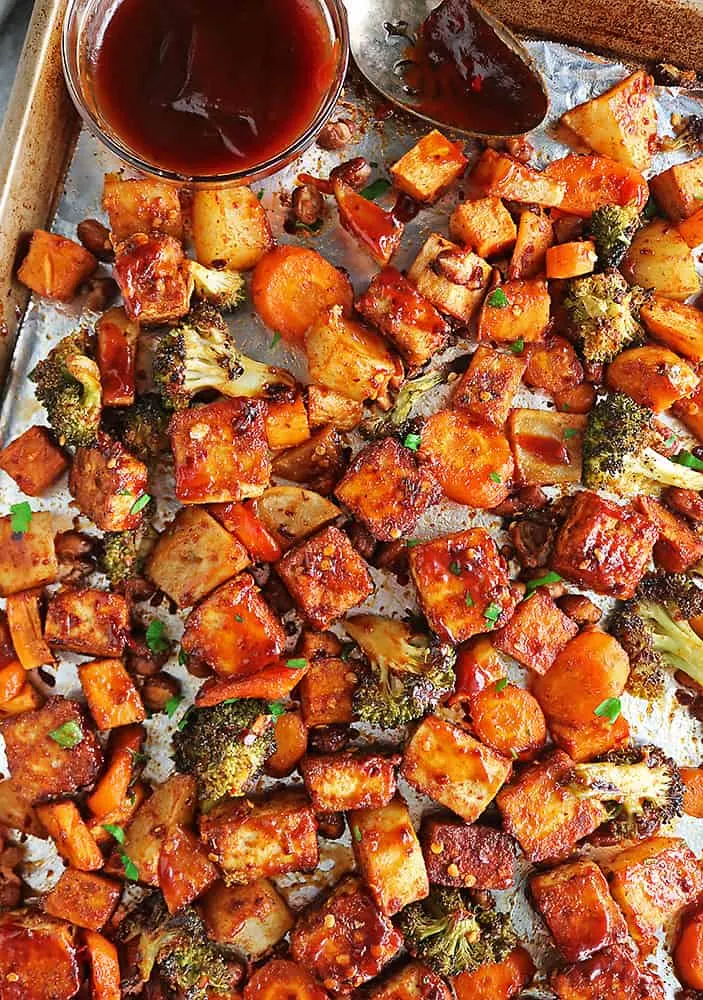 Personally, I cannot wait to grab me a few bottles of Sprout's Sparkling Harvest Apple Cider! Not only is it wonderful in a batch of Spiced Citrus Mulled Juice, but I think it would also pair so well with this Easy Sheet Pan Spicy Tofu.
Looking for more delicious sheet pan meals? Then check these out: