This post is sponsored by the Plant-Based promotion at Publix. The opinions and text are all mine.

Start your day off on a sweet note with this easy, plant-based Berry Oat Smoothie Bowl. Made with just 7 ingredients, this bowl is a quick and tasty treat.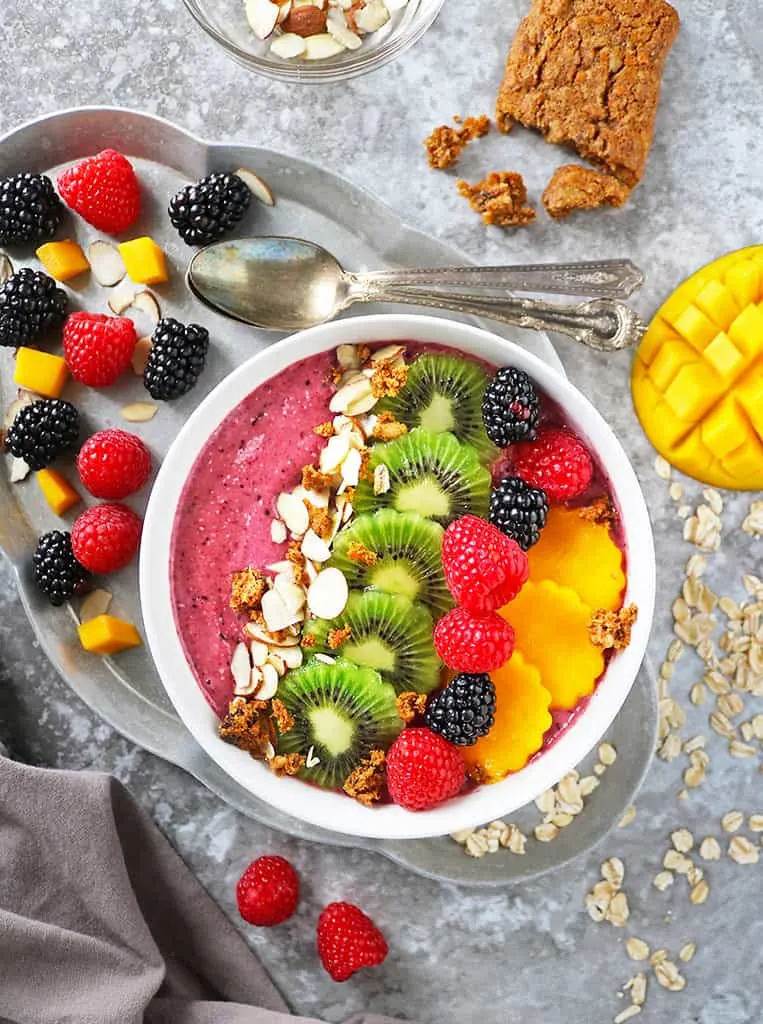 Weatherwise, here in GA, we are in that in-between period. With highs in the mid-80s (Fahrenheit) and lows in the low 60s, we are too cool for a Hotlanta summer and too warm for Atl's 5-days of Autumn.
These in-between temps have me craving something in-between an oatmeal bowl and a smoothie bowl… hence this Berry Oat Smoothie Bowl.
This delicious concoction is not as light as a smoothie bowl. It is more filling and satisfying and thicker in consistency. And it is downright delicious!
If you are having a hard time picking between a bowl of oatmeal and a smoothie bowl – then this recipe is for you! With this recipe, you don't have to pick between the two.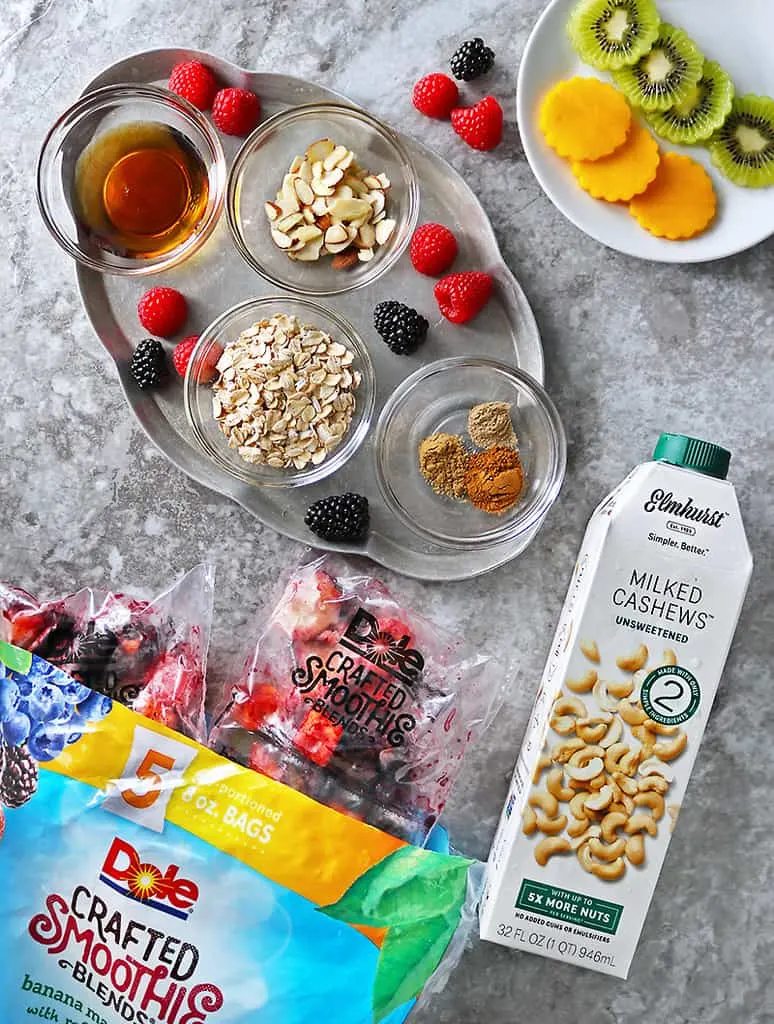 What are the ingredients to make this Berry Oat Smoothie Bowl?
I used a delicious blend of Dole's Crafted Smoothie Blends (banana, mango, berry), old-fashioned oats, maple syrup, tasty Elmhurst cashew milk, and aromatic and warming spices such as cinnamon, cardamom, and ginger.
I so love this delicious recipe…
This recipe is so easy and convenient to enjoy. I simply threw all the ingredients into a blender and spooned it into a bowl. Then topped it with some kiwi, mango, raspberries, blackberries, slivered almonds, and a crumbled up Simple Mills Bar.
My original plan when I first made this bowl was to stick it in the fridge for about 5 minutes so the oats could thicken up. But one tablespoon in and I found out I was lacking in the self-control department. I have made this Berry Oat Smoothie Bowl several times since and have managed to let it sit in the freezer for 5 minutes to thicken. I have also made this, placed it in an airtight container, and frozen it overnight. The next day, I let it defrost for a few minutes, then topped it with whatever fruit and nuts I had on hand before digging in – it is just as tasty and delicious frozen as it is freshly made.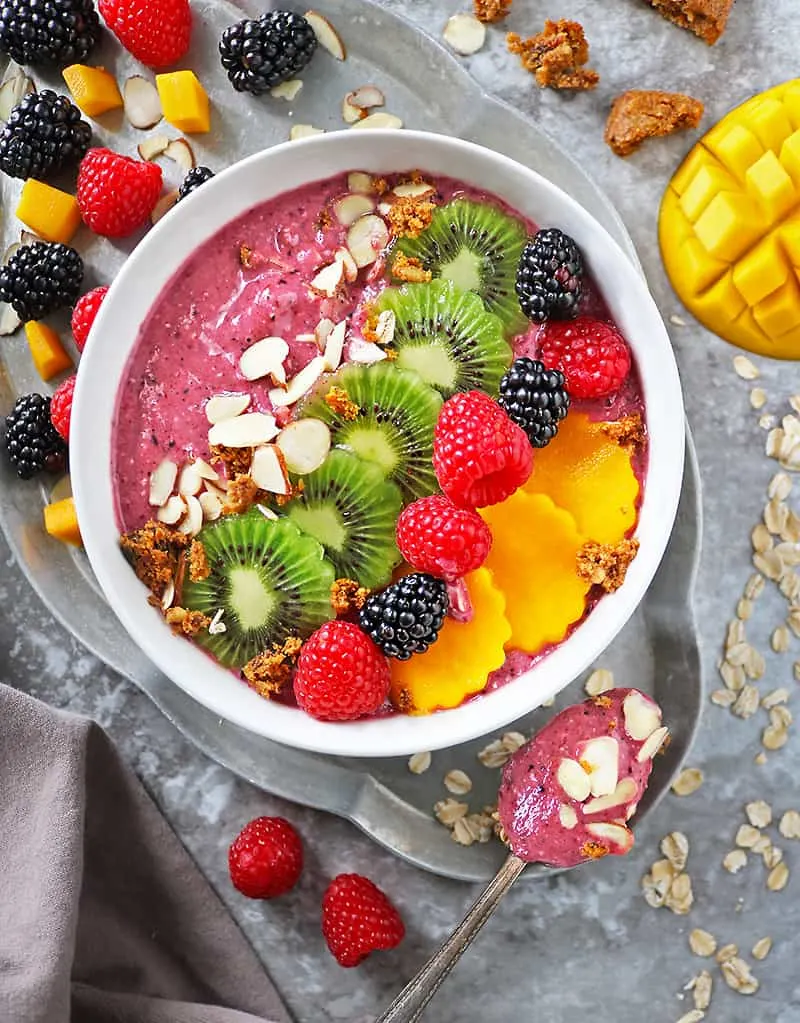 And the Plant-Based promotion at Publix just makes it so much easier to stock up on the ingredients you need to make and enjoy this Berry Oat Smoothie Bowl on repeat! At least that's what I will be doing for as long as we are in this in-between period.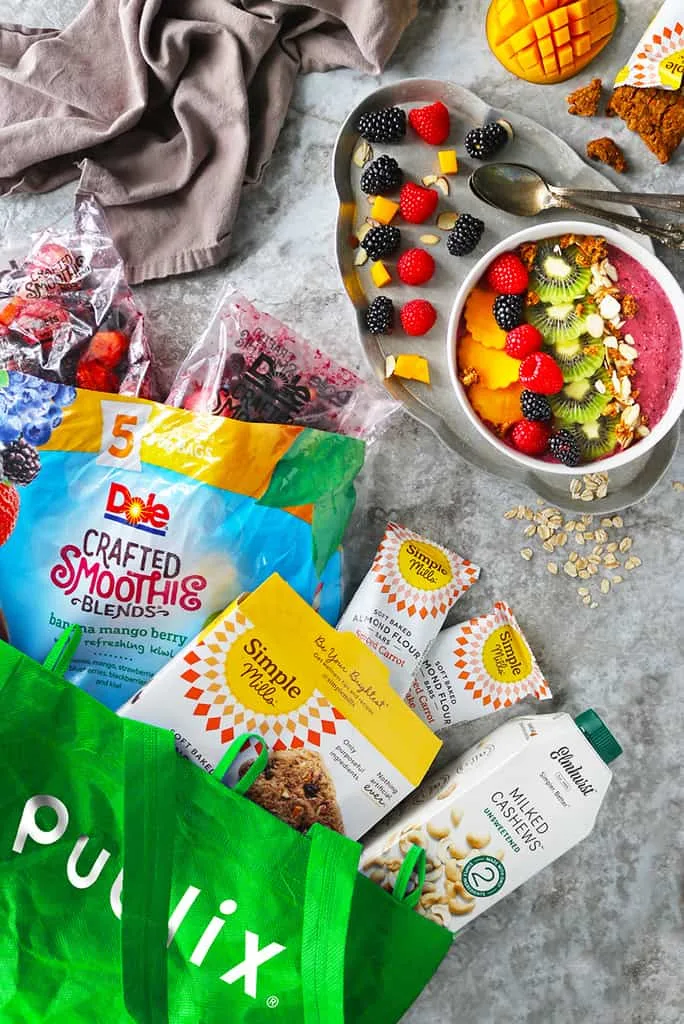 The Plant-Based promotion at Publix will be running from 9/11/21 – 9/24/21. During these 2 weeks you can save on a variety of plant-based products like the ones used in this recipe:
• Dole Blueberries, Crafted Smoothie or Boosted Blends 32–40-oz, (frozen), on sale for $8.99,
• Simple Mills Bars or Cookies 5.5–6.2-oz, on sale 2 for $8 &
• Elmhurst Unsweetened Plant-Based Milk 32-oz (refrigerated) on sale for $3.99.
If you are looking to add more plant-based meals to your day or make the switch to a plant-based diet, the Plant-Based promotion at Publix can help make it easier to choose plant-based foods without sacrificing taste, quality, price, or convenience!
Visit Publix.com or head to your local Publix to grab the in-store 9/11 Extra Savings flyer to see a complete list of product savings included in the Plant-Based promotion. By the way, if you don't see the Extra Savings flyer in the kiosk at the store's entrance, ask a representative at customer service for one. While you are wandering around the aisles, look for shelf signs located throughout the store which highlight the savings during the promotion.
Please do let me know in the comments below if you plan to make this recipe and if you make it, what you think of it!